I've loved to cook and bake ever since I was a child, but 6 1/2 years ago, when I dove head first into the Trim Healthy Mama plan (read my testimony here), I traded in all I knew about working with all-purpose flour and white sugar for a whole new world of healthier baking with different ingredients!
It took some time for me to get comfortable baking with alternative flours and sweeteners, but through a lot of trial and error, I've come to love baking the Trim Healthy Mama way even more than I previously enjoyed baking off-plan.
There are few kitchen experiences more wonderful than making a scrumptious cake that not only looks and tastes divine, but does your body good, too!
Flourless, protein-filled Mocha Roll | THM: S
If you've been disappointed trying to bake on-plan, I hope these tricks will eliminate the learning curve!
Here are my top tips and tricks for successful Trim Healthy Mama baking!
Cookies and baked goods made with Trim Healthy Mama approved sweeteners are not nearly as shelf-stable as baked goods made with sugar. They should be stored in the fridge or freezer in an air tight container.
Trim Healthy Mama baking tastes the best the next day. This gives alternative sweeteners a chance to lose any cooling effect or aftertaste.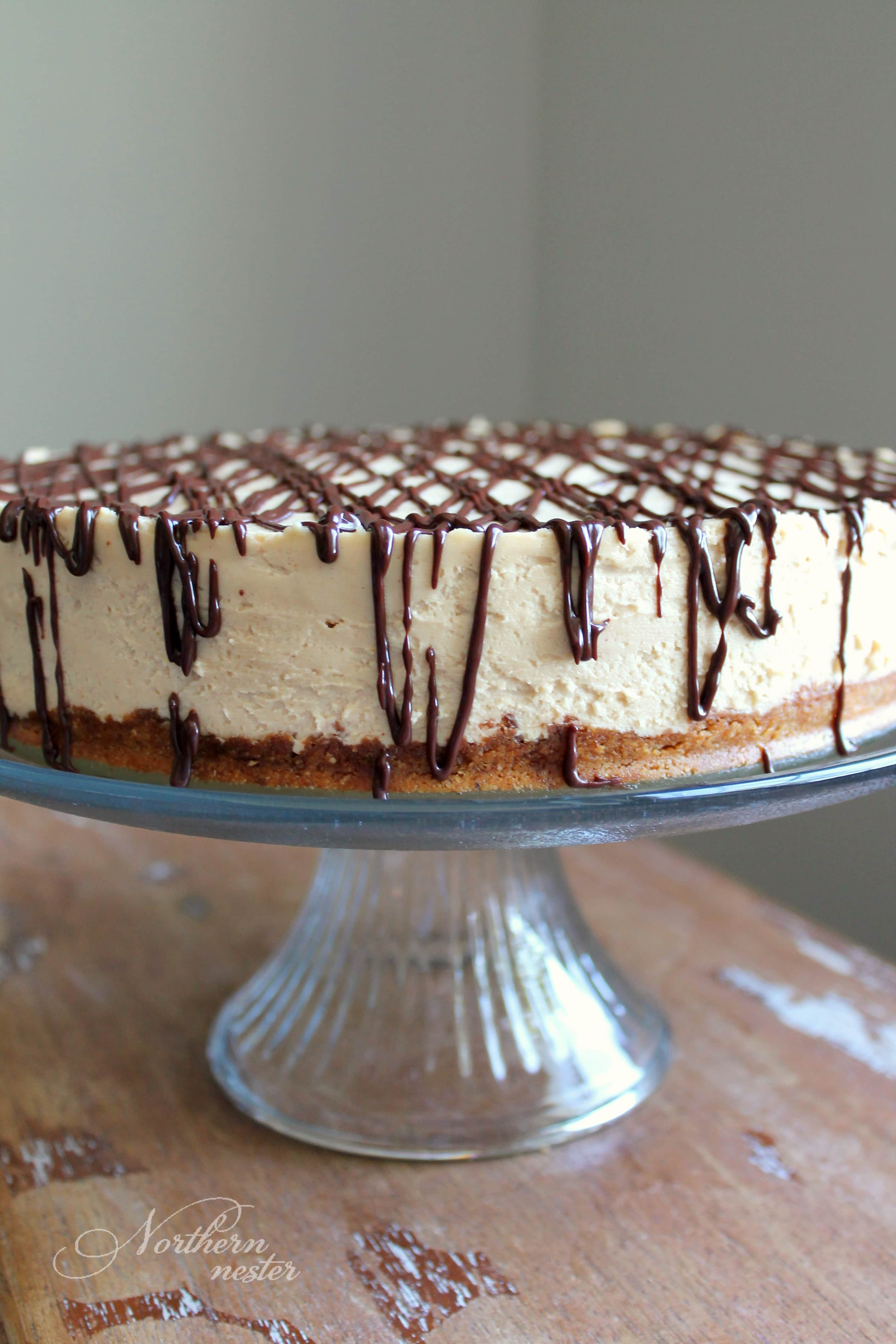 A very filling, but delicious Peanut Butter Cheesecake that will feed a large crowd!
Trim Healthy Mama baking is typically much more filling than traditional baking with empty carbohydrates. It contains more protein and fiber, and the ingredients are usually more dense, so you can serve smaller pieces and get more servings out of a recipe!
For fluffier cakes, I use a stand mixer to whisk the eggs for a solid 5 minutes until they're very light and airy before adding in my dry ingredients.
Sweetener Help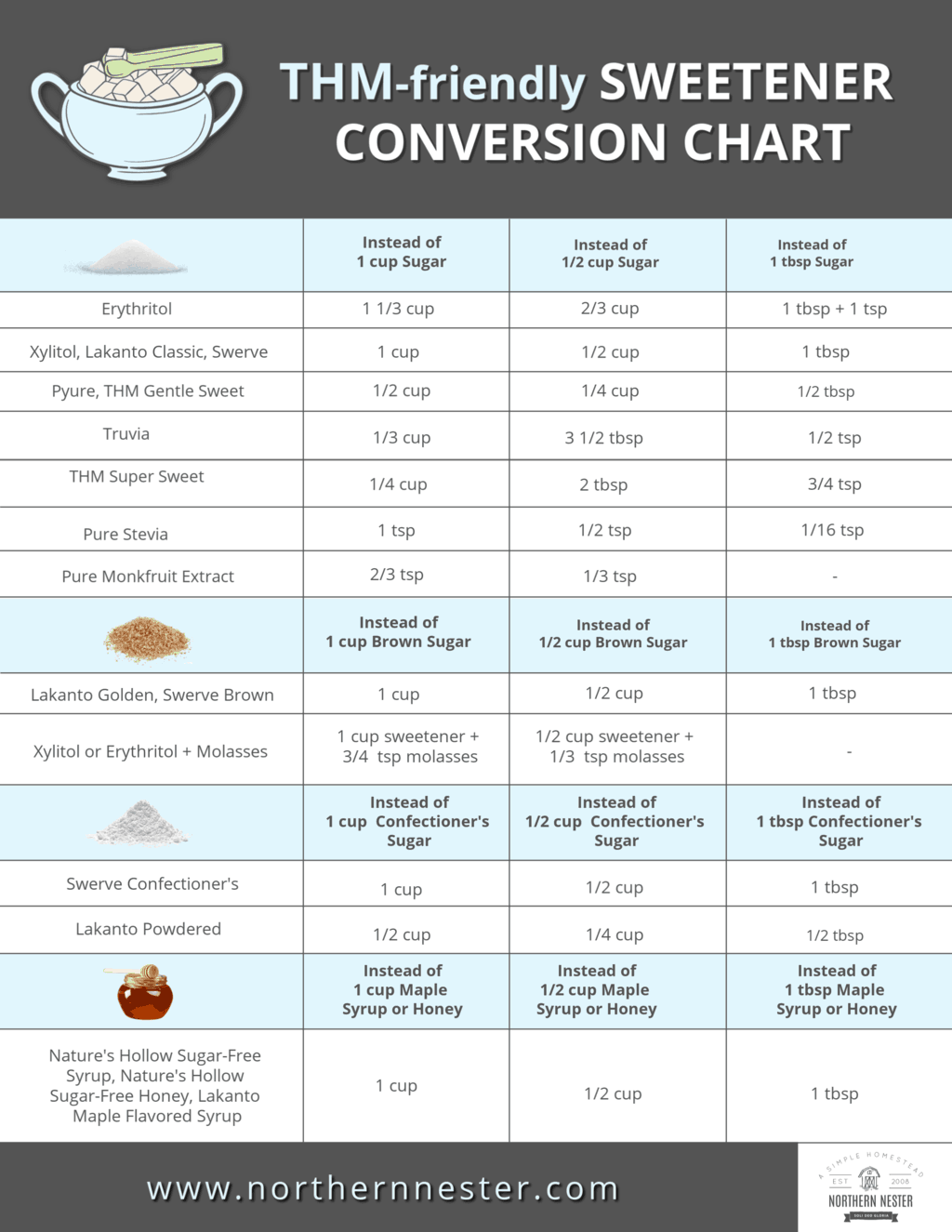 1:1 substitutions are my favorite. Aside from the obvious bonus of not having to do any math 😉 , 1:1 subs generally provide the best results in baking because they have a similar consistency to their traditional counterpart.
Often, the bulk of a granular sweetener is needed for a baked good to turn out properly, which makes erythritol or xylitol based sweeteners (i.e. Lakanto Classic, Swerve, and THM Gentle Sweet), a better choice for baking than pure monkfruit or stevia.
Pure monkfruit and stevia are only needed in minuscule amounts, and can have a bitter aftertaste if too much is used. These sweeteners are better fit for drinks like Good Girl Moonshine, Singing Canary, and The Shrinker. Any aftertaste is usually masked by the stronger flavor of apple cider vinegar and flavored teas. Adding a pinch of salt in drinks sweetened with pure monkfruit or stevia also helps take away any bitterness and diminishes the cooling effect.
Xylitol has a nice granular consistency, a bit larger than real sugar, which gives volume and substance to baking. Some people use a coffee grinder to decrease the size of the granules, but I don't find it necessary.
Xylitol is not a perfect sweetener. It doesn't dissolve quite as well as real sugar, so it requires whipping or beating longer than normal to get it fully incorporated. Xylitol is also not a good choice if you have pets; it can be fatal to furry animals, especially dogs. Additionally, xylitol can also cause digestive distress in some people if they consume excessive amounts.
To me, the perfect THM Sweetener should:
not have a bitter aftertaste
measure cup for cup like regular sugar
taste like real sugar
dissolve easily
be available in granular, brown, and icing sugar consistency
be available locally
be pet friendly
be easy on the digestive system
be affordable
My quest for the perfect sweetener found me experimenting with all kinds of brands: Pyure, Swerve, SweetLeaf, Trim Healthy Mama, Truvia, Xyla, and generic Bulk Barn sweeteners. In the end, one sweetener stood out among the rest.
LAKANTO MONKFRUIT SWEETENERS
Disclosure: I am a Lakanto Affiliate because we use and love their sweeteners! We earn a small commission from purchases made through our link.
Lakanto Monkfruit Sweeteners were the last ones I tried, and I kicked myself for not giving them a go first! They were the only sweeteners that met my long list of "perfect sweetener" qualifications.
Lankanto's Monkfruit Sugar Substitutes:
measure and taste like real sugar
dissolve easier than xylitol
are on the digestive system
are pet friendly
are available in classic, brown and Confectioner's consistency
are available locally (In the U.S., you can find them at Costco; in Canada you can often find them at Winners or Home Sense)
BONUS:
Lakanto Monkfruit Sweeteners are affordable! If you use the Coupon Code "NORTHERNNESTER," you save 15% off all your online purchases (plus, they offer $5.99 flat rate shipping, and free shipping on orders over $75!).
Lakanto also offers a variety of other sugar-free sweeteners and THM-friendly products, including:
Enough about me and my favorite sweetener. 😉
Alternative Flours
Trim Healthy Mama Baking Blend
Trim Healthy Mama-friendly baking blends tend to be more thirsty and drier than whole grain flours, so you cannot substitute cup for cup with all-purpose or whole wheat recipes. THM flours are also missing the gluten that holds wheat-based recipes together.
This means that, when substituting with a THM-friendly Baking Blend in an off-plan recipe, you will need to add more liquid (ex: eggs, butter, coconut oil, or nut milks for S; egg whites, nut milks, 0% fat Greek yogurt, pumpkin puree, mashed banana for E), and you'll need a binder (like eggs or egg whites, xanthan gum or gluccie, pysllium husk, oat fiber, or whey protein powder) to keep your baked good from falling apart.
If you can't afford the Trim Healthy Mama Baking Blend (a Fuel Pull flour suitable for all baking fuels), you can make your own by using equal parts of coconut flour, almond flour, and golden flaxseed meal. However, this substitute is an S and will turn your E baked goods into Crossovers. Alternatively, Briana Thomas has a Fuel Pull baking blend recipe with a few more specialty ingredients that you can also make yourself.
Lily's Chocolate Chips
Lily's and Trim Healthy Mama chocolate chips are wonderful, convenient, sugar-free chocolate chips that work well in recipes, but if finances are tight or you have a large family, chopping up a bar of 85% Lindt chocolate, or melting down unsweetened Baker's Chocolate squares, adding in your own sweetener, and pouring the mixture into a chocolate chip mold or honeycomb shaped silicone trivet is an easy, frugal alternative.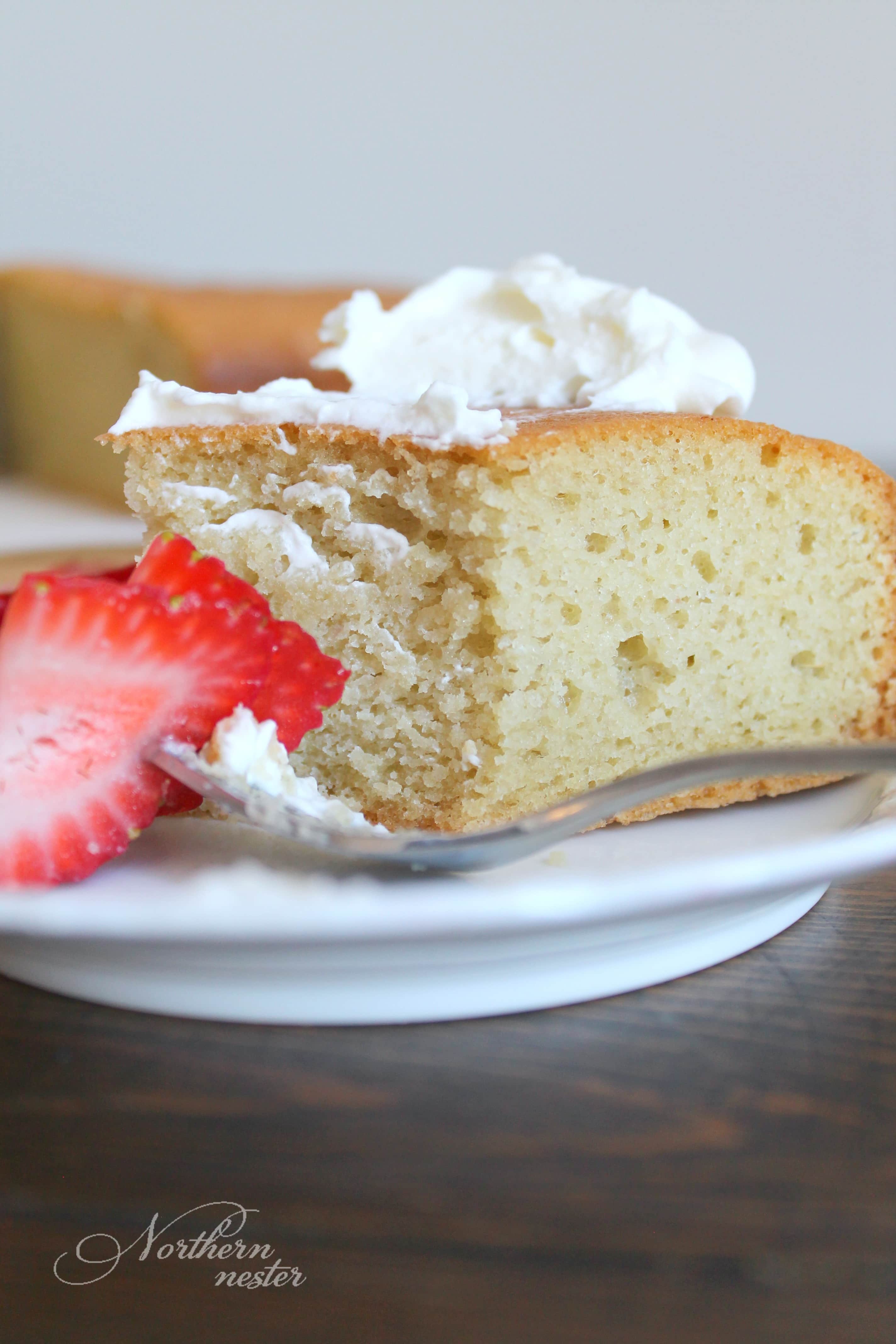 Almond Flour Pound Cake | THM : S
Almond flour is on plan as an S ingredient, but be careful of using it in large quantities as it is very calorie-dense and too much of it may cause a weight loss stall for some people.
You can often replace 1/2 a cup of almond flour with 2 Tbsp of psyllium husk or 2 Tbsp of coconut flour.
Blueberry Sour Cream Cake: a delightful coconut flour based coffee cake.
Coconut flour is also on plan as an S ingredient. It is a very absorbent flour, so you will only need a small amount in recipes that call for it.
It's very hard to substitute for coconut flour in recipes because of its unique thirsty properties, but sometimes you can replace half a cup of coconut flour with 2 Tbsp of pysllium husk mixed with 1/2 cup of almond flour.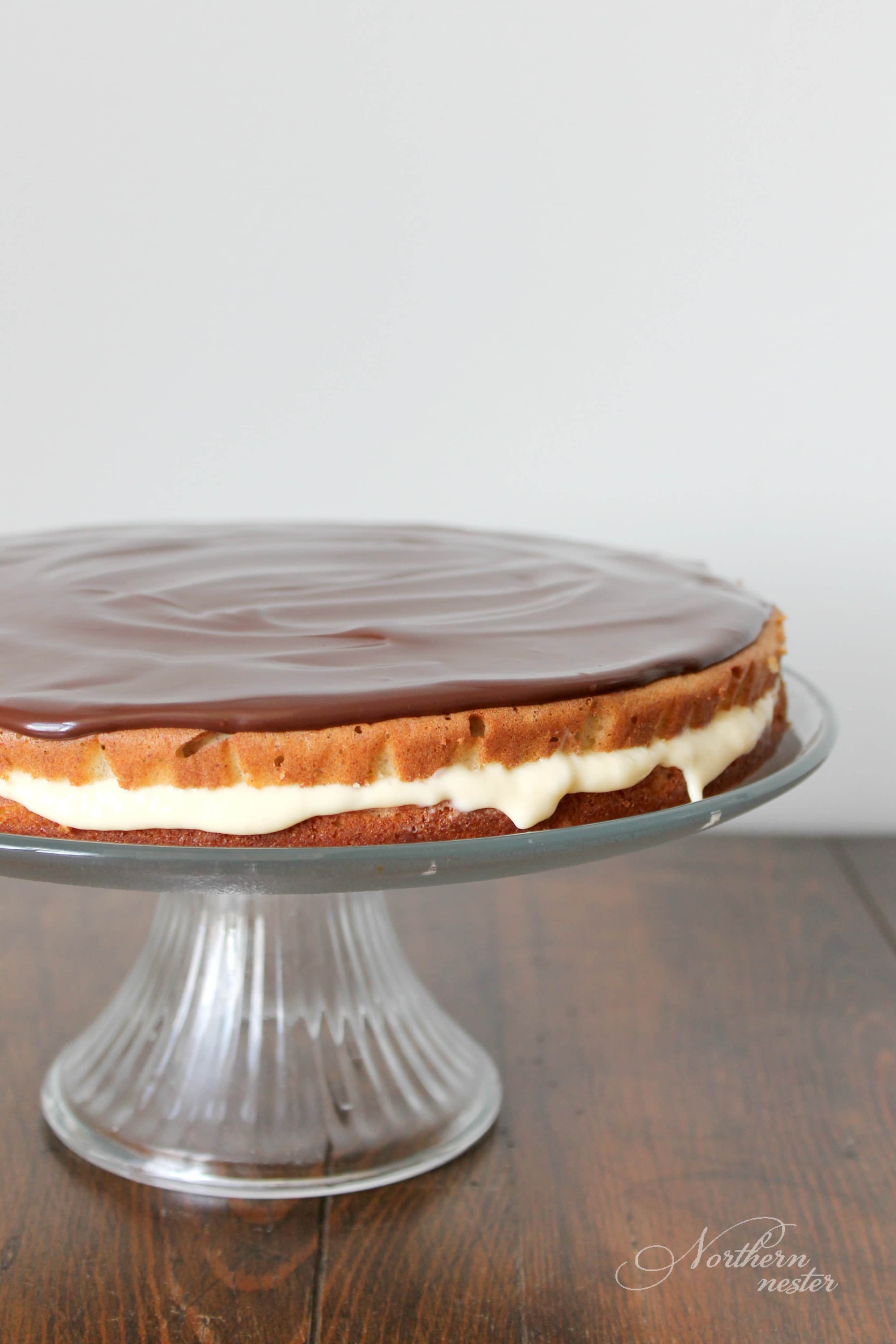 Boston Cream Pie: this cake uses psyllium husk powder as a high-fiber binder in the cake layers.
Pysllium husk is extremely high in fiber and can absorb a lot of liquid. It has a tendency to gel, and works well as a binder, holding dough together much like the gluten in wheat flour does. You only need a very small amount (1-2 Tbsp) in a whole batch of dough. It is carbohydrate-free. You should be able to find it in the laxative or supplement aisle of your grocery or health food store.
Oat Fiber is a carbohydrate-free ingredient that is nearly impossible to purchase locally, but you can buy it online and use it to flour your pans, and as a fiber-enhancer and moisture-absorber in homemade baking blends.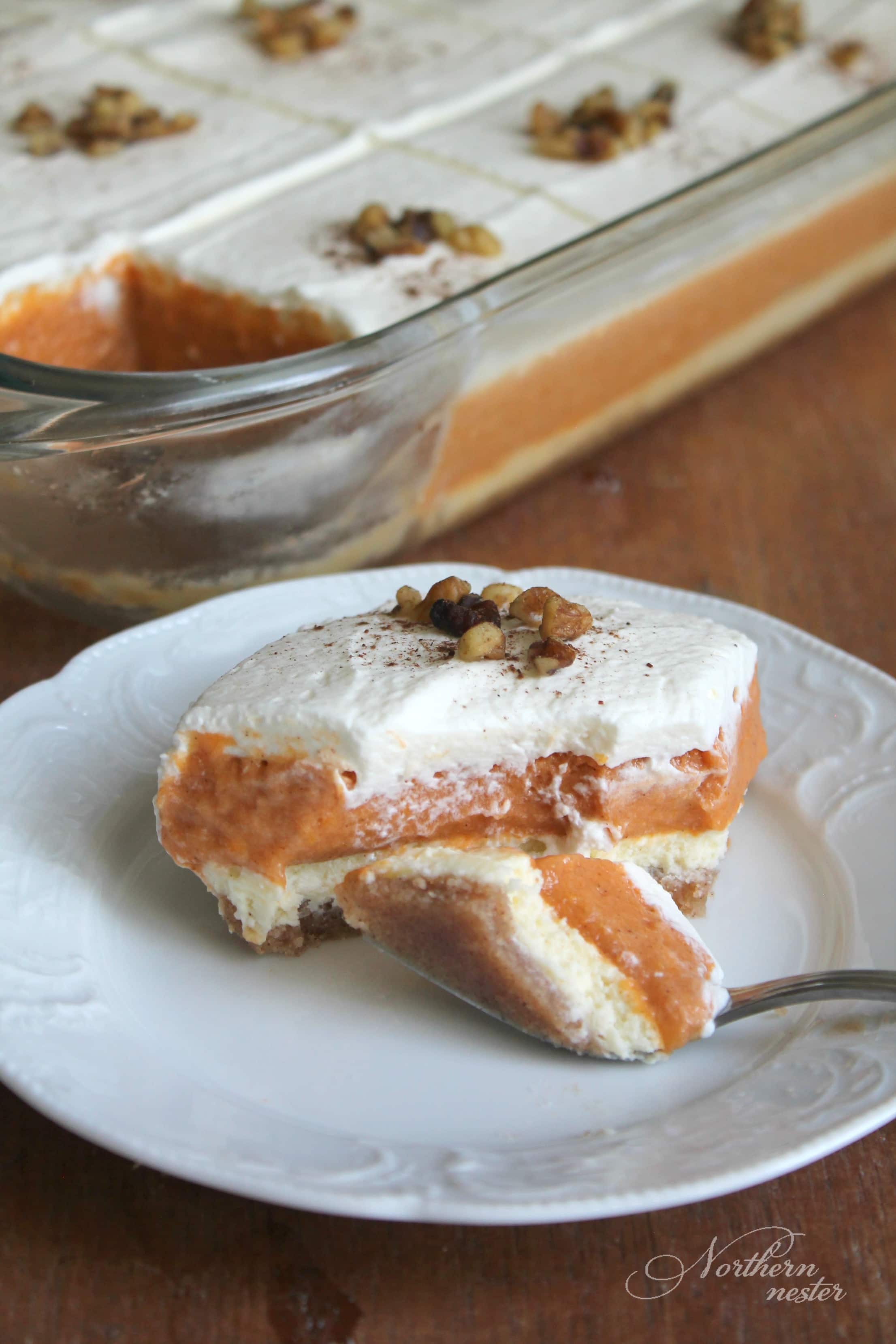 Gelatin is used to set the pumpkin layer of this fan-favorite Layered Pumpkin Dessert!
Gelatin is such a wonderful and interesting ingredient. In addition to being a relatively tasteless, dairy-free source of protein, it has the ability to set liquids into delicious desserts and treats that are firm enough to slice. You can read more about it and find 44 Trim Healthy Mama-friendly gelatin recipes here.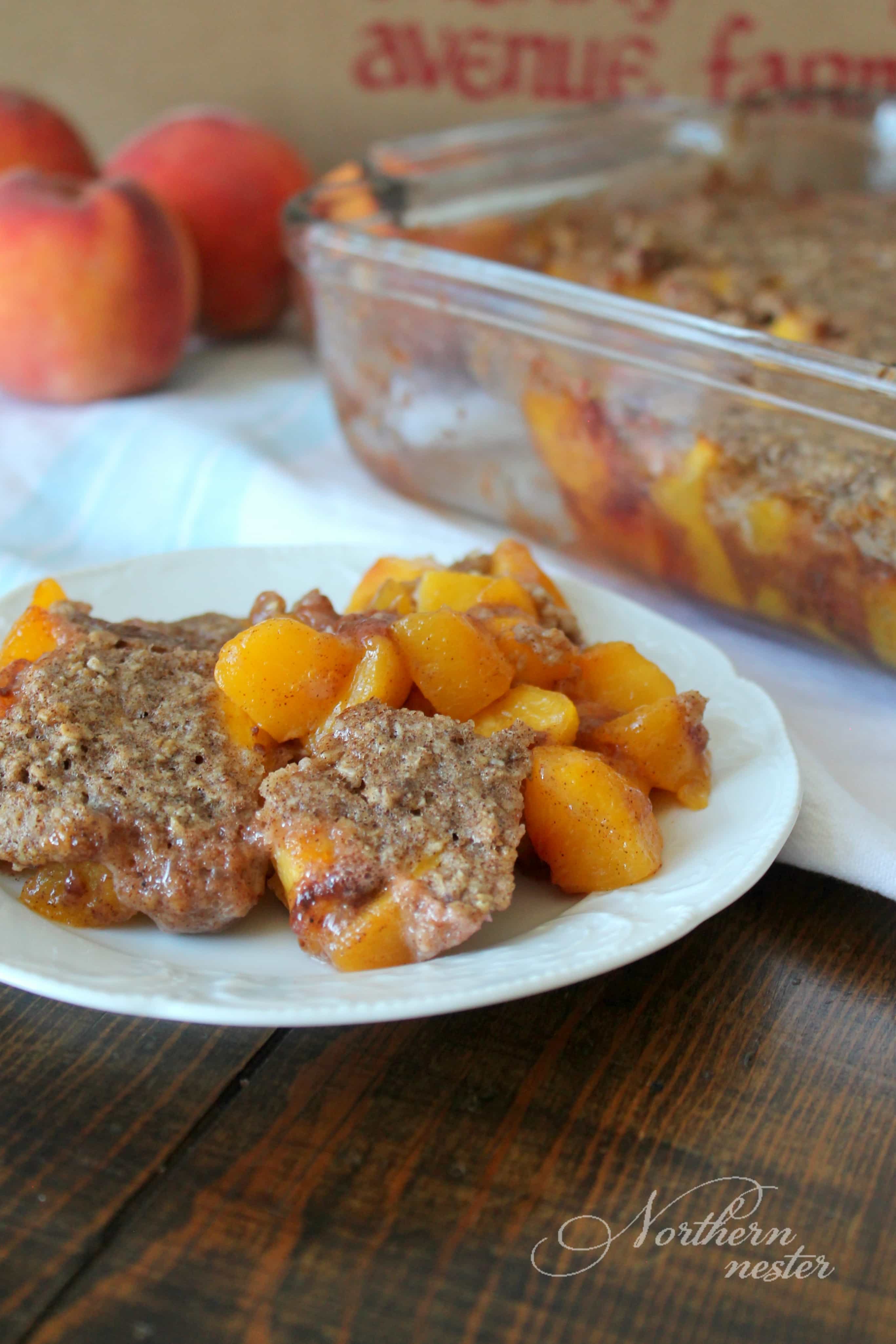 E baking can be tricky since little to no fat is used. I've found the best fat-free ingredients to use for moisture are egg whites, unsweetened applesauce, pumpkin puree, 0% fat Greek yogurt, nut milks, and mashed bananas.
Trim Healthy Mama Pristine Whey Protein Powder
Aside from giving baked goods a protein boost, protein powder and collagen can often act as a Fuel Pull flour and a lifter in Trim Healthy Mama-friendly cakes, breads, and muffins.
Example: Candy-Cane Cake from Grace-Filled Homemaking.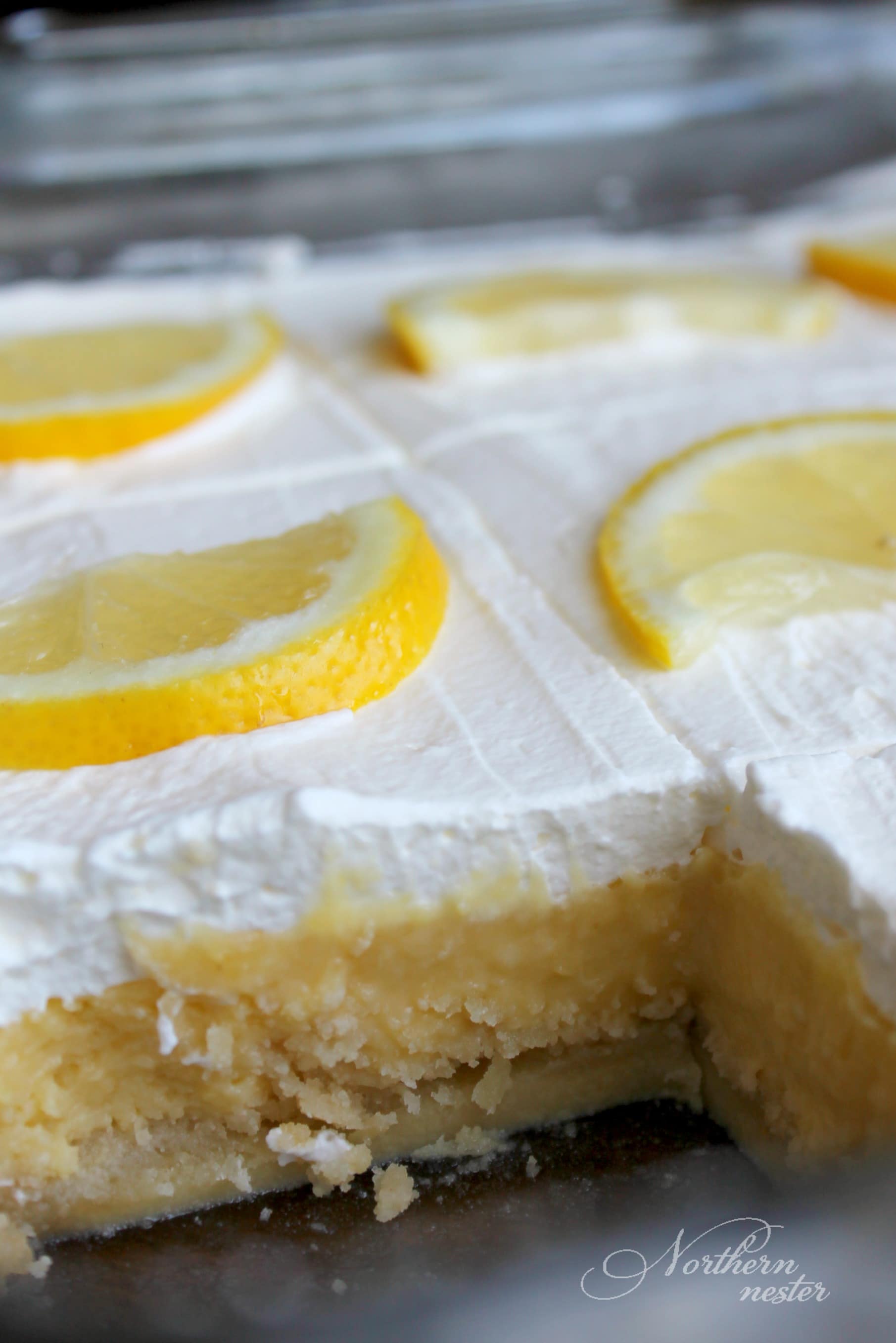 Egg yolks can accumulate quickly on Trim Healthy Mama since only the whites can be used in Fuel Pull or E dishes. My favorite use for extra yolks is turning them into these Lemon Squares which use up 7 of them!
Pure extracts are a big part of Trim Healthy Mama baking and beverages, so they are well worth investing in. I can hardly wait until Trim Healthy Mama's Natural Bursts line of extracts becomes available (which should be very soon!). The extracts I use most are:
caramel
peppermint
rum (for in eggnog-flavored recipes)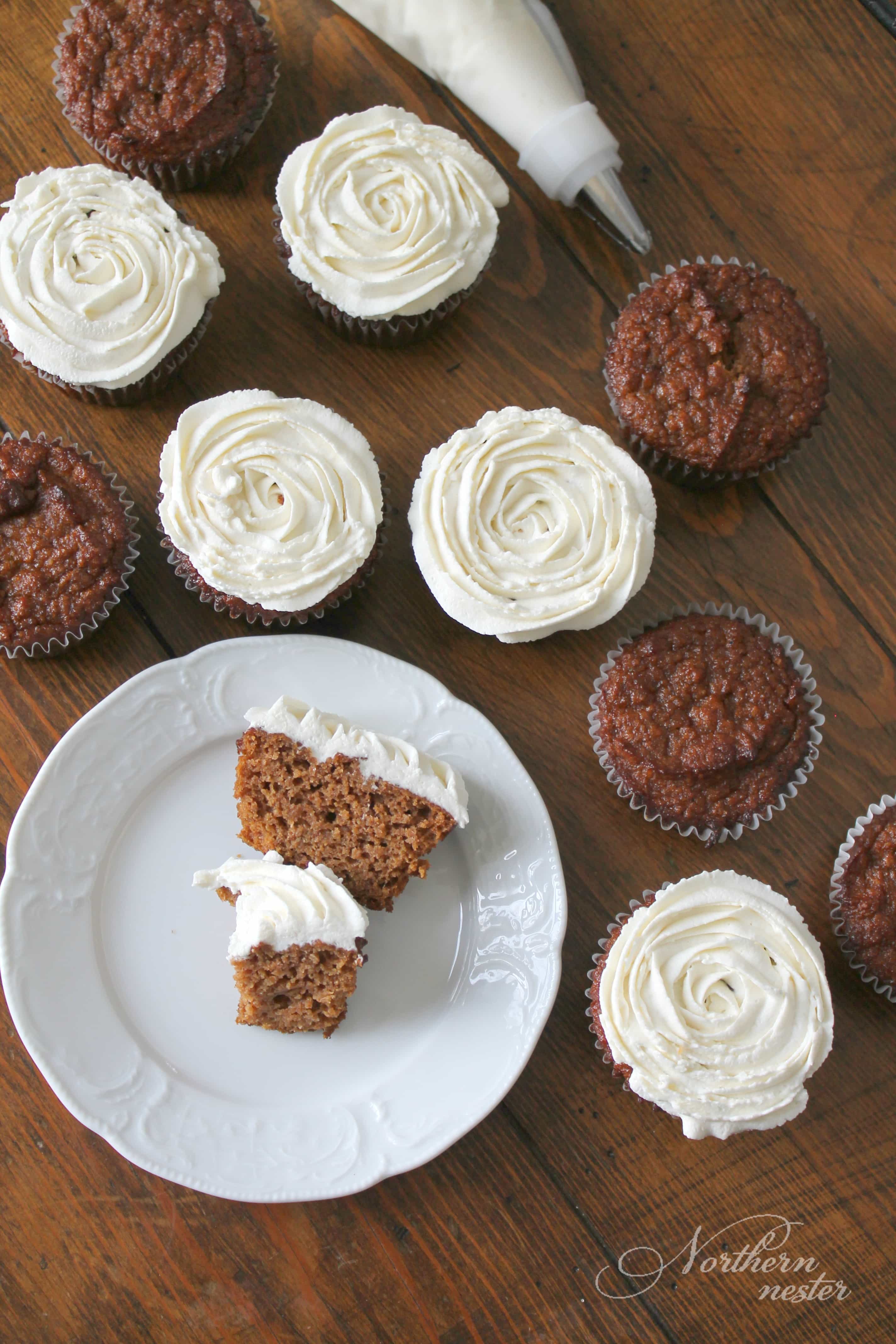 Low-carb Pumpkin Muffins: replace the butter with coconut oil and leave off the whipped cream frosting for a wonderful, dairy-free muffin!
Coconut oil, eggs, cream cheese, sour cream, heavy cream, and butter are readily available and essential Trim Healthy Mama-friendly baking ingredients. In most recipes, you can replace butter with coconut oil and heavy cream with canned coconut fat for dairy-free alternatives.
Baking soda, baking powder, and salt are regular baking ingredients that you can still use with any Trim Healthy Mama Fuel type. Consider switching from refined salt to Himalayan salt and from regular baking soda to aluminum-free to increase the nutritional benefit of your baking and decrease the toxicity.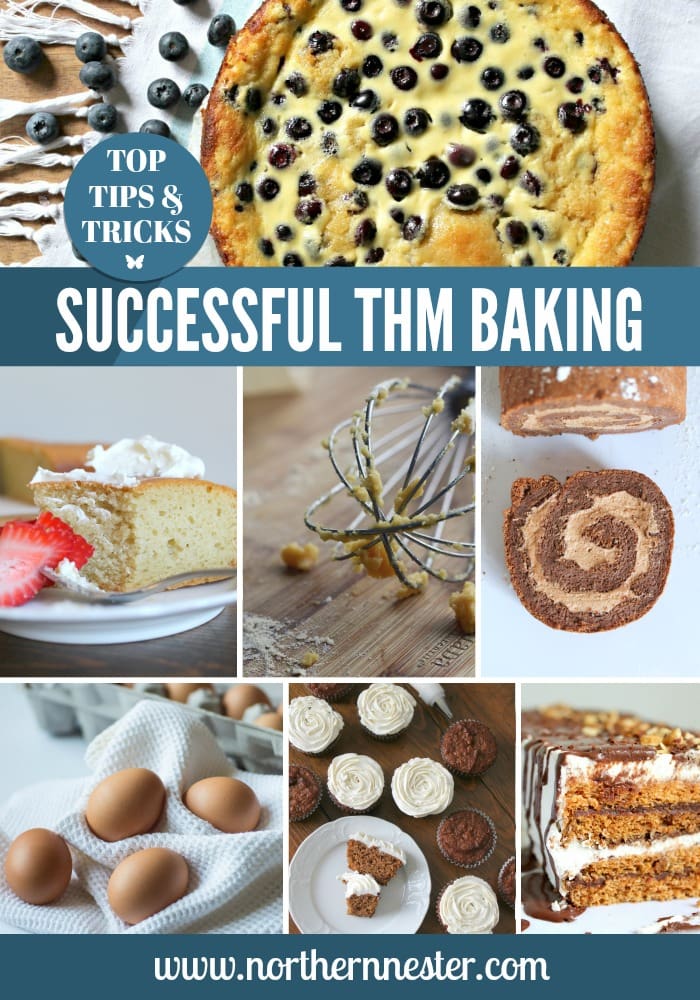 I hope that was helpful to you! If you have Trim Healthy Mama baking related question that I didn't address, feel free to ask in the comments and I will do my best to answer. 🙂