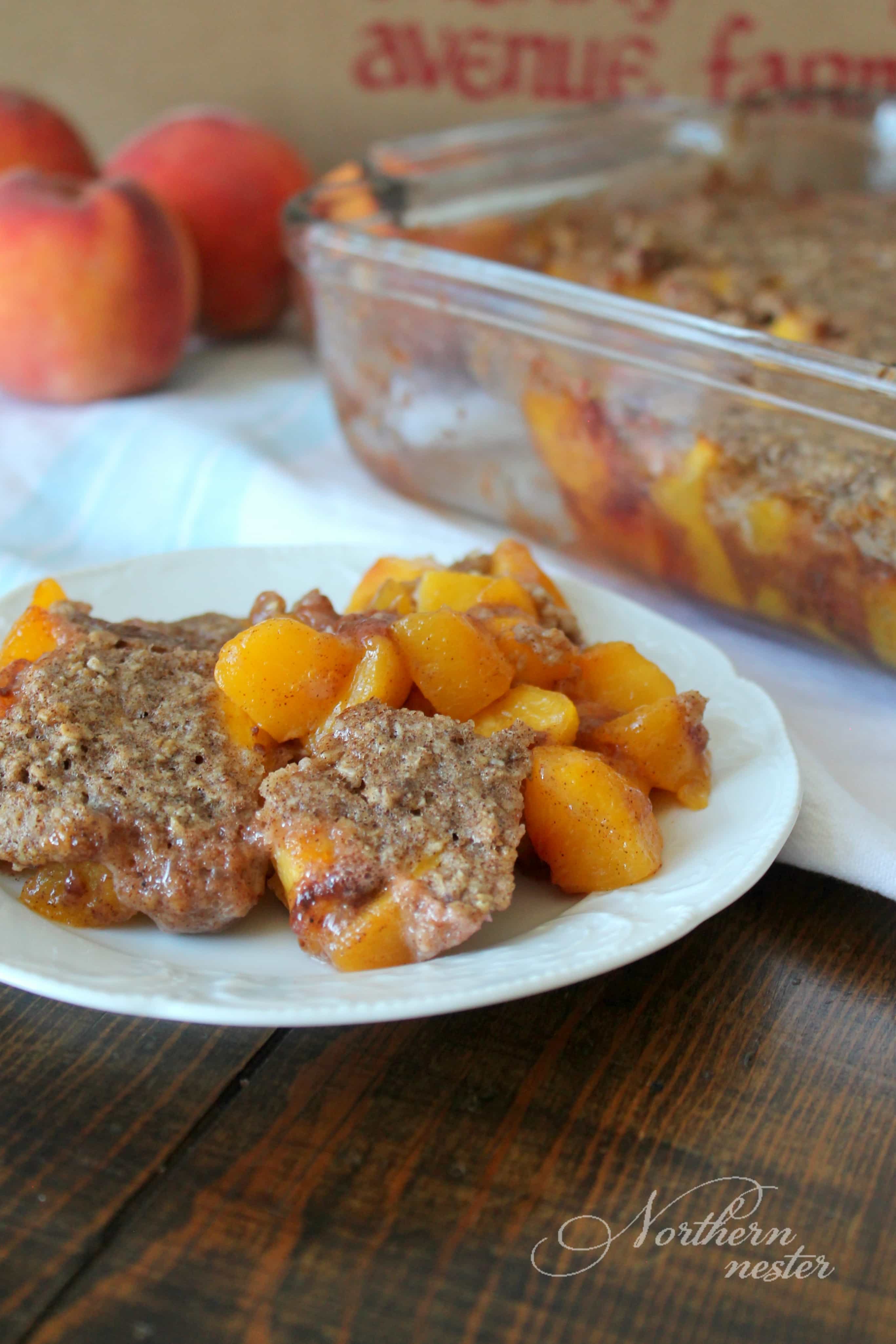 Growing up, we used to make a delicious peach cobbler that had a delicious, saucy filling flavored with nutmeg and cinnamon] and thickened by cornstarch. The cake-y topping was made with all-purpose flour and whole eggs. It wasn't Trim Healthy Mama-friendly, but it was yummy, and the first thing I wanted to convert into an E recipe when a friend gifted us a large basket of fresh peaches last week!
This Peach Cobbler is so simple to make (you only need a large bowl and a spoon to prepare it!) and it doesn't require any special ingredients. If you don't have oat flour on hand, you can make your own by grinding oat flakes in the blender. Xanthum gum (or glucomannan, if you have that instead) is important though; it thickens up the peach juices in the filling and keeps the cobbler from being too watery.
Peaches are naturally sweet, and even sweeter when cooked, so not much xylitol (or Gentle Sweet, if you prefer) is needed in this recipe, making it a budget-friendly dessert (or breakfast!) the whole family will enjoy!
Yield: 6-8 servings
Peach Cobbler | THM: E
This Trim Healthy Mama'friendly E Peach Cobbler has a delicious, saucy filling and a cakey cobbler topping! A tasty way to enjoy good carbs, hot or cold!

Prep Time 20 minutes

Cook Time 40 minutes

Total Time 1 hour
Ingredients
FILLING
10-12 peaches, peeled, pitted and chopped
4 Tbsp xylitol (OR 2 Tbsp Gentle Sweet)
1 1/2 tsp xanthan gum
1 tsp cinnamon
1/4 tsp nutmeg
CRUST
1/2 cup egg whites
1/2 cup oats
3 Tbsp oat flour
2 Tbsp xylitol (OR 1 Tbsp Gentle Sweet)
4 tsp butter, softened
1/2 tsp cinnamon
pinch of sea salt
Instructions
Preheat oven to 350 F. Lightly grease an 8x8 baking dish.
In a large bowl, stir all the filling ingredients together until xanthum gum is completely dissolved and peach juices are thickened. Pour into prepared baking dish.
In the same bowl, stir all of the crust ingredients together. (The mixture will seem a little wet, but the oat flour will soak up the excess moisture while it bakes.) Bake at 350 for 30-40 minutes, or until the topping is cooked through and golden.
Notes
You can replace with peaches with apples, pears, or a mixture of other fruit.