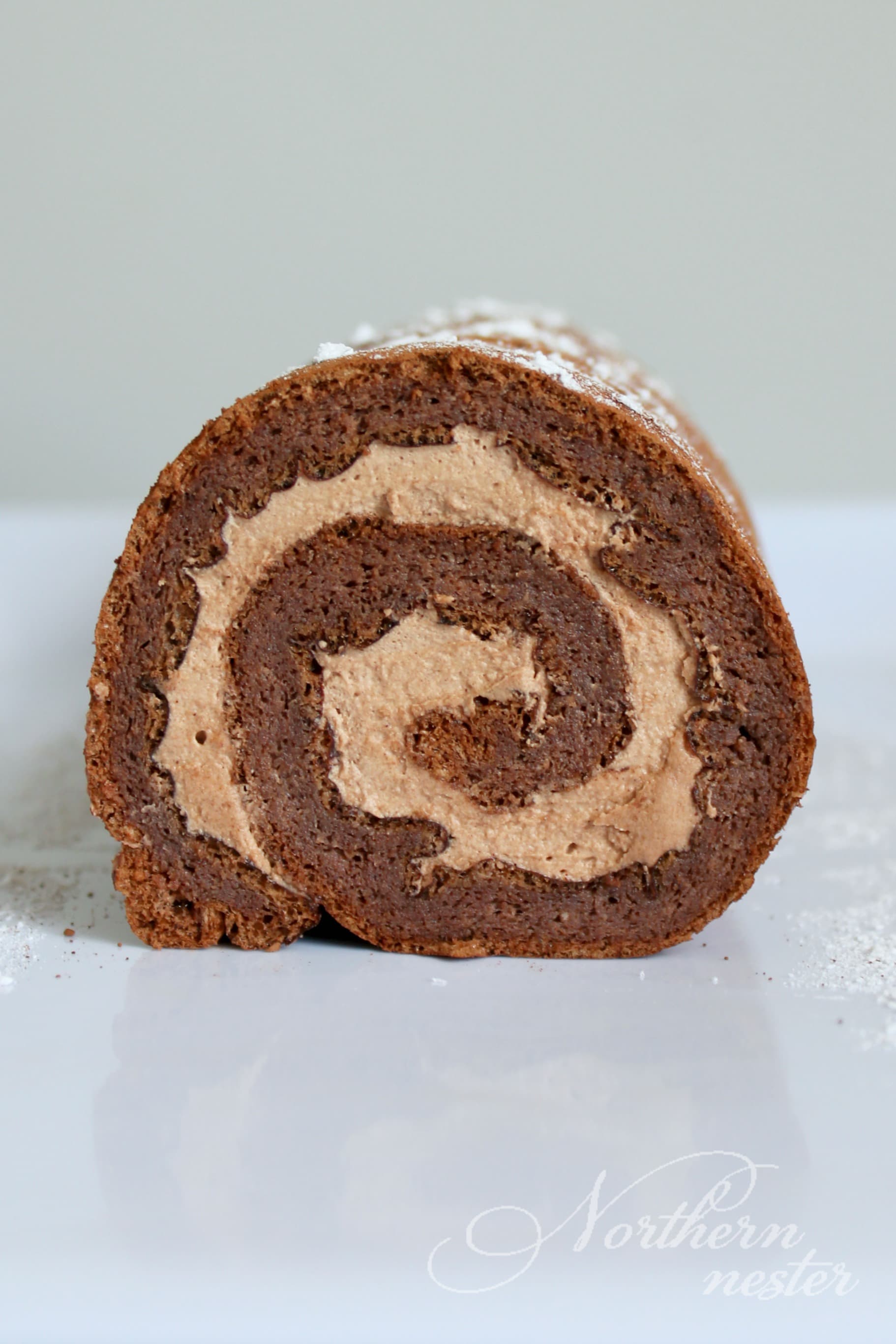 Mocha is one of my favorite flavors and cake rolls are one of my favorite desserts, so naturally, this Trim Healthy Mama-friendly Mocha Roll instantly became my new favorite on-plan treat! It doesn't contain any special ingredients, making it very budget-friendly, too. Come Christmas, I plan to use this recipe to make our yule log by covering it with the chocolate ganache from this recipe to make "bark."
If you've never made a cake roll before, this low-carb Mocha Roll is the perfect recipe to start with. The cake is so deliciously spongy and flexible, it's almost impossible to crack.
The trick to making a nice tight roll with a good spiral, is to roll your cake while it is still warm. As soon as it's finished baking, flip your cake over onto a clean, old kitchen towel that's been sprinkled with cocoa powder and roll it up tight. Allow the cake to cool completely in the towel. When you unroll the cooled cake and spread on the filling, it will bounce right back into shape.
I lightly oiled my rimmed cookie sheet (or jelly roll pan) with coconut oil, lined it with parchment paper, and then oiled the top of the paper as well before spreading the cake batter on top. Transferring the cake from the pan to the towel was effortless this way.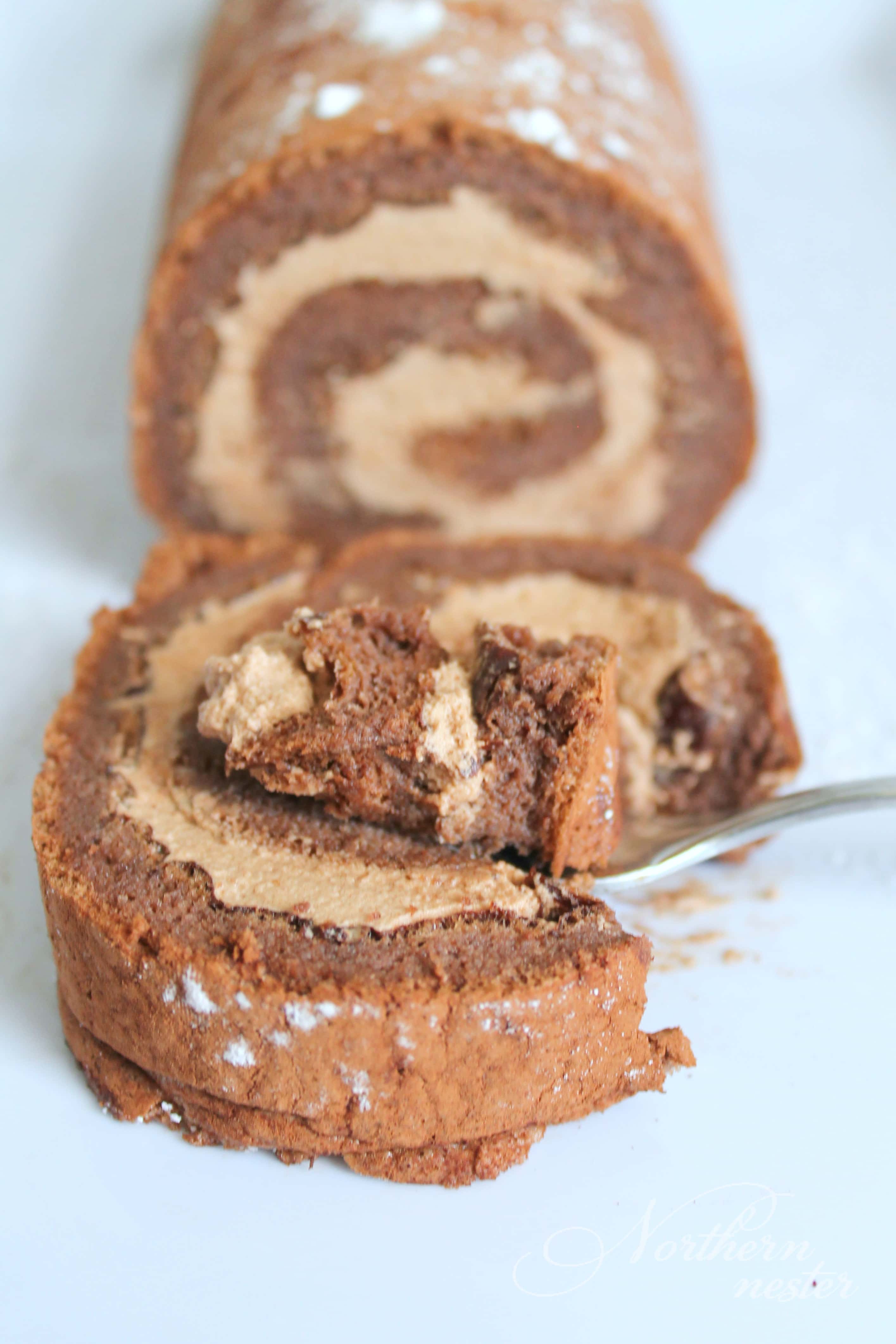 There is no flour at all in this Mocha Roll, making it particularly easy to roll up. It also means that in addition to being low-carb and sugar-free, this dessert is gluten and nut-free! It's also a great way to use up eggs; there are 8 of them in here!
The mocha-flavored, mousse-like filling is made by beating a little cocoa powder, instant espresso powder, and sweetener (I used xylitol, but you can use Gentle Sweet in half the amount if you prefer) together with whipping cream. The cake is made from eggs, cocoa powder, cold coffee (I used Tim Horton's brew like a good Canadian), sweetener, vanilla extract, and a little mineral salt.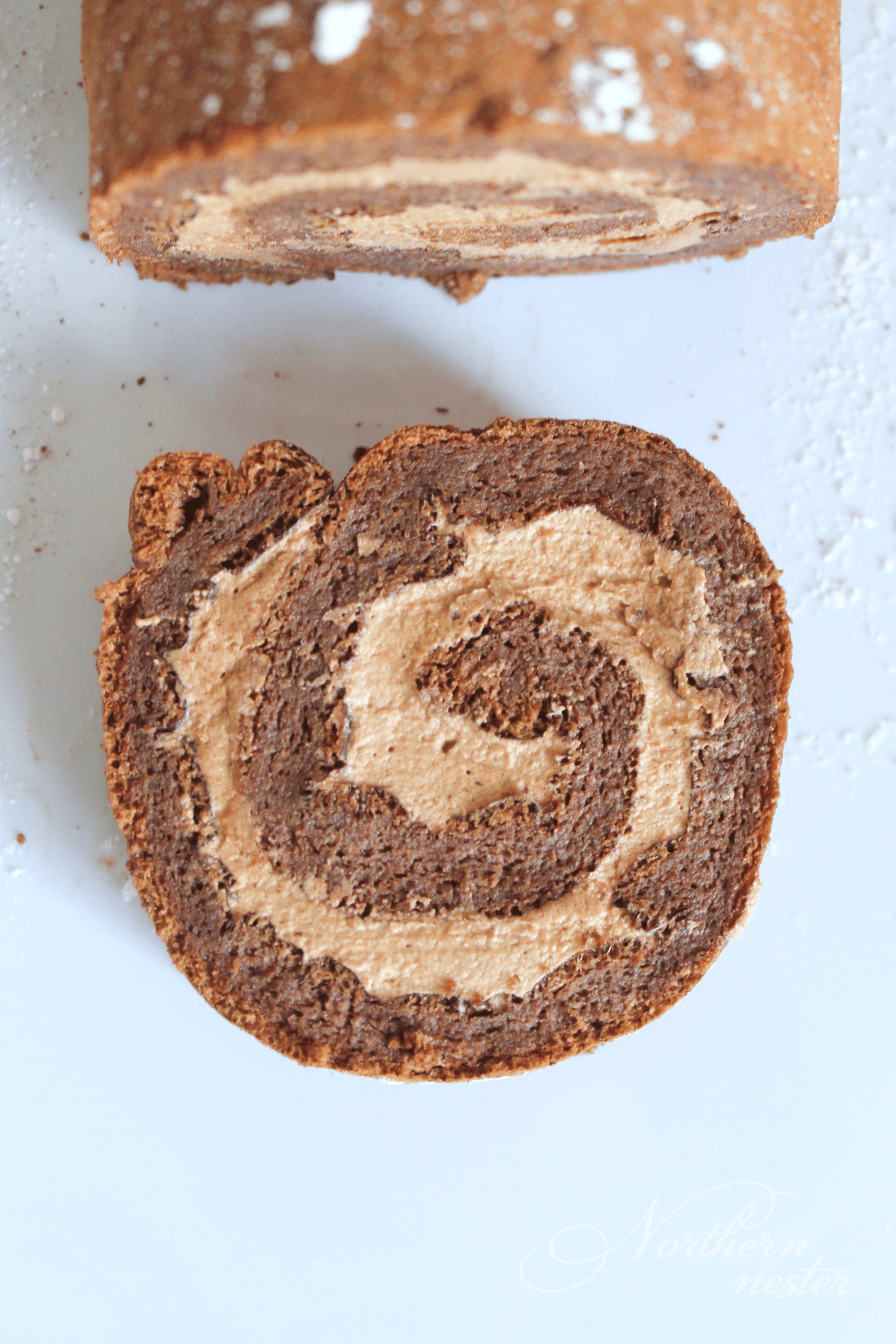 Yield: 10-12 servings
Mocha Roll | THM: S
This impressive looking low-carb Mocha Roll is a cinch to make and a very budget-friendly Trim Healthy Mama S dessert. Ideal for a Christmas Yule Log!

Prep Time 20 minutes

Cook Time 20 minutes

Additional Time 20 minutes

Total Time 1 hour
Ingredients
8 eggs, separated
1/2 cup xylitol (OR 1/4 cup Gentle Sweet)
1/3 cup cocoa powder, divided
1/8 tsp mineral salt
2 Tbsp cold coffee
1 tsp vanilla extract
FILLING
3/4 cup whipping cream
3 Tbsp xylitol (OR 1 1/2 Tbsp Gentle Sweet)
1 Tbsp cocoa powder
1 tsp instant espresso powder
Instructions
Preheat oven to 350 F. Lightly grease a rimmed cookie sheet or jelly roll pan. Line with parchment paper, grease the top of the paper, and dust with 1 Tbsp cocoa powder. Set aside.
In a large bowl, beat egg yolks, sweetener, 2Tbsp cocoa powder, salt, coffee, and vanilla extract together until the mixture is thick and light brown. In a separate bowl with clean beaters, beat egg whites until stiff peaks form. Gently fold egg whites into chocolate mixture, one-third of the batch at a time, until smooth. Pour into the prepared baking sheet and bake at 350 for 20 minutes.
While the cake is baking, layout kitchen towel and sprinkles it with 1/4 cup cocoa powder. After the cake is finished baking and has cooled slightly, invert onto the cocoa-covered towel and peel off the top piece of parchment paper. Roll up carefully inside a towel and let it cool while you make the filling.
To make the filling, beat whipping cream, sweetener, cocoa powder, and instant espresso powder together until stiff. Unroll cooled cake from the towel, spread on the filling, and roll cake back up. Trim the ends with a serrated knife.
Optional: sprinkle powdered sugar substitute (Swerve) on top for "snow."
Notes
You can cover the mocha roll with a chocolate ganache and use the tines of a fork to create "tree bark," if you want to use this recipe for a Yule Log!