My hubby doesn't care for regular spaghetti, spaghetti squash, or lasagna, so I was a bit sheepish about serving him this Italian Spaghetti Squash Bake. I had already had a bowl full and, thinking it was delicious, tried to convince him that it was a winner before he even tried it. If it wasn't for the fact that he voluntarily helped himself to a second and third helping, I still might not know whether he actually enjoyed it or if he had just succumbed to positive peer pressure. 😉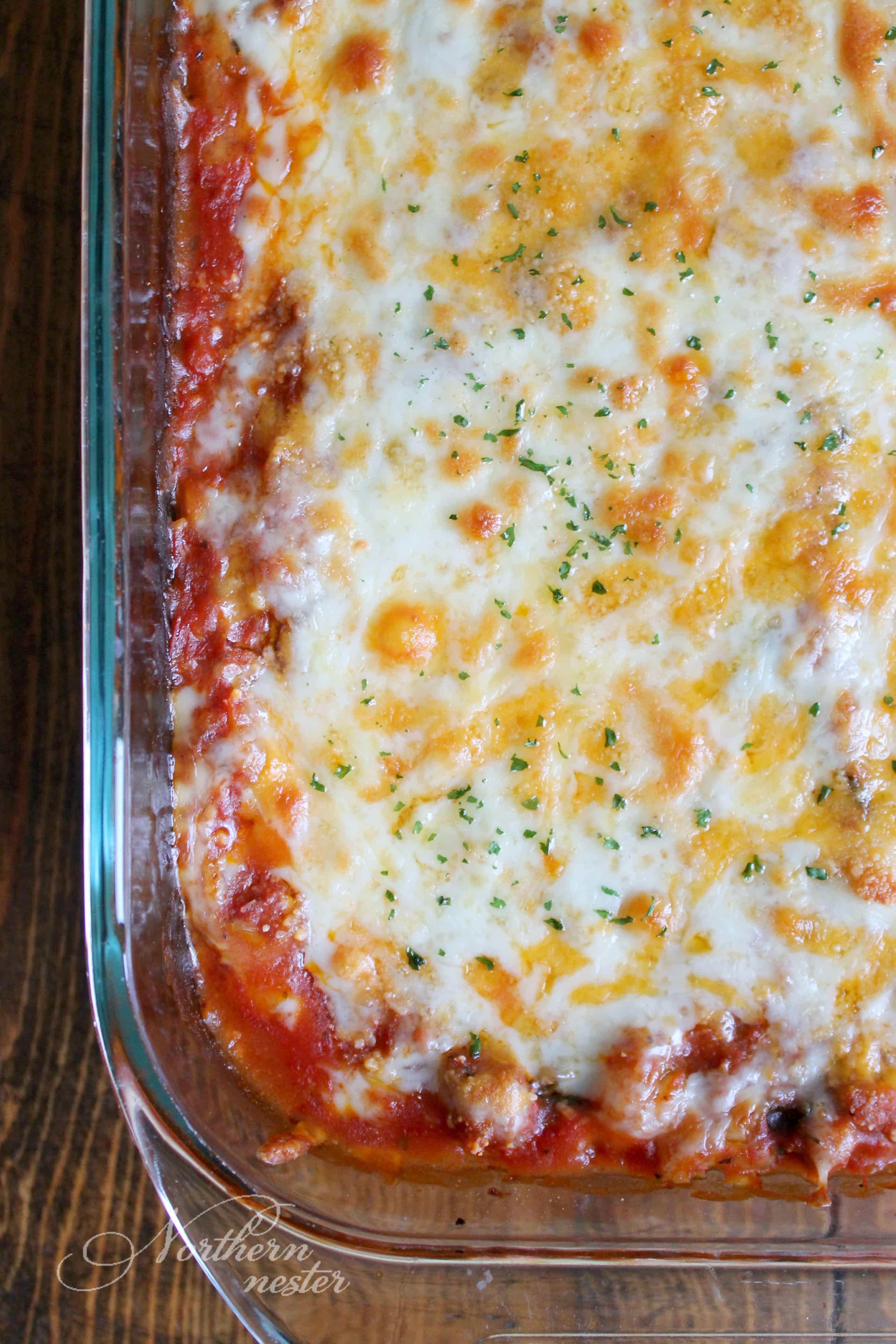 I'm thrilled this main dish went over well. It doesn't contain any special ingredients and is very budget friendly. Plus, it's a family-sized recipe.
Trim Healthy Mamas can enjoy the Italian Spaghetti Squash Bake on its own as an S; if you're at goal weight, or have a husband and children that would benefit from a Crossover meal, garlic bread made from sourdough or a sprouted loaf is a delicious side to this dish!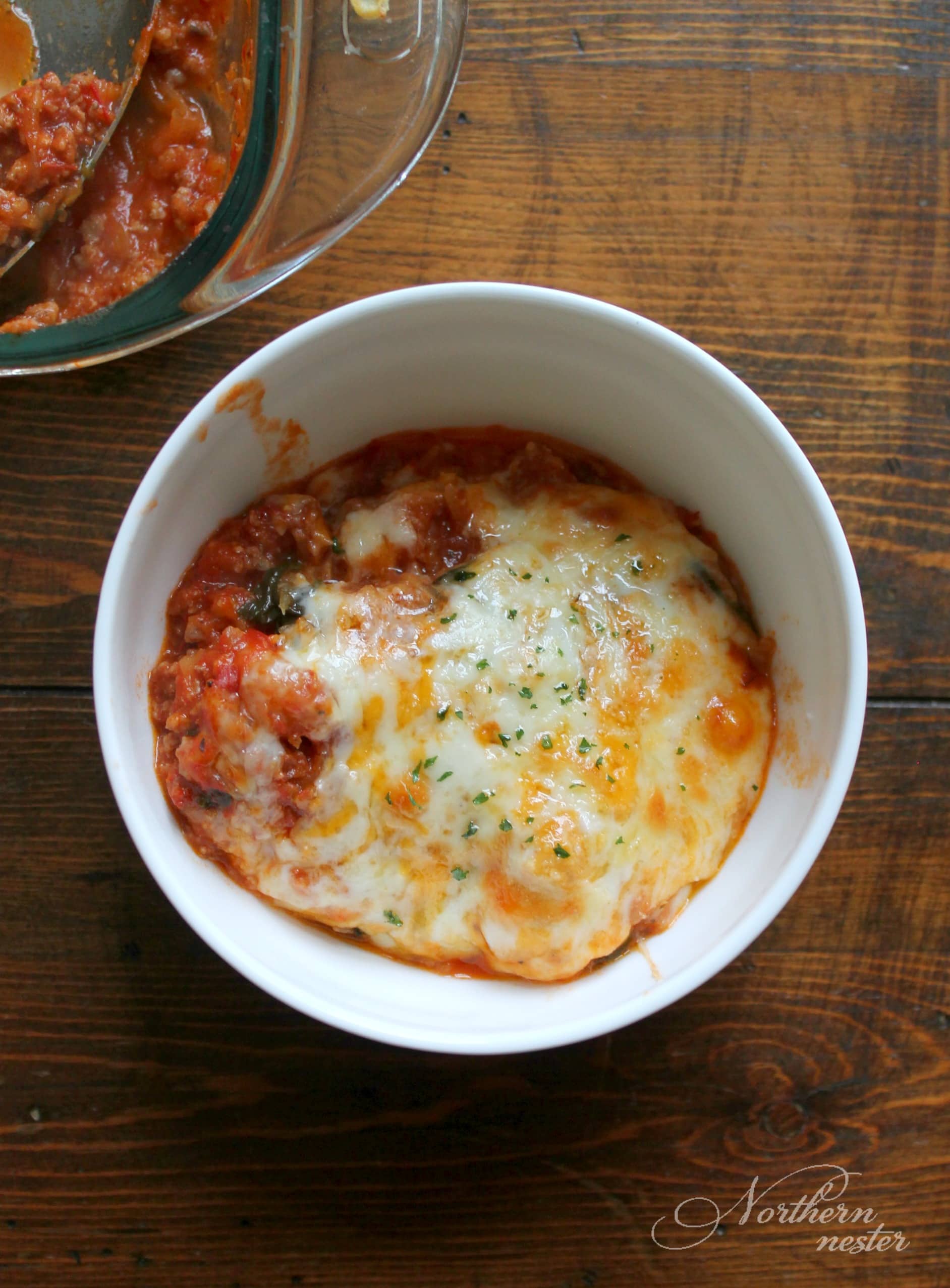 All you need to make this low-carb, Trim Healthy Mama-friendly Italian Spaghetti Squash Bake is:
bulk Italian sausage (or just remove the casings from regular Italian sausage)
fresh garlic
fresh spinach leaves
sugar-free pasta sauce (Canadians: I used President's Choice Roasted Garlic tomato sauce, available at Loblaw stores)
spaghetti squash
mozzarella cheese
cheddar cheese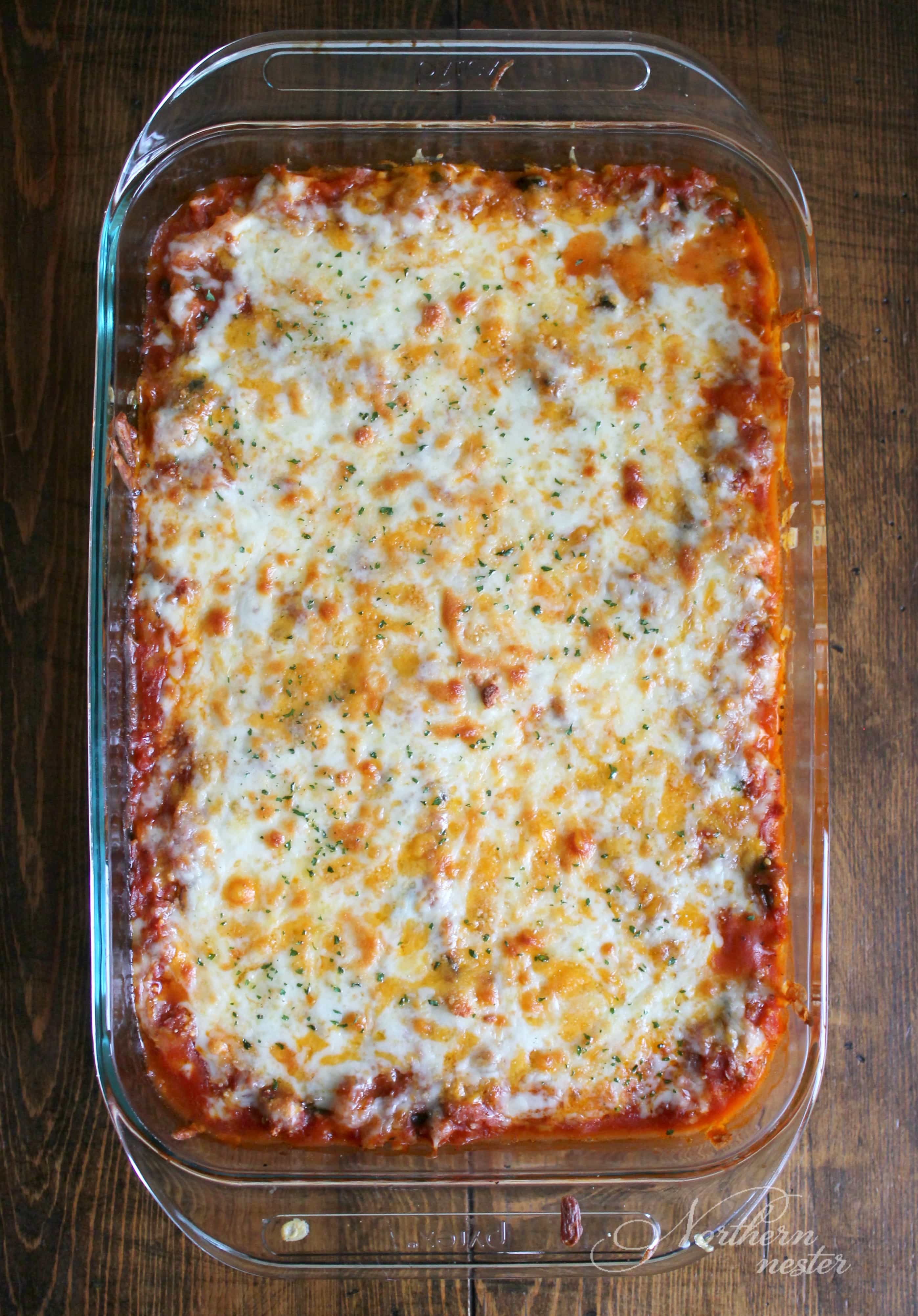 Yield: 8-10 servings
Italian Spaghetti Squash Bake | THM: S
Italian Spaghetti Squash Bake is a delicious, low-carb, family-sized THM S main dish that's free of special ingredients, but full of your favorite Italian flavors...like tomato sauce and cheese!

Prep Time 20 minutes

Cook Time 1 hour

Total Time 1 hour 20 minutes
Ingredients
1 medium spaghetti squash
olive oil
salt and pepper to taste
1 lb bulk Italian sausage
1 clove garlic, minced
4 cups fresh spinach
1 650ml sugar-free pasta sauce
1 cup mozzarella, shredded
1 cup cheddar cheese, shredded
1/4 cup Parmesan cheese
Instructions
Preheat oven to 400 F. Cut spaghetti squash in half, lengthwise. Remove seeds and pulp. Drizzle each half with olive oil, mineral salt, and ground pepper to taste. Place face down on a rimmed baking sheet and pierce the skin in several places with a fork. Bake at 400 F for 40-45 minutes.
In the mean time, scramble fry bulk Italian sausage until no longer pink, Add minced garlic and cook for 1 minute longer. Add spinach and cook, stirring, until leaves are completely wilted. Pour in pasta sauce and simmer until spaghetti squash is finished baking in the oven.
Scrape spaghetti squash "noodles" into sauce mixture and stir to combine. Pour into a 9x13" baking dish. Sprinkle with cheeses. Reduce heat to 350 and bake for 20-25 minutes, or until bubbly. Broil for 2 minutes until mozzarella begins to brown. Sprinkle with parsley and serve.