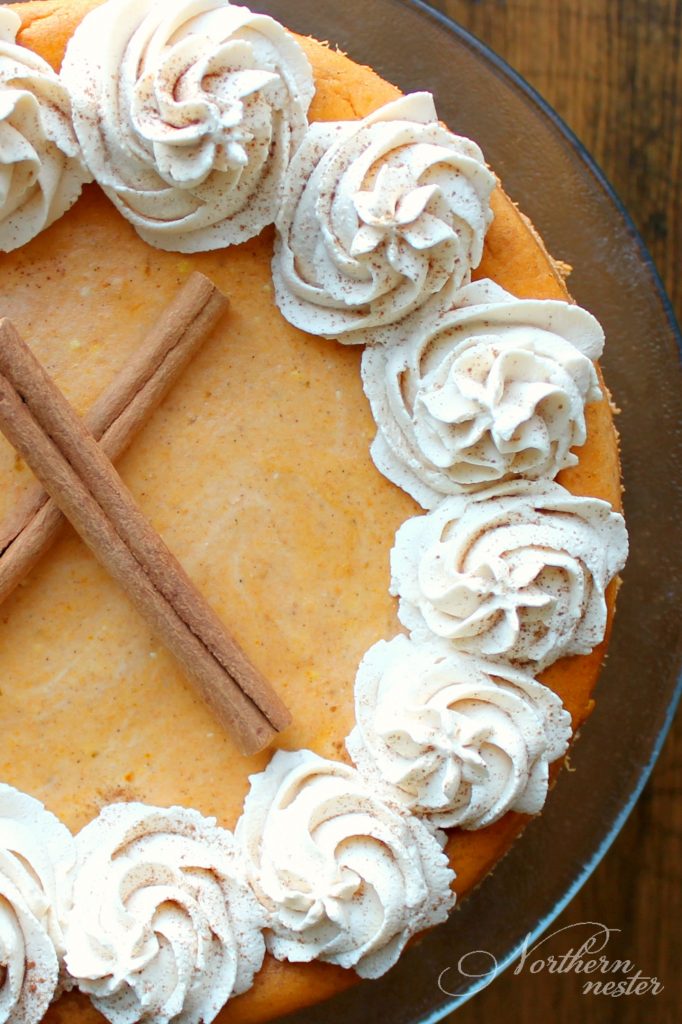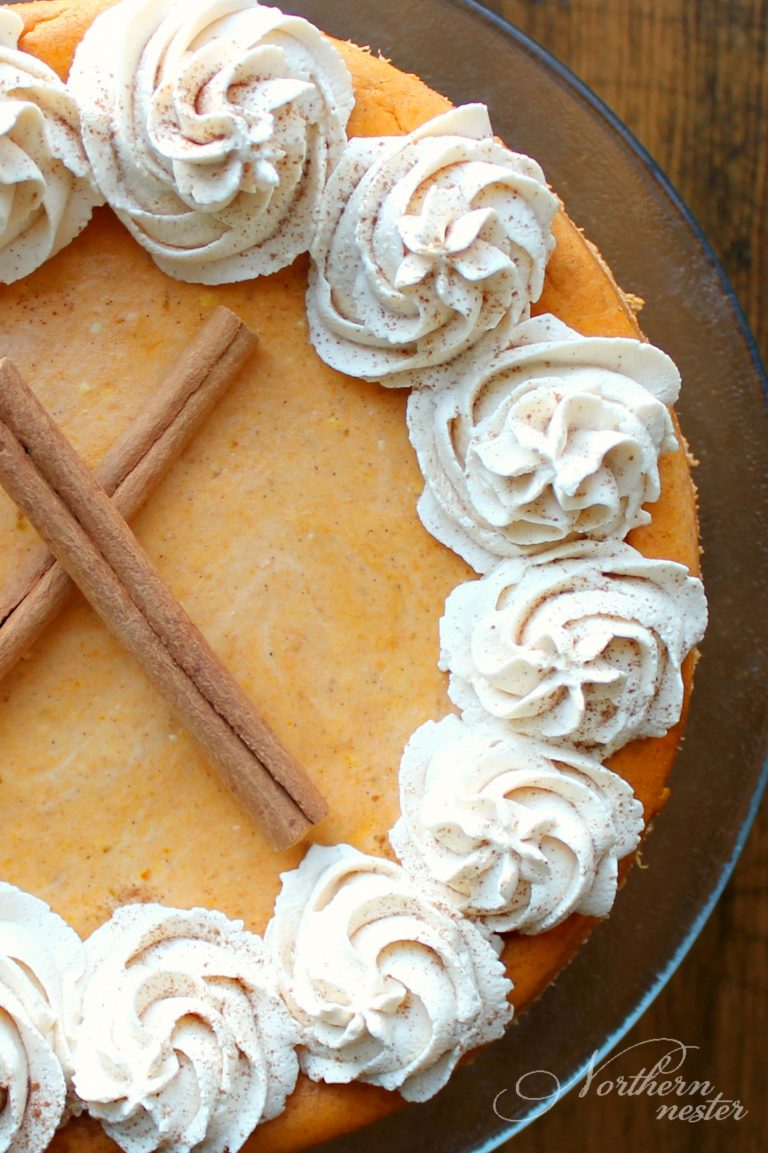 This is my favorite THM-friendly Pumpkin Cheesecake. The pecan crust is so simple to make and perfectly compliments the thick and creamy, lightly flavored pumpkin spice filling. Plan ahead though; this cheesecake is best made the day before you need it.
Cooking this cheesecake longer at a lower temperature eliminates the need for a water-bath; it's about as easy as baked cheesecakes get. If you don't have pumpkin spice mix on hand, you can make your own, by using the first part of this recipe.
If your cheesecake happens to crack, no one will complain if you disguise the top with a layer of maple-flavored whipped cream and a sprinkle of toasted pecans. I promise.
Pumpkin Cheesecake with Pecan Crust | THM: S
A very simple to make pecan crust perfectly compliments the thick and creamy pumpkin spice filling of this delicious THM S cheesecake!
Ingredients
CRUST:
1 1/2 cups pecan pieces
1 Tbsp xylitol
1/2 tsp cinnamon
2 Tbsp butter, melted
1 egg white
FILLING:
3 8oz.bricks of cream cheese, softened
1/2 cup xylitol
1 cup whipping cream
1 15 oz. can pumpkin puree
1 tsp vanilla extract
1 tsp pumpkin spice
3 eggs
GARNISH:
3/4 cup whipping cream
2 Tbsp xylitol
1 tsp maple extract
Instructions
Preheat oven to 350 F.
Pulse pecans, xylitol, and cinnamon in blender or food processor until finely ground. Stir in melted butter and egg white. Press into 9" spring-form pan, going slightly up the sides. Bake for 8-10 minutes. Cool completely.
Reduce oven temperature to 325 F.
Beat cream cheese, xylitol, and cream together until smooth. Stir in pumpkin puree, vanilla, and pumpkin spice until combined. Beat in eggs, one at a time, until just combined. Pour batter over crust.
Bake for 45-50 minutes, until just set. Turn off oven and let cheesecake continue to set for 10 more minutes. Transfer to cooling rack to cool completely. Refrigerate for 4 hours or overnight.
Beat whipping cream, xylitol, and maple extract together until stiff peaks form. Pipe onto cheesecake. Sprinkle a little cinnamon on top.
Notes
You can sub half the amount of sweetener called for with Gentle Sweet.
Best made the day before.
Superb with maple-flavored whipped cream. To make, beat 2 Tbsp of xylitol with 3/4 cup of whipping cream and 1 tsp of maple extract.
https://northernnester.com/pumpkin-cheesecake-with-pecan-crust-thm-s/
If this recipe makes way too much for your liking, here's another Pumpkin Cheesecake recipe we love that makes only 2 servings.