Your comments to a recent post I shared on my Facebook Page helped me not feel so alone in my need for some accountability; apparently, I'm not the only one struggling to optimize the nutrition content in my meals!
Busyness, laziness, unpreparedness – maybe it's a combo deal – but in any case, I've discovered there are good ways to eat on plan and BETTER ways to eat on plan!
Sure, eating on-plan Chocolate Cake for breakfast is better than a sugary bowl of cereal, and scraping the toppings off a pizza slice for lunch is better than a slice of white bread with margarine and jam, but by not making an effort to include more fruits and vegetables in my diet, I'm missing out on loads of fiber, vitamins, minerals, and essential nutrients!
It's time for a THM Challenge! No Cheat November: Intentionally Nutritious
No Cheat November: Intentionally Nutritious begins Nov. 1 and you are warmly invited to join me for a whole month of consciously choosing foods that are better than good!
This THM Challenge is unique in that it will help us to think before we eat.
Here's how the Intentionally Nutritious Challenge will work.
At the end of each day (8 pm EST) in November, I will spotlight a different food on my Facebook Page. It will look something like this:
Included in each spotlight, will be a recipe featuring the food of the day and an invitation for you to share what you ate and why!
Those are the only 2 rules of this challenge: record and reveal!
THM Challenge Rules!
To help us consciously improve the nutrient-content of our meals, there are 2 rules for this Trim Healthy Mama Challenge:
You must record everything you've eaten for each day. You can share this in the comment thread of each Accountability Post shared on my Facebook Page (and Instagram Stories) at the end of each day (I'll schedule them for 8pm EST).
You must share why you ate what you did! Recognizing why we eat what we do is the first step in improving our choices!
Here's an example of what that might look like:
Breakfast: Mrs. Pamela's Apple Cinnamon Baked Oatmeal, Double-fermented Kefir, and a handful of raspberries. I chose an E meal for breakfast because I woke up feeling sluggish and need the energy for the day's long to-do list!
Don't be ashamed to share the whys behind poor choices, too! In fact, I'd encourage you to do so! This is a judgment-free challenge where we're all encouraged to learn from our own mistakes while simultaneously helping others avoid the same ones.
An example of the "why" behind a poor choice might look like this:
Snack: 3 Oreos, leftover coffee with cream, and a Reese. I chose this because I was unprepared! I was craving carbs and had nothing on-plan on hand. Note to self: Stock the freezer to avoid this happening again. The sugar crash was horrible!

What you can do now to prepare!
Here are 3 things you may wish to do now to help you thrive the challenge, even on days when you're super pressed for time and energy!
Make and freeze meals ahead of time.
Some of my favorite fiber-laden, nutrient-rich foods to freeze are soups, chili, muffins, and pancakes . A few good ones:
I'm also going to make a batch or two of my Pickle Juice Ranch Dressing to store in the fridge for easy salads! It's a Fuel Pull dressing, so it can go on everything, including sandwiches!
Stock up on fruits & veggies!
You'll probably want to do this closer to the start of our challenge so they don't go bad on you, but a good supply of Fuel Pull freshness like berries and leafy green will help make adding nutrients to any meals, shakes, and desserts a cinch!
You can can even wash, peel, and/or chop them ahead of time, and store them in an air-tight container for maximum ease.
Download The Slim of Satisfied Handbook
This is totally optional, but if you feel like you need some assistance with this challenge, my digital download, The Slim & Satisfied Handbook, tells you exactly what to make and eat for every single meal, snack, and drink of an entire month. It even includes grocery lists for each week, so you can buy everything ahead of time!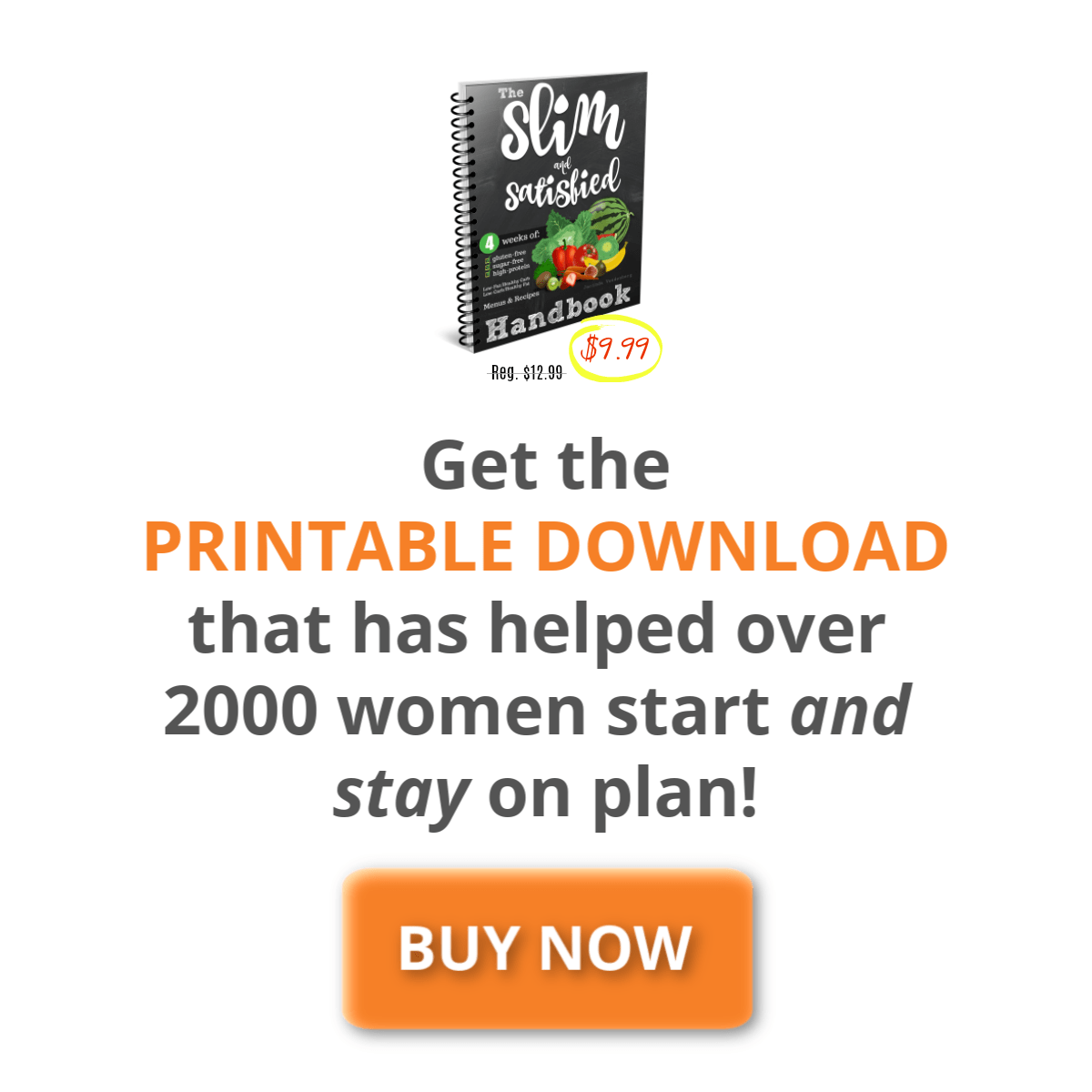 You can read more about The Slim & Satisfied Handbook and purchase it here, if you're interested.
Follow Northern Nester on Facebook or Instagram (Or Both!)
That way, you won't miss the accountability posts! We'll use the hashtag #intentionallynutritious on Insta! (Bonus: we'll be super good at spelling nutritious after this. 😀 )
I can't wait!