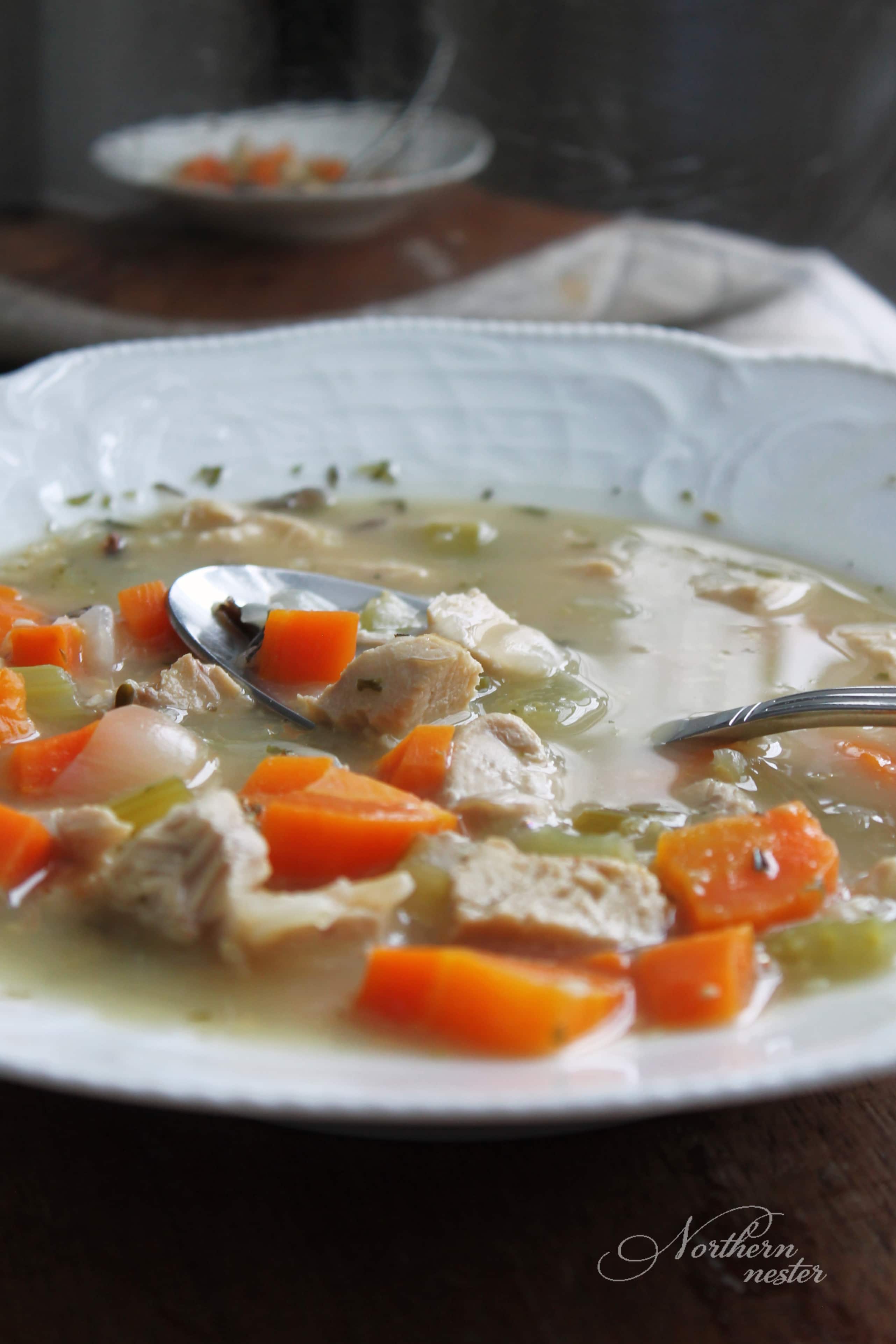 If you struggle with E meals, this Chicken and Wild Rice Soup is a deliciously easy way to get one in every day! Like oatmeal for breakfast, it's an easy-peasy way of ensuring your body gets enough healthy, complex carbohydrates without compromising on heartiness or flavor.
My friend Meagan inspired me to create this soup. More than once she has raved about the Creamy Chicken and Wild Rice soup in the Trim Healthy Mama Cookbook, but since my copy of the cookbook is almost always on loan to someone, I used what I had in the fridge to come up with another version!
This one has no special ingredients. You can even leave out the xanthan gum if you like, but it makes the broth a bit thicker (especially after it has sat a night in the fridge) and makes you think you're enjoying a rich soup made with heavy cream!
In reality, if you use olive oil to saute your onions, this Chicken and Wild Rice Soup is dairy-free, gluten-free, nut-free, egg-free, soy-free…pretty much free of any allergen, but loaded with good veggies like:
onions
garlic
celery
carrots
mushrooms (I didn't include them in this recipe because my kids don't care for them, but they would add a wonderful earthiness, if you so desire)
and lean protein from:
chicken breast
wild rice (this is the Wild Rice Blend I used)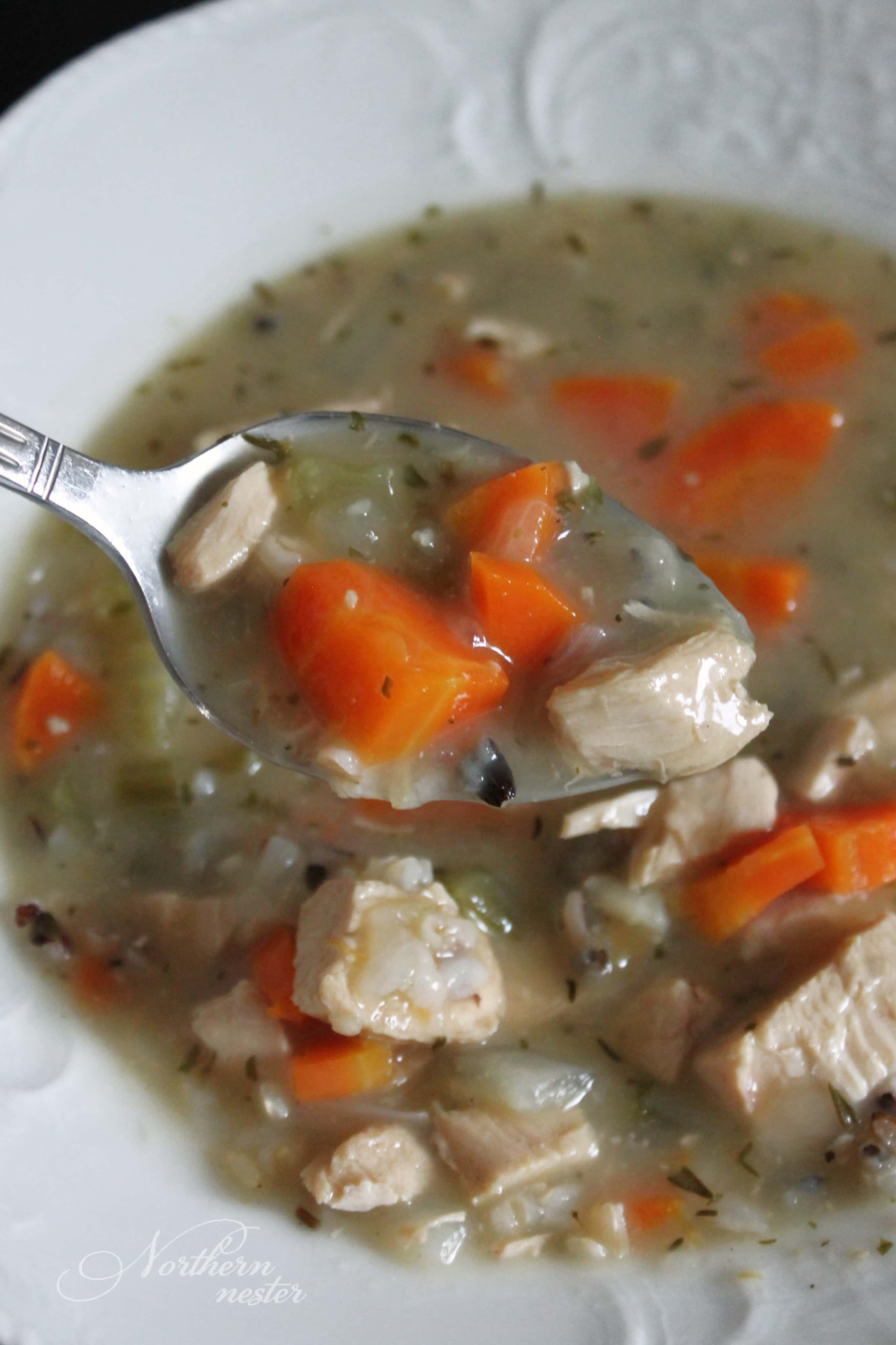 To season the soup, I used:
dried parsley
dried thyme
chicken broth
The whole family enjoyed this Chicken and Wild Rice soup for lunch yesterday- even more than the chicken soup I normally make! And I've got enough left over for a couple easy E lunches this week. Served with sprouted bread and an apple (or other fruit), this is such a tasty to get milk-makin' carbs (and energy!) into this nursing mama!
I hope you enjoy it as much as we do!
Yield: 10 servings
Chicken
This dairy-free, gluten-free, low-fat Chicken and Wild Rice Soup is a hearty and flavorful THM E recipe that doesn't require any special ingredients! A delicious lunch served with a slice of sprouted bread and some fruit.

Prep Time 20 minutes

Cook Time 1 hour

Total Time 1 hour 20 minutes
Ingredients
1 tbsp olive oil or butter
1 onion, chopped
4 garlic cloves, minced
3-4 stalks celery, chopped
2-3 large carrots, chopped
3 chicken breasts, cooked and cubed
1 1/2 tsp dried thyme
1 tsp dried parsley
1 tsp mineral salt
1/4 tsp ground pepper
1 tsp xanthan gum
6 cups chicken broth
1/2 cup wild rice
Instructions
In a large soup pan, saute onion in olive oil or butter until soft. Add in garlic and cook for one more minute. Add in celery and carrots. Cook until soft. Stir in cubed chicken, thyme, parsley, salt, pepper, and xanthan gum until xanthan gum is dissolved. Pour in chicken broth. Bring to a boil and simmer for 15 minutes. Add wild rice. Cook for 40 minutes, stirring occasionally. Serve and enjoy!
Notes
Gluccomannan may be substituted for xanthan gum if desired.

This soup stores well for several days in the fridge, making easy lunches all week long!