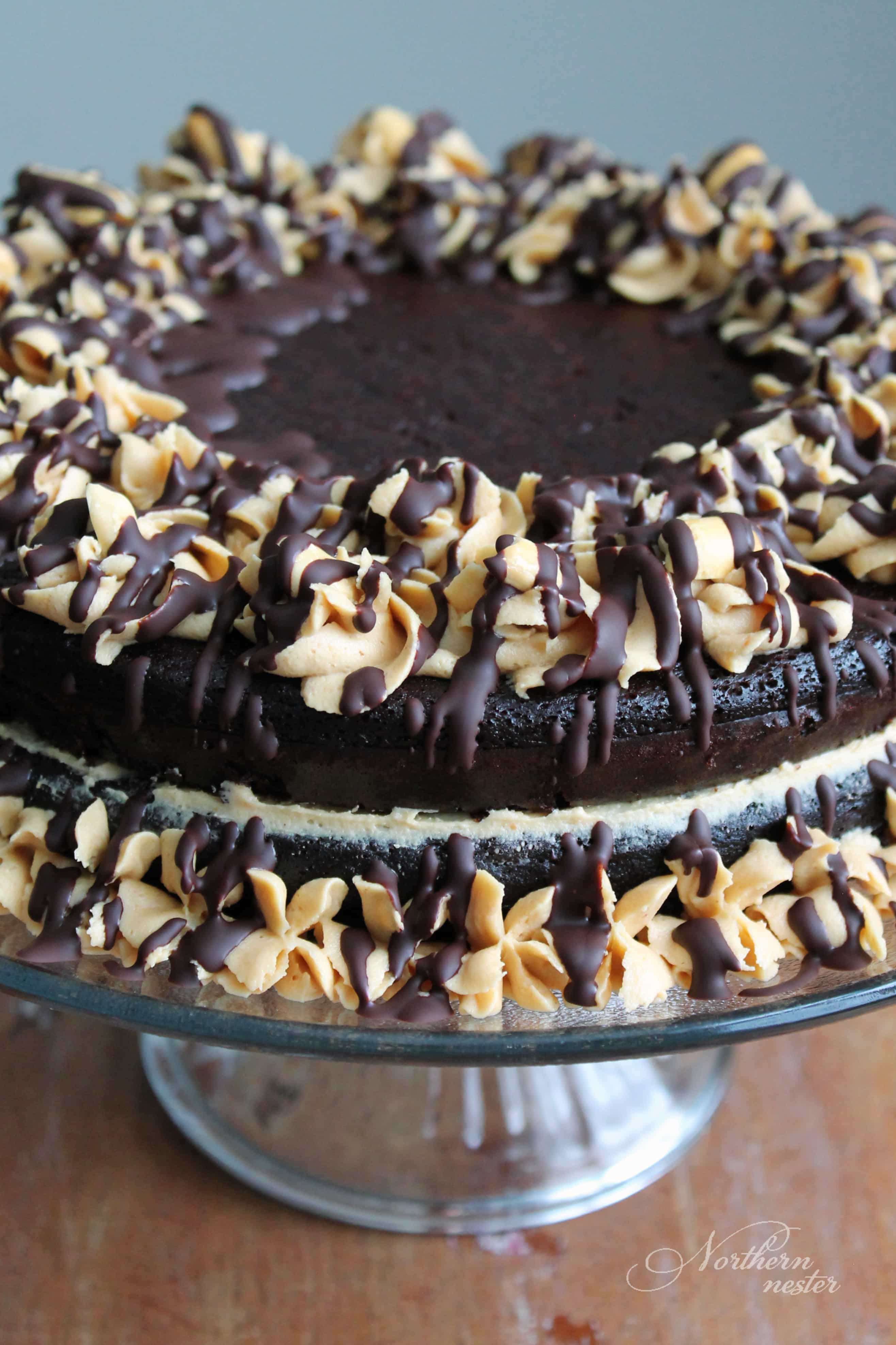 "This cake….this is exactly what you'd expect to taste when you want a chocolate cake." ~ My husband, after sinking his teeth into this Peanut Flour Chocolate Cake with Peanut Butter Buttercream frosting.
And he's right!
This Peanut Flour Chocolate Cake has the best texture of any low-carb, THM-friendly cake I've ever made! It's incredibly light and moist, and wonderfully chocolaty. If you've struggled to enjoy the density of Baking Blend cakes, give this one a go. It will rock your world.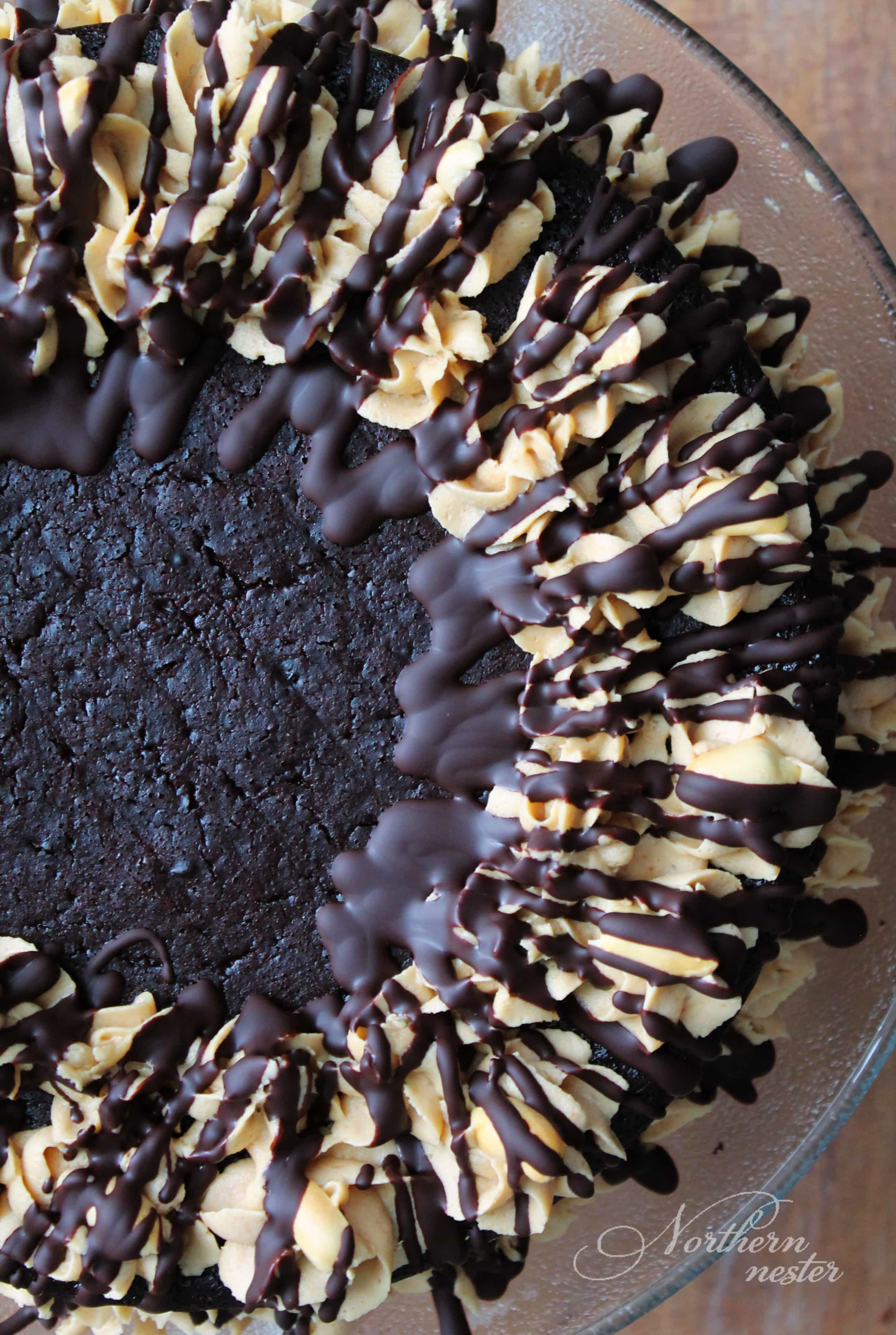 Defatted peanut flour is a very dry flour to work with. It's very similar in its constitution to coconut flour, but I prefer it's flavor. It just requires a lot of moisture to balance it out. In this Peanut Flour Chocolate Cake, that moisture comes from 4 eggs, butter, and unsweetened cashew milk. The mixture is quite runny when you pour it into the baking pans, but it bakes up gorgeously!
I chose to make a Peanut Butter Buttercream frosting for this cake because who doesn't love the peanut butter and chocolate combination?! The buttercream is made by whipping butter and sweetener together until fluffy, then adding in peanut butter, a splash of cream, and vanilla extract. The result is a frosting so delectable, my kids surround me like little birds in hopes I'll be generous with any leftovers and squirt a rosette from the piping bag onto their tongues.
Aside from the amazing texture and flavor, the next best thing about this Peanut Flour Cake is that it doesn't require any special ingredients to make! Sugar-free, defatted peanut flour is now a popular ingredients and easily sourced locally.
My favorite brand is Lakanto or Tru-Nut, because of its darker, bolder roast, but Trim Healthy Mama's Defatted Peanut Flour, and the sugar-free version of PB & Me will also work just as well in this recipe.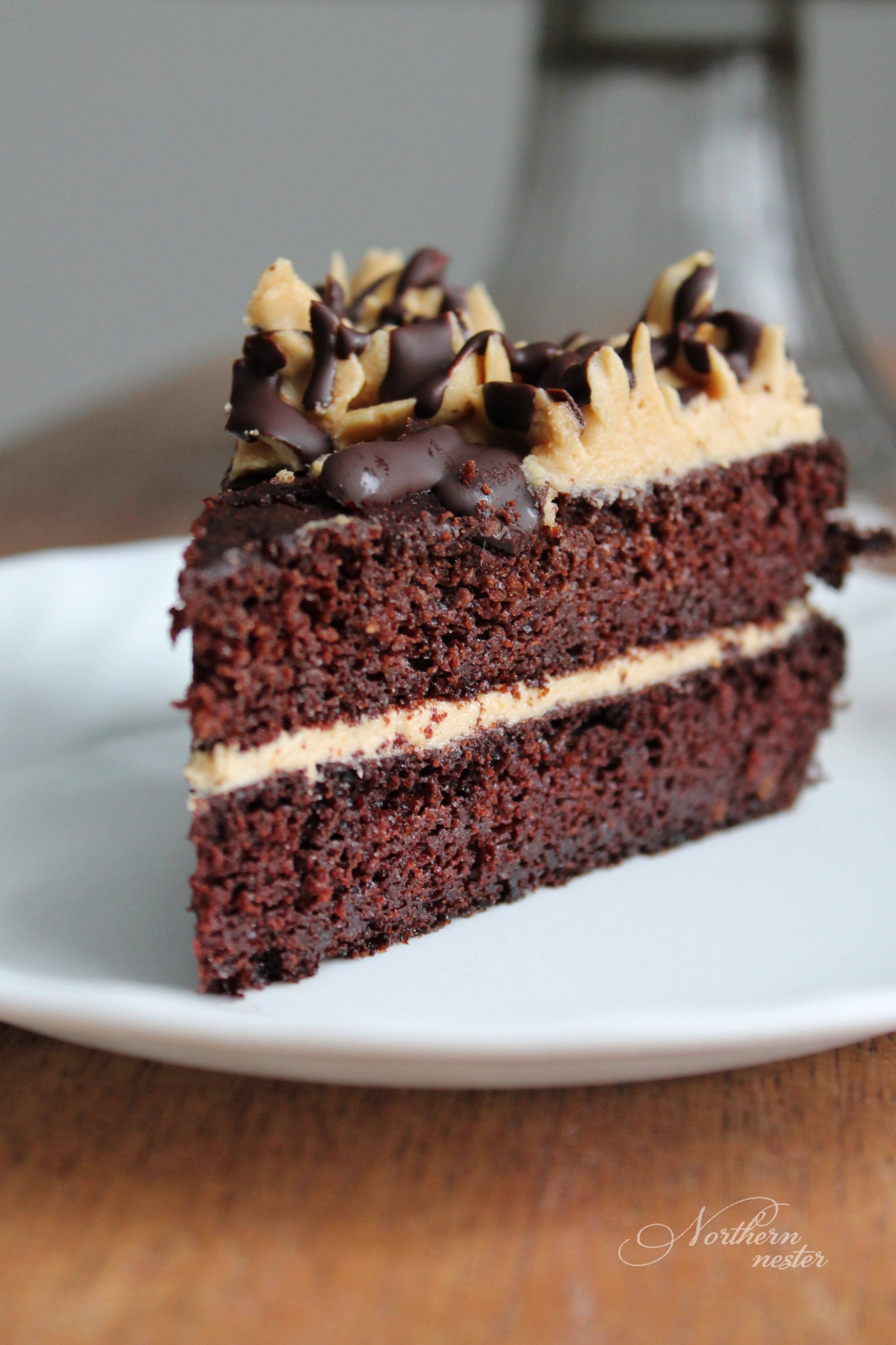 Here's what you'll need:
If you'd like, you can make this cake dairy-free by using coconut oil in place of the butter.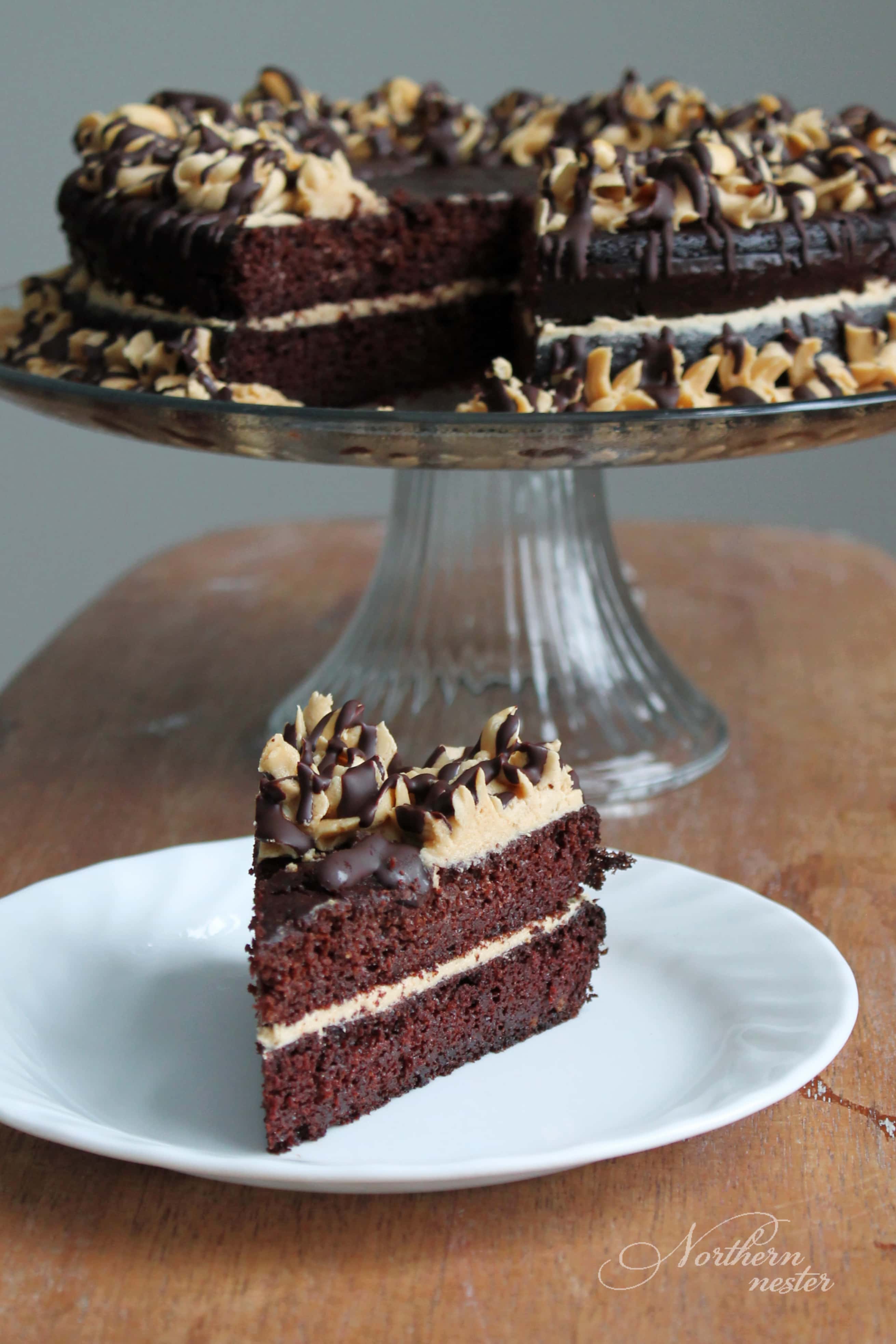 NOTES:
Since publishing this recipe, it has quickly become the most popular one on my site! I've discovered my oven temperature is a bit cooler than most, so I've lowered the baking time in the recipe by 5 minutes.
Also, this recipe makes AMAZING cupcakes! Simply fill up the liners in a 12-cup muffin tin and bake for 15 minutes instead.
Peanut Flour Chocolate Cake with Peanut Butter Buttercream | THM: S, Keto, GF
This Peanut Flour Chocolate Cake will rock your low-carb world! It's light, moist, and chocolaty, full of healthy fats and high in protein! THM S, Keto, GF. No special ingredients.

Prep Time 20 minutes

Cook Time 30 minutes

Additional Time 10 minutes

Total Time 1 hour
Ingredients
1/3 cup cocoa powder
1 1/2 tsp baking soda
1 1/2 tsp baking powder
1/2 tsp mineral salt
4 eggs
1 cup unsweetened cashew or almond milk
1/3 cup butter, melted
2 tsp vanilla extract
PEANUT BUTTER BUTTERCREAM:
1/2 cup butter, soft
1/2 cup smooth natural peanut butter
2 tbsp half & half
1 tsp vanilla extract
Instructions
Preheat oven to 350 F. Line the bottom of two 9" cake pans with parchment paper.
In a large mixing bowl, stir peanut flour, sweetener, cocoa powder, baking soda, baking powder, and salt together until well combined. Add in eggs, nut milk, melted butter, and vanilla. Beat together until smooth. The batter will be runny. Divide evenly between prepared cake pans. Bake for 25 minutes, or until a toothpick comes out clean. Cool for 15 minutes in the pan before inverting onto a cooling rack.
To make the peanut butter buttercream beat butter and sweetener together on high for several minutes until whipped and fluffy. Add in peanut butter, half & half, and vanilla. Beat together on high for 2-3 minutes until very light.
To assemble, spread a layer of frosting on the top of one cake. Layer second cake on top. Scoop the remaining frosting into a piping bag and decorate the top and sides as desired. Optional: garnish with peanuts, and melted chocolate drizzle.