Disclosure: Lakanto sent me their monkfruit sweeteners to try, free of charge, but all opinions are 100% my own. I may receive a small commission if you choose to choose to purchase any of their products through my link.
A couple weeks ago, I received the sweetest box ever in the mail; Lakanto had sent me three of their best-selling monkfruit sweeteners to try and experiment with!
I had never tried monkfruit before, and was excited to give it a taste. I read nothing but rave reviews about it in the Trim Healthy Mama Facebook Groups, so I was curious to see what all the fuss was about.
Lakanto sent me 3 sweeteners:
If you've been making my recipes, you know xylitol has always been by sweetener of choice! My reasons for this are:
xylitol measures almost 1:1 to regular sugar, making recipe conversion easier
xylitol tastes the most like sugar, in my opinion
xylitol has a bulky, granular consistency that's needed for the proper texture in most baked goods
However, xylitol has its downsides, too:
xylitol can be fatal to dogs
xylitol can cause digestive distress in some people (we have no problems with this in our family, but I would not serve something made with xylitol to guests, unless they confirmed they were okay with it)
xylitol is bulkier than regular sugar and takes longer to dissolve
xylitol has a slight cooling effect, but no bitterness
though low enough to work in THM recipes, xylitol still has one of the highest glycemic indexes of plan-approved low-carb sweeteners.
The reason Lakanto's Classic Monkfruit Sugar Substitutes can be substituted 1:1 in baking is because they are not straight monkfruit. Monkfruit by itself is potently sweet (Lakanto also sells monkfruit extract), even sweeter than stevia extract, but mixed with erythritol (a sugar alcohol that isn't nearly as sweet, but provides the necessary bulk to work like regular sugar), you get an excellent, low-carb sweetener that's easy to bake with and doesn't spike your blood sugar.
Conclusion
I think I've officially tried all the low-carb sweeteners available now, and I would rate Lakanto's Monkfruit Sugar Substitutes the highest of them all for:
versatility
flavor
digestibility
consistency
Xylitol is a close second, but tied for affordability.
HOWEVER!
Lakanto has provided a 15% OFF coupon code for Northern Nester readers! When you make a purchase through any of the links on this page using the Coupon Code: northernnester, you will receive 15% off everything you order!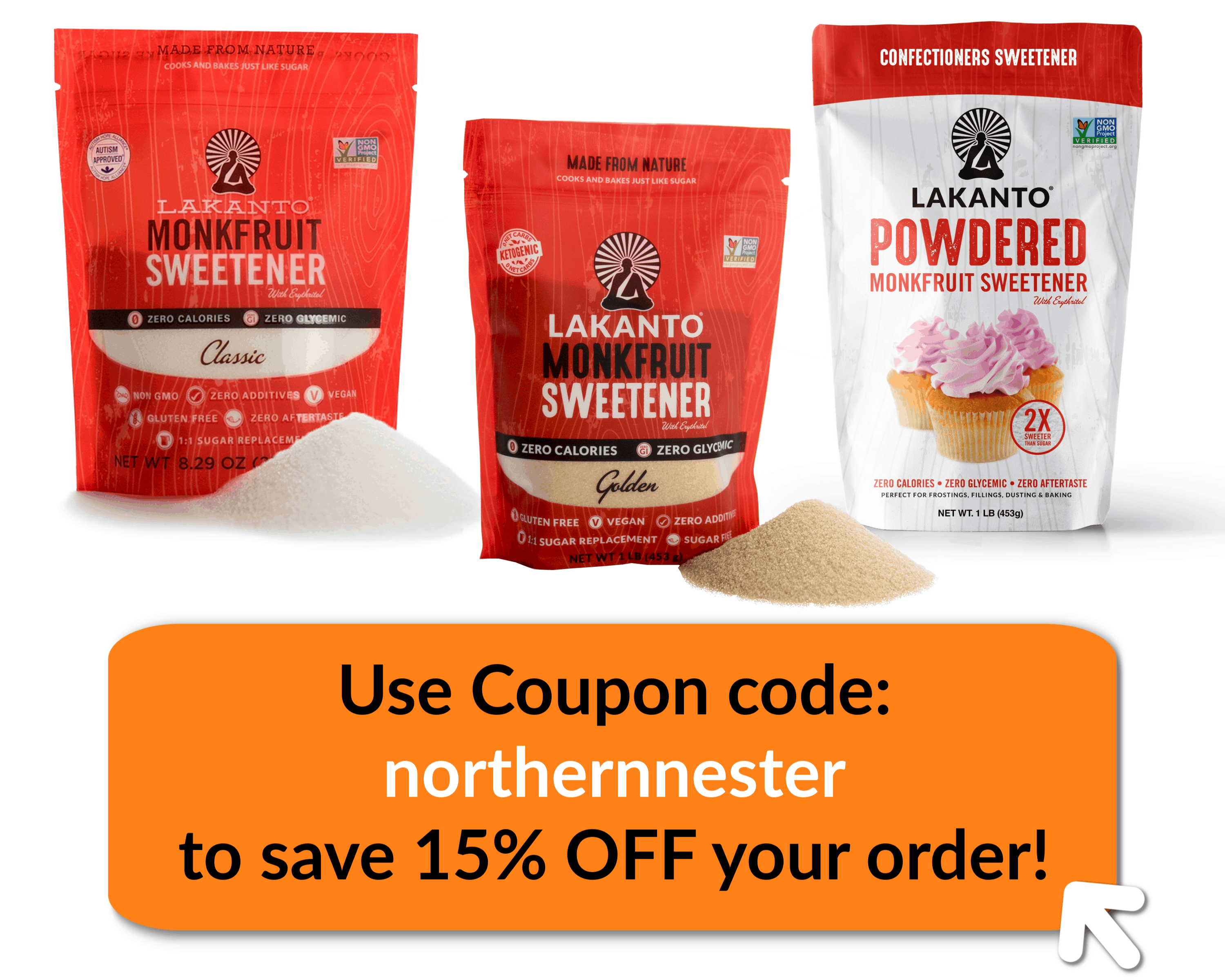 In my recipes, you can substitute Lakanto's Classic and Golden Monkfruit 1:1 Sugar Substitutes cup for cup when the recipe calls for xylitol. This easy conversion opens a world of possibilities to Trim Healthy Mamas that can't tolerate xylitol or are concerned about their furry friends ingesting it.
What's a review without a recipe to go with it?!
These Cinnamon "Sugar" Cookie Dough Bites are the first things I made with my Lakanto Golden Monkfruit Sweetener and they were an absolute hit with the whole family! I hope you enjoy them, too.
Cinnamon "Sugar" Cookie Dough Bites | THM: S, Keto, GF, DF
Warning! These Cinnamon "Sugar" Cookie Dough Bites are ADDICTIVE! A super easy, high protein snack featuring Lakanto's Classic Golden Sugar Substitute that's free from eggs, dairy, and gluten. THM: S, Keto, GF, DF.
Ingredients
1/2 cup sugar-free almond, sunflower, or peanut butter
1 1/2 teaspoons cinnamon, divided
3 tbsp coconut flour
3 tbsp unsweetened almond or cashew milk
1/4 cup + 1 tbsp Lakanto Monkfruit Golden Sweetener, divided
1 tsp vanilla extract
1/4 tsp mineral salt
Instructions
In a medium bowl, mix nut or seed butter (I used almond butter), 1 tsp of cinnamon, coconut flour, nut milk, 1/4 cup of Lakanto Monkfruit Golden Sweetener,* vanilla, and mineral salt together.
In a smaller bowl, stir 1 tbsp of Lakanto Golden Monkfruit Sweetener and 1/2 tsp of cinnamon together.
Roll dough mixture into truffle-sized balls. Roll dough bites in cinnamon "sugar" mixture. Store in an air-tight container in the fridge.
https://northernnester.com/lakanto-monkfruit-sweetener/