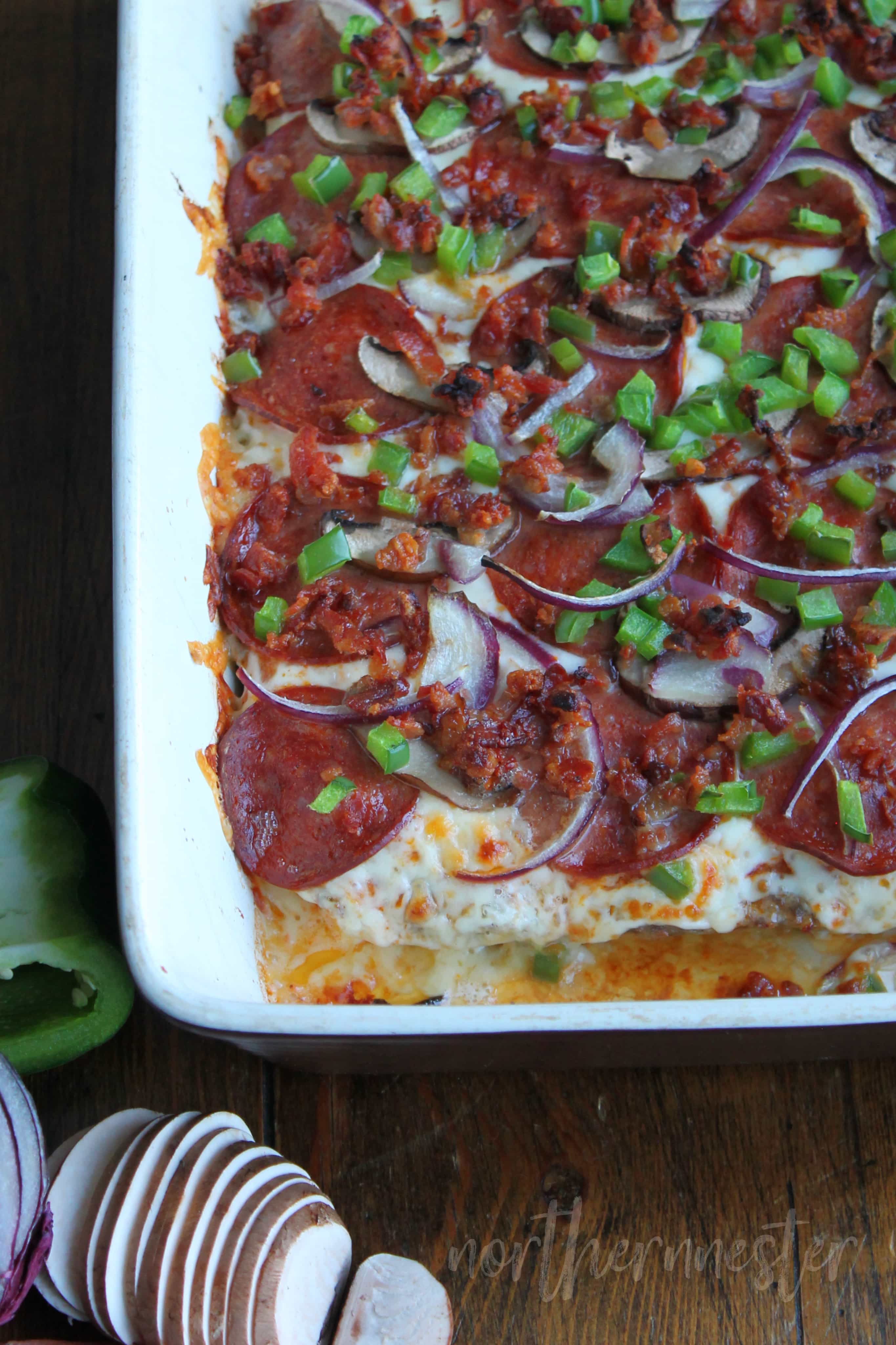 Meatza Supreme is a majorly man-pleasing mainstay! (Oh, who am I kidding?! My carnivorish self loves this dish at least as much as my hubby and boys!) It has all the pizza taste without the carbs.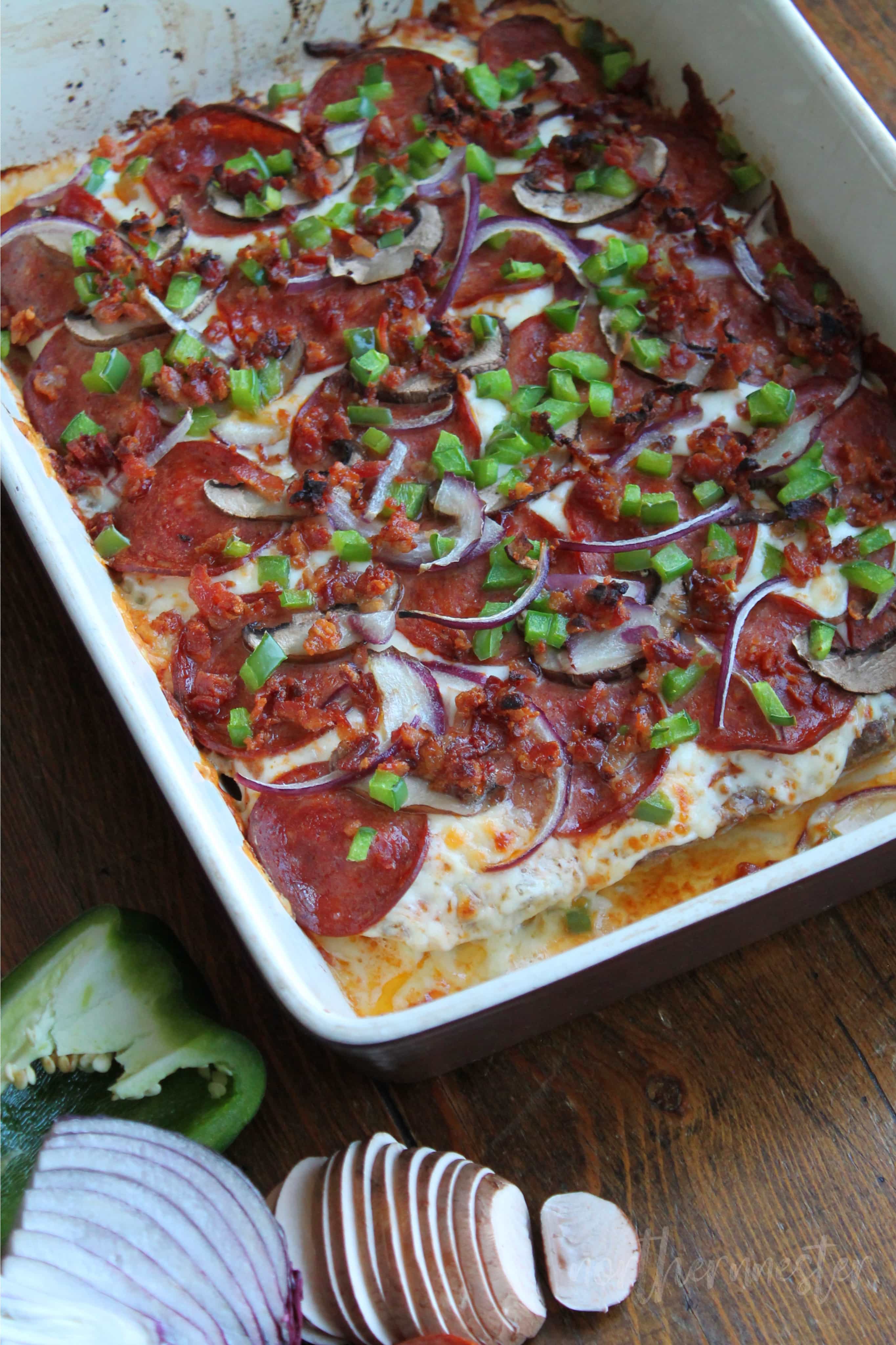 There's no cauliflower to sneak into the crust here either (some guys can actually sniff out that trick from a mile away. Ask me how I know.); the base is made from meat!
With all that meat, Meatza Supreme packs a boatload of protein! You'll probably want to pair this with a salad for fiber's sake, or at least load on the veggie toppings. My favorite veggies for this dish are green pepper, red onion, and mushrooms, but you could also add other S or FP vegetables like olives, banana peppers, or a bit of tomato, if you like that sort of thing.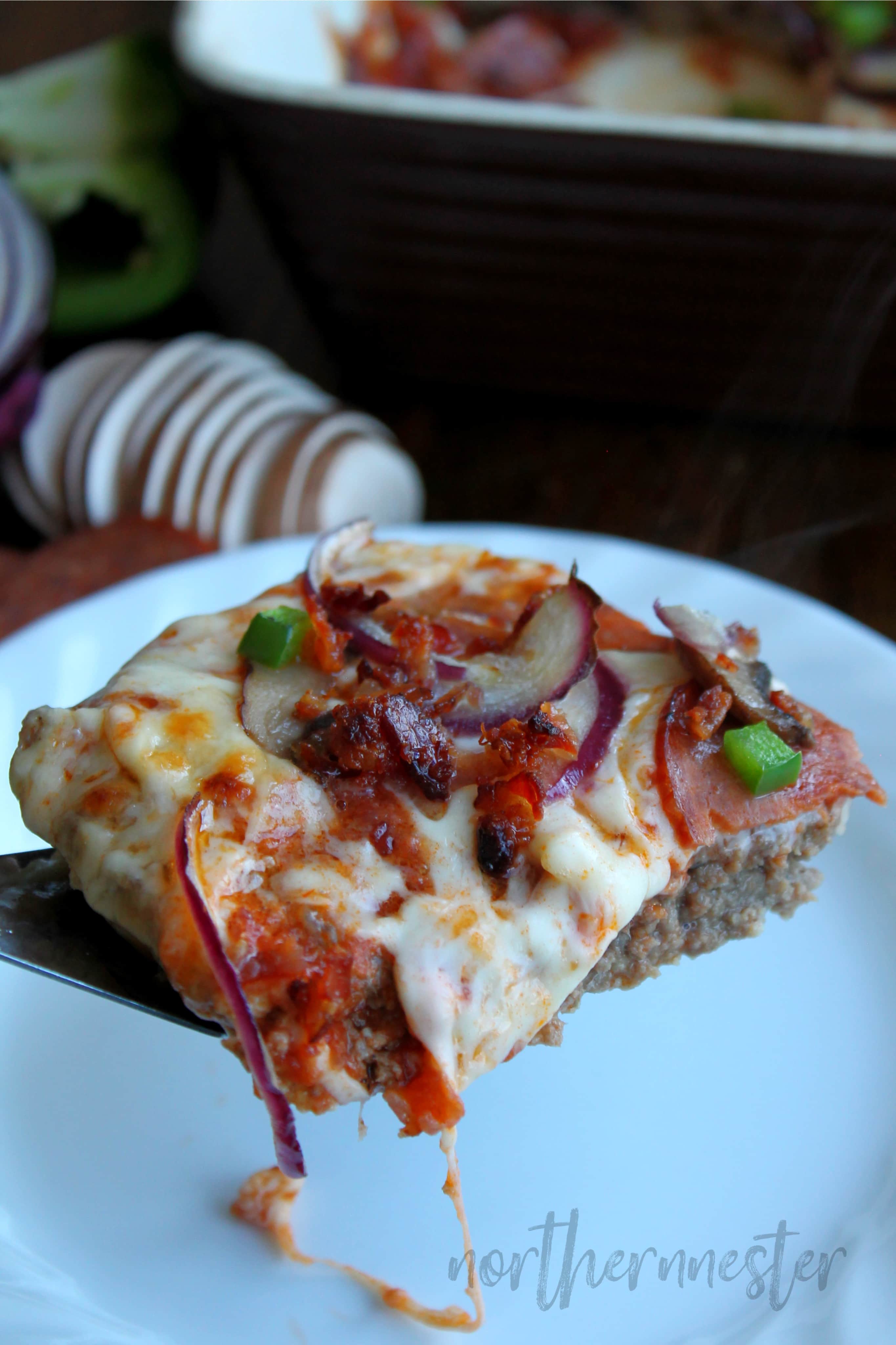 There's so much flavor packed into the meaty base of this "pizza," that it in no way tastes like a hunk of hamburg!
Using a couple eggs as a binder, the meat "crust" is flavored with a little Parmesan cheese, herbs, and spices. After baking the "crust" portion first, it's important to strain of the excess grease so your Meatza doesn't become watery.
To do this, I hold the "crust" in the pan with a wide flipper, and tip the dish to pour out the remaining grease. Then I take a paper towel and dab the top of the meat base to absorb as much oil as possible.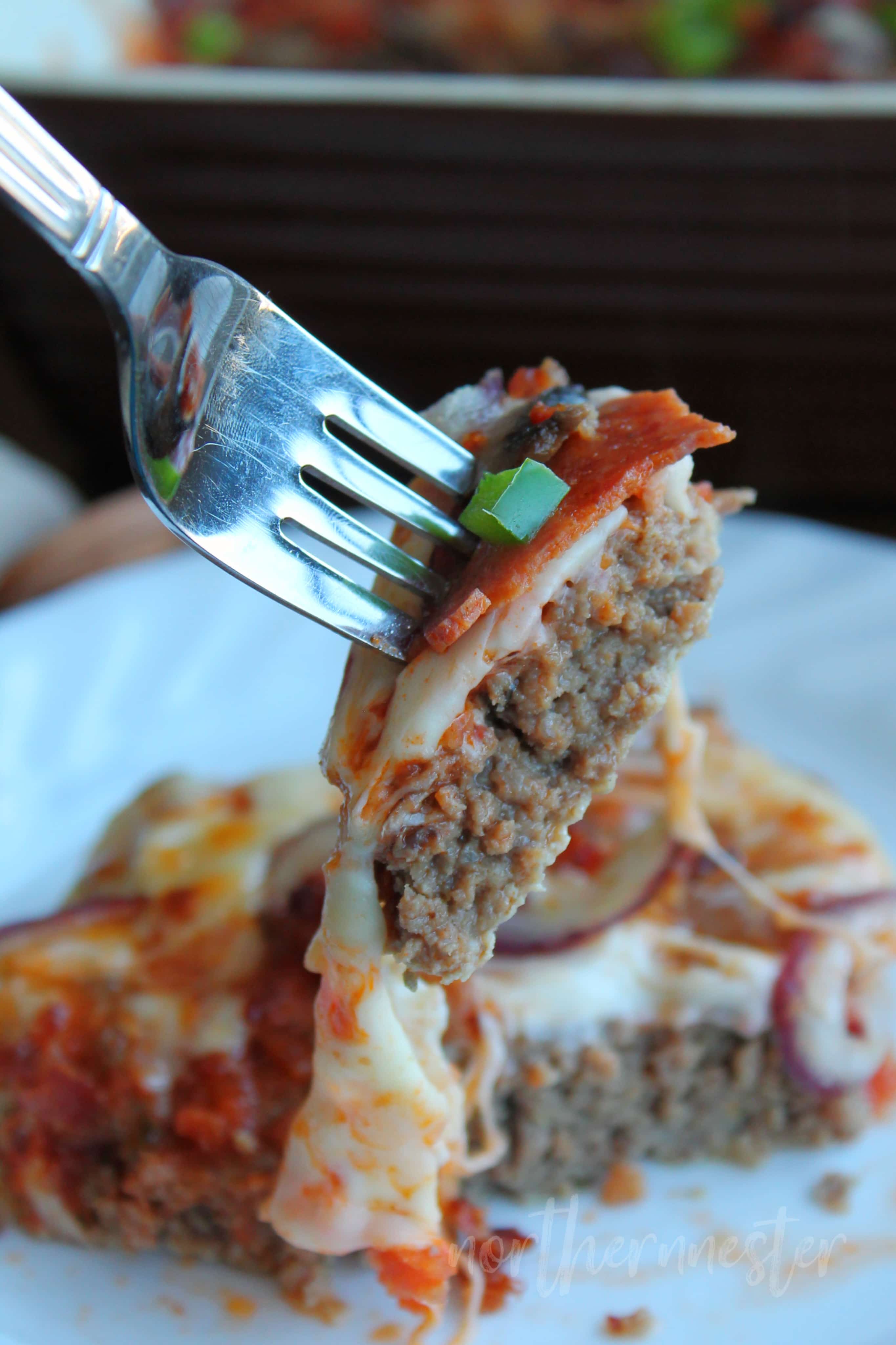 After you're meat crust is made, it's a simple matter of layering on your favorite pizza toppings (we love a little sauce, mozzarella, pepperoni, bacon, mushrooms, red onion, and green peppers on ours!), cooking for a few minutes more, and then broiling for a wee bit until the cheese begins to turn golden and bubbly, and the pepperoni slices begin to curl.
Serve with a salad to increase your veggie intake, and you've got a wonderful family-pleasing meal made without any special ingredients!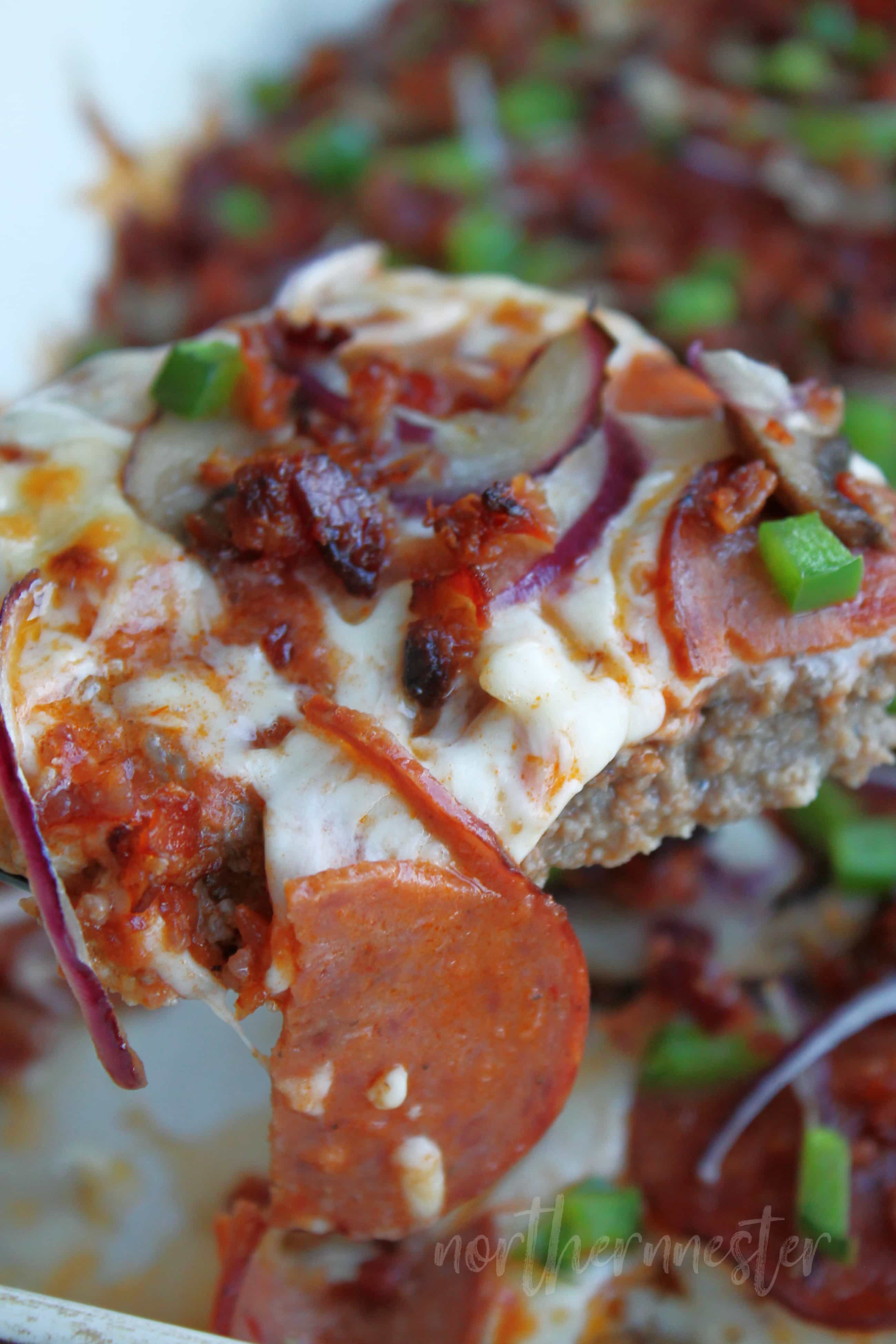 Yield: 6-8 servings
Meatza Supreme | THM: S, Keto, GF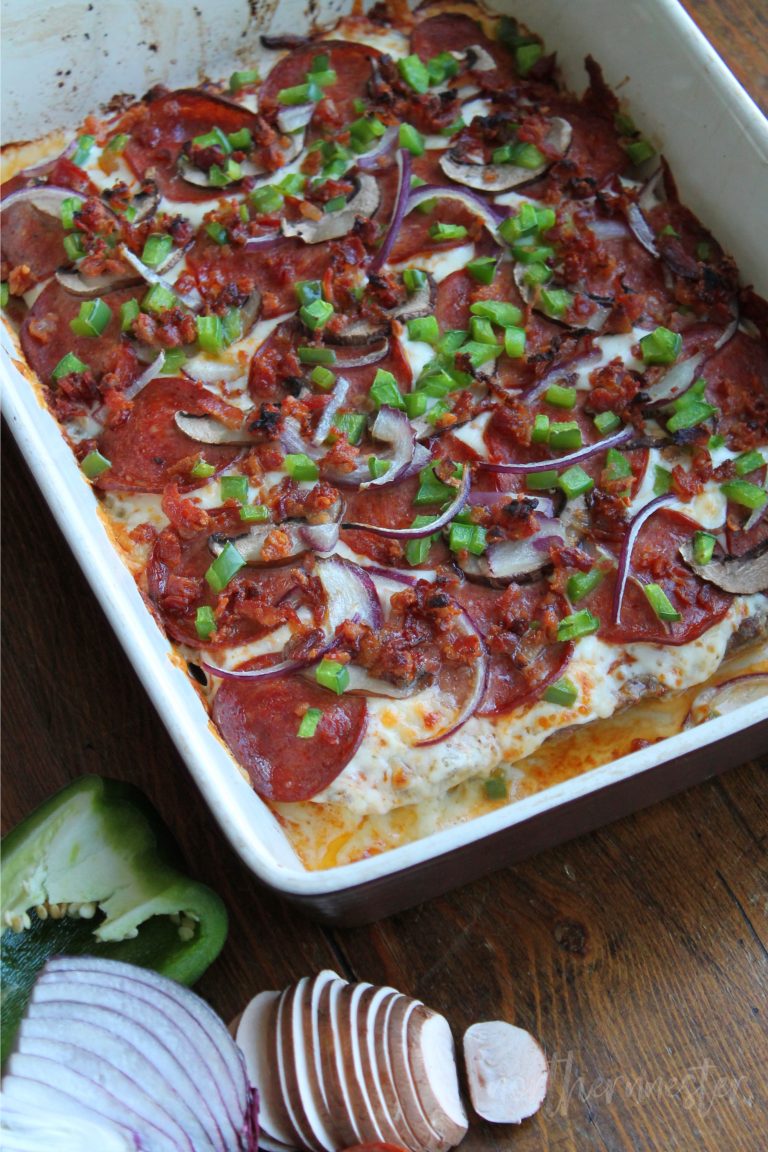 Meatza Supreme has all the delicious flavor of regular pizza without the carbs (and there's no hidden cauliflower in here either)! A THM S, gluten-free, Keto-compatible, family-pleasing main dish without any special ingredients. Delicious hot or cold!
Additional Time
2 minutes
Ingredients
1 1/2 lbs. ground beef
2 eggs, lightly beaten
1/4 cup grated Parmesan cheese (the stuff in the can)
1 1/2 tsp mineral salt
1 tsp dried oregano
1 tsp garlic powder
1 tsp ground pepper
pinch of cayenne pepper
1 1/2 cups sugar-free pizza sauce
2 cups grated mozzarella cheese
pepperoni slices
1/2 green pepper thinly sliced
1/4 small red onion, thinly sliced
1/2 cup mushrooms, thinly sliced
1/4 cup bacon crumbles
Instructions
Preheat oven to 450 F.
In a medium bowl, stir ground beef, eggs, and Parmesan together well. Add in salt, oregano, garlic, black, and cayenne pepper and mix to combine. Press into a 9x13" baking pan. Bake for 10 minutes at 450 F. Drain off excess grease.
Spread sugar-free pizza sauce over cooked meat. Sprinkle on mozzarella, followed by pepperoni, veggies, and bacon crumbles. Return to oven and bake at 450 F for 5 more minutes. Broil for 4 more minutes until cheese begins to brown.
Serve immediately, or store in an airtight container in the fridge and re-heat as necessary, or enjoy cold!
Can't get enough pizza? Here are a few other favorite low-carb variations we enjoy!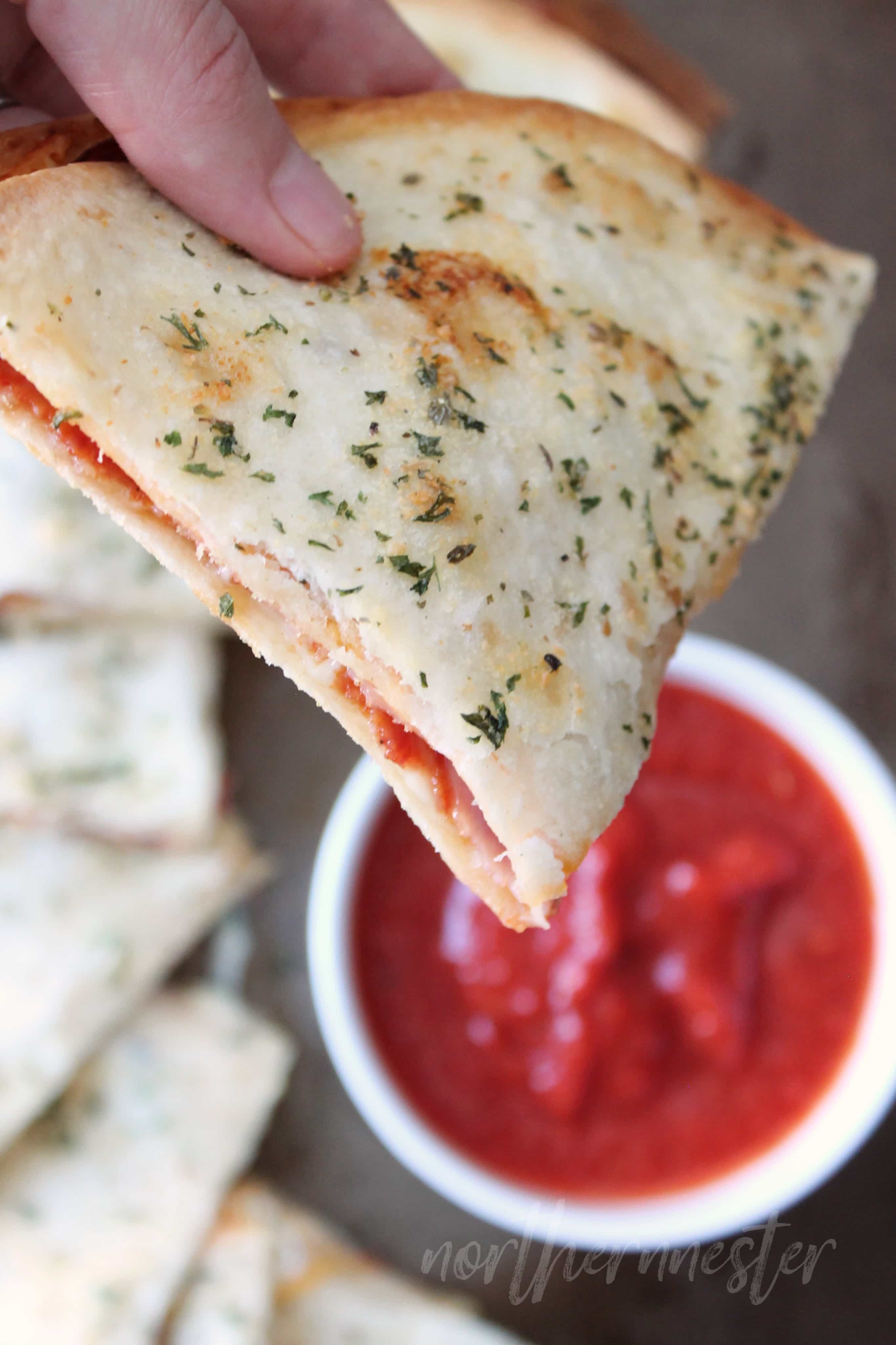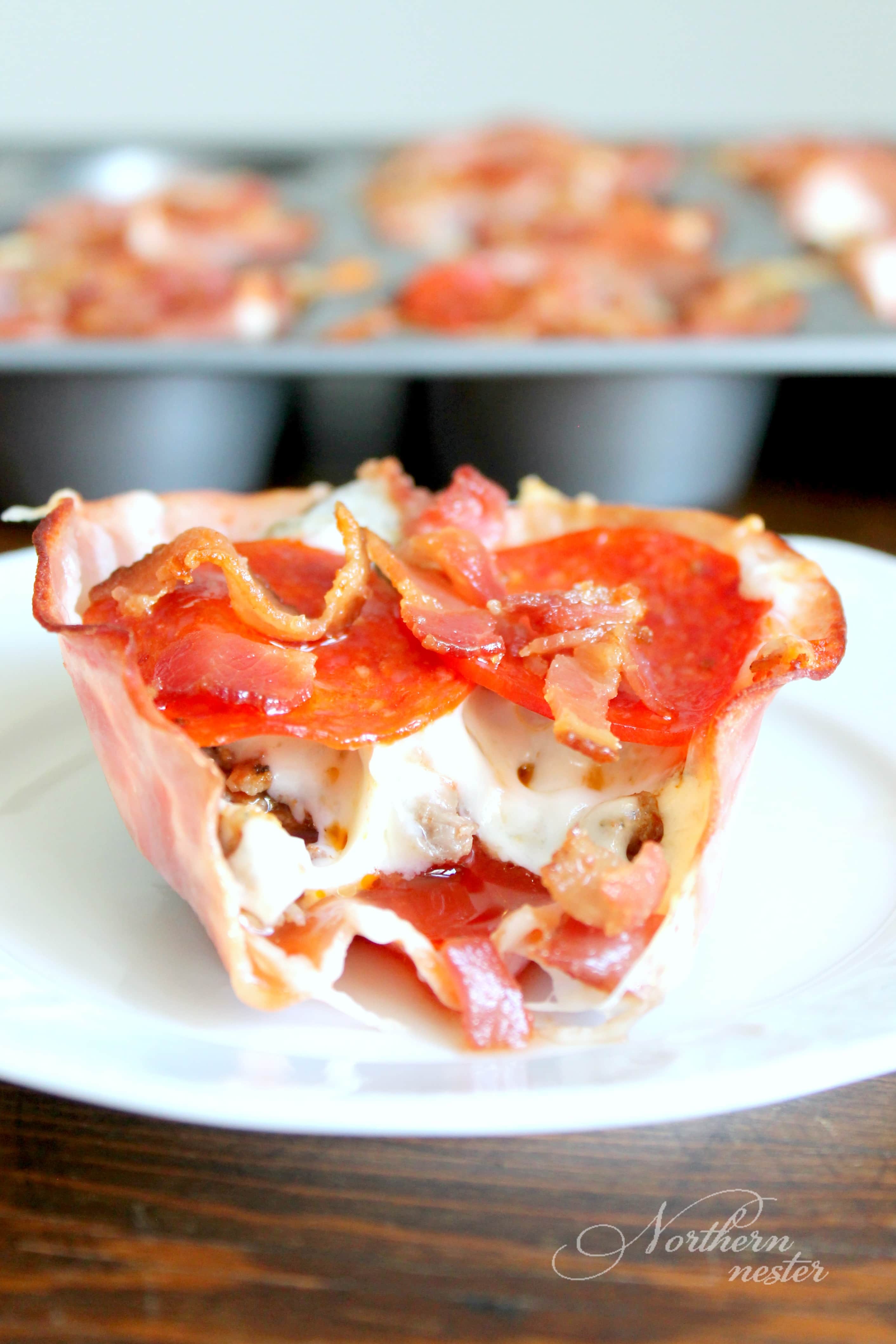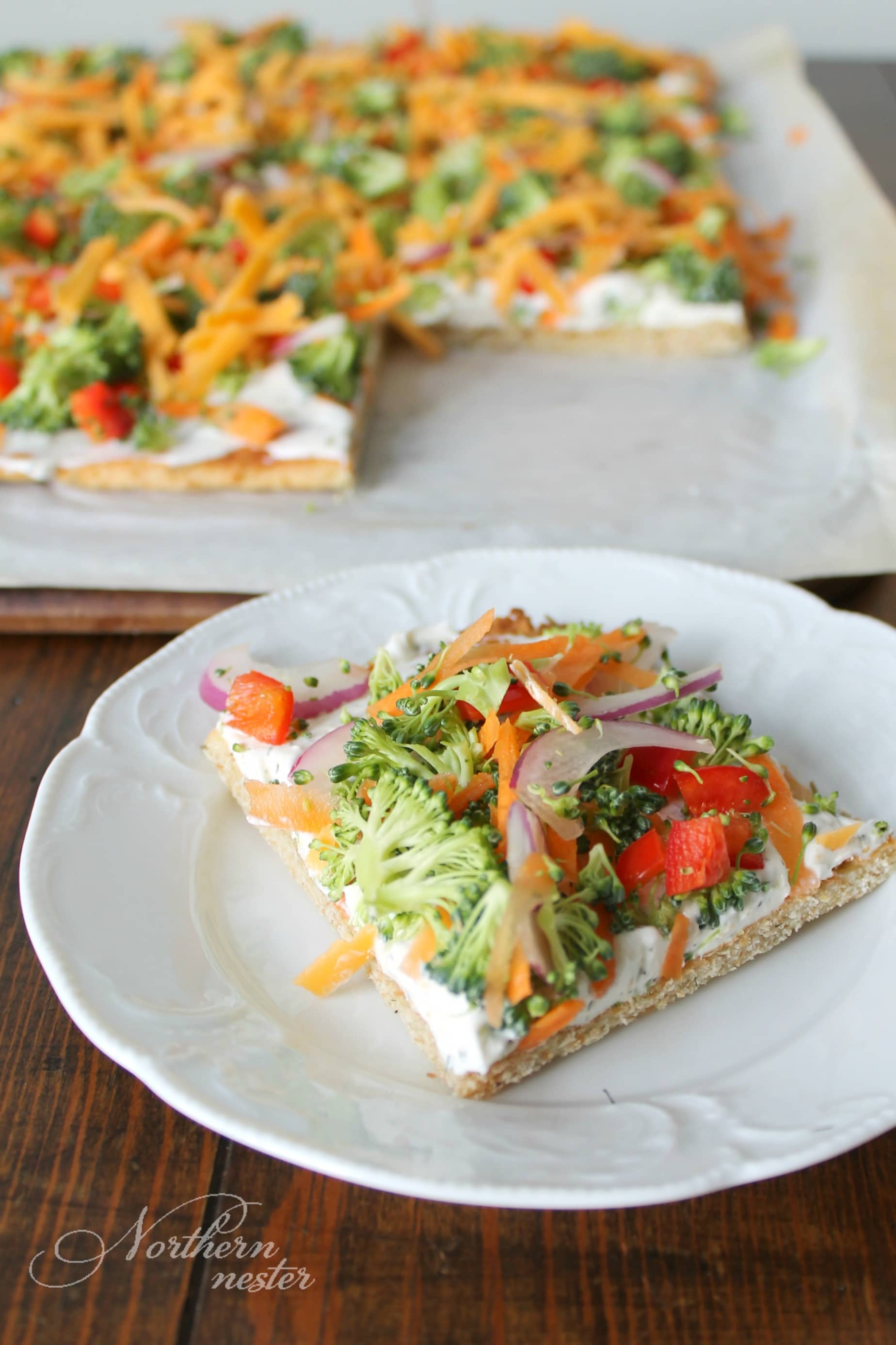 Veggie Pizza (S)