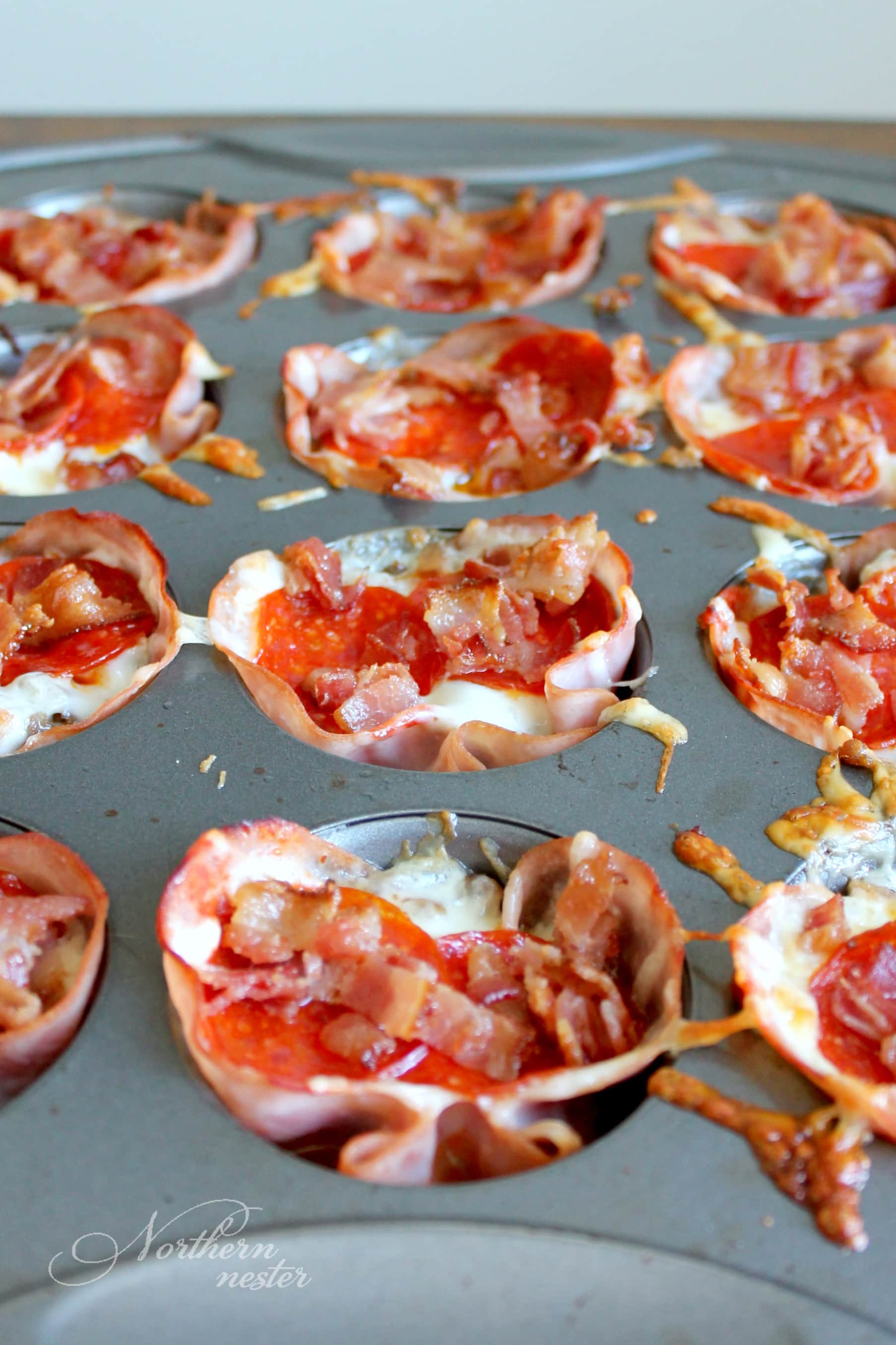 I usually make a mozzarella dough crust when we have pizza night (I use this recipe), but every once in a while, I just don't have the time or ingredients to whip up a base. Instead of buying a store-bought pizza or ordering take-out and scraping off the toppings to stay on plan, these Meat-Lover Pizza Cups are tastier and faster to put together!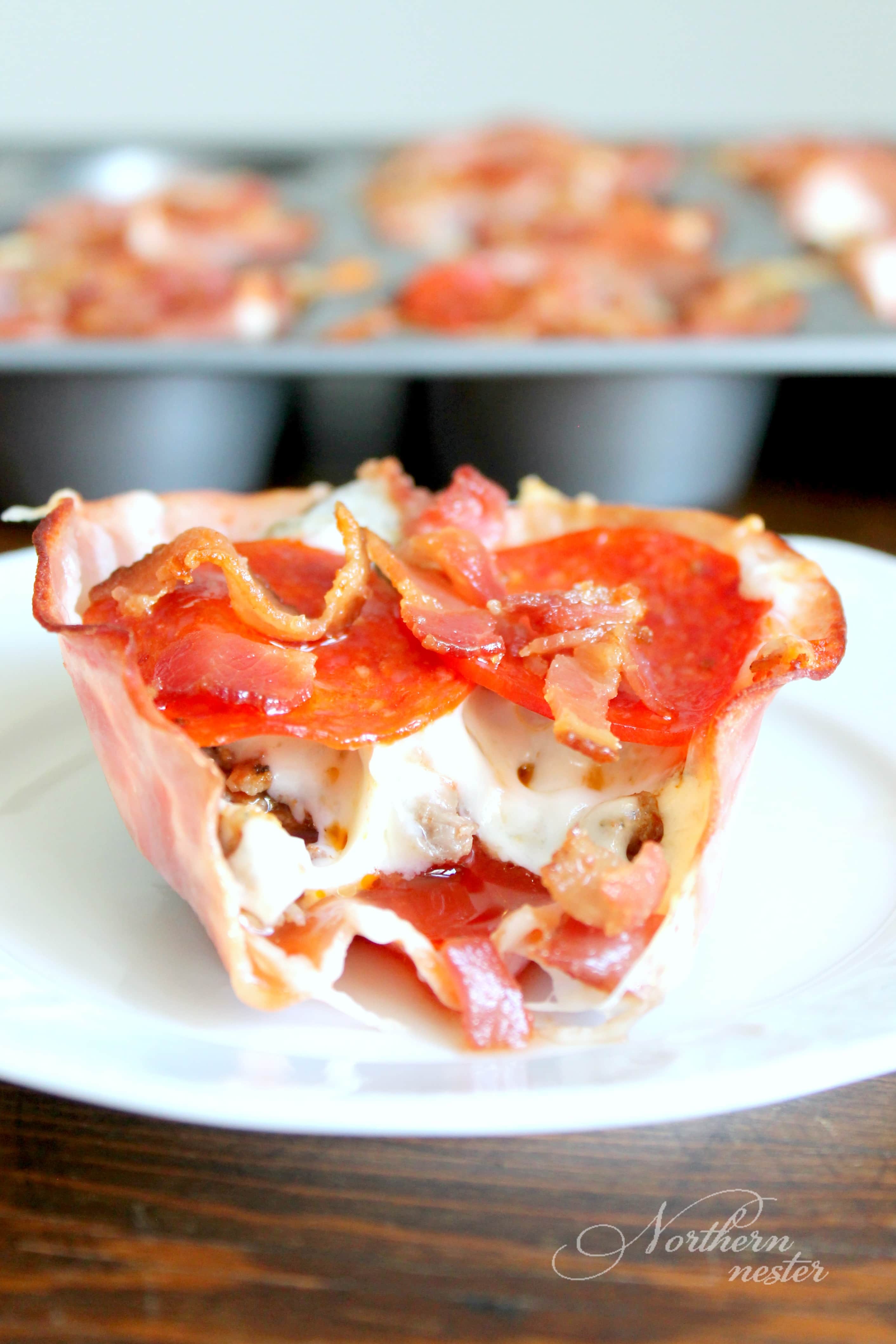 Made with no special ingredients, all you need is:
12 deli ham slices (the thinner they are, the crispier they get in the oven)
sugar-free bulk Italian sausage
mozzarella cheese
pepperoni slices
crumbled bacon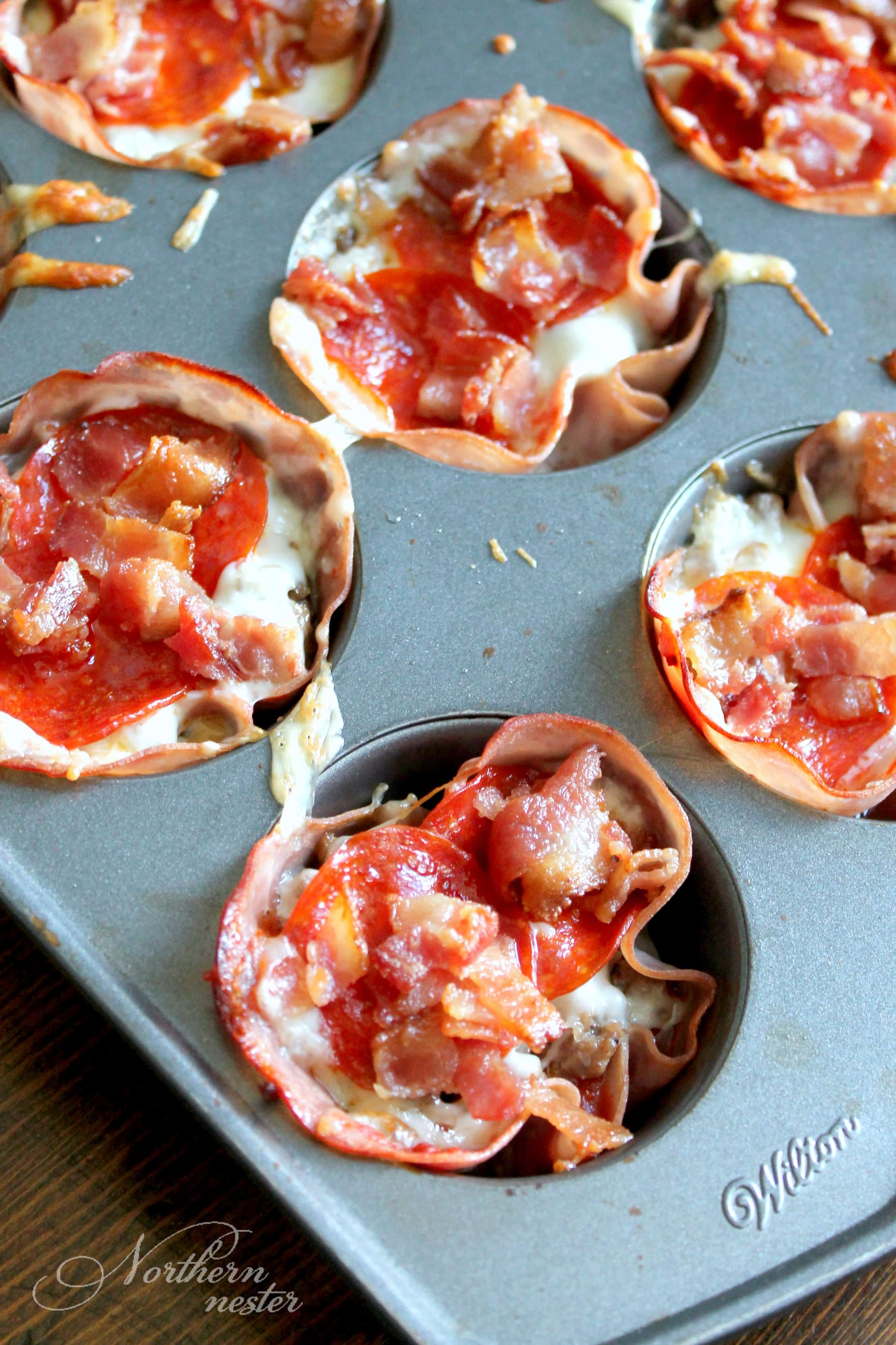 Lining a 12-cup muffin tin with the ham slices makes a nice pocket for the rest of the toppings. You could throw some green peppers, red onion, or mushrooms on top for a bit of variety.
Obviously, these Meat-Lover Pizza Cups deliver a whole lot more protein than vegetables; don't forget to pair them with some non-starchies for a nutritional boost if you're eating them as a meal. These also make great appetizers and quick lunches through the busy holiday season. You can cook them up, store them in the fridge, and re-heat in the toaster oven or microwave.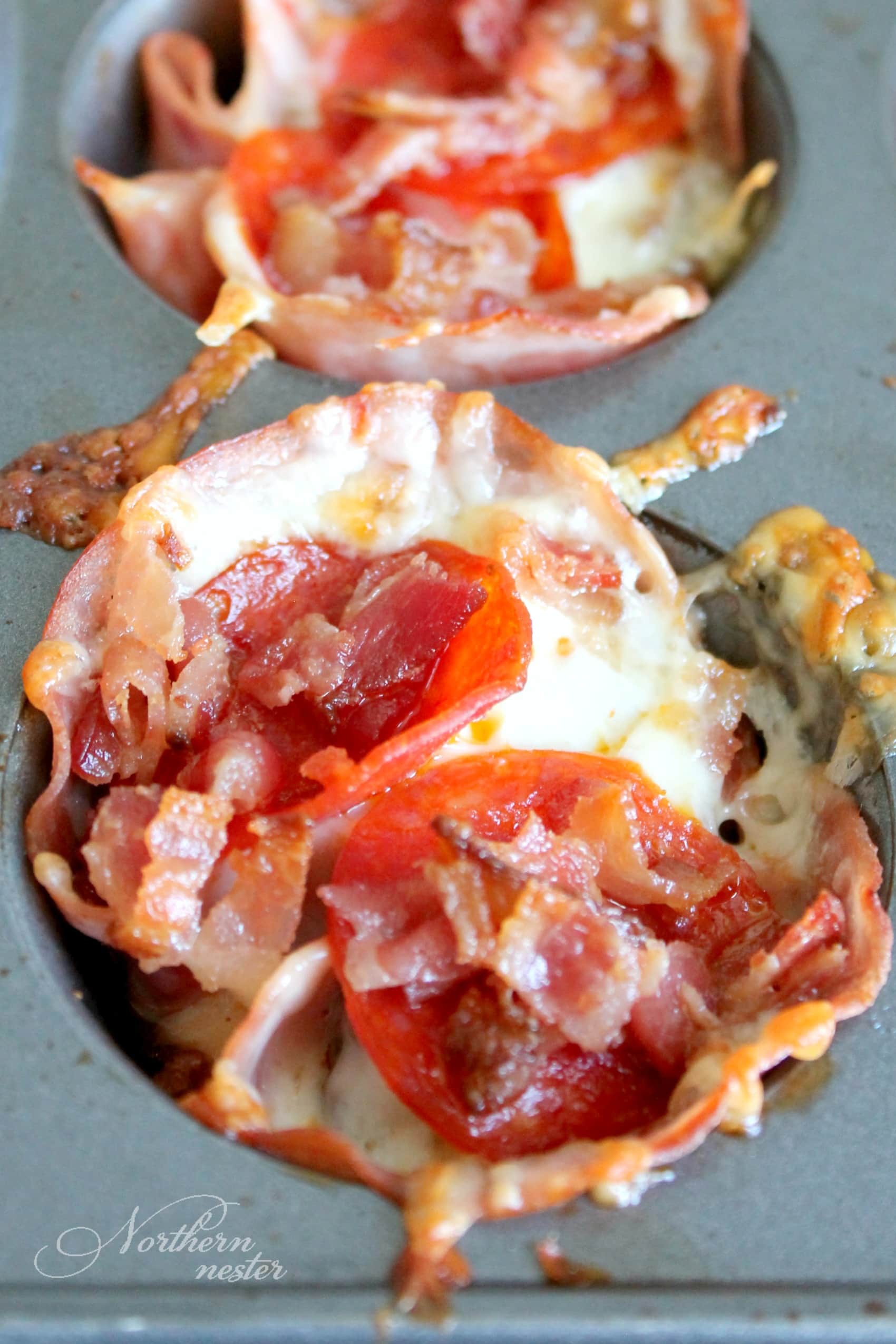 Yield: 12 servings
Meat-Lover Pizza Cups | THM : S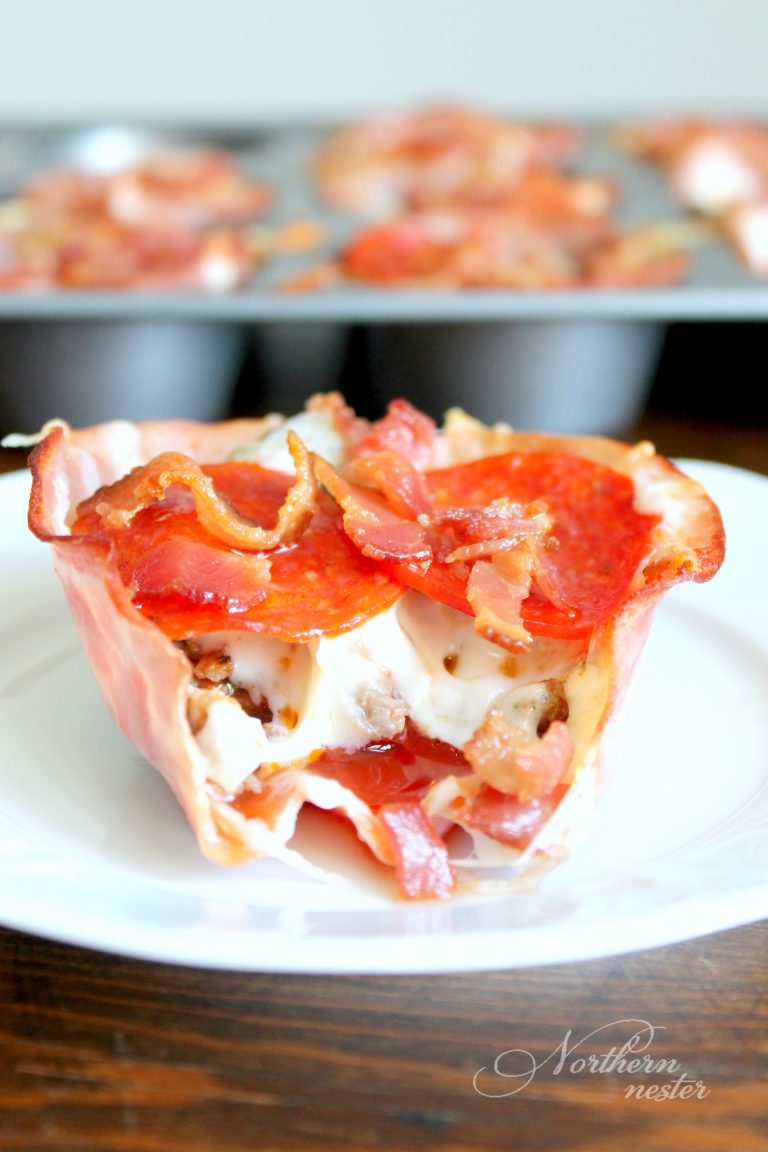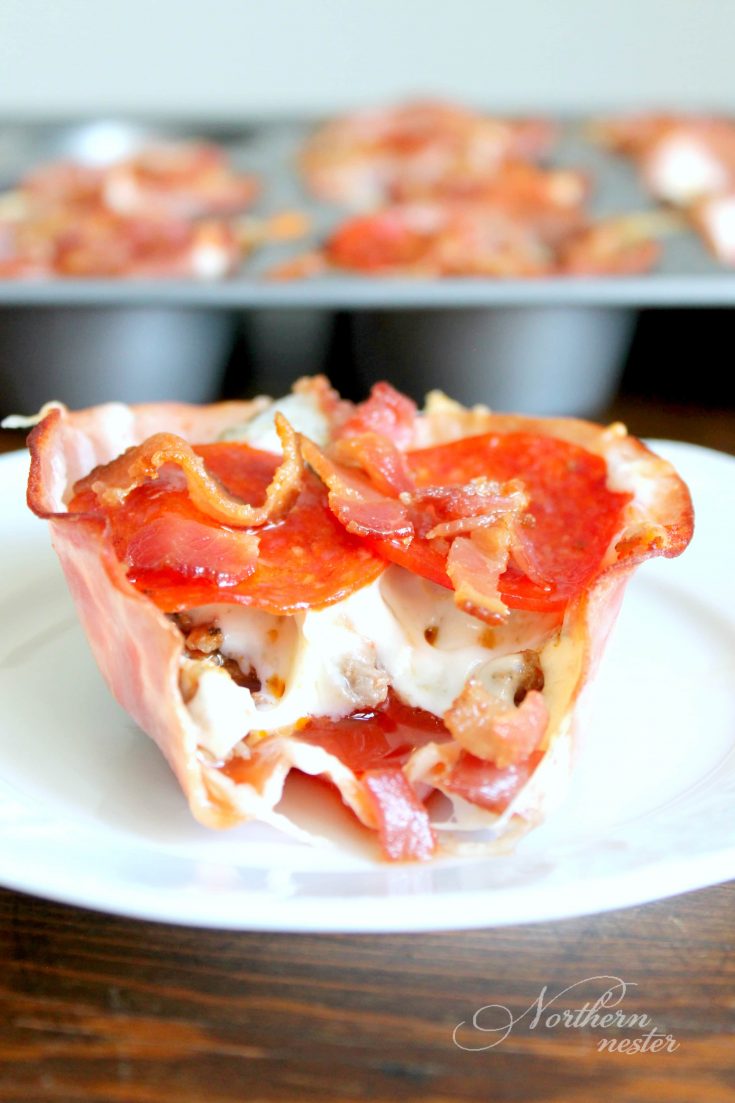 These Meat-Lover Pizza Cups are essentially the very best parts of a pizza scraped off into a tasty little low-carb bowl! A fast and easy THM S.

Prep Time 15 minutes

Cook Time 11 minutes

Total Time 26 minutes
Ingredients
12 deli ham slices
1 lb. bulk Italian sausage
12 Tbsp sugar-free pizza sauce
3 cups grated mozzarella cheese
24 pepperoni slices
1 cup cooked and crumbled bacon
Instructions
Preheat oven to 375 F. Brown Italian sausage in frying pan, draining excess grease.
Line 12-cup muffin tin with ham slices. Divide sausage, pizza sauce, mozzarella cheese, pepperoni slices, and bacon crumbles between each cup, in that order.
Bake at 375 for 10 minutes. Broil for 1 minute until cheese bubbles and browns and the edges of the meat toppings look crispy.
Remove pizza cups from muffin tin and set on paper towel to prevent the bottoms from getting wet. Enjoy immediately or refrigerate and re-heat in toaster oven or microwave.