Growing up, we would often make Veggie Pizza on a crust of Pillsbury crescent rolls when we needed a savory appetizer for a birthday party or if a crowd was expected. It was light enough not to spoil your appetite when other things were being served, it didn't need to be heated, and it was so pretty and colorful.
Unfortunately, even though the top of the pizza was certainly healthy, the crust, however delicious, was full of refined carbohydrates that were as unhealthy as the topping is good for you! This is the Trim Healthy Mama-friendly S version of that Veggie Pizza, and both my husband and I actually prefer it to the original recipe!
This Veggie Pizza is not only a THM "S" but is also a Keto Veggie Pizza!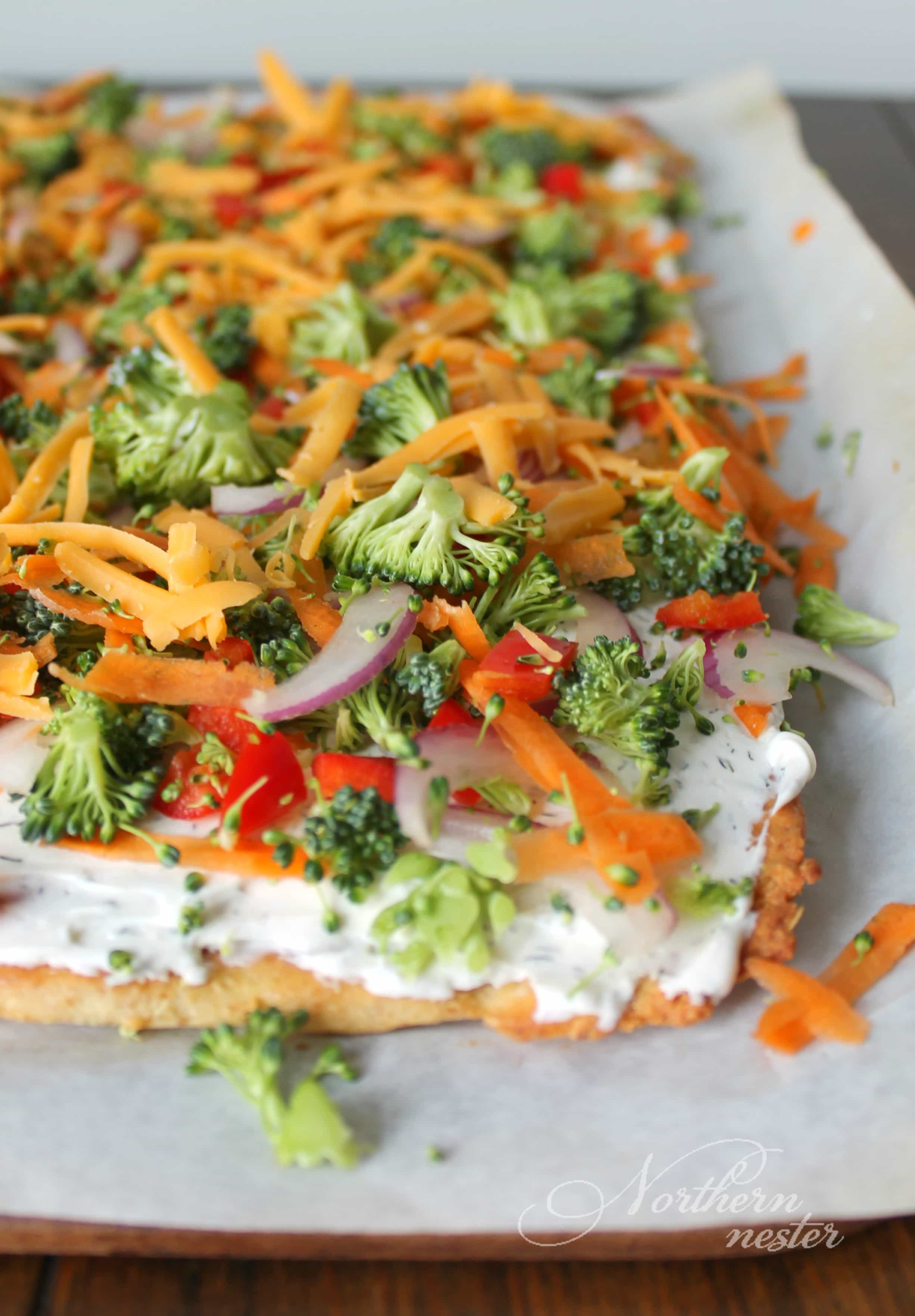 I took a cue from Nana's Little Kitchen when making up the crust. She said that substituting Trim Healthy Mama's Baking Blend for the almond flour in the Fat Head pizza dough would lighten it up and produce flakier results.
I didn't have THM's Baking Blend on hand, but I used equal parts of coconut flour, almond flour, and golden flaxseed meal, along with a few savory spices to hide the taste of the coconut flour in the crust. It worked wonderfully!
The filling is a simple spread made from cream cheese and sour cream blended together with dill weed and garlic powder.
Carrots are allowed in a garnish amount in S recipes, so I added them to the mix of finely chopped broccoli florets, red pepper, and red onion for extra color. You could also add thinly sliced radishes for a bit of a kick, or chopped cucumber. A small sprinkling of grated cheddar finishes off this delicious pizza!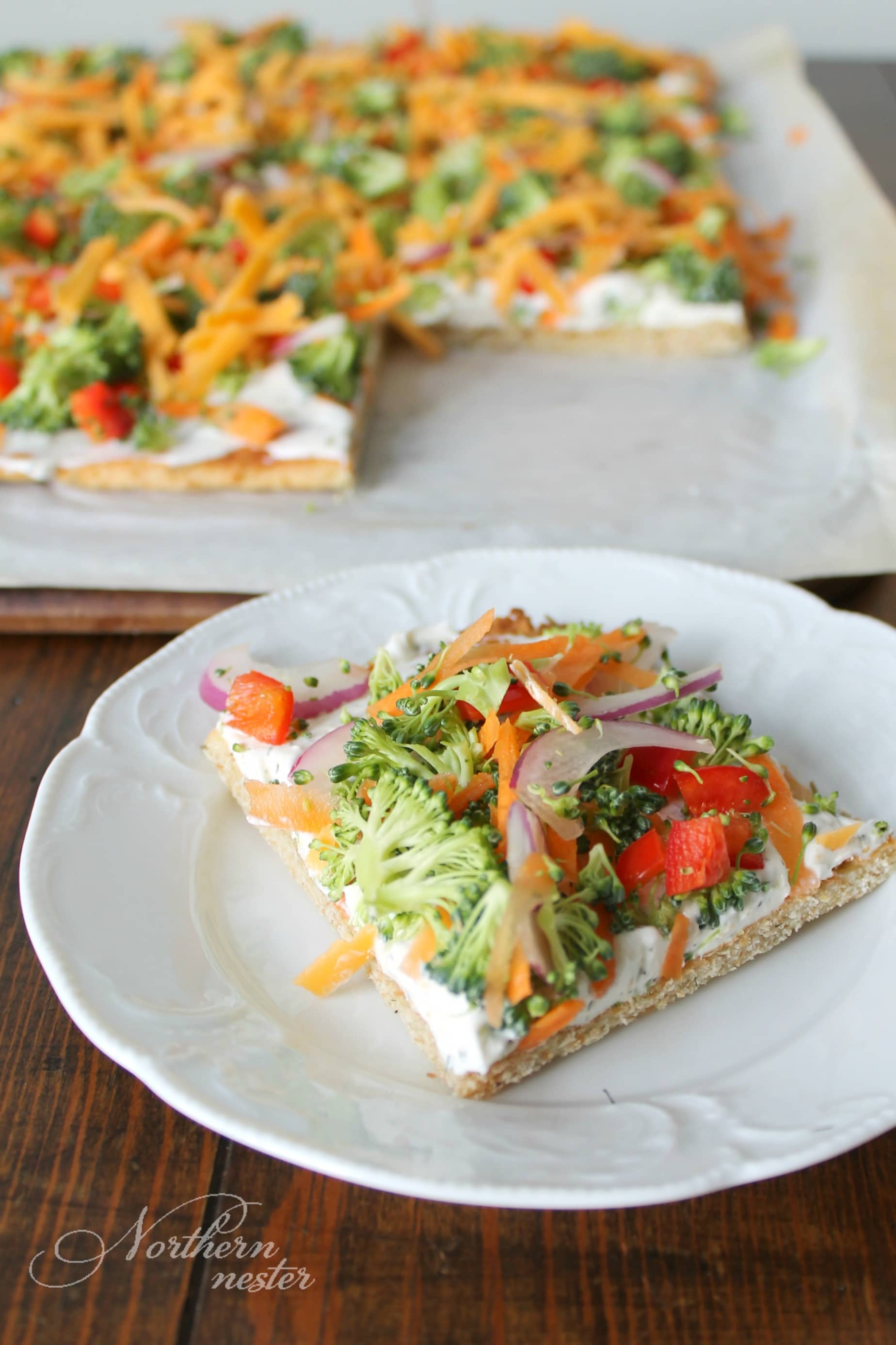 THM "S" Veggie Pizza (Also Keto Veggie Pizza) Recipe:
Yield: 12 servings
Veggie Pizza | THM: S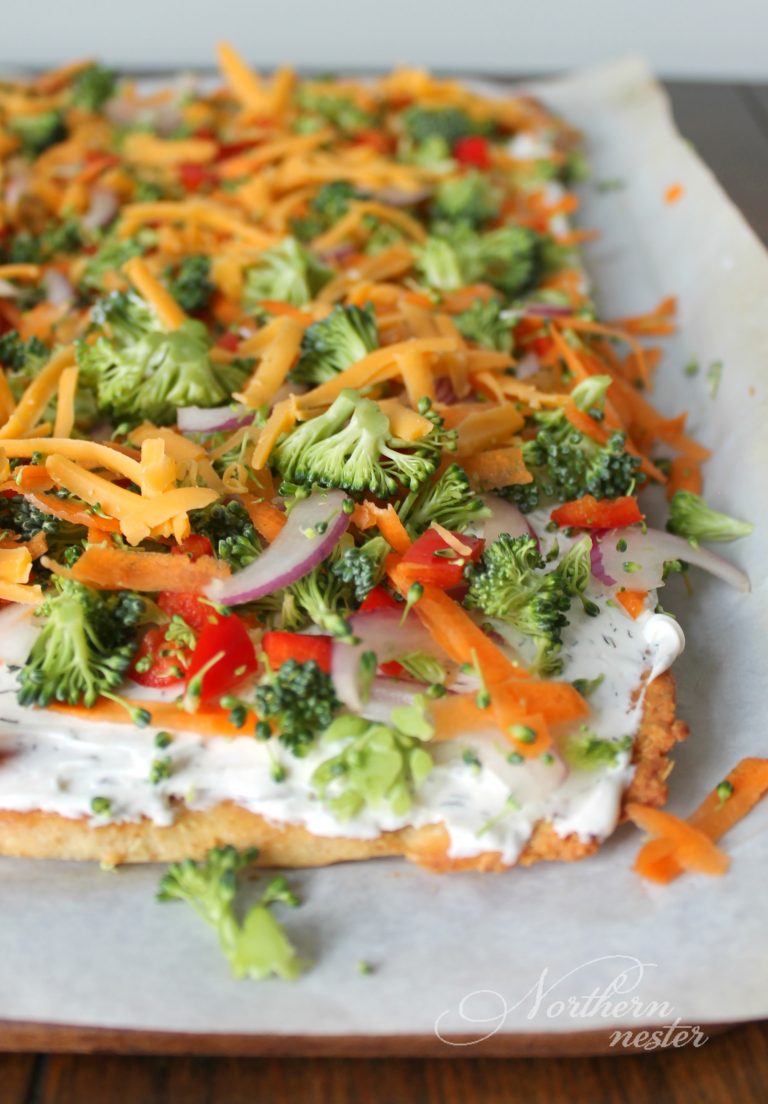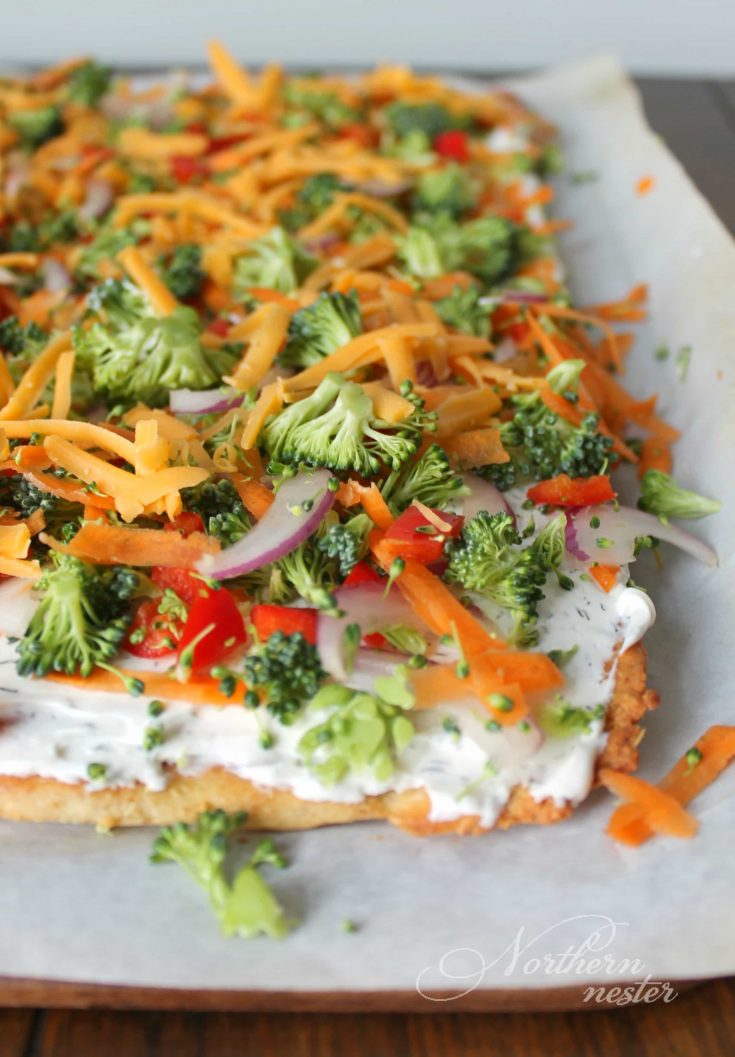 This low-carb Veggie Pizza is the THM S version of the Pillsbury crescent classic! It keeps for several days in the fridge, making a quick and easy lunch all week long!

Prep Time 30 minutes

Total Time 30 minutes
Ingredients
CRUST
1 3/4 cup grated mozzarella cheese
1/4 cup almond flour
1/4 cup coconut flour
1/4 cup golden flaxseed meal
2 Tbsp cream cheese
1 egg
1/4 tsp garlic powder
1 tsp dried rosemary
pinch of sea salt
FILLING
Remaining cream cheese (8 oz. pkg. minus the 2 Tbsp used in the crust)
1/2 cup sour cream
1 tsp dill weed
1/8 tsp garlic powder
TOPPING
1 cup small broccoli florets
1/2 finely chopped red pepper
1/4 cup shredded carrot
2 Tbsp finely chopped red onion
1/4 cup grated cheddar
Instructions
Preheat oven to 425 F. In a microwaveable bowl, combine mozzarella cheese, almond flour, coconut flour, golden flaxseed meal, and cream cheese. Heat in microwave for 1 min 30 seconds. Stir until well combined, microwaving for half a minute more, if needed. Once the cheese is melted, add egg, garlic powder, rosemary, and sea salt. Knead until you can form a ball. Roll out between two sheets of parchment paper until the size of a cookie sheet. Take off top sheet of parchment paper and bake on a cookie sheet at 425 F for 12-15 minutes or until golden. Cool.
To make the filling, blend cream cheese, sour cream, dill weed, and garlic powder together. Spread over crust. Top with finely chopped vegetables and cheddar cheese. Cut into 12 pieces.
Notes
You can substitute 3/4 cup THM Baking Blend for the coconut flour, almond flour, and golden flaxseed meal.