Ooooh boy. I can't even think of the right words to describe how amazing these Pizza Quesadillas are. They are as tasty as they are easy!
I don't often use low-carb wraps (Mission wraps are my favorite!) because I can't find them locally here, but when I do indulge in this "personal choice Frankenfood," (meaning, it has some off-plan ingredients, but still fits within the carb limit for a THM S meal), this is most definitely one of my favorite ways to enjoy them!
With just 6 net carbs per wrap, you can enjoy 2 Pizza Quesadillas in a serving!
This Pizza Quesadilla recipe yields 8 quesadillas, or 4 servings of 2 quesadillas each.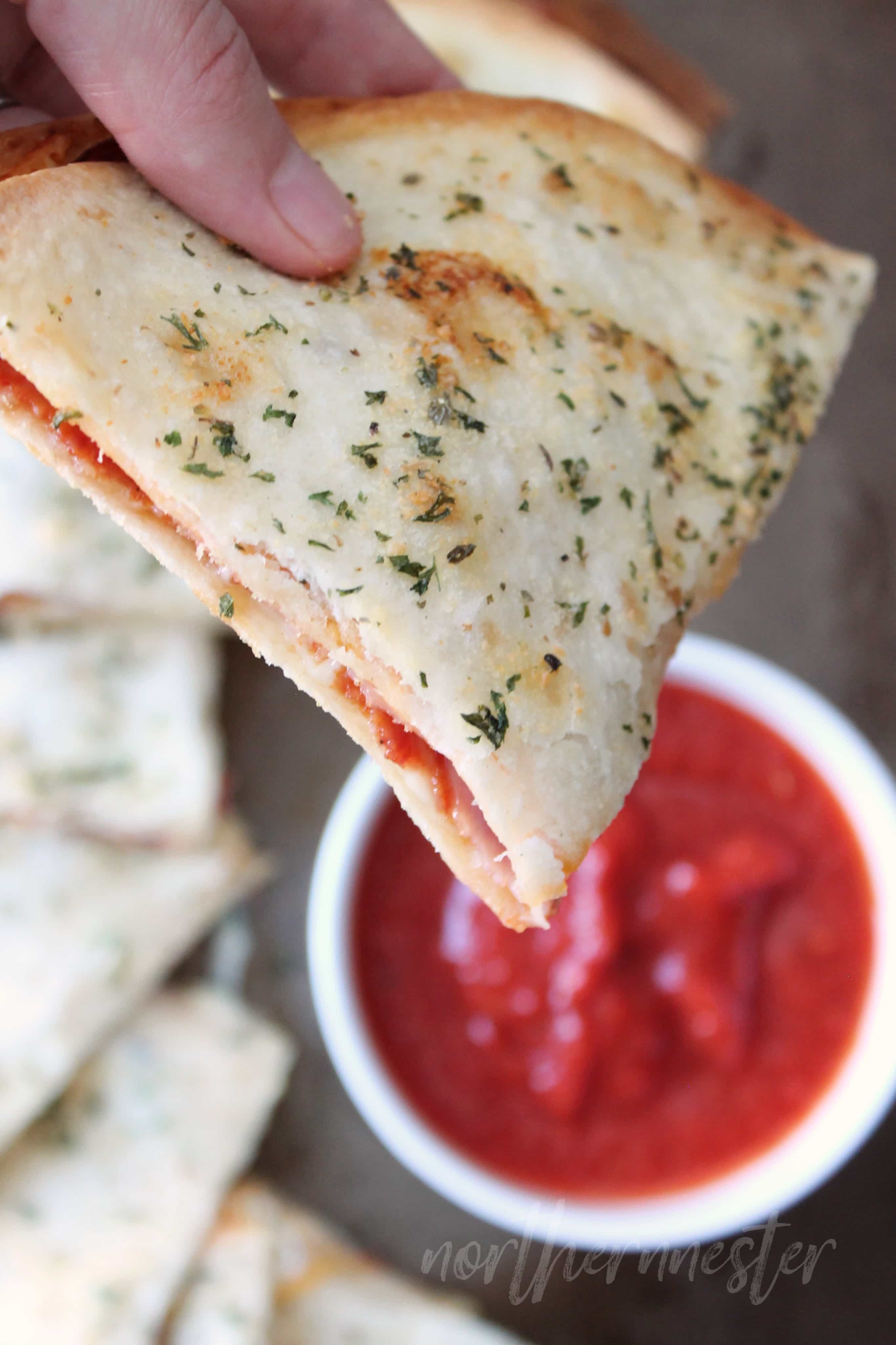 My hubby loves these things too, as do our kids. And who wouldn't?
Each quesadilla is stuffed with a meat lover's combo of mozzarella, cheddar, pepperoni, ham, and bacon crumbles.
Before baking, the tops are brushed with a mixture of melted butter, garlic powder, oregano, parsley, and Parmesan cheese. In addition to giving the tops of these Pizza Quesadillas a garlic bread flavor, the melted butter also makes the wrap flake up into a sort of crispy pastry.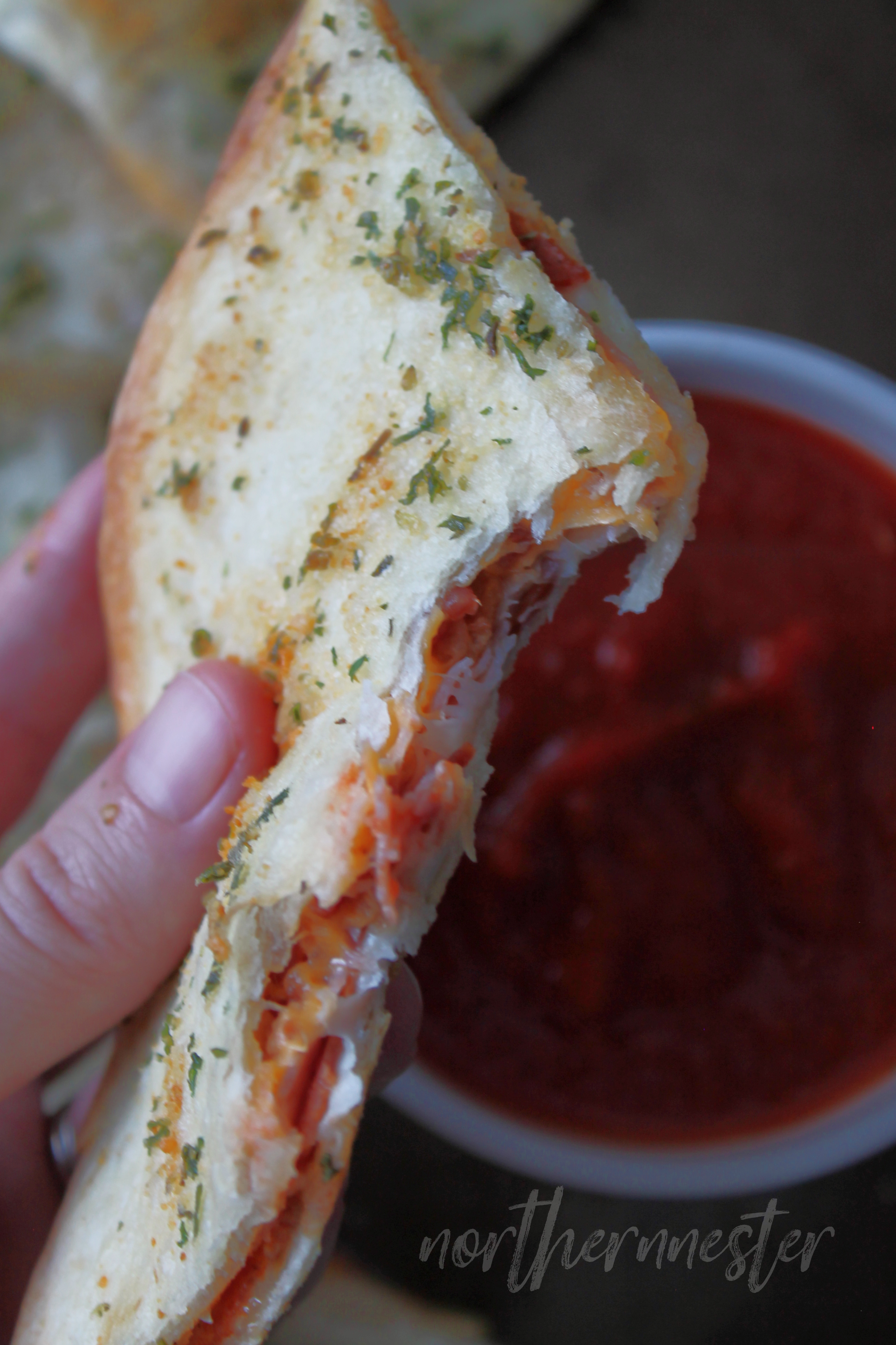 Paired with a sugar-free Marinara (Costco has a great one!) or pizza sauce for dipping, these Pizza Quesadillas make a quick appetizer, snack, lunch, or dinner that appeals to both adults and kids alike.
They can be baked ahead of time and reheated in the toaster or microwave.
To increase the health factor of these pizza quesadillas, feel free to add whatever veggies you like to this meat lover-based filling. Green peppers, red onion, mushrooms…they'd all be great additions!
Just stay away from adding pineapple to these because:
Pineapple does not belong on pizza (*runs and hides*)
Pineapple is an E fruit and would turn these pizza quesadillas into Crossovers
Enjoy!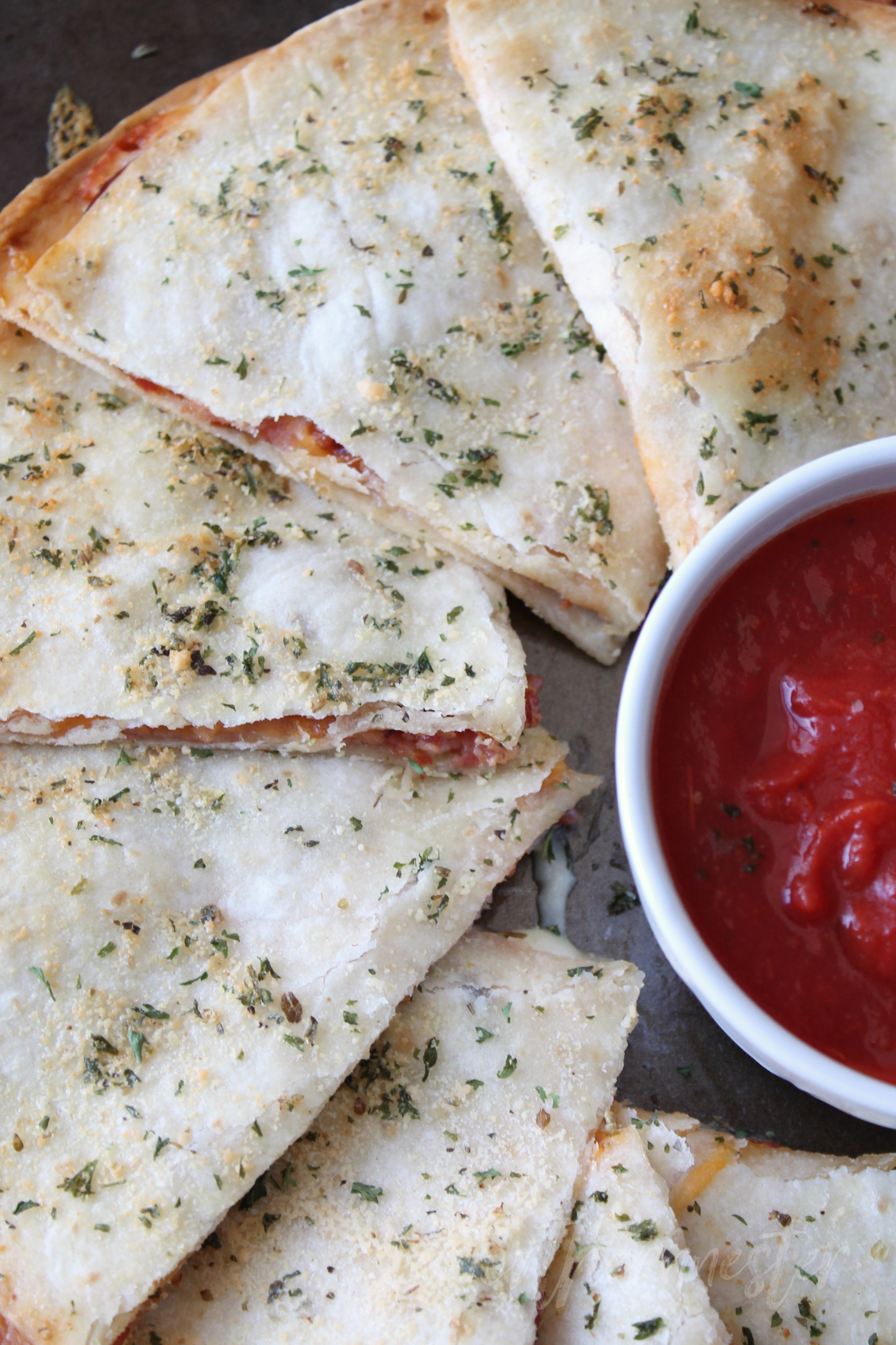 Yield: 4 servings
Quick & Easy Pizza Quesadillas | THM: S, Low-Carb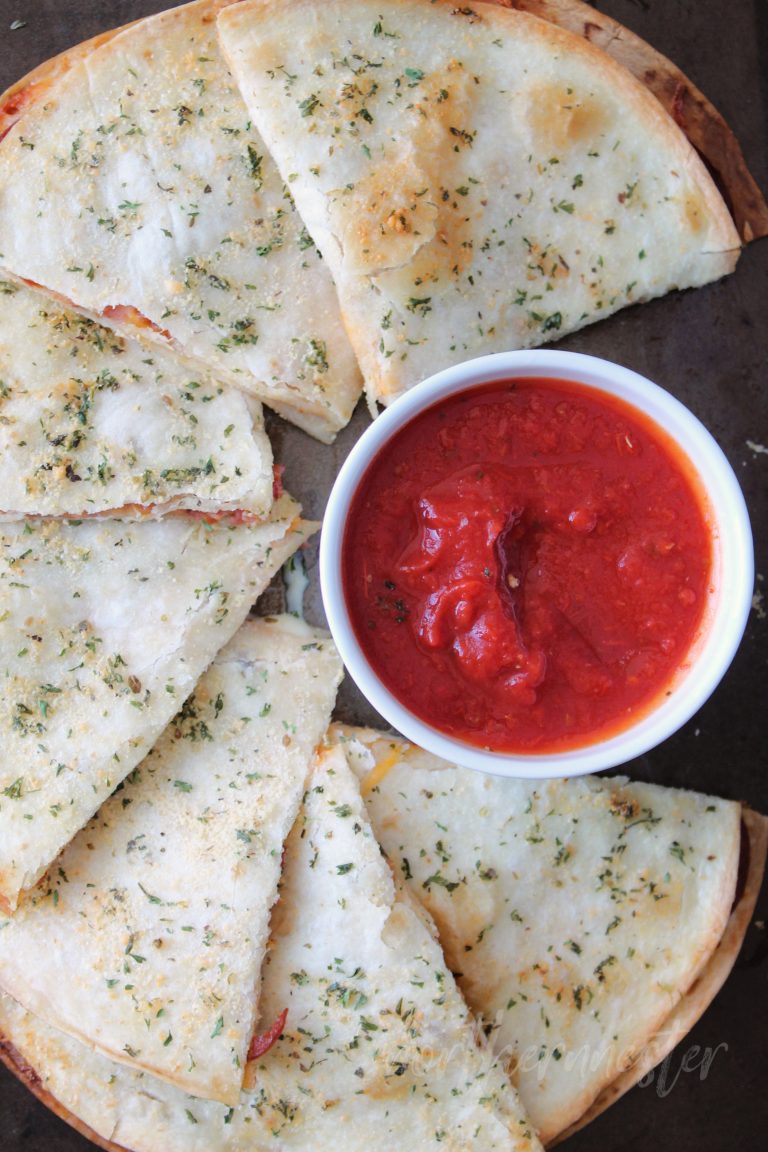 Stuffed with pizza toppings and topped with buttery garlic bread flavor, dipped in sugar-free Marinara, these low-carb pizza quesadillas are guaranteed to be a hit with the whioe family! A THM S.

Prep Time 10 minutes

Cook Time 10 minutes

Total Time 20 minutes
Ingredients
4 low carb wraps
1 cup grated mozzarella
24 pepperoni slices
4 slices deli ham
1 cup grated cheddar
1/4 cup cooked and crumbled bacon
Optional: finely chopped green pepper, red onion, or mushrooms
2 tbsp butter
1/4 tsp garlic powder
1/4 tsp dried oregano
1/2 tsp dried parsley flakes
1 tsp grated Parmesan
1/2 cup sugar-free Marinara or pizza sauce
Instructions
Preheat oven to 400 F. Divide and layer mozzarella, pepperoni, ham, cheddar, bacon crumbles, and any veggies evenly on two wraps. Top each wrap with the second wrap.
Melt butter in a small bowl. Stir in garlic powder, oregano, parsley, and Parmesan. Spoon and brush onto the top of each wrap, dividing evenly. Place on the cookie sheet(s) and bake for 10 minutes, or until cheese is melted and the top is crispy. Cut each wrap "sandwich" in quarters.
Warm-up Marinara or pizza sauce in a small saucepan or microwave. Serve with quesadillas for a dipping sauce.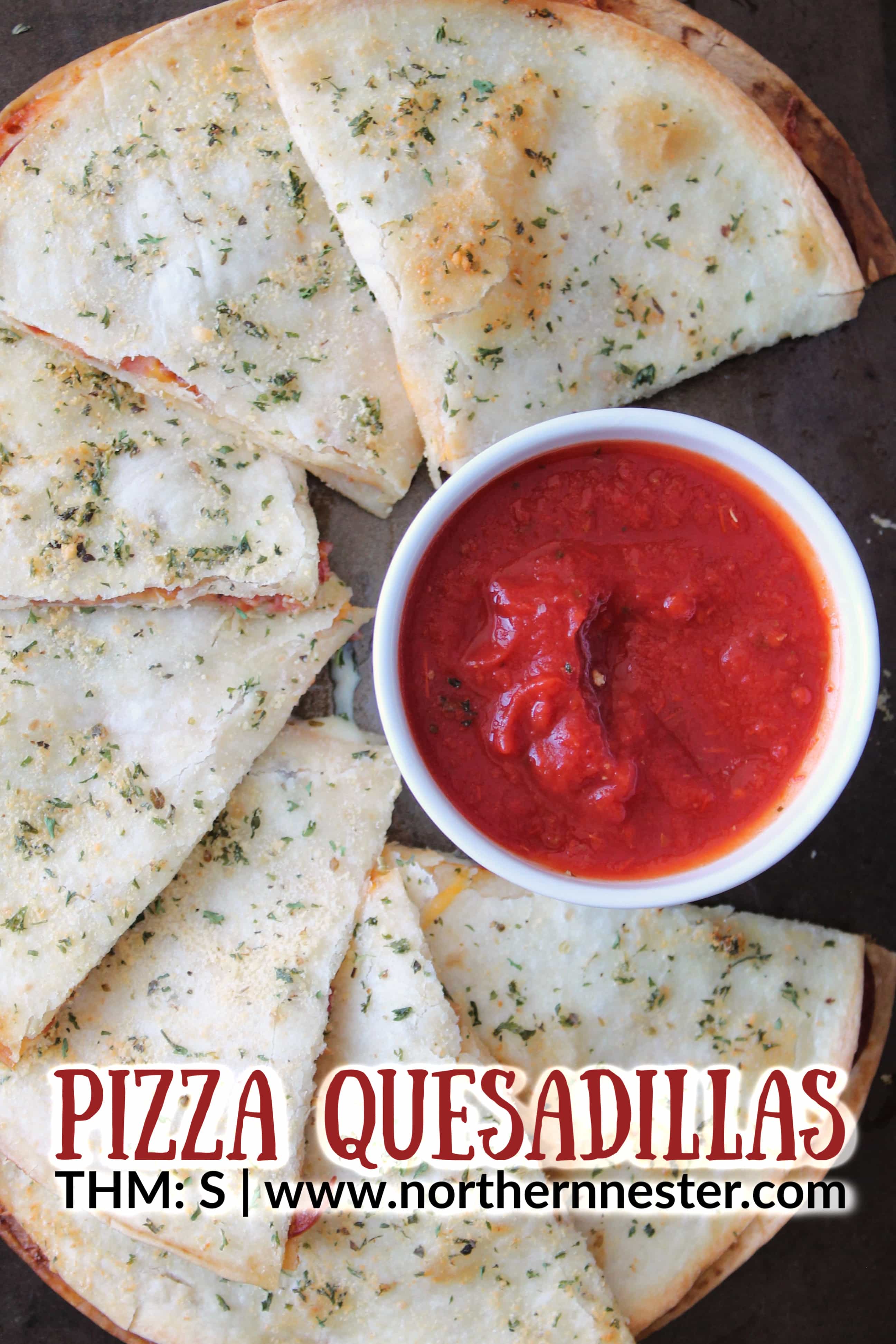 I would be remiss not to direct your attention to our other favorite way to use low-carb warps. My hubby loves these Steak and Cheese Quesadillas! They are just as simple to make as the pizza ones.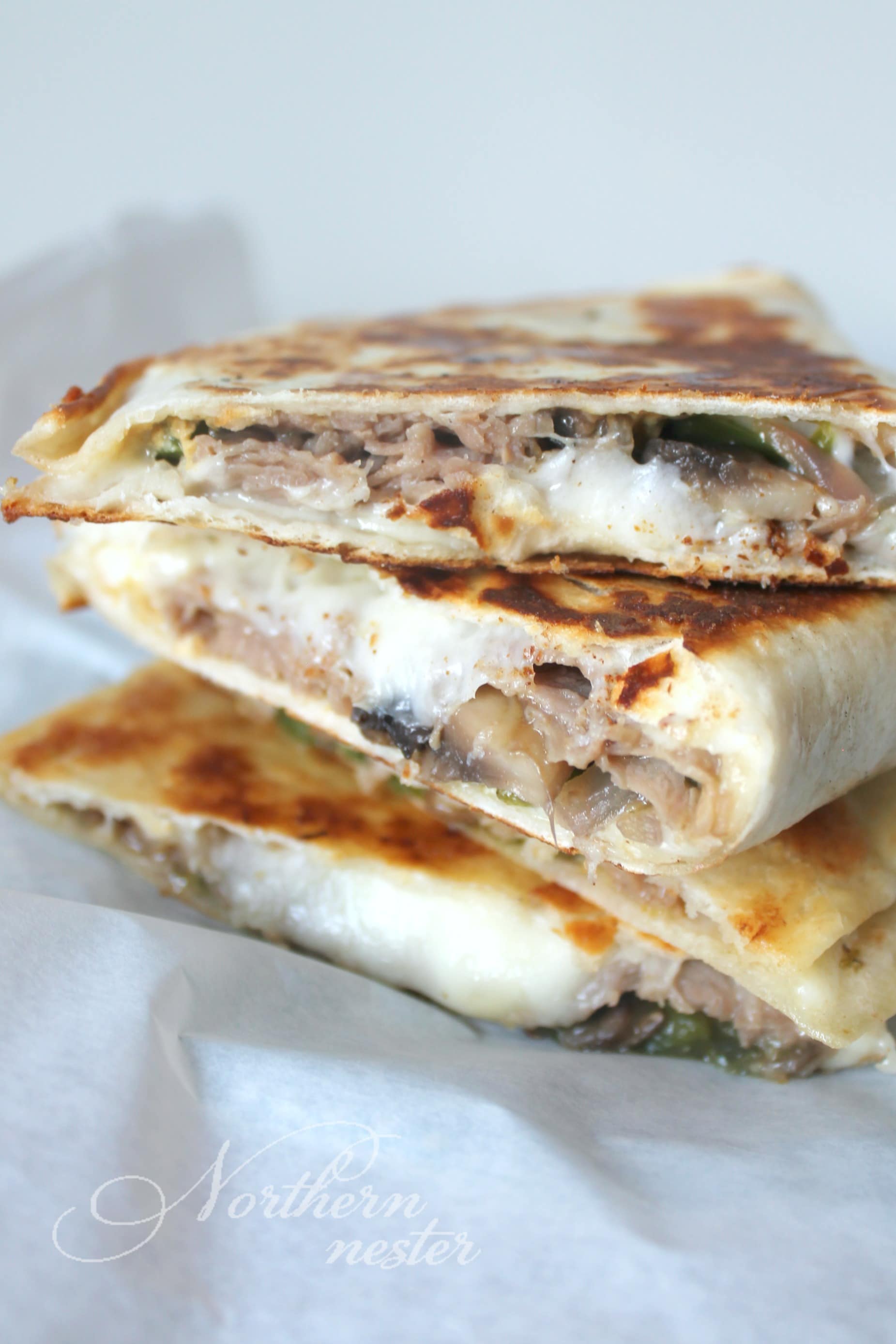 Quick & Easy Steak And Cheese Quesadillas (S)
---
Want more recipes like this, only made even easier?! You HAVE to check out our Slim & Satisfied ultimate handbook here!
Slim and Satisfied is a guide I wrote especially for busy women, to help you take care of all your meal planning needs. I know how much you need this if, like me, you're juggling a household, kids, and maybe your own work projects too – there seems to be such a squeeze on your time, right!?
Like healthy meal cooking gets left to the weekends? Even the quick and easy recipes like this one somehow seem like just so much effort?!
Let me help you out here. From one busy mother to another – if you want to know how to create filling, delicious, healthy meals with absolute ease – you have to check this out.