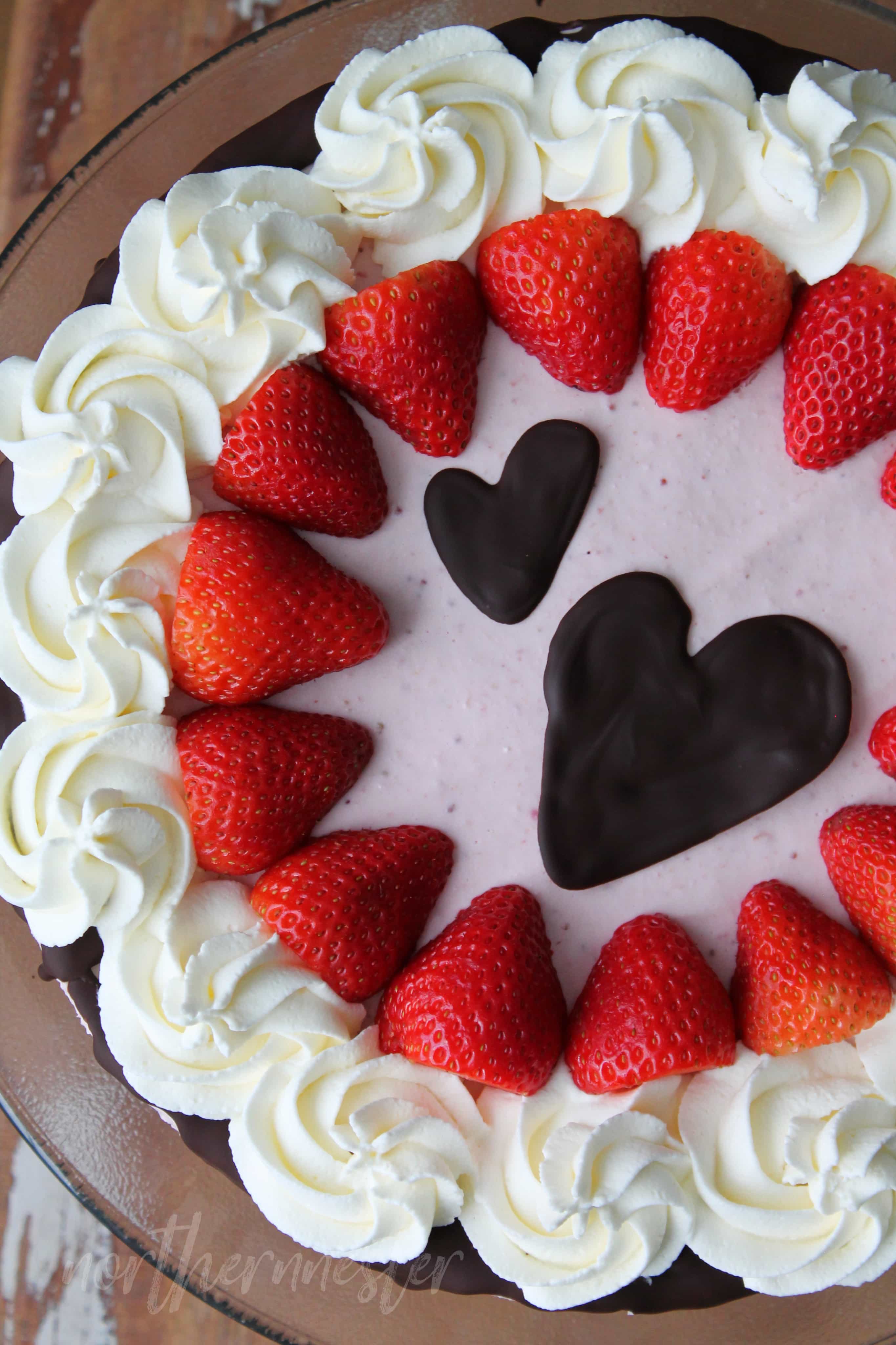 One of my favorite things to do is to create super simple, healthy recipes without special ingredients that fool everyone into thinking they're an unhealthy, time consuming labor of love. This Low Carb Strawberry Cheesecake is one such trick!
A lovely pink hue, this beautiful dessert is made with a simple, chocolate crumb crust, a high-protein, no-bake filling that's made almost entirely in the blender, and an effective garnish made from whipped cream, fresh strawberries, and a melted chocolate bar. (I used an 85% dark Lindt Chocolate bar for this, but you could also melt down 1/2 a cup of Lily's or Trim Healthy Mama Chocolate Chips!)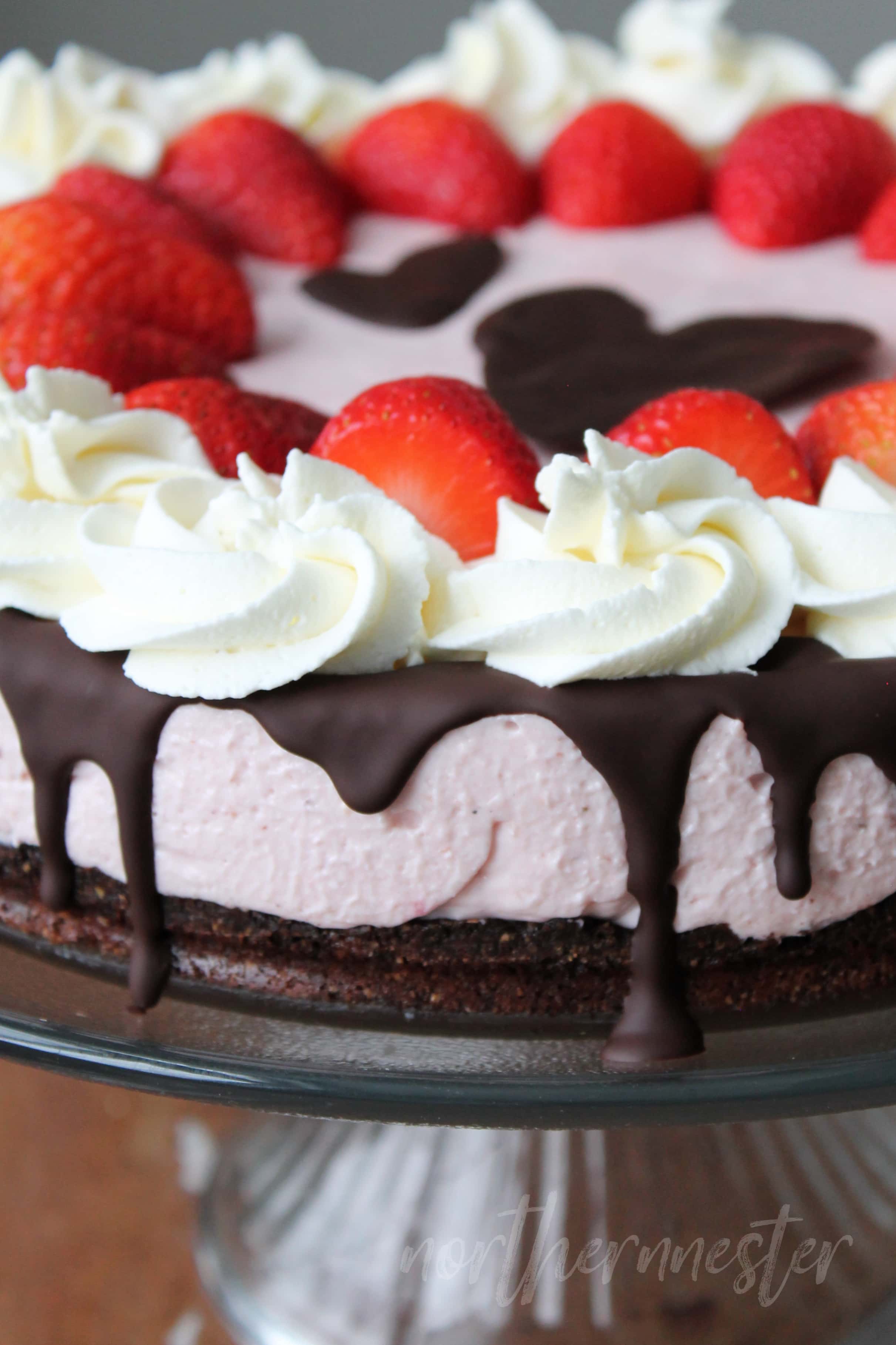 This Low Carb Strawberry Cheesecake doesn't contain any special ingredients. All you'll need is:
butter
xylitol (OR, you can use Gentle Sweet in half the amount, or Super Sweet in a quarter of amount)
cocoa powder
water
gelatin (to keep this recipe free from special ingredients, I used 2 packets of unflavored Knox gelatin, but you can use 4 1/2 teaspoons of Great Lakes unflavored gelatin, or Trim Healthy Mama's Just Gelatin if you prefer a beef-based version)
frozen strawberries (thawed)
cream cheese
cottage cheese
whipping cream for garnish (optional)
fresh strawberries for garnish (optional)
on-plan chocolate bar for garnish (optional)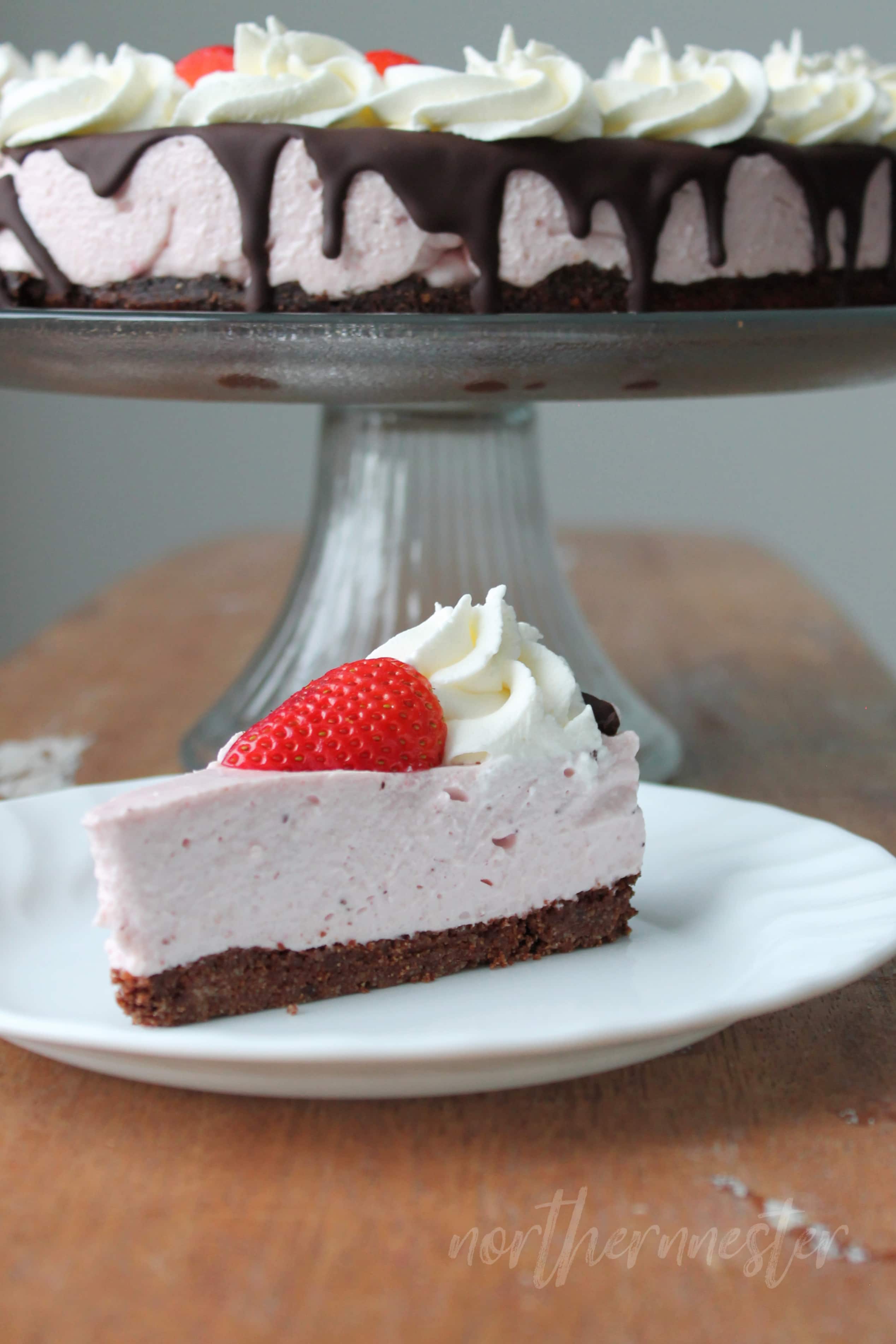 Please don't let the gelatin bit scare you off from making this dessert! For some reason, gelatin appears to be a daunting ingredient, but it's used super simply in this low recipe, and does a lovely job of setting the filling into smooth cheesecake texture.
All you have to do is sprinkle the gelatin over cold water in a saucepan (this is called "blooming," and keeps the gelatin from developing rubbery clumps in your filling), let it sit for one minute, then turn the burner on low heat and stir to dissolve it completely. Add to your filling, set in the fridge, and boom! …you have a beautifully set, no-bake, low carb strawberry cheesecake!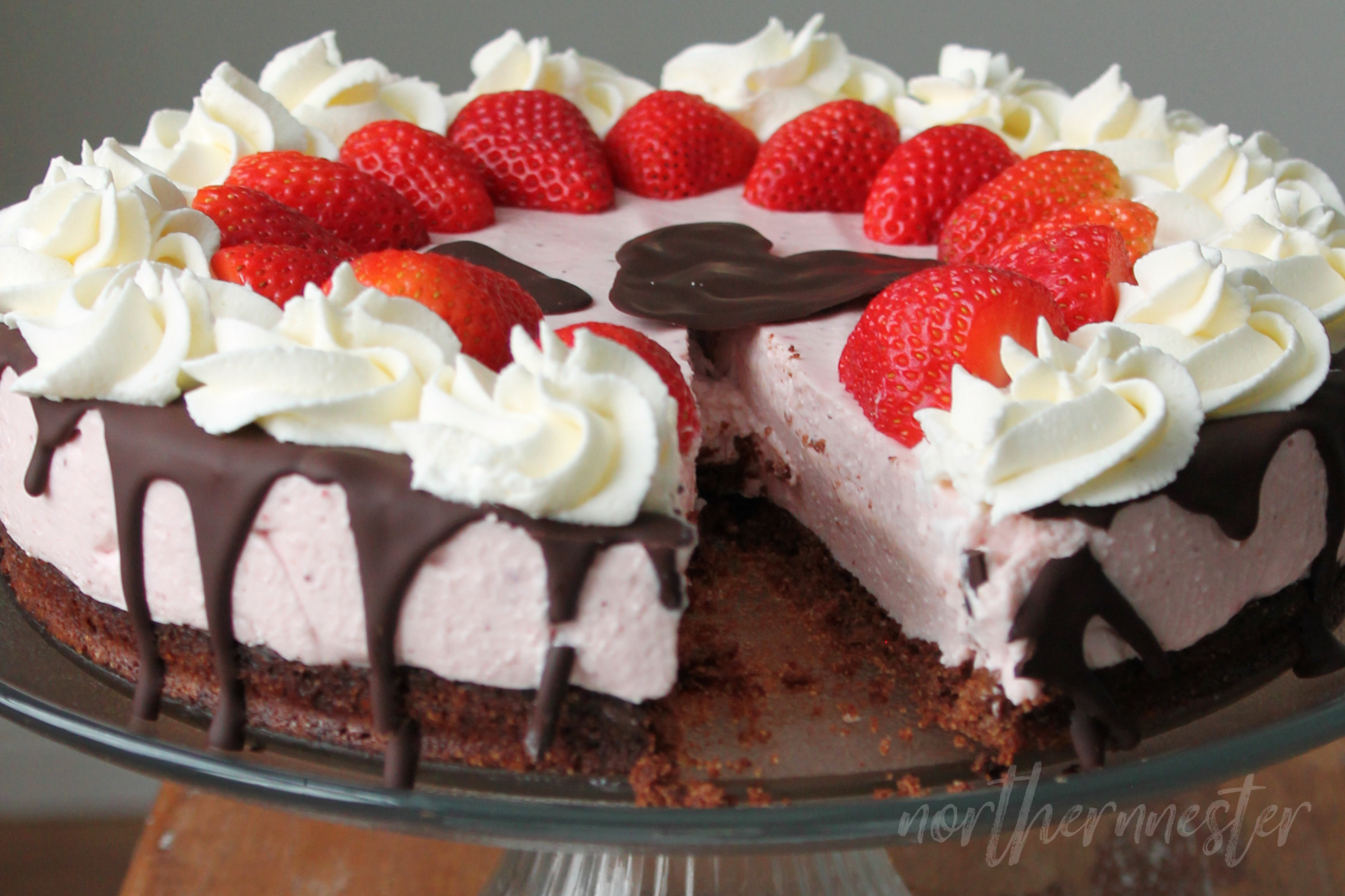 Unless it's a single-serve recipe, I always ask my hubby and our kids to taste test my experiments, and this low-carb strawberry cheesecake is one they could not get enough of!
"Can I lick off the spatula?"
"I call the blender!"
"If he gets the spatula, can I have another slice?"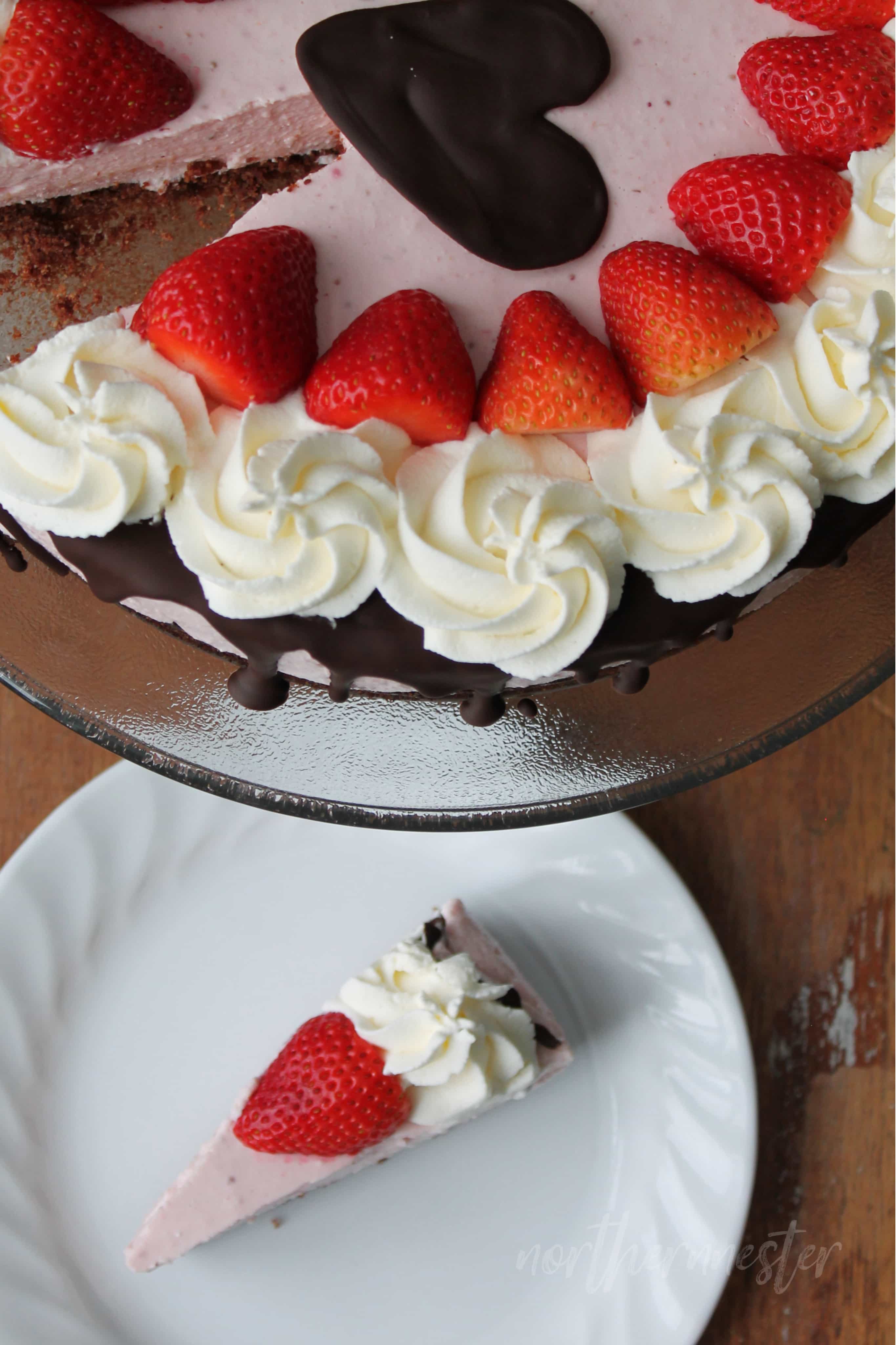 Hope you enjoy it as much as we did!
Yield: 12 servings
Low Carb Strawberry Cheesecake | THM: S, Keto, GF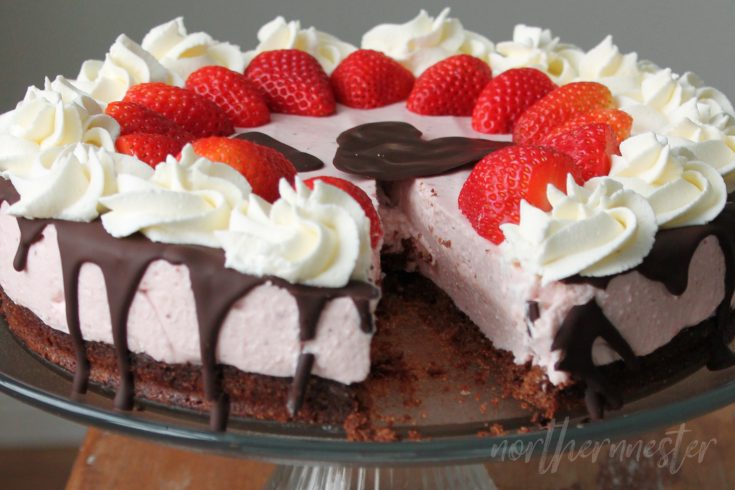 This beautiful pink, low-carb Strawberry Cheesecake couldn't possibly be easier to make! It's gluten-free, high in protein, and doesn't require any special ingredients. A THM S, Keto.

Prep Time 20 minutes

Cook Time 15 minutes

Additional Time 2 hours 25 minutes

Total Time 3 hours
Ingredients
CRUST:
1/4 cup butter, melted
3 tbsp xylitol (OR use Gentle Sweet in half the amount)
1 1/4 cup almond flour
2 tbsp cocoa powder
FILLING:
2 packets unflavored Knox gelatin
1/2 cup cold water
2 cups frozen sliced strawberries, thawed
1 cup cottage cheese (I used 1 %)
1/2 cup xylitol (OR use Gentle Sweet in half the amount)
2 8oz pkg cream cheese, softened
GARNISH:
1/2 cup whipping cream
1 tbsp xylitol
fresh strawberries
1 3.5oz bar 85% Lindt chocolate (or Lily's)
Instructions
Preheat oven to 350 F.
To make the crust, melt butter, xylitol, and mineral salt together in a medium saucepan until sweetener is dissolved. Remove from heat. Stir in almond flour and cocoa powder. Press into a 9" springform pan. Bake for 12 minutes. Cool.
To make the filling, pour cold water in a small saucepan and sprinkle gelatin on top. Let it sit for one minute to soften. Over low heat, dissolve gelatin in water, stirring often. (Water will look like normal water when gelatin has been dissolved).
Puree strawberries in a blender until smooth. Add in cottage cheese, xylitol, cream cheese, and dissolved gelatin. Blend until filling is light pink and smooth. Spread filling over crust. Refrigerate for 2 hours to set. Remove springform before garnishing.
To make the garnish, melt chocolate on lowest heat in a saucepan. Spoon over the edges of cheesecake to create a drip effect. Beat whipping cream and xylitol together until stiff. Fill the piping bag with whipped cream, and pipe rosettes on top of cheesecake. Decorate with fresh strawberries.
Notes
Gentle Sweet can be used in place of xylitol in half the amount, or Super Sweet in a quarter of the amount.

4 1/2 teaspoons of Just Gelatin or Great Lakes gelatin may be used in place of the Knox gelatin.