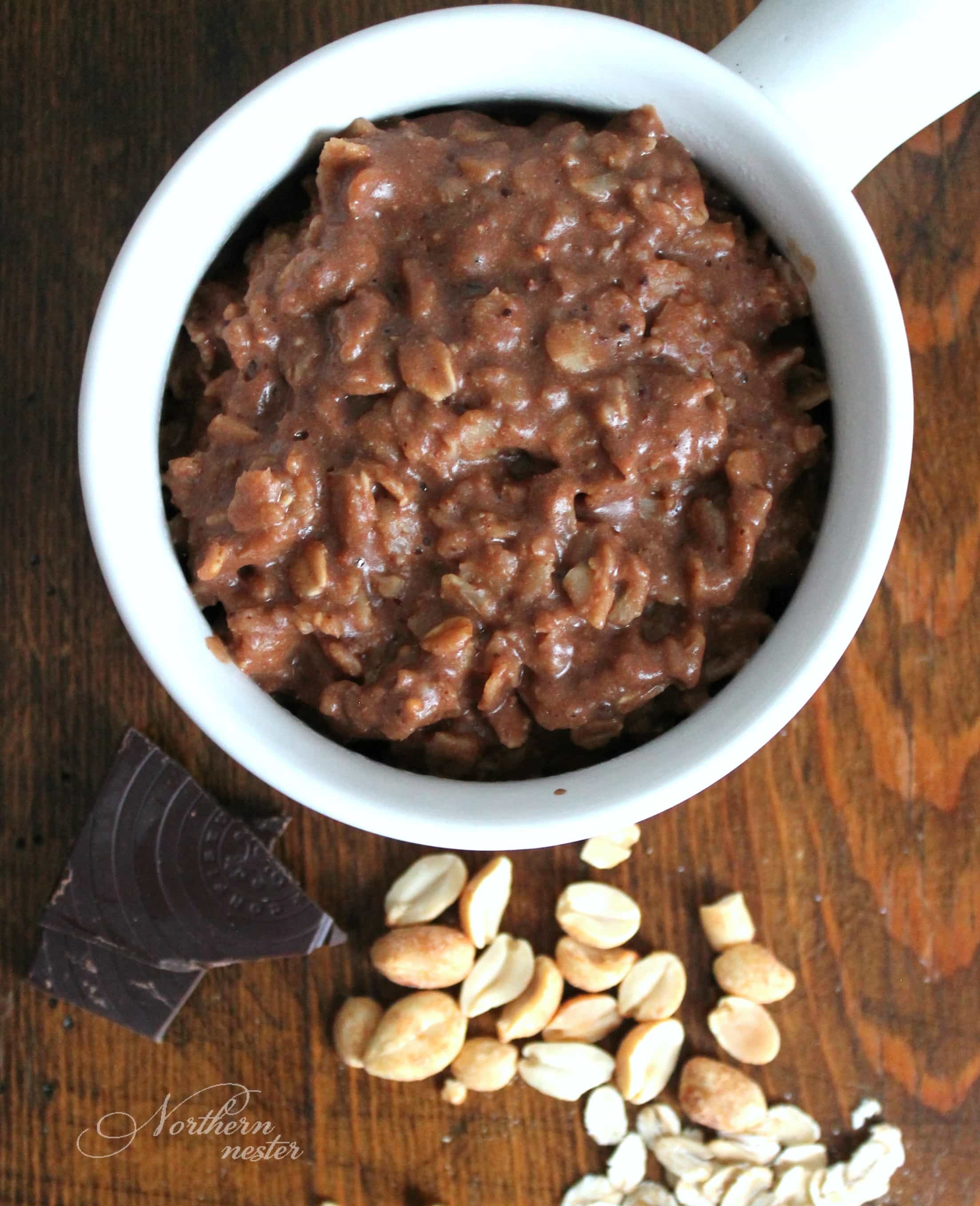 One of the most wonderful things about the More Or Less Challenge is that it has pushed me to experiment with more E and dairy-free recipes! This Chocolate Peanut Butter Cookie Oatmeal nails both of those goals and it is so incredibly delicious, that I've declared it to be my go-to E breakfast from now on!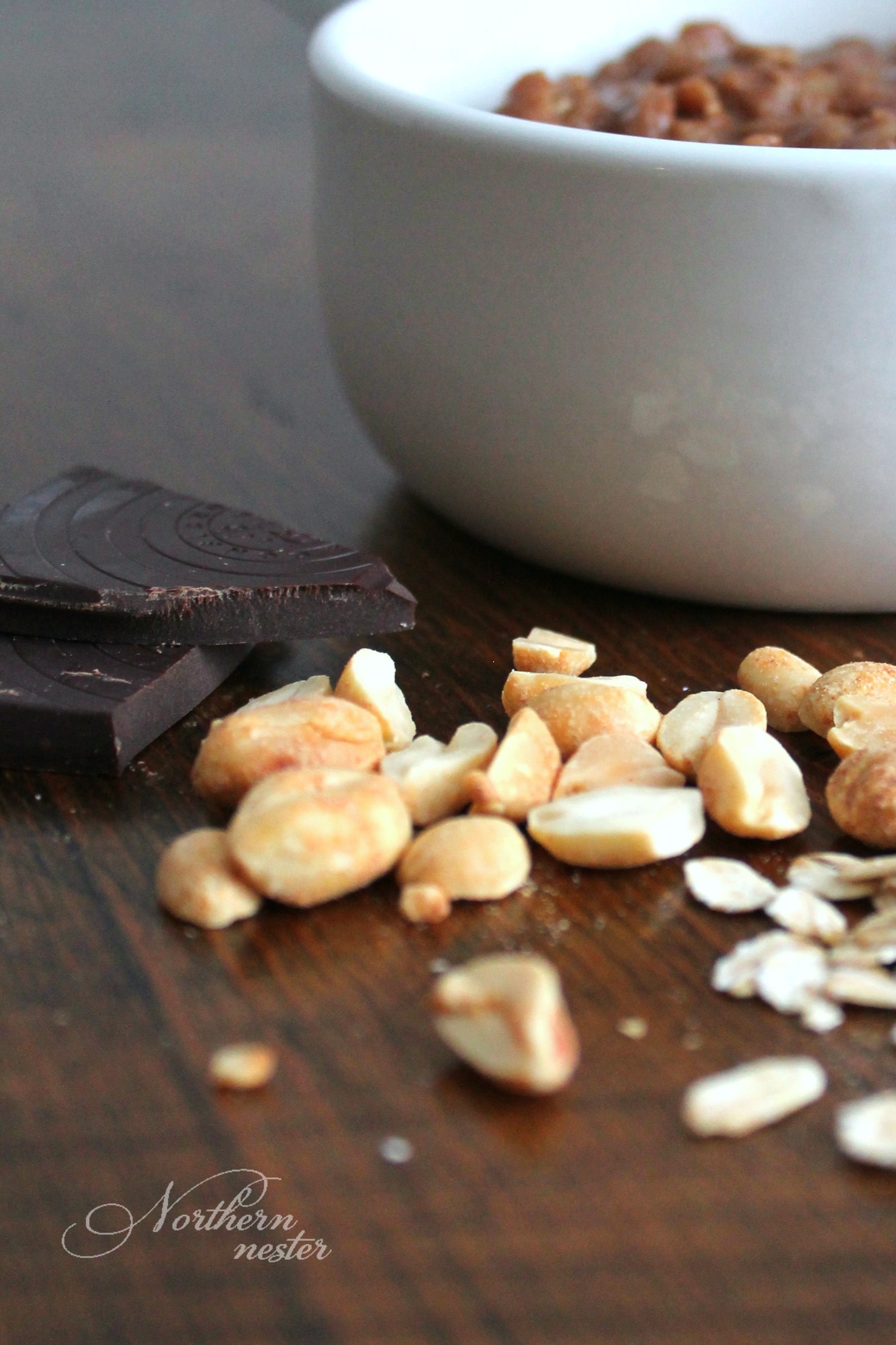 There are only 6 ingredients in this breakfast, and none of them are "special" or expensive:
Can I just take a moment here to express how thankful I am that defatted peanut flour is now a common thing? Even in Canada, you can find a sugar-free version locally! My favorite brand is Tru-Nut(no sugar added), but I also use the PB & Me brand which you can find at Wal-Mart. Both of these products feature peanuts as the only ingredient. Of course, Trim Healthy Mama has a superior brand of peanut flour, too, but it's not as accessible to me.
Trim Healthy Mama Defatted Peanut Flour
Defatted peanut flour is an amazing ingredient. It's the result of peanuts being processed into a flour after the fat has been removed. When mixed with a wet, low-fat ingredient like 0% Greek yogurt, water, or a nut milk, it provides the same peanut butter flavor, but with a much more concentrated level of protein. Since defatted peanut flour is so low in fat and high in protein, its an ideal ingredient for Trim Healthy Mama-friendly Fuel Pull and E meals.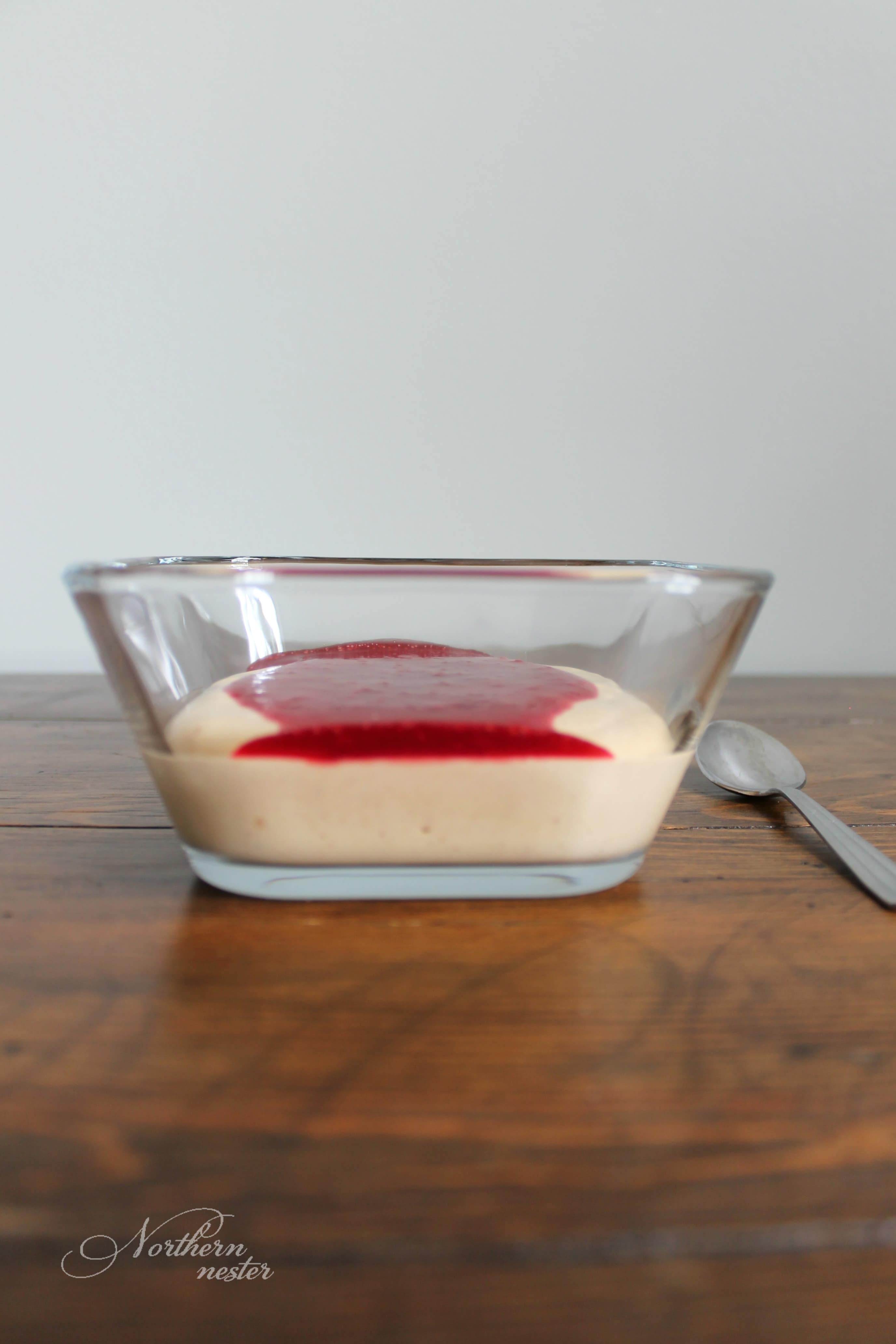 PSA: my favorite Fuel Pull snack using defatted peanut flour is the PB & J version of Peanut Butter Cheesecake In a Bowl!
But back to this Chocolate Peanut Butter Cookie Oatmeal! It only takes about 7 minutes to make from start to finish, so it's almost as fast as overnight oats! Unlike overnight oats though, this is a warm oatmeal dish and totally tastes like a freshly baked cookie!
You can enjoy it with a glass of low-fat kefir for more even protein.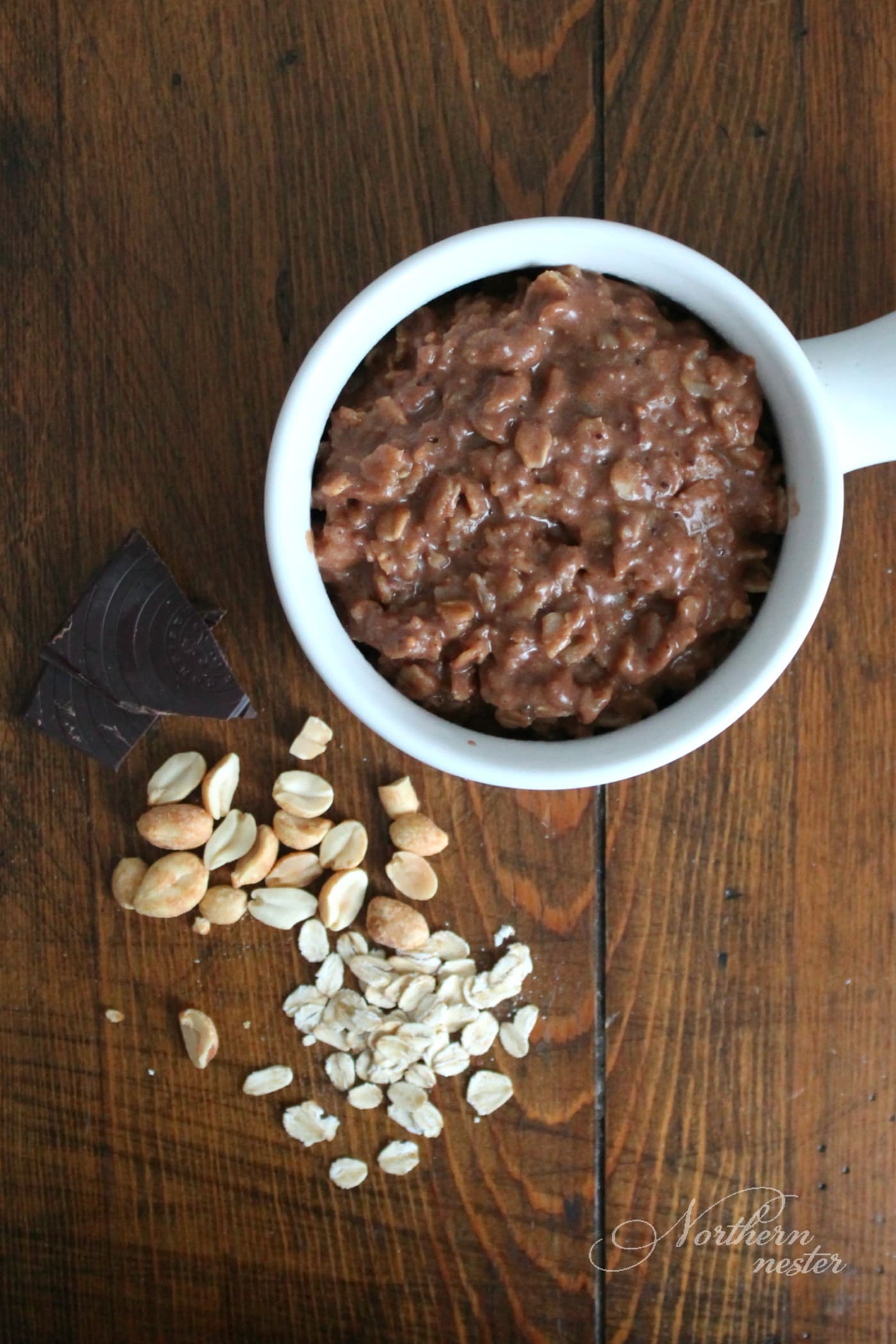 Yield: 1 serving
Chocolate Peanut Butter Cookie Oatmeal | THM: E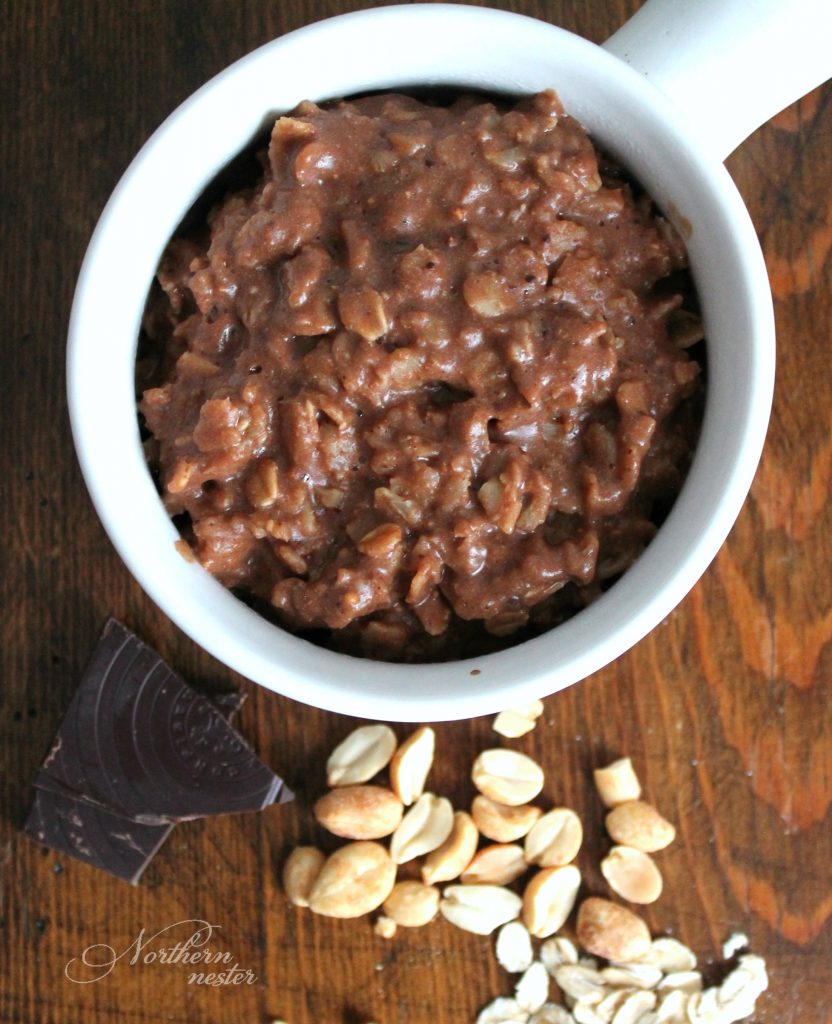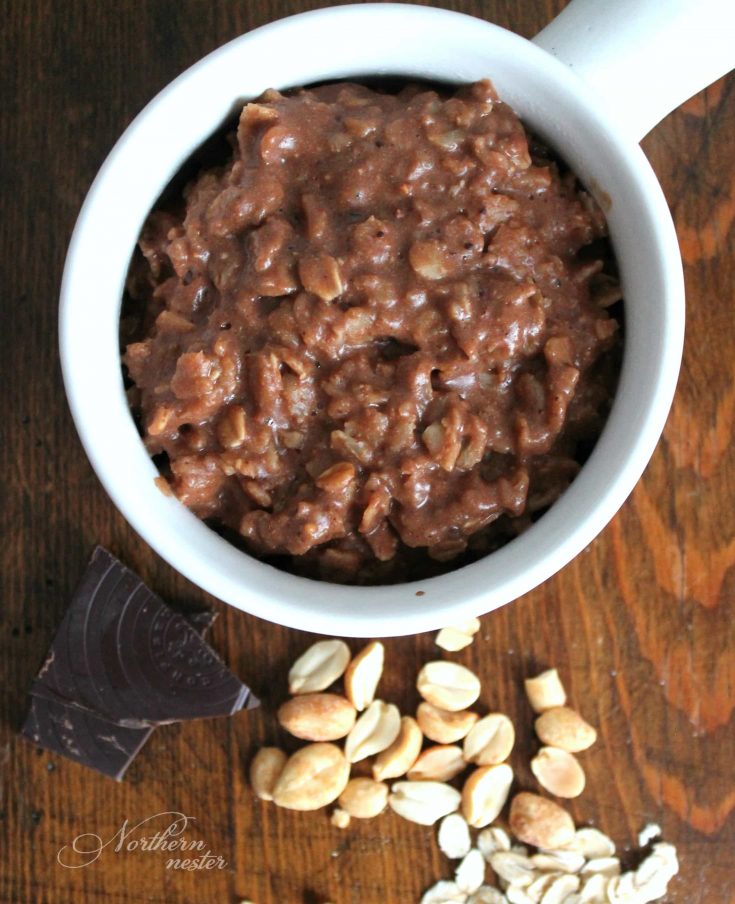 This dairy-free, Energizing Chocolate Peanut Butter Cookie Oatmeal taste like a warm cookie straight out of the oven! No special ingredients. A THM E.

Prep Time 1 minute

Cook Time 6 minutes

Total Time 7 minutes
Ingredients
1 cup unsweetened cashew or almond milk
1/2 cup old fashioned gluten-free oats
2 Tbsp xylitol (OR 1 Tbsp Gentle Sweet)
pinch of sea salt
2 Tbsp defatted peanut flour
1/2 tbsp cocoa powder
Instructions
In a small saucepan, add nut milk, oats, sweetener, and sea salt. Bring to a boil over medium-high heat. Simmer for 5 minutes. Remove from heat and stir in peanut flour and cocoa powder until smooth. Eat straight out of the pan or pour into a bowl and enjoy!