One of my health goals for the upcoming year is to eat smarter on the Trim Healthy Mama plan. I've been indulging in too many Frankenfoods and calorie-dense, dairy-laden desserts and not eating enough veggies or consuming enough hydrating, immune-boosting, life-giving liquid throughout the day. To help myself get out of my rut, I've decided to do a More Or Less: Trim Healthy Mama Challenge, and hope that you'll join me in the fun!
The idea behind this challenge is to eat less of the less nutritional foods that have become crutches to us and more of our healthier options. My hope is that doing this faithfully for a month will not only shed a few pounds that have crept on over the holidays, but that I will break my dependency on calorie-dense, on-plan food and learn to enjoy lighter, healthier, nutritionally-dense things that do my body more good.
The More Or Less: Trim Healthy Mama Challenge will last for 2 weeks, beginning January 1 and ending January 14, and include:
More:
double-fermented low-fat kefir (1-2 cups a day)
salads (1 a day)
E meals (1 a day, meal or snack)
sippers (1 jar of Singing Canary, GGMS, Shrinker, or bone broth a day)
The Singing Canary recipe can be found in the Trim Healthy Mama Cookbook. I have several GGMS recipes here, and be on the lookout for a bone broth tutorial coming soon!
Less:
dairy (limit dairy to kefir, butter for cooking/baking, half & half in coffee, cheese in garnish amounts)
Frankenfoods (eliminate for the duration of the challenge)
nuts, nut flours, and nut butters (use sparingly)
You can participate in this challenge silently, or on Instagram or Facebook. I plan to post pictures of 3 meals/snacks I eat each day in my Instagram Stories under the handle @northernnester. If you use the hashtag #moreorlessthmchallenge, you can connect with other THMs who are participating in the challenge and be inspired by their meals! Also, I plan to post my meal pictures at the end of the day on my Facebook Page, Northern Nester. You are invited to post your accountability photos in the comments of that thread. Note: I don't post on Sundays.
What would a challenge be without a prize?!
Up for grabs? Your choice of:
To qualify for this, you must:
be a resident of U.S. or Canada
complete the entire challenge (perfection is not required; only your best attitude and effort!)
post your meals on IG (stories or feed) or the More Or Less Challenge Thread that will appear on my Facebook Page at the end of each day. On Instagram, use the #moreorlessthmchallenge hashtag, and tag @northernnester so I can be inspired by you, too!
follow Northern Nester's Facebook Page or Instagram
This is not a requirement, but I'd encourage you to take pictures, weigh yourself, and take your measurements before and after the More Or Less: Trim Healthy Mama Challenge. My hypothesis is that you will be thankful you did!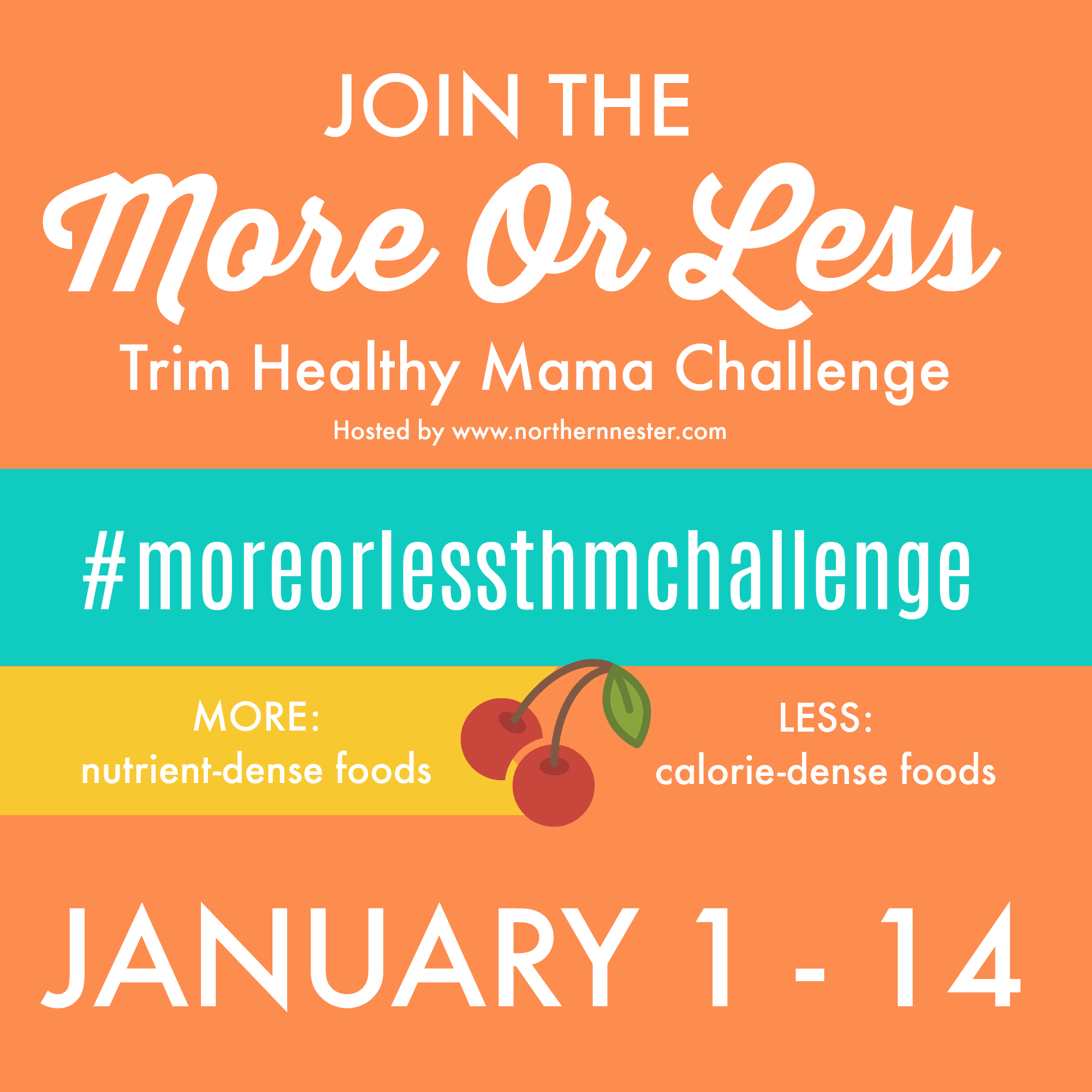 The name of a qualifying participant will be randomly drawn at the end of the challenge.
So, who's in?! Who wants to focus on eating more nutritionally-dense foods and less calorie-dense ones? Let's do it together; it's way more fun that way! 🙂