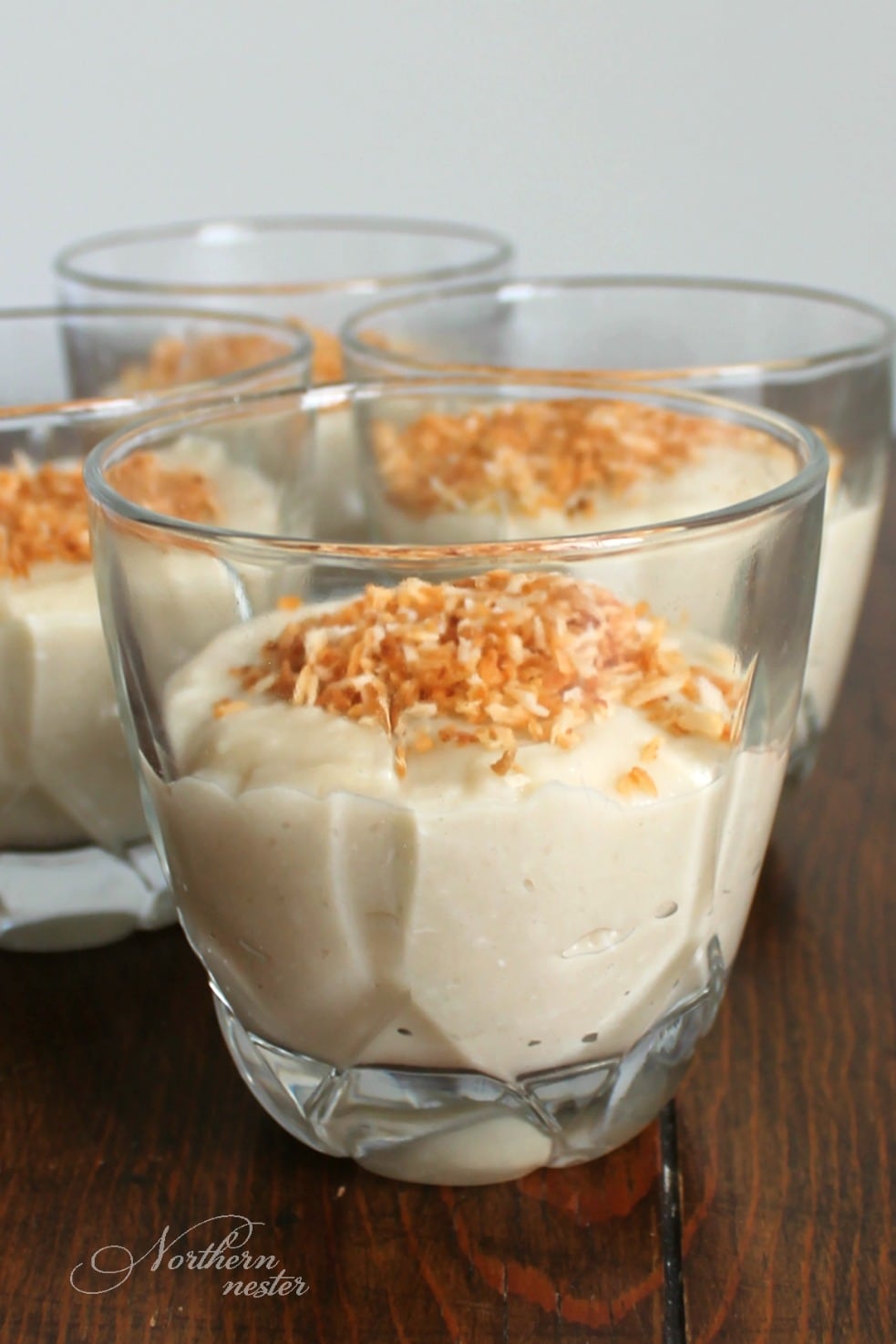 One of the goals in our More Or Less Challenge was to go easy on dairy! Dairy is totally allowed on Trim Healthy Mama (one of the things I love about the plan!), but it had become a crutch for me and I was overindulging too often in heavier cheesecakes instead of choosing foods that were more nutritionally dense.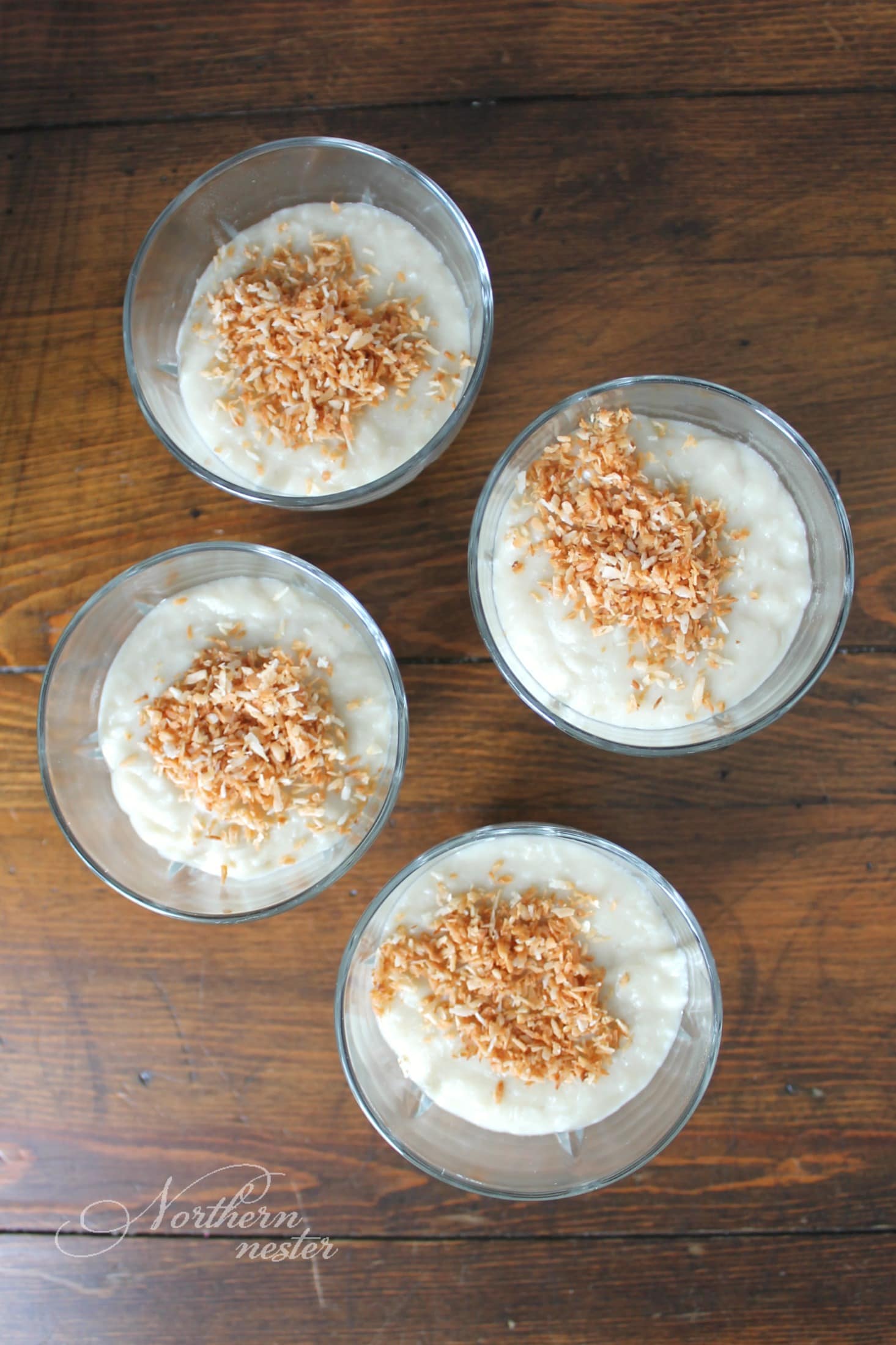 I really started craving an S dessert as we started the second week of the challenge. This dairy-free Coconut Cream Pie Bowl was the result; necessity is the mother of invention, right?!
I love it so much! Coconut Cream Pie is one of my favorite pies to begin with and I'm thrilled about this make-ahead, crustless, dairy-free version of it. I don't miss the whipped cream at all!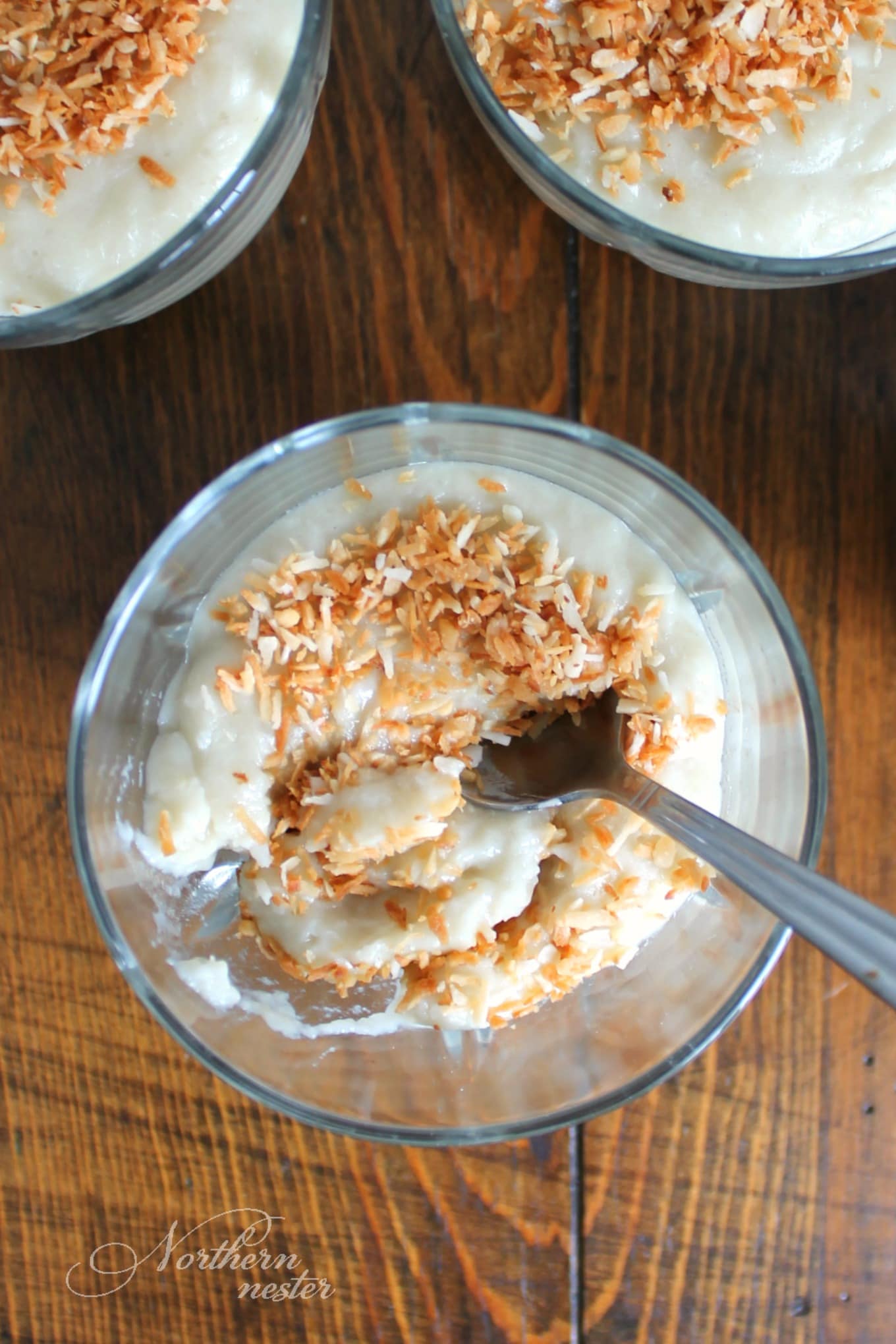 No special ingredients are required to make these sweet, dairy-free Coconut Cream Pie Bowls:
You'll be able to get 4 servings out of this recipe. They are great make-ahead, on-the-go snacks…or enjoy them for breakfast!
Toasting additional coconut flakes for 2-3 minutes in a skillet over medium-high heat until they turn light brown is a perfect finishing touch.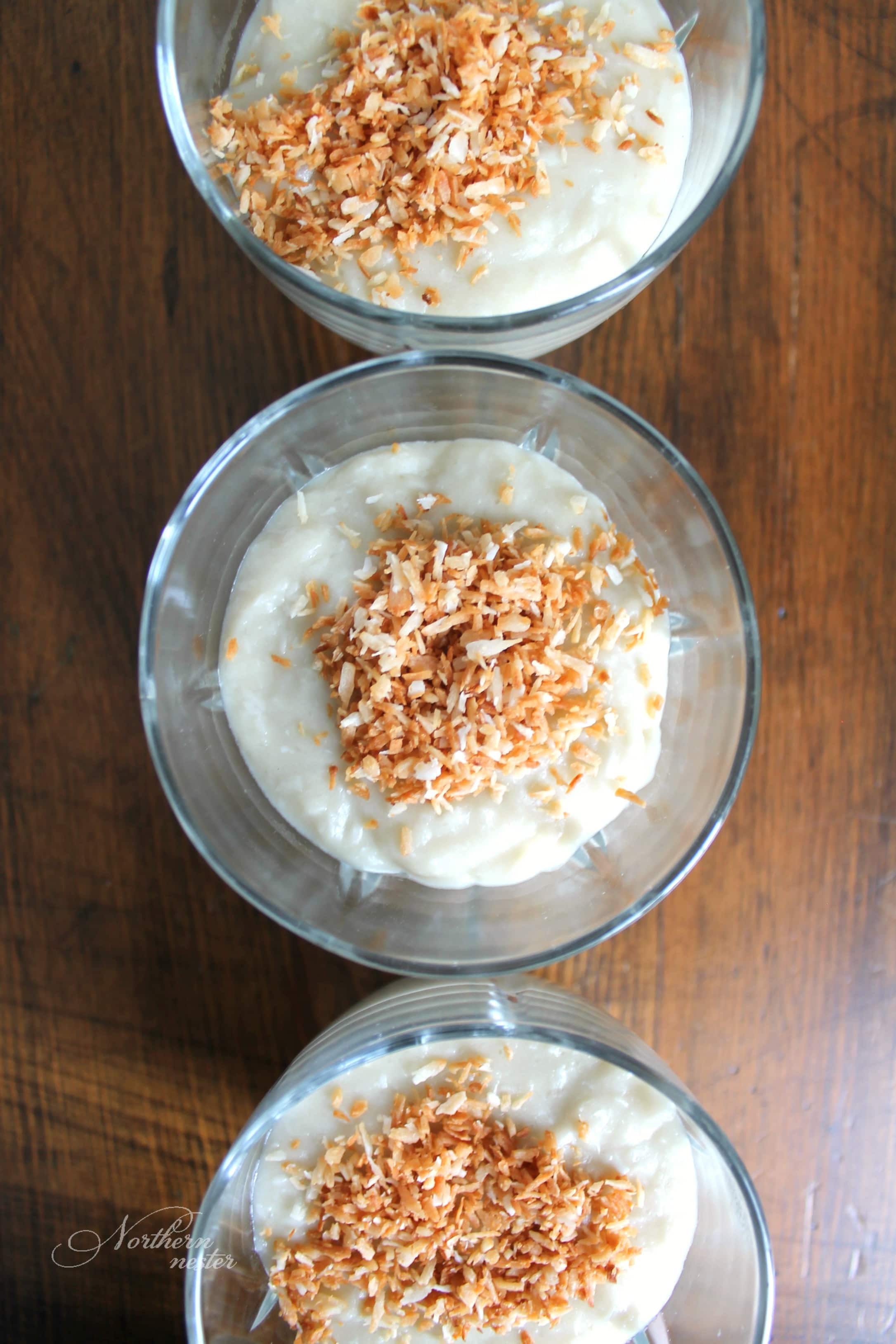 Yield: 4 servings
Dairy-free Coconut Cream Pie Bowls | THM: S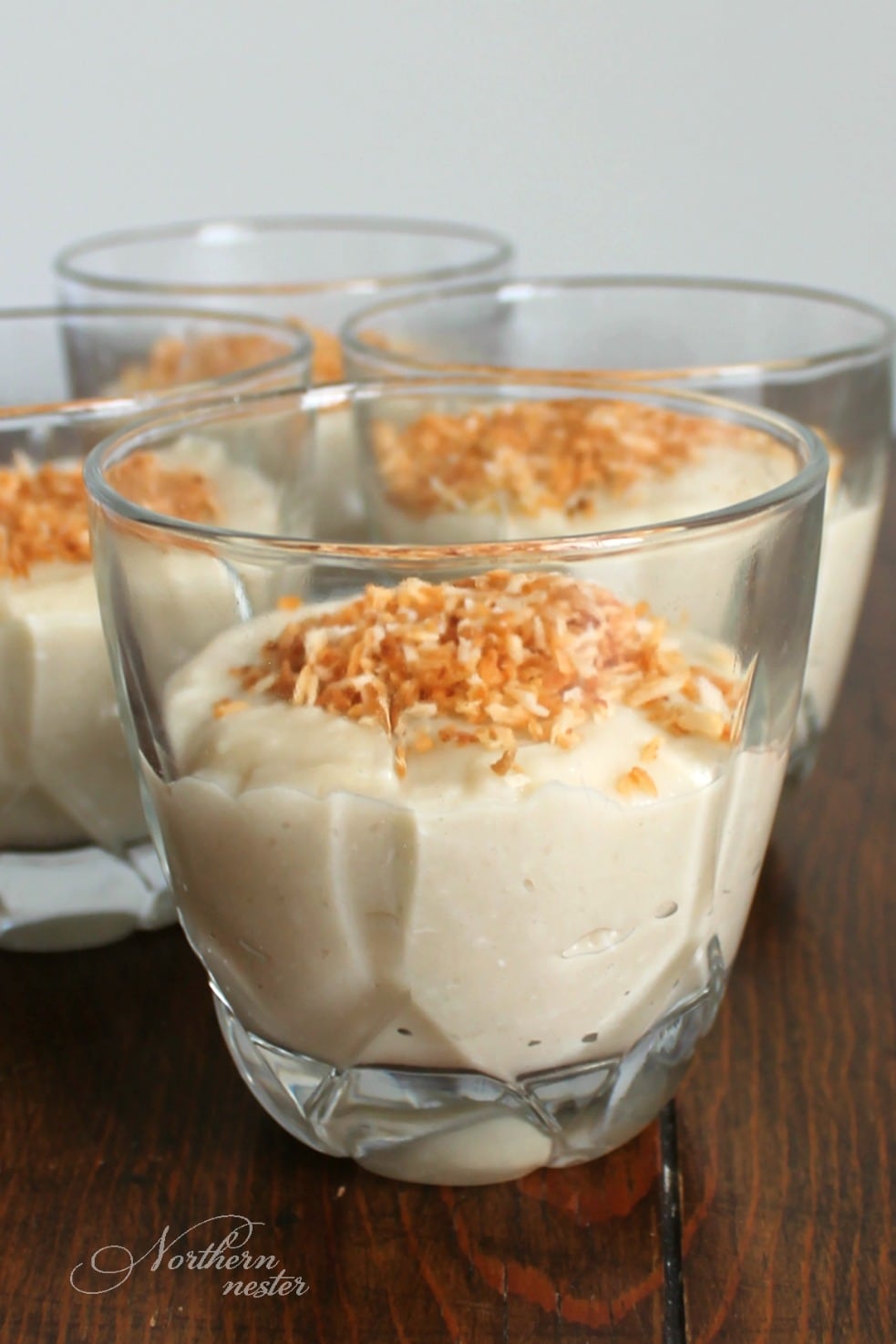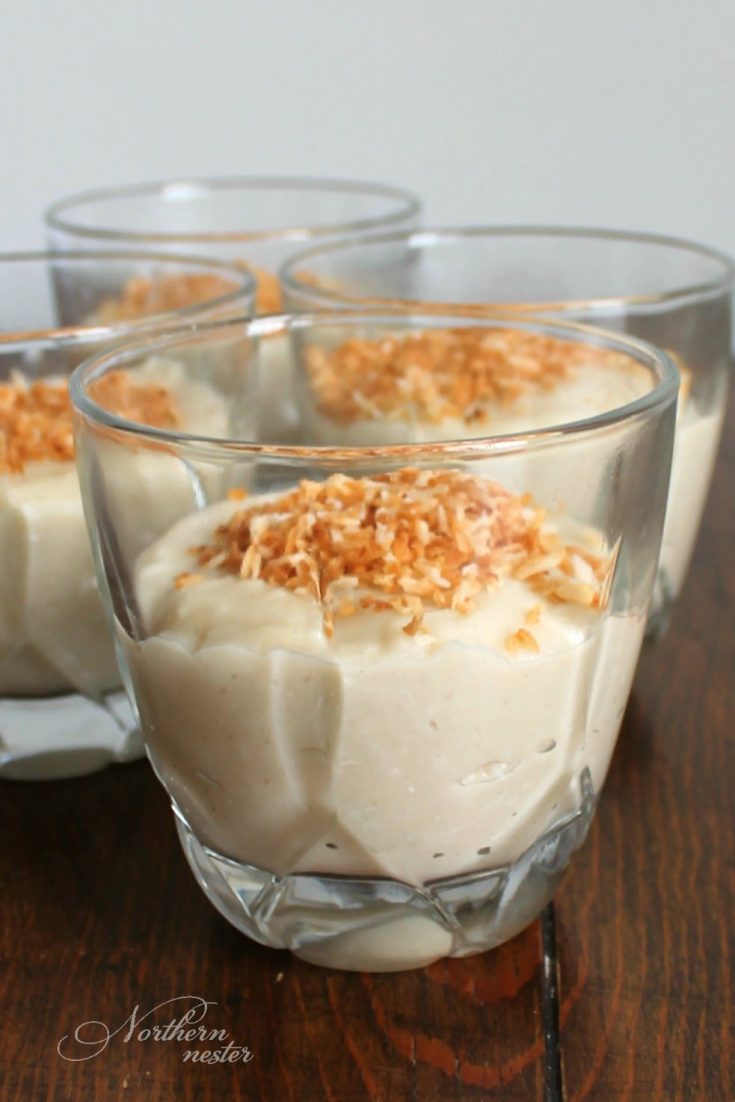 You won't miss the cream in these delicious, dairy-free Coconut Cream Pie bowls which are also gluten-free and low-carb! An easy THM S with no special ingredients.

Prep Time 15 minutes

Cook Time 10 minutes

Total Time 25 minutes
Ingredients
1 can coconut milk
1/3 cup + 2 Tbsp unsweetened cashew milk, divided
1/4 cup xylitol (OR 1/8 cup Gentle Sweet)
1/8 tsp salt
1 egg
1 tsp xanthum gum
3/4 cup flaked coconut
1 Tbsp butter, ghee, or coconut oil
1 tsp vanilla extract
GARNISH:
toasted coconut flakes (See note)
Instructions
Combine canned coconut milk, 1/3 cup cashew milk, xylitol, and salt in a saucepan. Cook over medium heat, whisking often. Bring to a boil and boil for 1 minute.
In a separate bowl, whisk egg and 2 Tbsp cashew milk together. Pour into coconut milk mixture and cook over medium heat for 5 minutes, whisking constantly until thickened.
Remove from heat. Whisk in xanthan gum until dissolved. Stir in coconut flakes, butter (or coconut oil, or ghee), vanilla extract. Pour into 4 small bowls and chill in the fridge for an hour or two. Sprinkle with toasted coconut flakes before serving.
Notes
Optional: adding a teaspoon of butter extract in addition to the vanilla is a great way to add a buttery note to this dessert if you want to keep it completely dairy-free.

To toast coconut flakes, sprinkle a single layer in a frying pan and cook over medium heat for 2-3 minutes until lightly browned. Remove from heat and cool completely.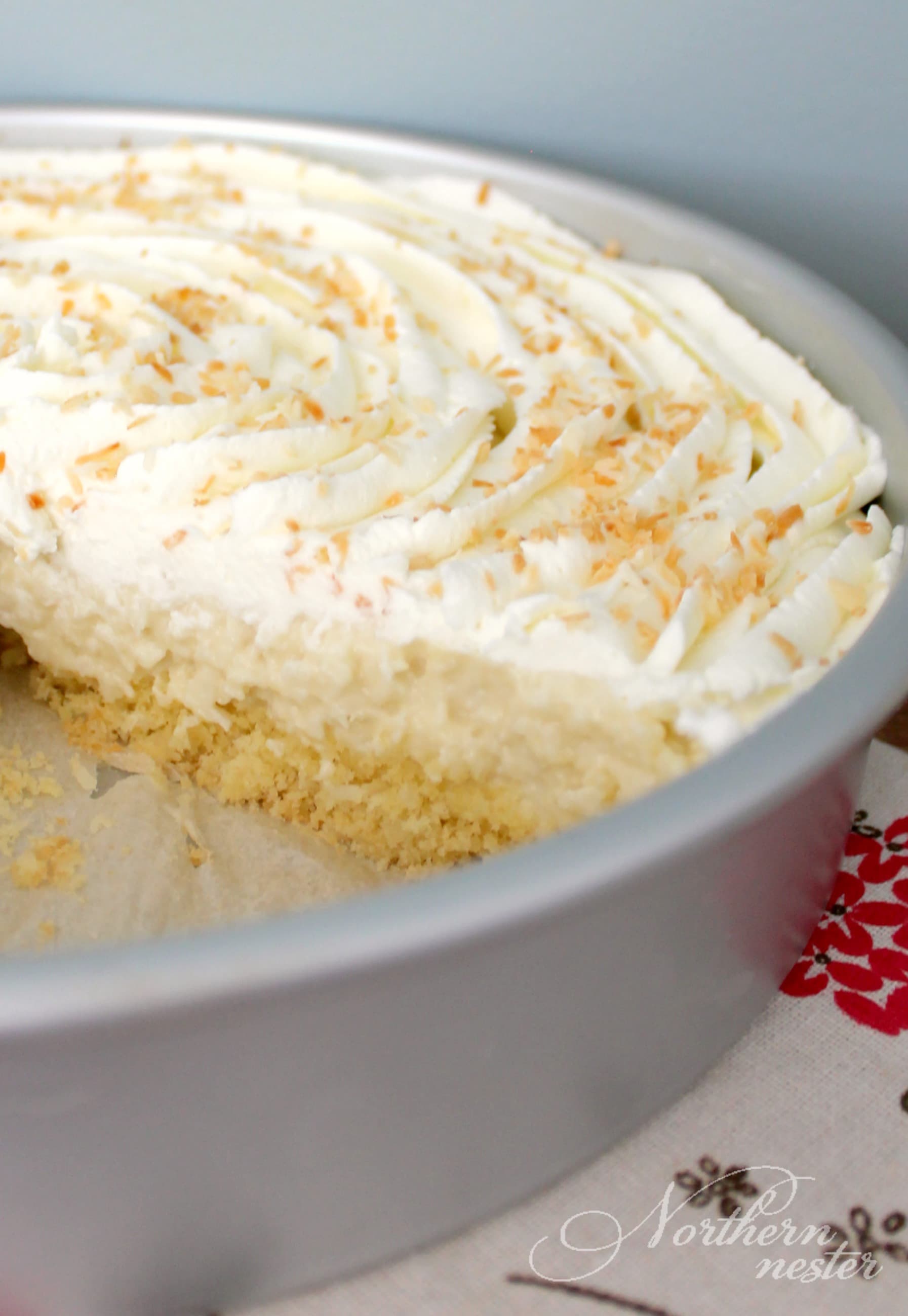 If you're in the mood for an on-plan, dairy-laden, traditional Coconut Cream Pie, give this one a try! It is a well-loved recipe by the whole family.