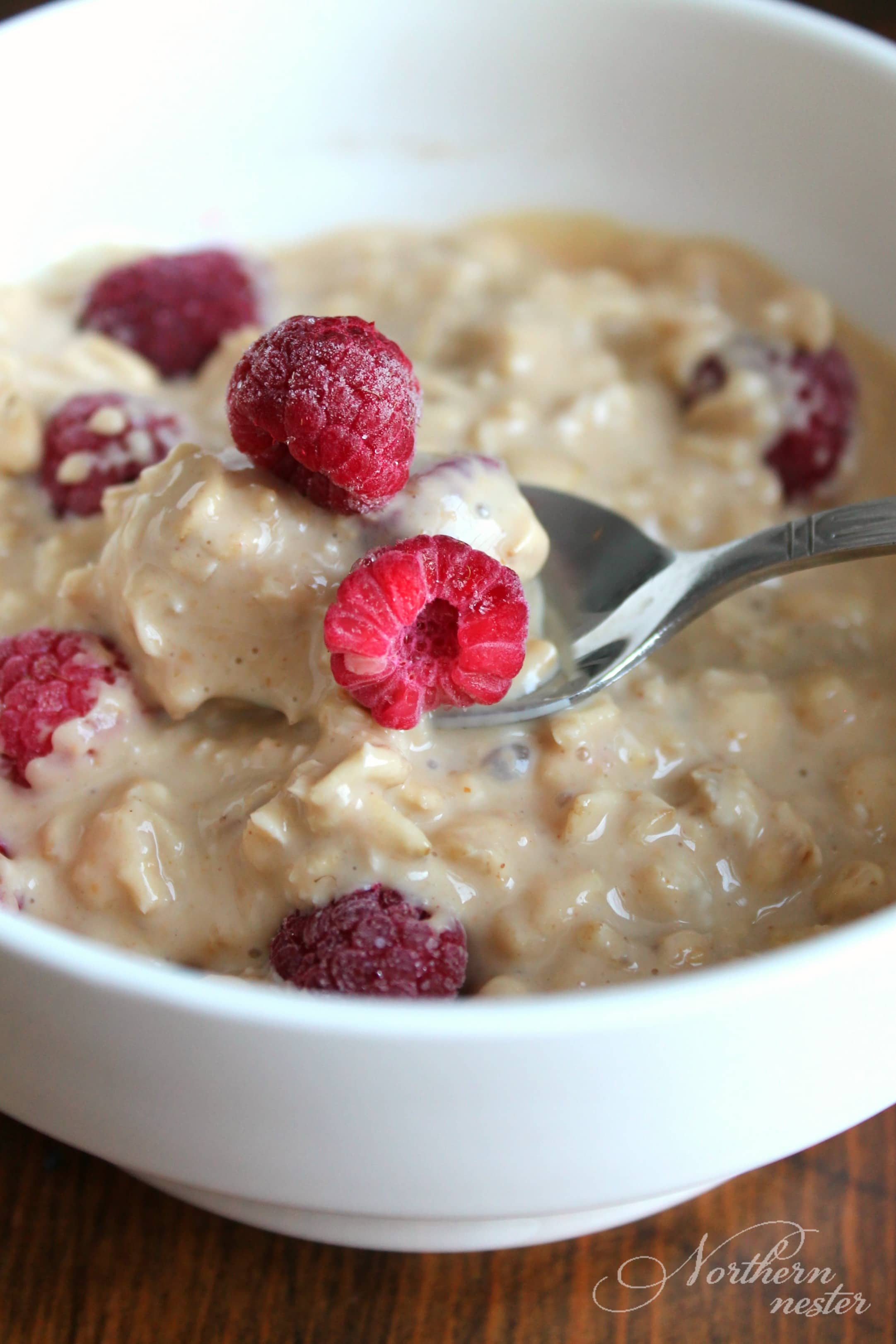 Last week, I shared my favorite warm oatmeal recipe: Chocolate Peanut Butter Cookie Oatmeal. Today, I'm sharing my favorite cold oatmeal recipe: Overnight PB & J Oatmeal. (If you're not a fan of eating oatmeal cold, no worries: you can always heat up a bowl of this overnight PB & J Oatmeal in the microwave for a minute!)
Personally, I love this recipe cold; it tastes like dessert!
This is definitely the fastest E breakfast I have ever had. Put together the night before, there's nothing to prepare when you wake up. Stir in a handful of raspberries and breakfast is served!
Overnight PB & J is also the most filling E breakfast I've eaten! I can barely finish a bowl. Thanks to a night of soaking in defatted peanut flour, 0% Greek yogurt, and cashew milk, this oatmeal will keep you feeling full until your next meal.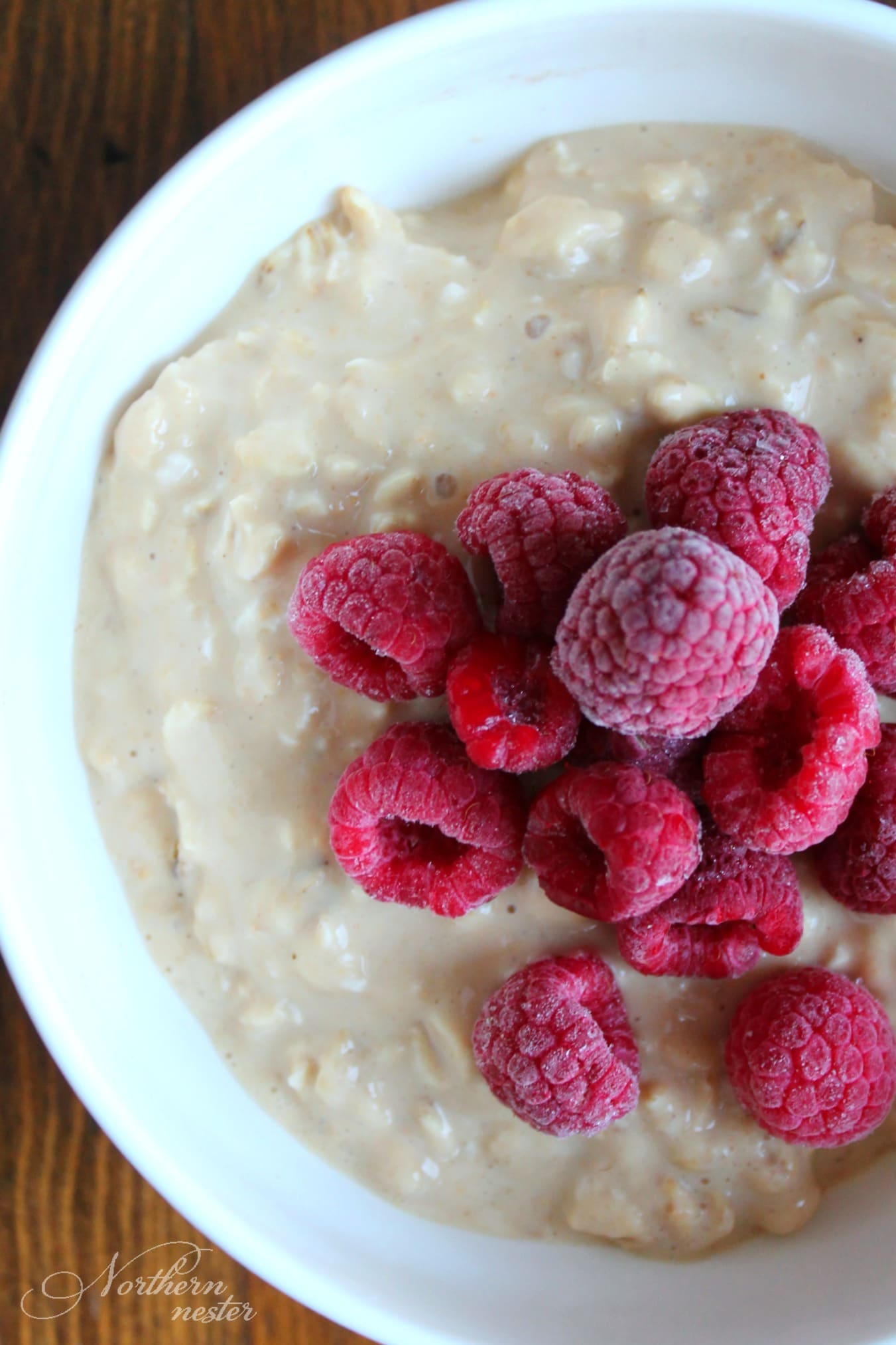 You don't need any special ingredients to make this breakfast. In fact, you probably have everything on hand already:
old-fashioned oats
defatted peanut flour
0% fat Greek yogurt
unsweetened cashew or almond milk
sweetener (I use xylitol, but you can also use Gentle Sweet in half the amount)
sea salt
frozen berries (I like raspberries or blueberries best!)
Stirring in a handful of frozen berries is a super easy way to make this oatmeal taste like a mouthful of PB & J, one of my favorite flavor combinations.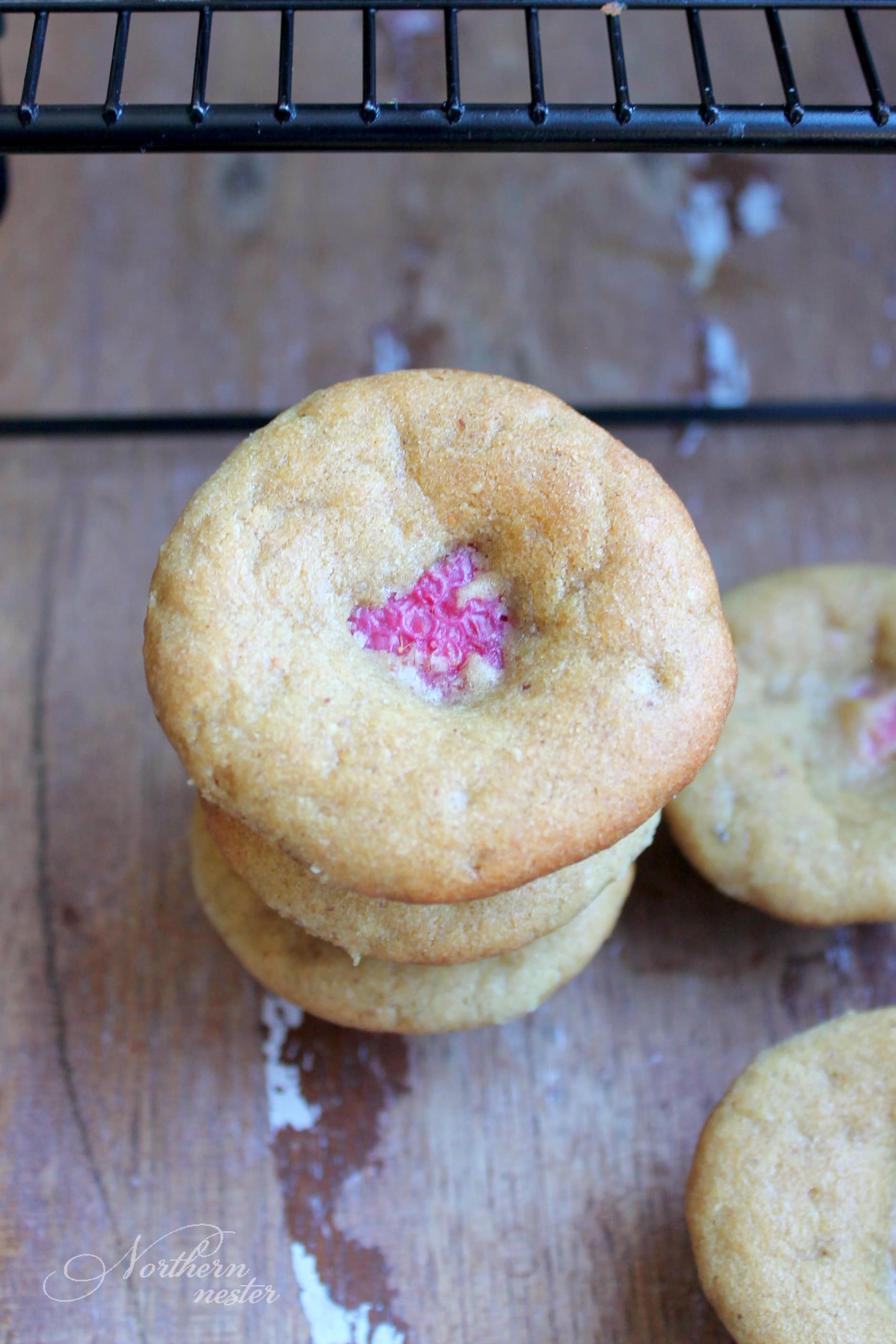 (If you're a PB & J fan, you will probably love these PB & J muffins, too!)
Overnight PB & J Oatmeal is a Trim Healthy Mama-friendly E meal because it contains no real fat source, but has healthy amount of good carbs and lean protein.
Yield: 2 servings
Overnight PB & J Oatmeal | THM: E
Overnight PB & J Oatmeal is a protein-packed Trim Healthy Mama E breakfast that tastes like a mouthful of a favorite sandwich! Low in fat, gluten-free, and no special ingredients.

Prep Time 5 minutes

Total Time 5 minutes
Ingredients
1 cup old fashioned oats
1/2 cup peanut powder
1 cup cashew or almond milk
1/4 cup 0% fat Greek yogurt
1/2 tsp vanilla extract
2 Tbsp xylitol
pinch of salt
1 cup fresh or frozen raspberries, blueberries, or strawberries
Instructions
Mix all ingredients (except frozen berries) together and divided into 2 bowls. Refrigerate overnight. Warm in microwave for 30 seconds to 1 minute, if desired. Stir 1/2 a cup of berries into each bowl of oatmeal. Serve and enjoy!
Notes
You can store the second serving in the fridge for several days until needed.