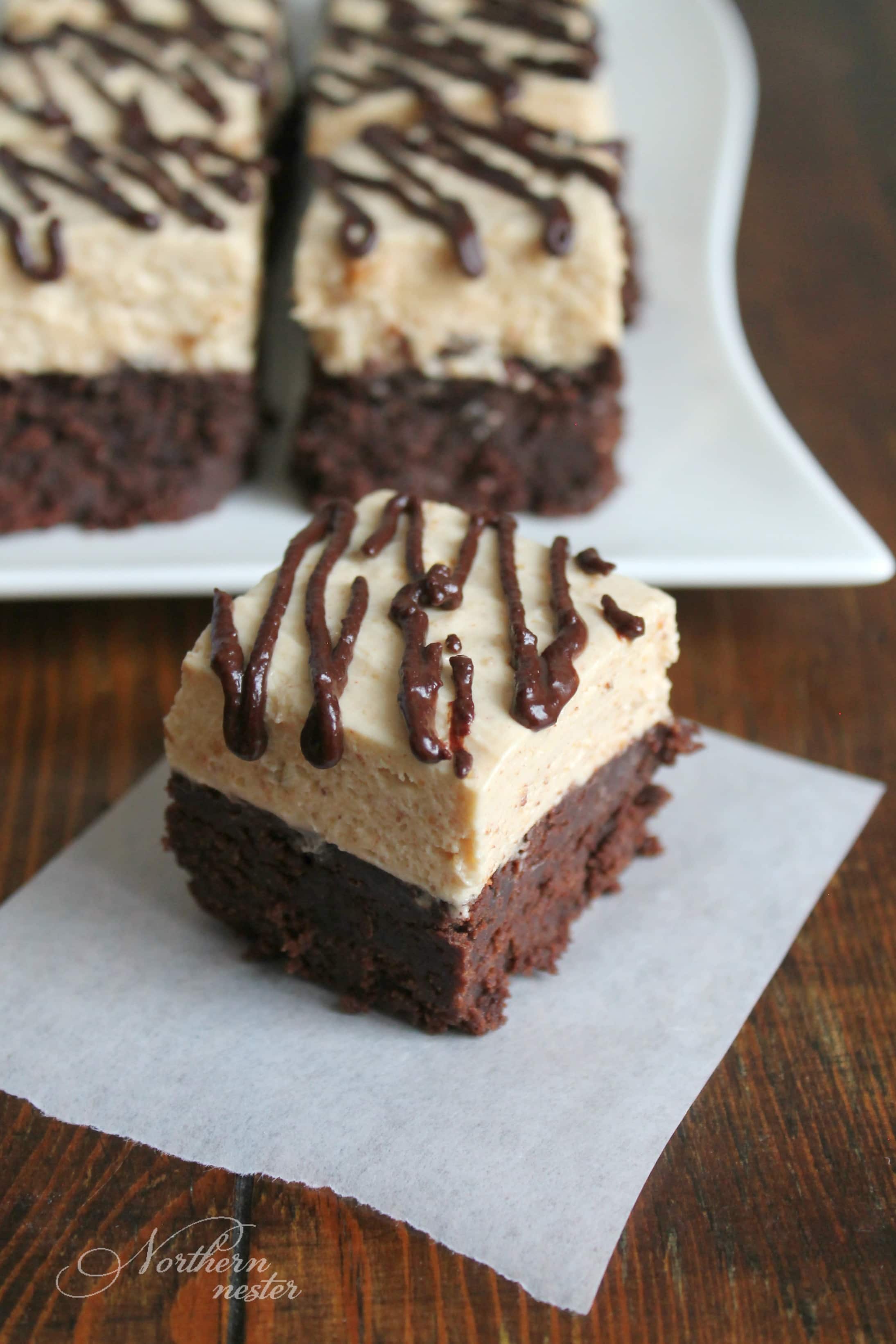 These Buckeye Brownies are the pinnacle of low-carb brownie recipes!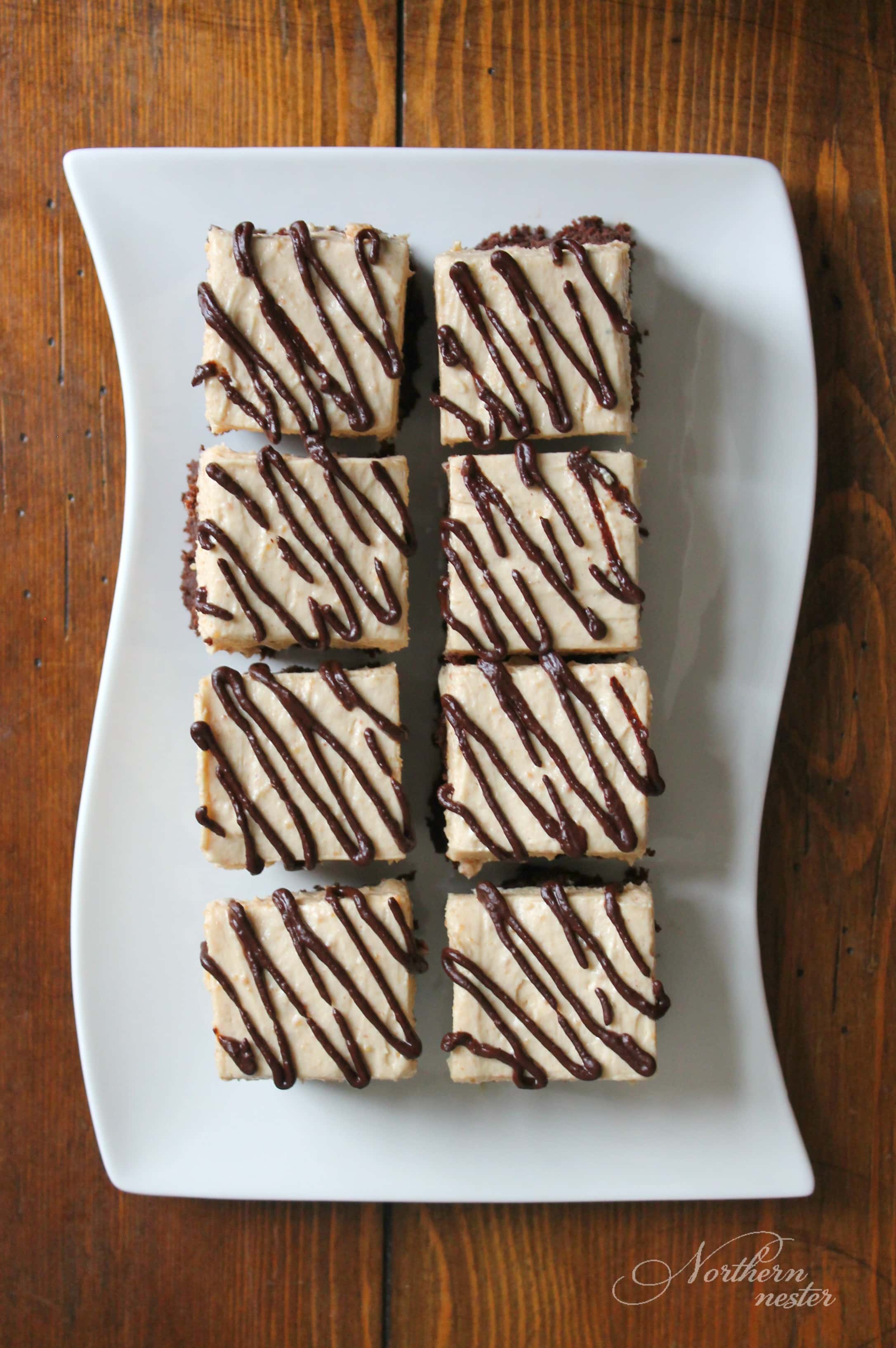 The chewy, chocolaty base is worth eating all by itself, but the peanut butter cheesecake layer takes these brownies to an unprecedented level of awesomeness. (Really, I'm not trying to sound dramatic here, but these Buckeye Brownies are my new favorite indulgent treat!). They combine two of my favorite things – brownies and peanut butter cheesecake – into one incredible dessert.
Since these Buckeye Brownies are quite calorie-dense, they should be reserved for special occasions. You know, like when your "Aunt" comes to visit once a month and always demands something rich and decadent during her stay (if ya get my drift)…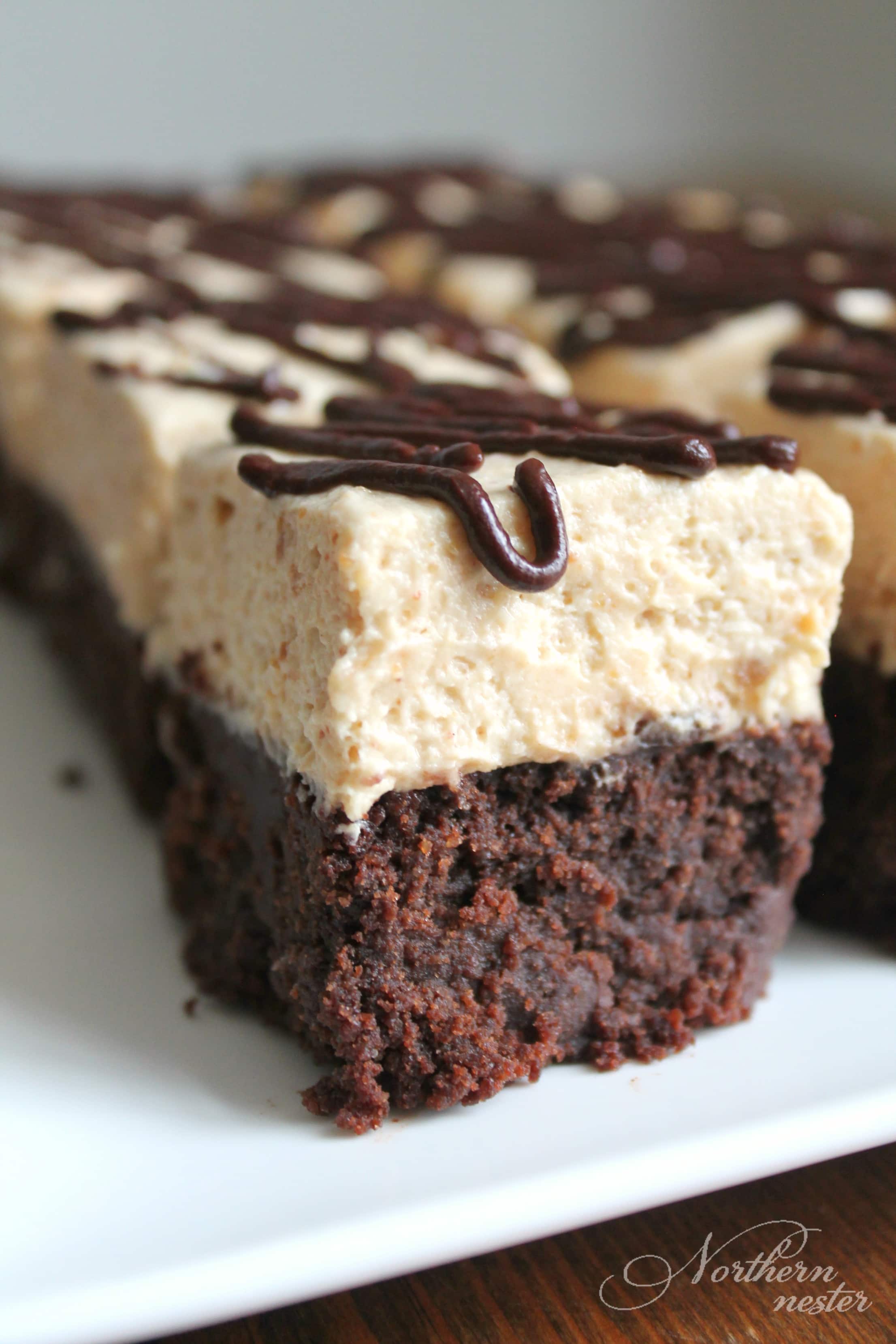 A perk to these Buckeye Brownies being so rich and filling? You can get 16-20 servings out of one batch! They are ideal for company, gifting to gluten-free, diabetic or Trim Healthy Mama friends (or Keto friends!), or storing in the freezer for when your "Aunt" comes to visit….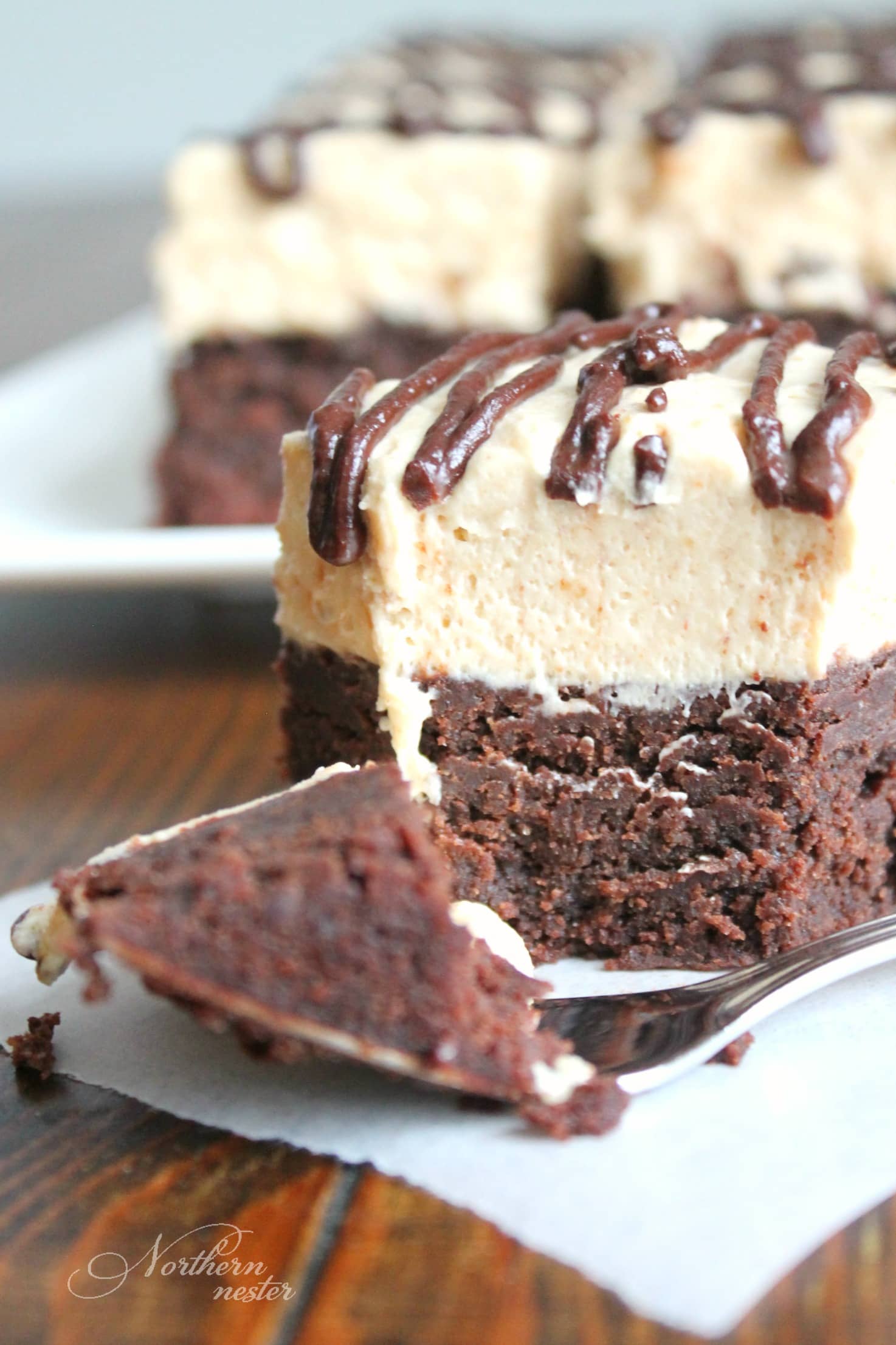 No special ingredients are required to make these Buckeye Brownies:
butter
85% dark chocolate (you'll need 1 1/3 bars)
eggs
almond flour
xylitol (or you can use Gentle Sweet in half the amount)
espresso powder (optional, but it adds amazing depth to the brownie layer!)
mineral salt
cream cheese
heavy cream
natural peanut butter
pinch of stevia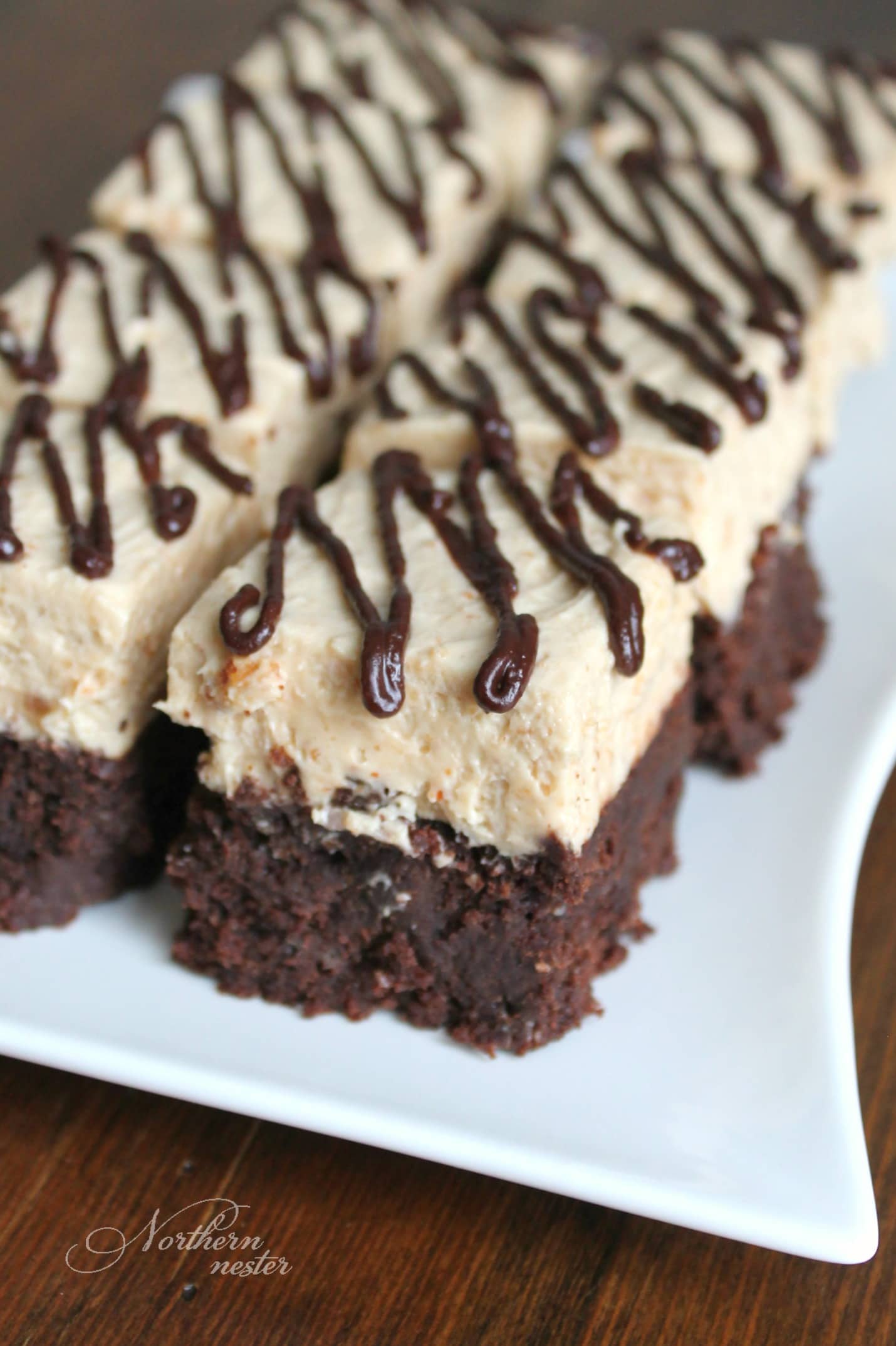 Yield: 20 servings
Buckeye Brownies | THM: S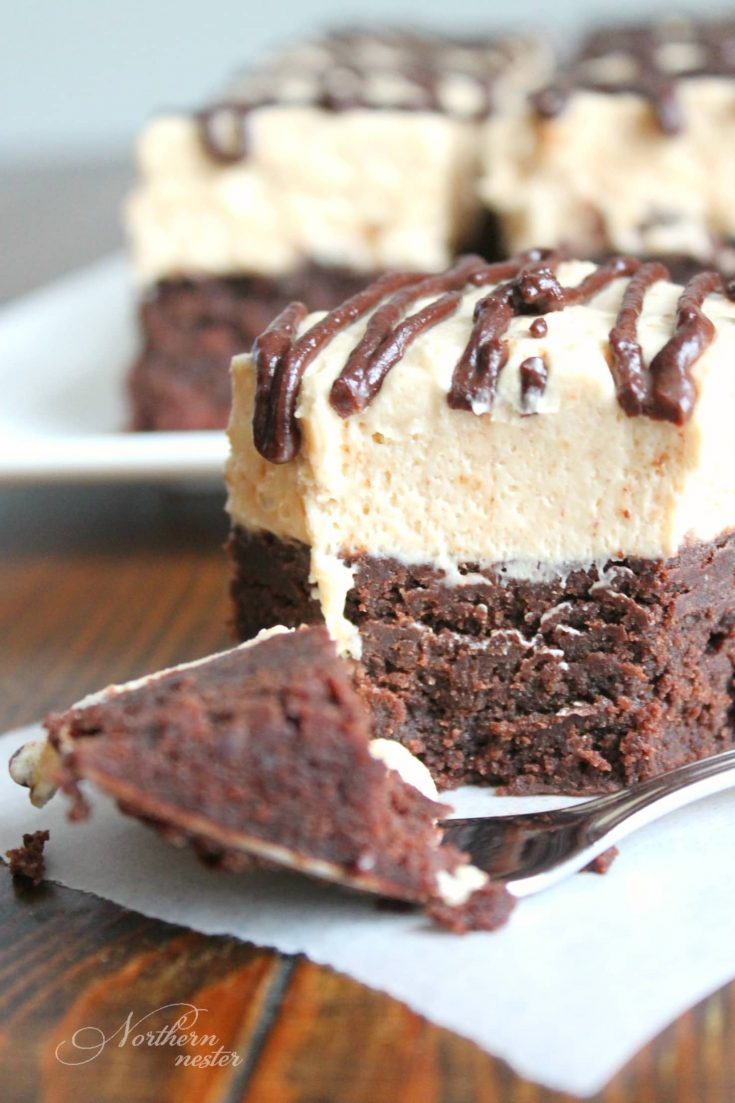 These Buckeye Brownies are the pinnacle of low-carb brownie recipes! The chewy brownie base alone is worth eating by itself, but the Peanut Butter Cheesecake layer takes it to a whole new level of awesomeness! A rich, decadent THM S.

Prep Time 25 minutes

Cook Time 35 minutes

Additional Time 3 hours

Total Time 4 hours
Ingredients
BROWNIE LAYER:
1/2 cup butter
1 3.5 oz bar 85% dark chocolate, chopped
3 eggs, lightly beaten
1 cup almond flour
1 cup xylitol (OR 1/2 cup Gentle Sweet)
1/4 cup cocoa powder
1 tsp espresso powder
1 tsp vanilla extract
pinch of mineral salt
PEANUT BUTTER LAYER:
3/4 cup heavy cream (whipping cream)
1/2 cup xylitol (OR 1/4 cup Gentle Sweet)
1 8oz. pkg. cream cheese softened
3/4 cup sugar-free peanut butter
CHOCOLATE DRIZZLE:
1/3 bar 85% chocolate
2 Tbsp heavy cream
pinch of stevia
Instructions
Pre-heat oven to 350 F. Line 8x8" square baking pan with parchment paper.
Place butter and chocolate in a saucepan and melt on lowest heat until smooth, stirring often. Stir in remaining ingredients until just combined. Pour batter into prepared baking dish. Bake at 350 F for 35 minutes or until a toothpick comes out clean. Cool completely.
To make the Peanut Butter layer, whip heavy cream with xylitol until stiff peaks form. Set aside. Beat cream cheese and peanut butter together. Add in whipped cream and beat until smooth. Spread over brownie layer.
For the drizzle, melt chocolate, cream, and stevia together until smooth. Spoon into a ZipLock bag and snip off the end. Pipe onto peanut butter layer. Refrigerate brownies for at least 3 hours or overnight.
Notes
These brownies are quite calorie-dense, so they should be reserved for special occasions.

The THM "S" Brownies are also Keto Brownies – so whatever diet you're on, time to enjoy! 😉