Roasted root veggies are the perfect side to a lean source of protein for an amazing Trim Healthy Mama-friendly E meal! This medley itself doesn't contain much protein, but when paired with chicken breasts or pork tenderloin (here's my favorite Fuel Pull Pork Tenderloin recipe!), you'll be treated to a sustainable, colorful, flavor-packed meal of healthy, complex carbs and very little fat.
When you need a pick-me-up in the evening, this roasted root veggie medley will give you energy without crossing fuels. There's just 1 tablespoon of fat in the whole batch of veggies, so it's well within the 5 gram fat guideline for E meals.
You don't have to use each kind of veggie called for in this recipe. My kids would prefer if I only used sweet potatoes (they LOVE them roasted this way!) but a variety offers more color and vitamins, and I love how the red onion caramelizes a bit when roasted.
Thyme is the only herb I use in this recipe, but it's important to grind on a generous amount of sea salt over the vegetables before roasting. They are naturally sweet to begin with and adding a pink (or grey) salt to them really brings out the flavor in addition to providing our bodies with essential mineral ions.
We ditched refined white table salt for pink Himalayan sea salt years ago, and I'm a big fan of it! It's pretty, healthy, and you can cook with it just the same. One of the simplest changes you can do for your health, is switching your table salt from white to pink!
If you prefer a top quality pre-ground mineral salt, Redmond is a another wonderful brand (their salt is mined from underground salt deposits in Central Utah)! Pre-ground mineral salt makes things easier to measure. You can buy Redmond salt locally in Canada (Zehrs sells it).
Be sure to chop all of your vegetables around the same size to ensure they roast evenly. Giving them a stir and turning the pan half way through the cooking process will also help keep the whole batch golden and crispy on the edges and tender in the middle.
Roasting your vegetables on parchment paper (or aluminum foil, but it's not as healthy) will save on clean-up and keep your vegetable medley from sticking to the pan.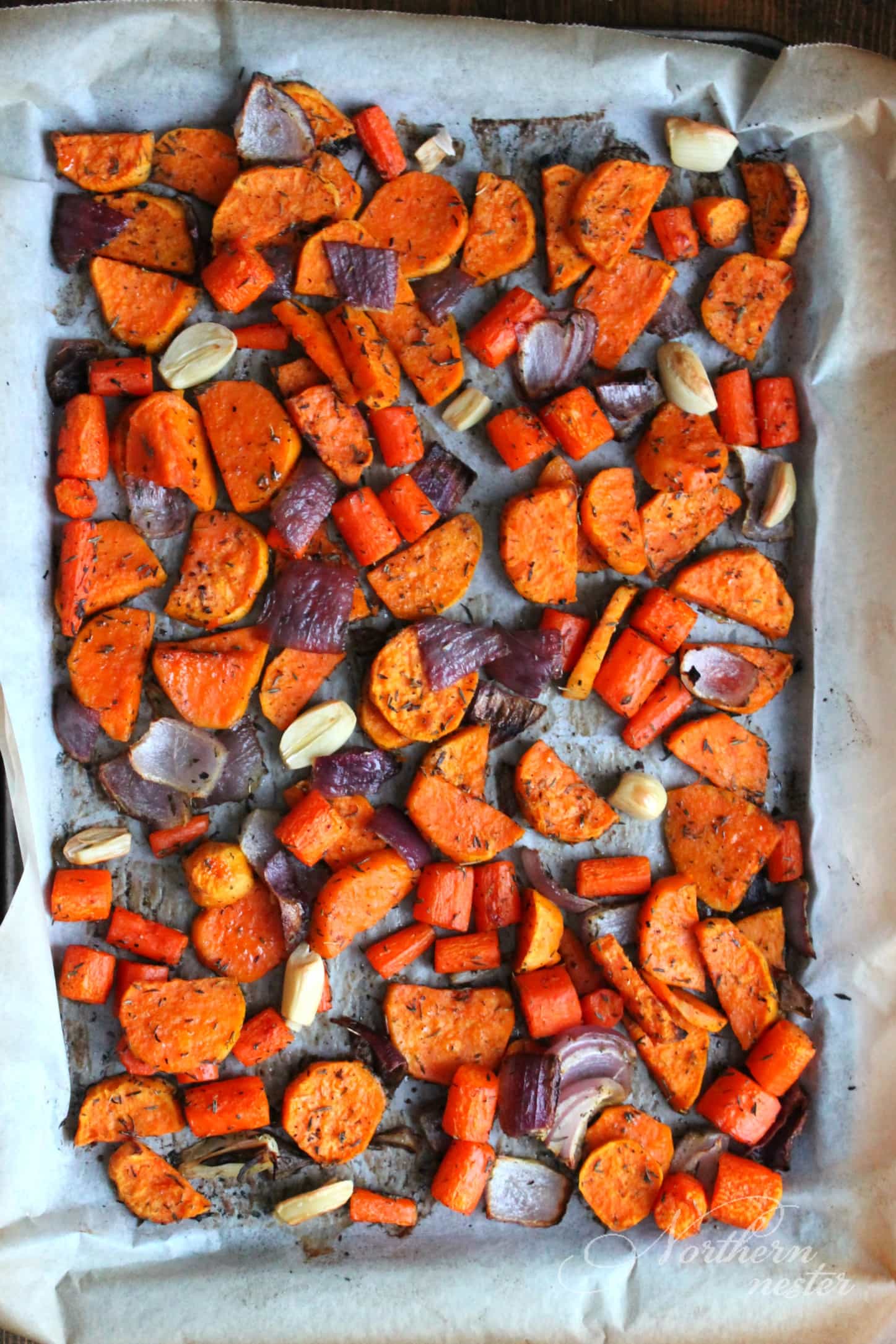 Yield: 6 servings
Roasted Root Veggies | THM: E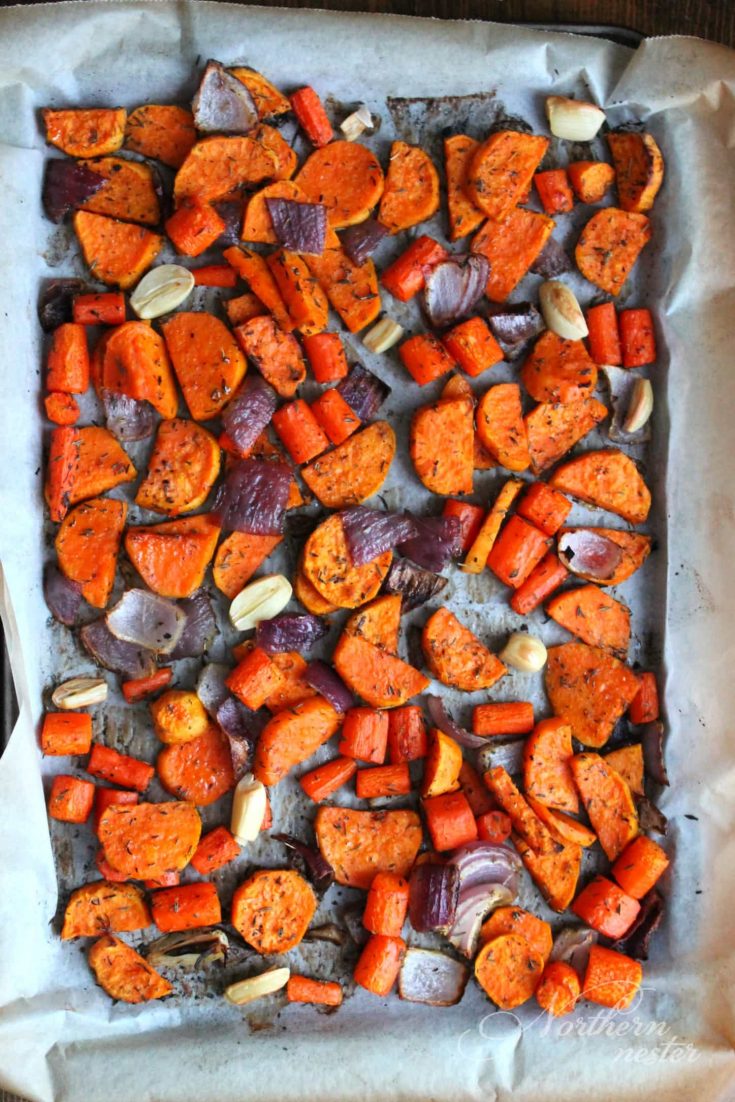 This delicious Roasted Root Vegetable Medley is the perfect side for a Trim Healthy Mama-friendly E meal! It's low in fat and a great source of healthy, complex carbohydrates.

Prep Time 10 minutes

Cook Time 45 minutes

Total Time 55 minutes
Ingredients
6 carrots, peeled
2 sweet potatoes, peeled
1/2 red onion,
6 garlic cloves
1 Tbsp dried thyme
sea salt and pepper to taste
1 Tbsp olive oil
Instructions
Preheat oven to 425 F. Line cookie sheet with parchment paper. Cut vegetables into approx. 1" chunks. Toss veggies in a large bowl with thyme and olive oil until well coated.
Spread veggies onto prepared cookie sheet in a single layer. Sprinkle generously with sea salt and grind on a little black pepper.
Roast veggies at 425 F for 45 minutes, stirring once, halfway through. Serve immediately when veggies are tender and begin to brown.
Notes
Don't forget to pair this vegetable medley with a lean protein source for a complete E meal!