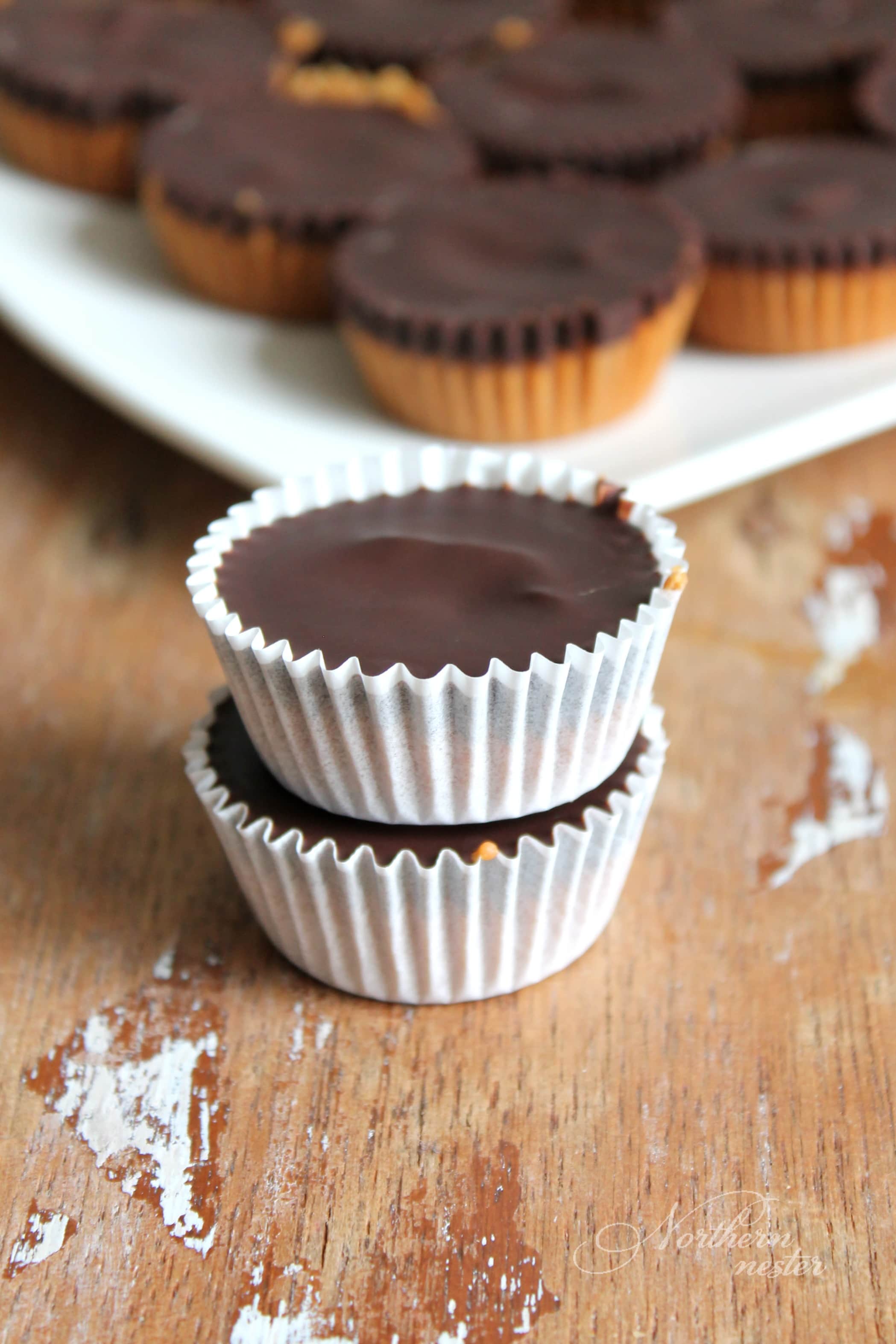 The Internet is loaded with a million different variations of the world's best combination of flavors, and I'm here to add my version of low carb peanut butter cups to the collection! I've been tweaking this low carb peanut butter cup recipe for over a year, and now it's exactly how I like 'em!
Pre-THM, my favorite chocolate in the world was a Reese's Peanut Butter cup. Even now, I cannot be trusted to leave them alone if they are in the house. I love the "snap" of the chocolate layer, followed by a perfectly textured peanut buttery filling. The ratio of chocolate to peanut butter in those cups is just right, too.
My first goal with these low carb peanut butter cups was to recreate the same peanut butter texture you find in a Reese. It needed to be slightly chewy, but not too creamy or crumbly.
First, I tried using just butter for the oil in the filling, but even though the flavor was amazing, it was too crumbly after it solidified in the fridge. I'm really not a big fan of the flavor of coconut oil, but I love its melt-in-your-mouth factor. I swapped out part of the butter for coconut oil and the result was perfect: enough butter to mask the coconut oil flavor, and enough coconut oil for the peanut butter cups to melt in your mouth (instead of crumble).
A small amount of coconut flour, almond flour, and golden flaxseed meal mixed with a much larger amount of defatted peanut flour create an almost graham crumb texture inside the buttery filling.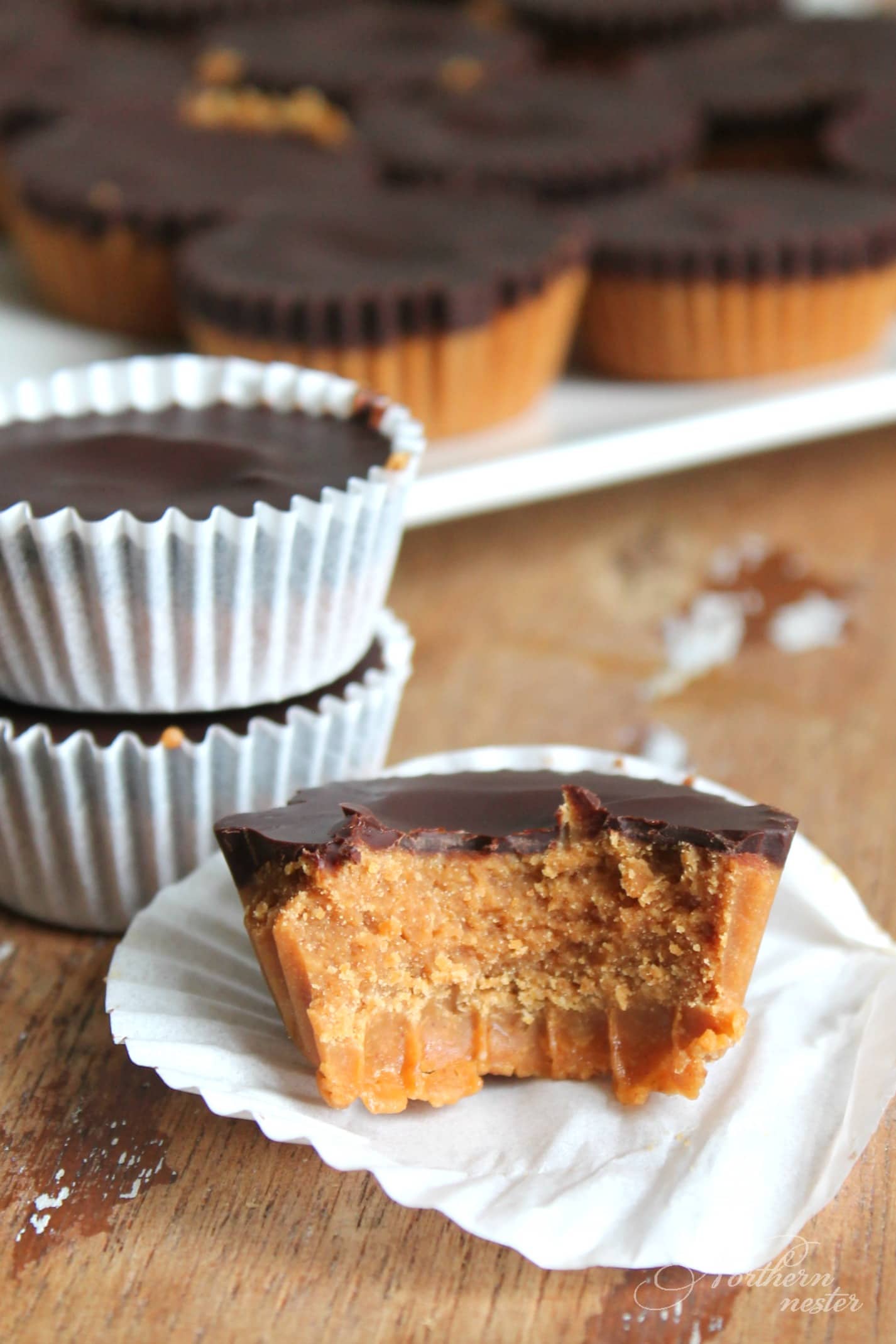 I'm all about quick and easy recipes with no special ingredients, so instead of making the chocolate layer of these low carb peanut butter cups coat the sides of the paper liners, I simply melted 1 bar of 85% dark chocolate over low heat and poured it on top of the peanut butter layer. 1 bar of melted dark chocolate divided between 24 peanut butter cups is just the right amount of chocolate. It's a thin enough layer of dark chocolate that you don't even need to add extra sweetener to it or splurge on sugar-free "milk" chocolate chips (though you can always do that too, with Trim Healthy Mama or Lily's chocolate chips if you like your low carb peanut butter cups to be even sweeter!). It's not overpowering and perfectly compliments the much sweeter peanut butter layer underneath!
You will get 24 low carb peanut butter cups out of this recipe using a mini cupcake pan. Since these treats are an S, and there's no fat limit for Trim Healthy Mama S meals, I suppose you could have as many as you like, but reasonably, 2-3 is a non-abusive amount for a snack. 🙂
Looking for more ways to use defatted peanut flour? Try these favorites!
Yield: 24 peanut butter cups
Low Carb Peanut Butter Cups | THM: S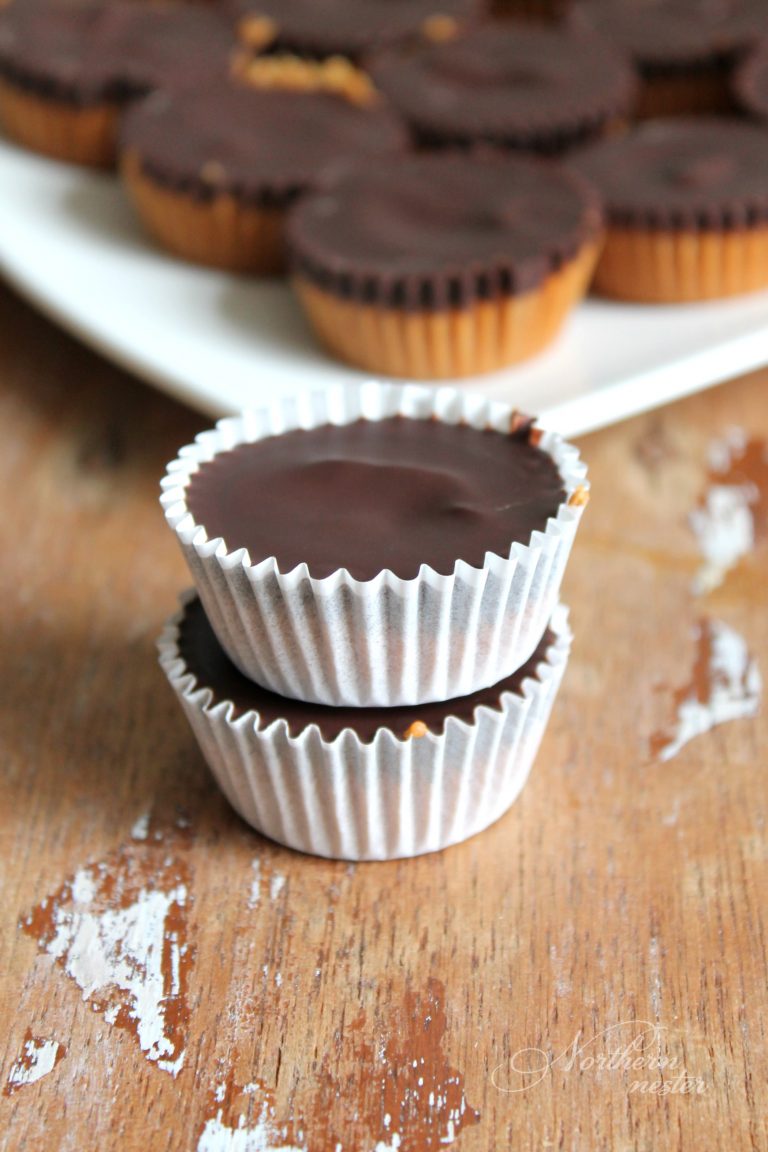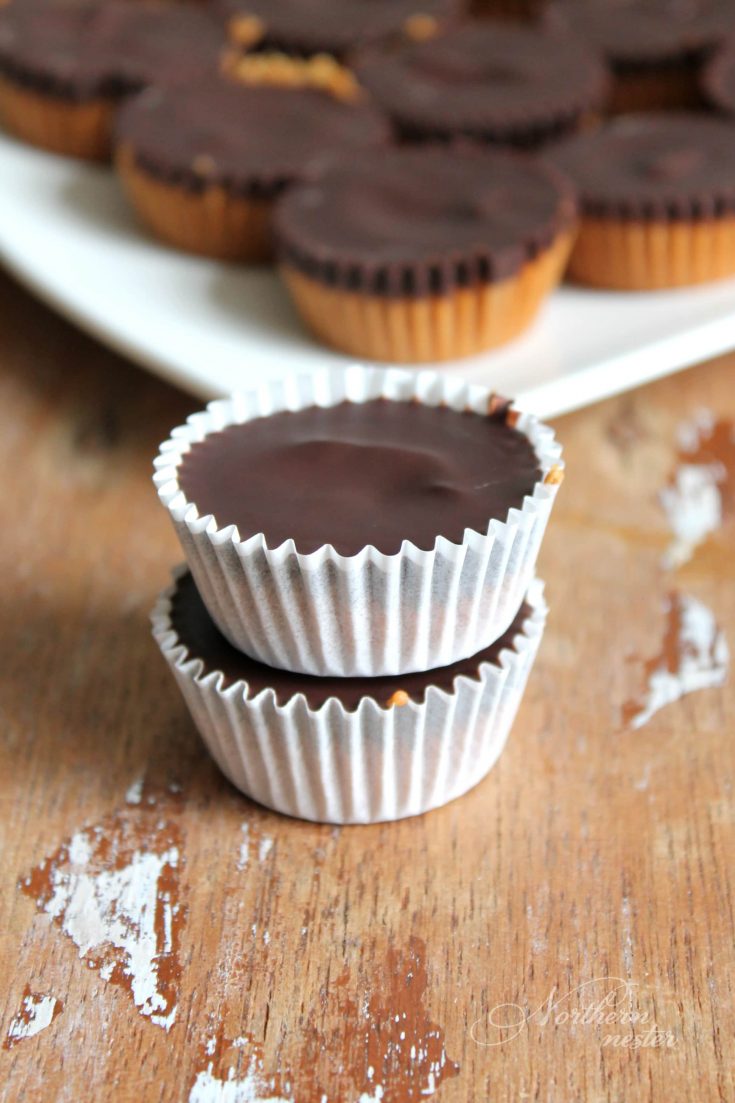 These low carb peanut butter cups are melt-in-out mouth delicious and incredibly easy to make! Bet you can't eat just one! Sugar-free, gluten-free, keto and Trim Healthy Mama S-friendly!

Prep Time 15 minutes

Additional Time 1 hour

Total Time 1 hour 15 minutes
Ingredients
1/4 cup coconut oil
1/2 cup butter
3/4 cup xylitol
1 1/2 cups defatted peanut flour
2 1/2 Tbsp coconut flour
2 1/2 Tbsp almond flour
2 1/2 Tbsp golden flaxseed meal
1/4 tsp mineral salt
1 3.5oz bar 85% dark chocolate
Instructions
In a large saucepan melt coconut oil, butter, and xylitol together. Remove from heat and stir in peanut flour, coconut flour, almond flour, golden flaxseed meal, and mineral salt. The mixture will thicken slightly.
Spoon evenly into 24 mini cupcake liners.
In a small saucepan over lowest heat, melt a bar of chocolate. Divide and pour evenly over peanut butter layer. Refrigerate for an hour, or until set.