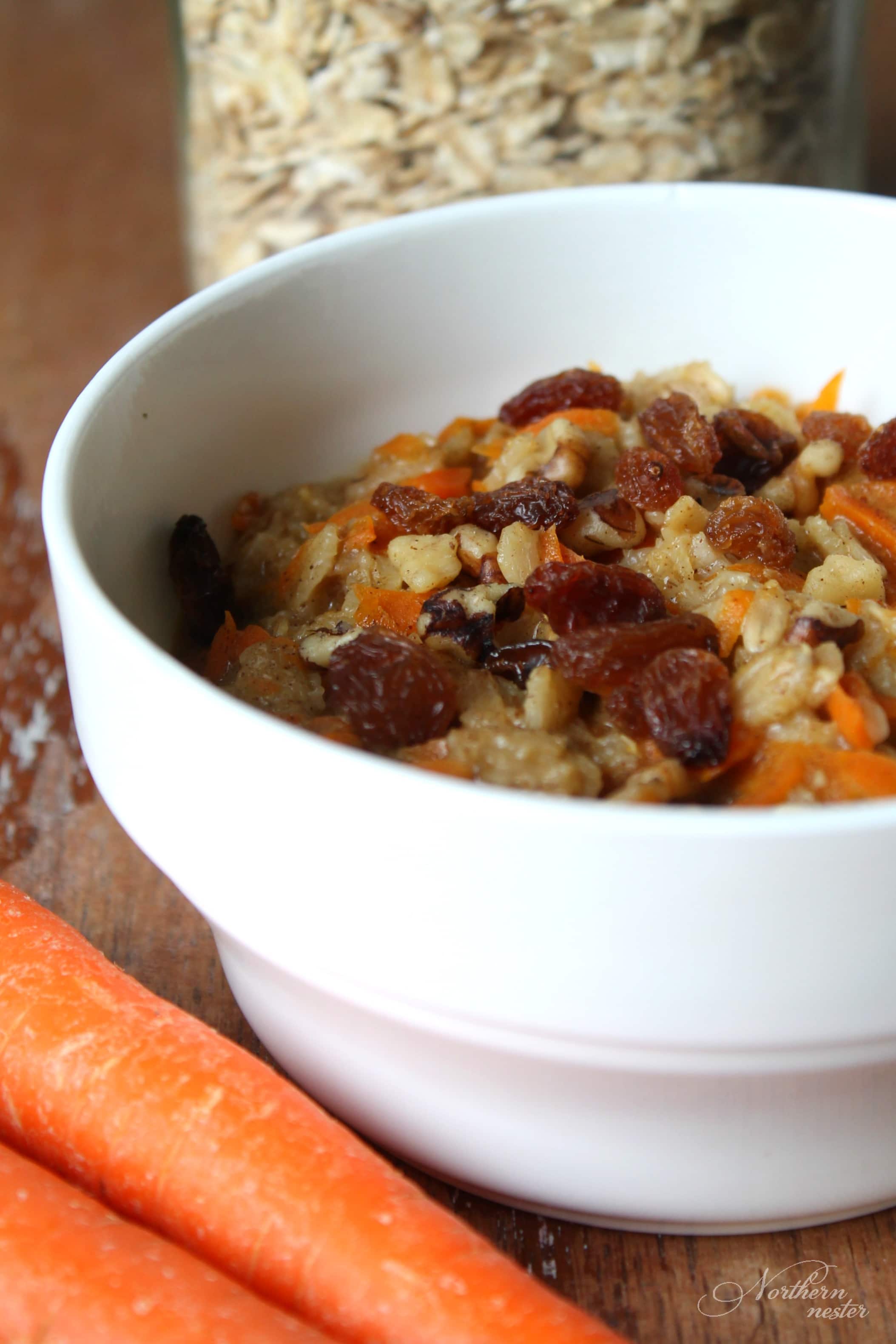 As you may have guessed by now, I'm a big fan of oatmeal and this Trim Healthy Mama-friendly Carrot Cake Oatmeal is among my new favorite flavors for Fall!
I find E meals really do get me energized, so I usually start my day with either a bowl of oatmeal (I've included my favorite Trim Healthy Mama oatmeal recipes at the end of this post) or a Berry Banana Baobab Smoothie (I had of these almost every day this Summer!).
If I feel like I'm in a mid-afternoon slump or just need a pick-me-up, I've also been known to enjoy a bowl of this Carrot Cake Oatmeal for a snack or even supper! It's so simple and quick to make, and it combines all the wonderful elements of carrot cake into a delicious warm bowl. I love it!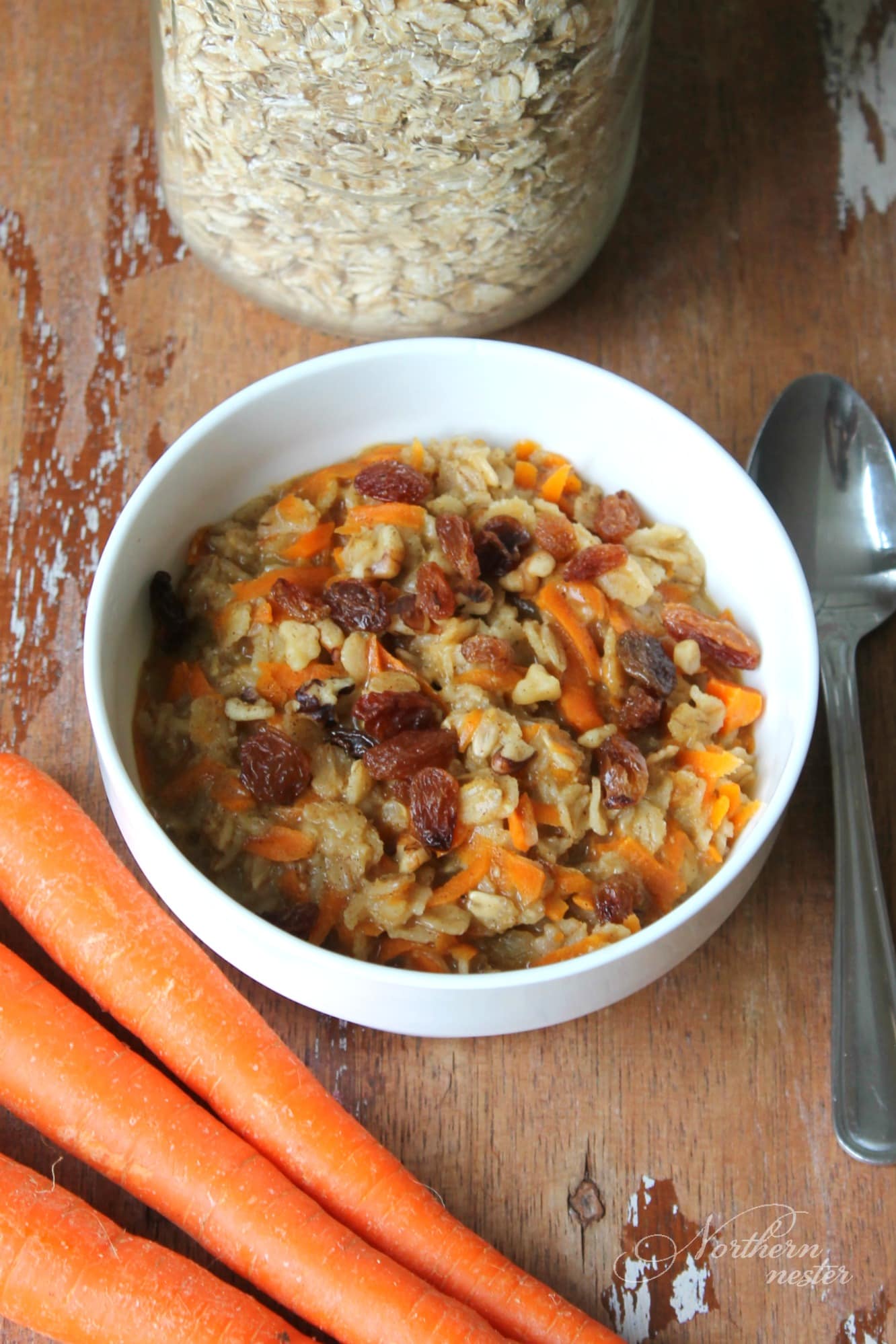 I love that this recipe is free of gluten, sugar, and dairy. I've really been trying to cut back on dairy lately, because as I mentioned in my Pumpkin Spice Latte post, it has been causing me a lot of inflammation and acne this pregnancy. Even though there's no dairy in this Carrot Cake Oatmeal, it's creamy and satisfying. Old fashioned rolled oats cooked in unsweetened nut milk and mixed with collagen took care of that need for me.
As usual, you don't need any special ingredients to make this Carrot Cake Oatmeal:
Personally, I don't even like raisins, so I normally leave them out of this recipe (dried fruit in larger amounts isn't recommend in the Trim Healthy Mama plan either, because it's such a concentrated form of natural sugars). However, Pearl, the co-author of Trim Healthy Mama, uses a few on her Sweat Pants Oatmeal, and I thought they looked kind of photogenic, so that's why you see them in the recipe and pictures here. Ha!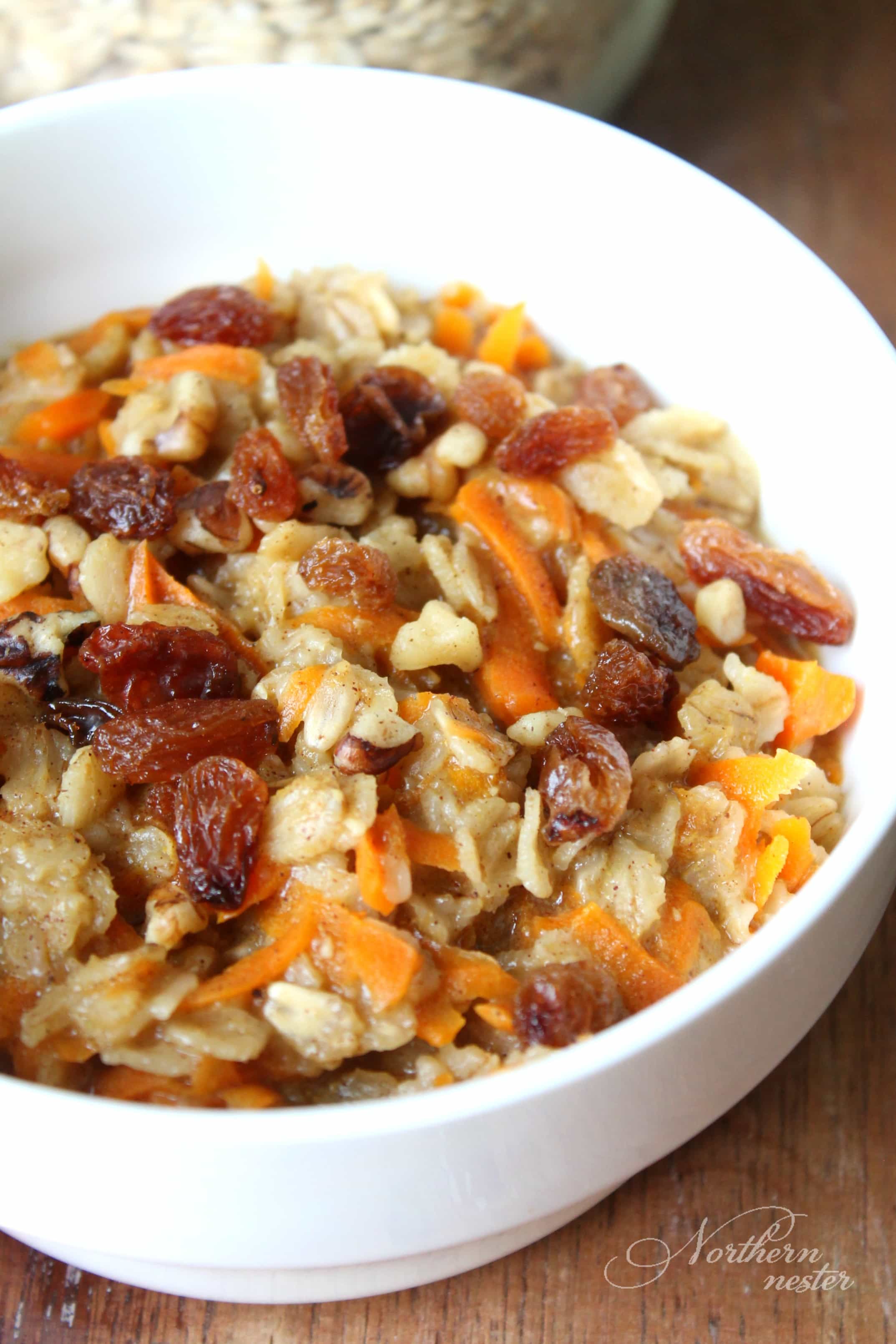 The sprinkling of walnut bits is the only added fat here. You can leave them off, or increase the amount to more than a teaspoon if you want a Crossover. Alternatively, you might like to choose a teaspoon of butter or coconut oil instead of walnut pieces as your allotted fat in an E meal.
Own it and enjoy!
Yield: 1 serving
Carrot Cake Oatmeal | THM: E
Enjoy all the flavors of carrot cake in this delicious Carrot Cake Oatmeal! A THM E meal, this no special ingredient dish takes just minutes to make and is an energizing way to start your day!

Prep Time 5 minutes

Cook Time 7 minutes

Total Time 12 minutes
Ingredients
1 carrot
1/2 cup old fashioned oats
1 cup unsweetened almond or cashew milk
1 tbsp collagen (optional)
1 tbsp xylitol (OR 1/2 tbsp Gentle Sweet)
1/8 tsp molasses
1/4 tsp mineral salt
1/4 tsp vanilla extract
1/4 tsp ground cinnamon
1 tbsp raisins
1 tsp ground walnuts, butter, OR coconut oil
Instructions
Peel and grate carrot into a small saucepan. Add in oats, nut milk, collagen (optional), sweetener, molasses, and salt. Bring to a boil. Stir in vanilla, cinnamon, and raisins (optional). Reduce heat to maintain a steady simmer, and cook for 5 minutes or until oats and carrot are tender. Pour into a bowl. Sprinkle on ground walnuts, butter, or coconut oil and enjoy.
Notes
Instead of ground walnuts, you may wish to use a teaspoon of butter or coconut oil for your alotted amount of added fat in a Trim Healthy Mama E meal.

As promised, here are my other favorite Trim Healthy Mama-friendly Oatmeal recipes!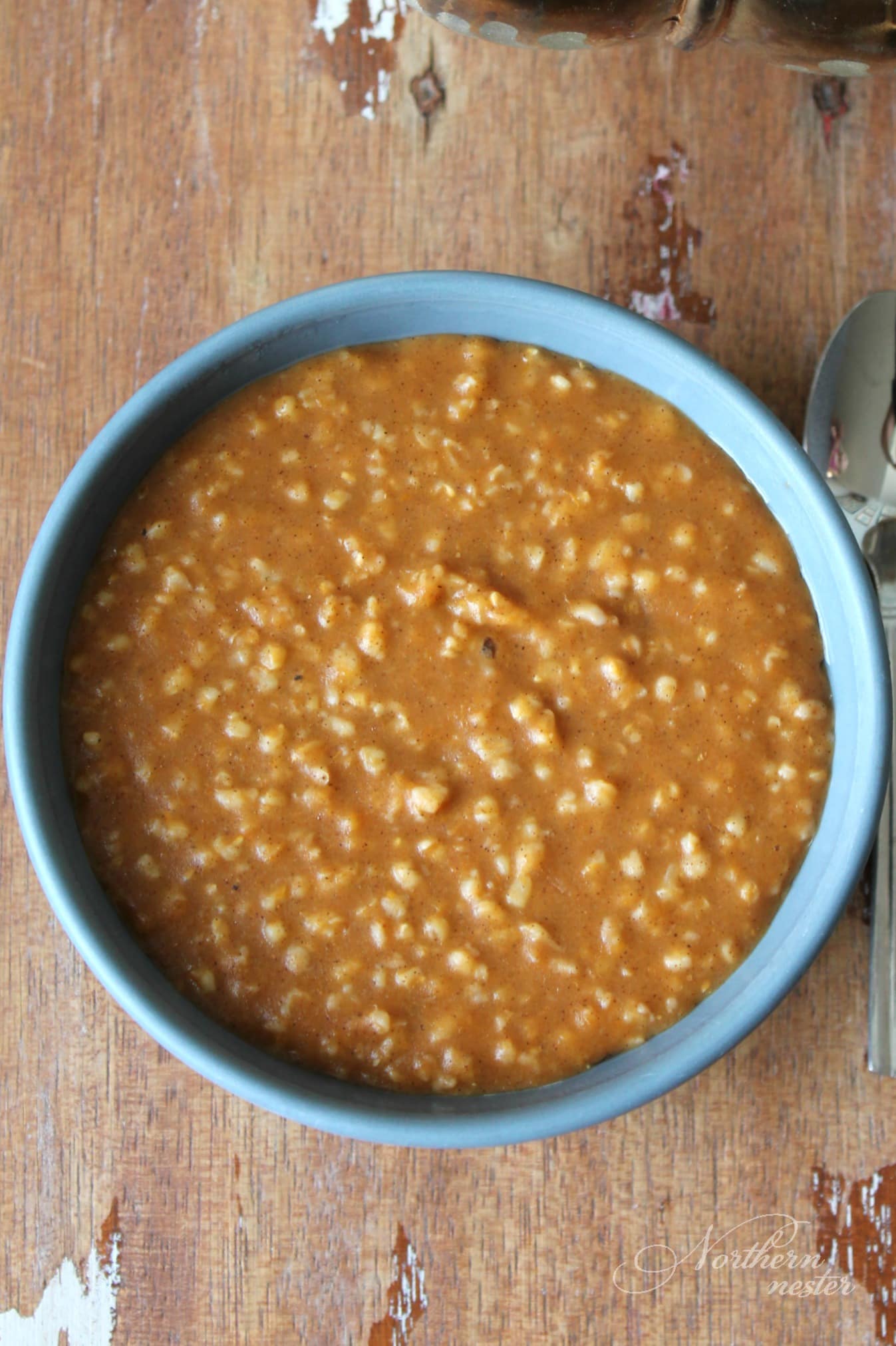 Slow Cooker Pumpkin Spice Oatmeal (E)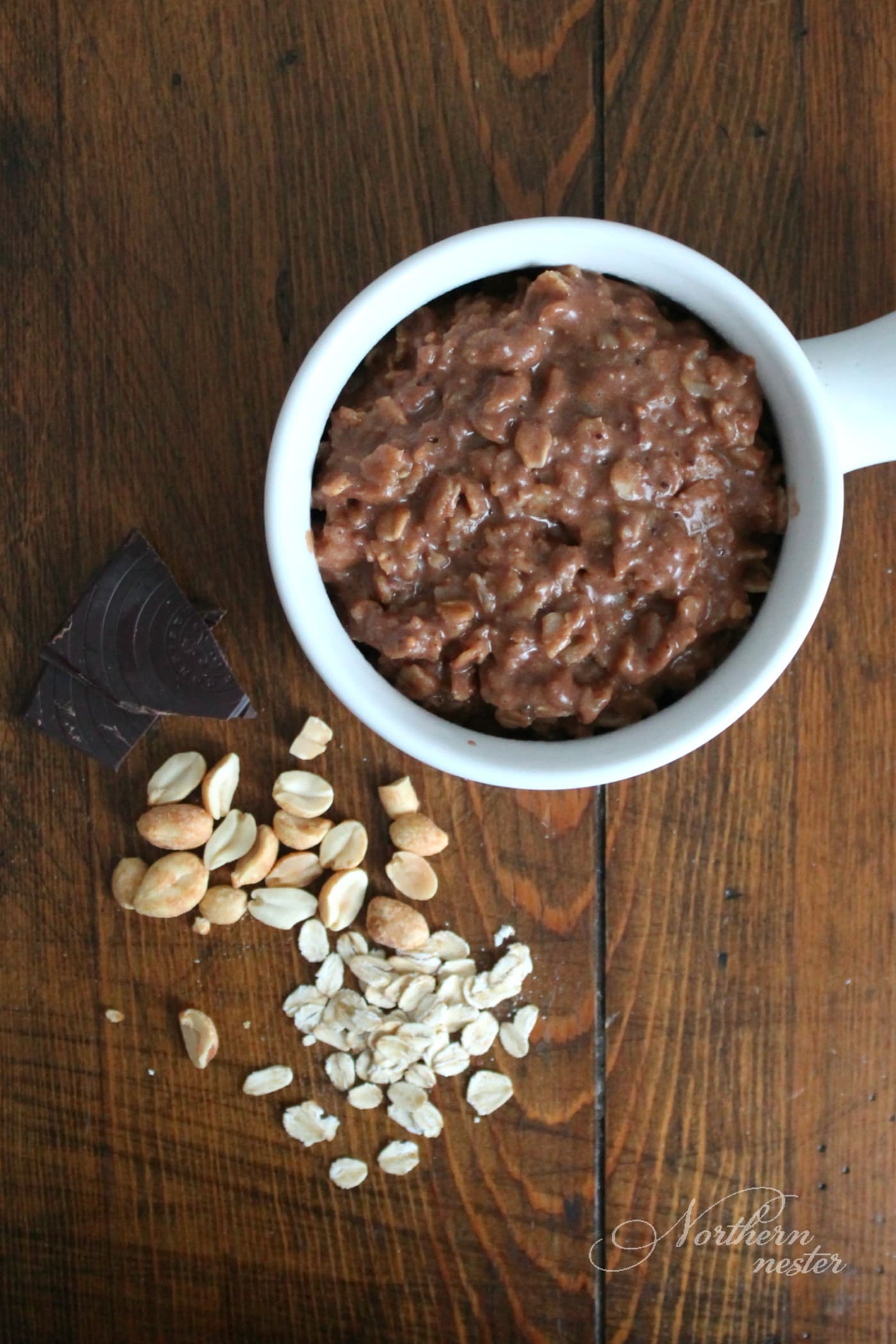 Chocolate Peanut Butter Cookie Oatmeal (E)