Y'all have had pumpkin rolls with a cream cheese filling, but have you ever tried a gingerbread roll with a pumpkin filling?!
This Gingerbread Pumpkin Roll takes all the best flavors of Fall and turns it into one magical cake that will leave you (and everyone you serve it to) begging for another slice!
A Trim Healthy Mama-friendly S dessert, this low-carb Gingerbread Pumpkin Roll is completely flourless, making it naturally gluten-free, too.
The whole Gingerbread Pumpkin Roll is made without any special ingredients, making it a frugal, crowd-pleasing option to serve at Thanksgiving, or just because pumpkin anything is amazing any time of the year!
You'll notice the recipe calls for Gingerbread Spice Mix twice; once for the cake, and once for the Gingerbread Caramel Drizzle. The recipe I've included below for the Gingerbread Spice Mix makes more than you'll need, but you will not regret have leftovers of this blend on hand for other goodies! You can use it instead in any baked good you want to flavor like gingerbread, and even mix it with coffee grounds to make Gingerbread Spice Lattes!
Gingerbread Spice Mix:
Combine all ingredients into a small jar. Shake well to mix. Makes a scant cup.
The Gingerbread Caramel Drizzle adds an extra step to this recipe and is totally optional, but my, oh my, is it worth making! It's sweet, spicy, sticky, and syrupy….and so pretty drizzled on top of a slice of this Gingerbread Pumpkin Roll! If you have leftovers, you may be tempted to eat it by the spoonful, but if you can manage to save some, it is an amazing drizzle over a whipped cream-topped Pumpkin Spice Latte!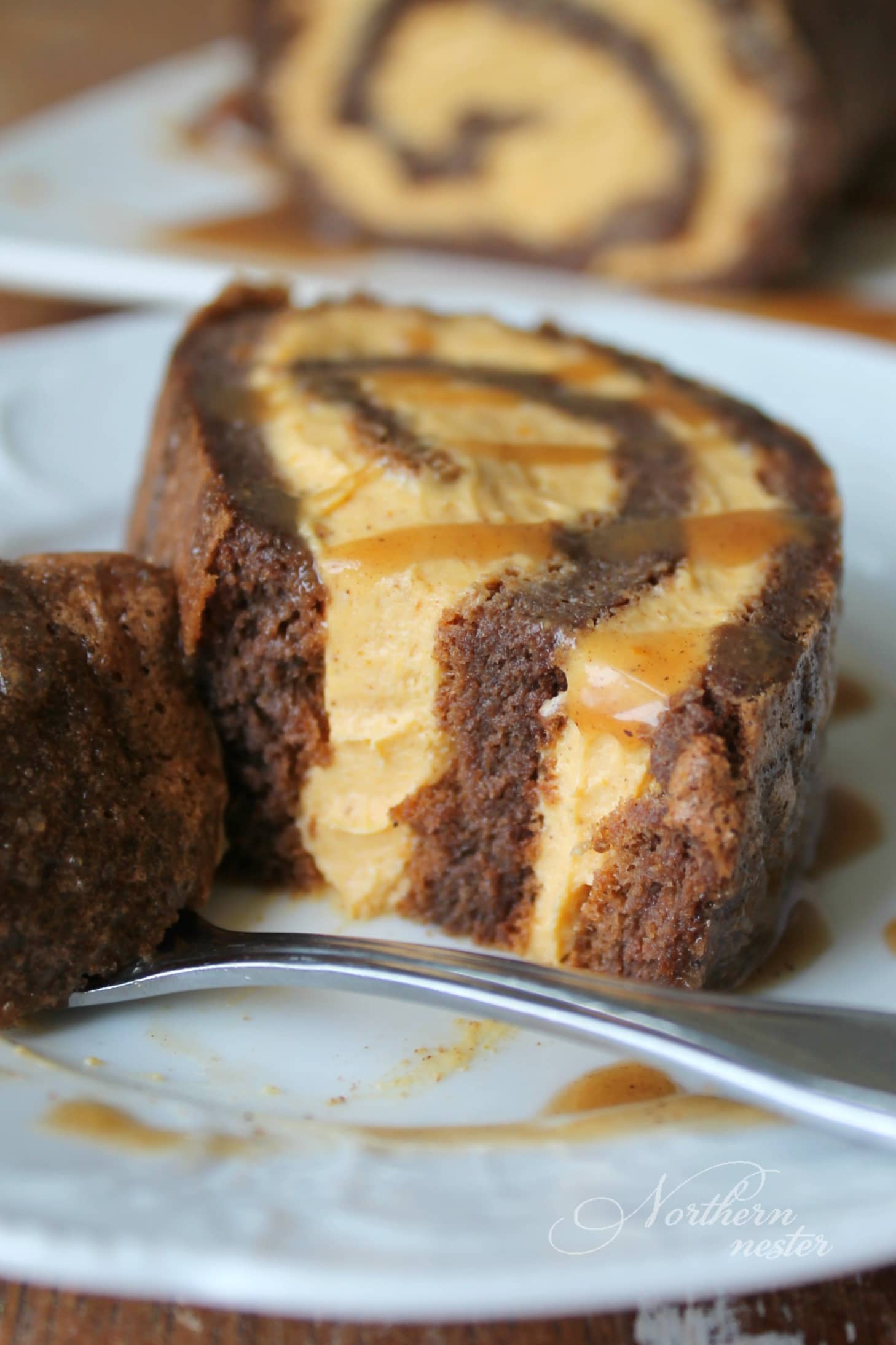 Or, you can use it to drizzle over:
You're options are unlimited!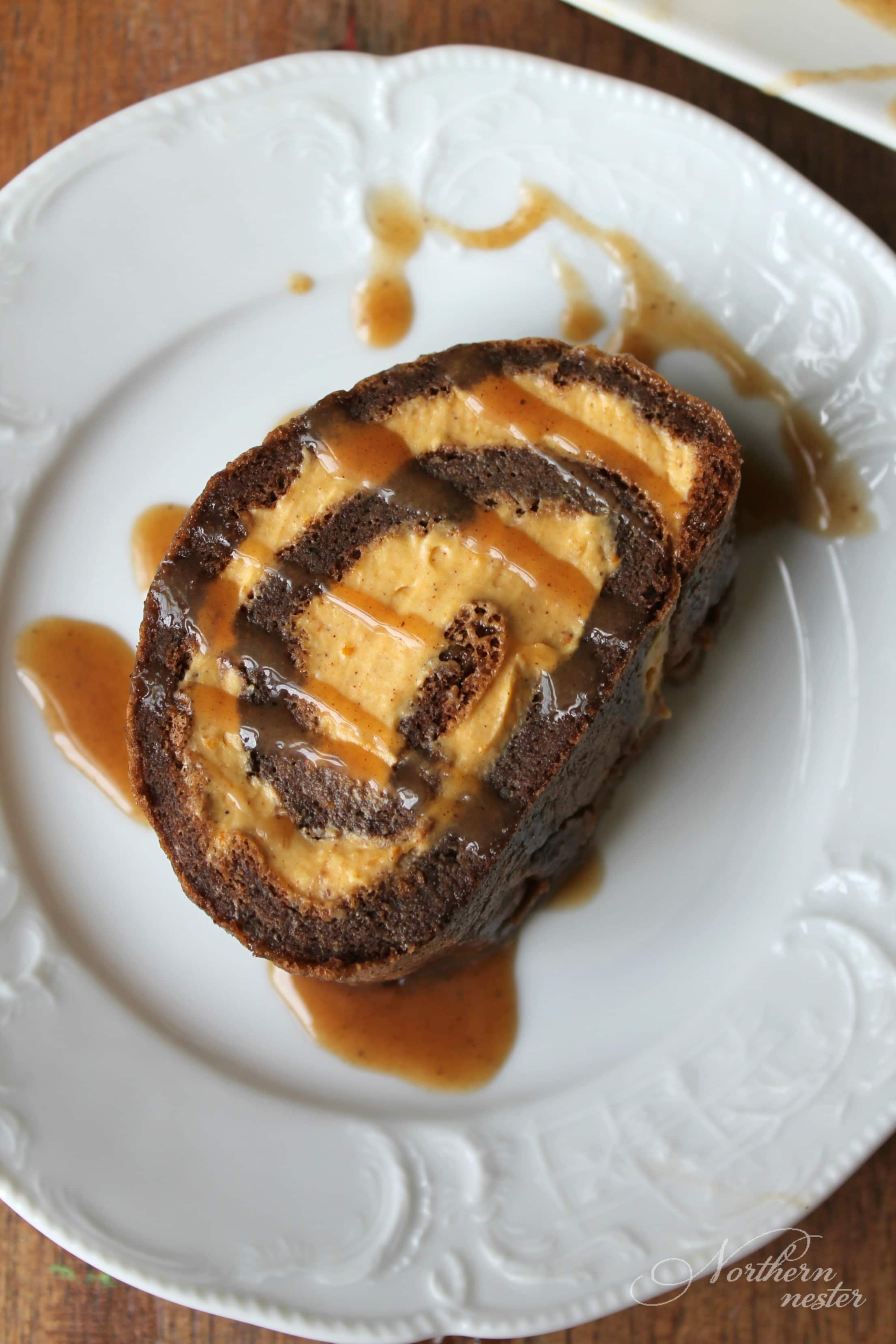 Yield: 12 servings
Gingerbread Pumpkin Roll | THM: S
This Gingerbread Pumpkin Roll combines all the best flavors of Fall into one magical cake that's just as easy as it is impressive! A low carb THM S dessert made without any flour or special ingredients.

Prep Time 25 minutes

Cook Time 20 minutes

Additional Time 5 minutes

Total Time 50 minutes
Ingredients
GINGERBREAD ROLL:
8 eggs, separated
1/2 cup xylitol (OR 1/4 cup Gentle Sweet)
2 tbsp cocoa powder, divided
1/8 tsp mineral salt
1 tsp vanilla extract
2 1/2 tsp Gingerbread Spice Mix*
PUMPKIN CHEESECAKE FILLING:
1 8oz pkg. cream cheese softened
1/3 cup canned pumpkin
1/4 cup xylitol (OR use 2 tbsp of Gentle Sweet)
1/4 tsp ground cinnamon
GINGERBREAD CARAMEL DRIZZLE
1/4 cup xylitol
1/8 cup water
1/4 tsp molasses
pinch of mineral salt
1/4 cup heavy whipping cream
1/2 tsp Gingerbread Spice Mix
1/8 tsp vanilla extract
1/4 tsp xanthan gum
*GINGERBREAD SPICE MIX:
1/3 cup ground ginger
1/4 cup ground cinnamon
2 tbsp ground allspice
1 tsp ground nutmeg
1/4 tsp ground cloves
pinch of ground black pepper
Instructions
Preheat oven to 350 F. Lightly grease a rimmed cookie sheet or jelly roll pan. Line with parchment paper, grease the top of the paper, and dust with 1 Tbsp cocoa powder. Set aside.
In a large bowl, beat egg yolks, sweetener, cocoa powder, salt, vanilla extract, ginger, cinnamon, and cloves together mixture is thickened and is light brown.
In a separate bowl with clean beaters, beat egg whites until stiff peaks form. Gently fold egg whites into yolk mixture, one-third of the batch at a time, until smooth. Pour into the prepared baking sheet and bake at 350 for 20 minutes.
After the cake has finished baking and has cooled slightly, invert onto a clean tea towel and peel off the top piece of parchment paper. Roll up carefully inside the towel and let it cool while you make the filling.
To make the pumpkin cheesecake filling, beat all the filling ingredients together until smooth. Carefully unroll cake in towel. Spread filling evenly onto cake and roll back up tightly. Set on a serving plate.
To make the Gingerbread Caramel Drizzle, stir sweetener, water, and salt together in a saucepan to combine. Bring to a boil over medium-high heat. Cover and reduce heat for 30 seconds. Pour in cream, spice, and extract. Cook on low for 2 minutes. Remove from heat and vigorously whisk in xanthan gum until thickened to drizzle consistency. (If you find your xanthan gum isn't dissolving completely, pour thickened drizzle through a fine sieve to remove any white clumps.) Cool slightly before drizzling over cake.
*To make the Gingerbread Spice Mix, combine all Gingerbread Spice Mix ingredients in a jar and shake to combine.