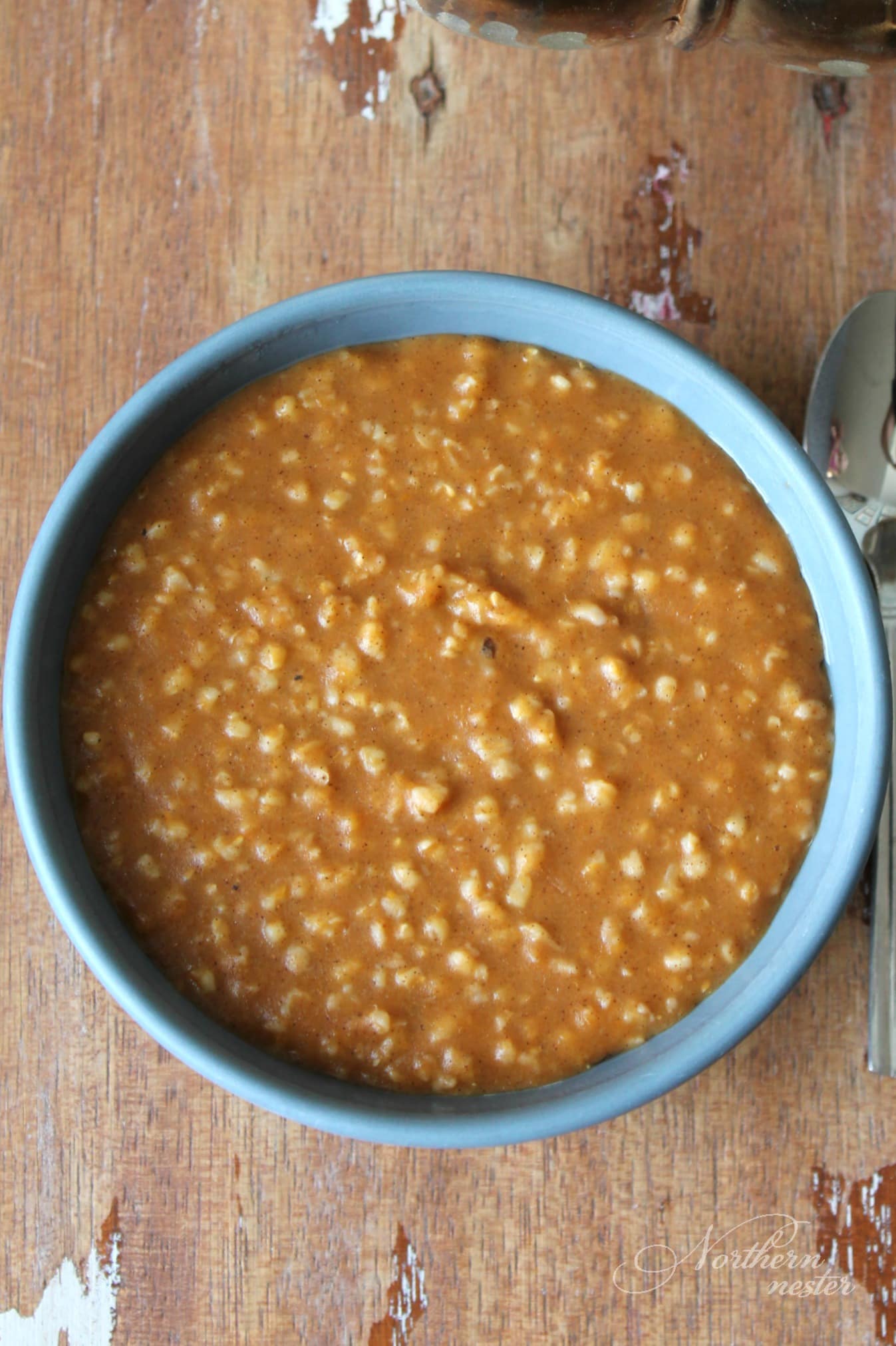 There's nothing more wonderful than waking up on a cool Fall morning to a bowl of warm Pumpkin Spice Oatmeal that has been slow-cooked overnight!
I was surprised that our kids loved this Pumpkin Spice Oatmeal as much as I did! Our 2, 3, and 5 year old asked for seconds and the lucky one who called dibs on the leftovers even ate a bowl, cold, later on for her snack!
Nature's Hollow Sugar-free Maple Syrup
I like this oatmeal without any extra sweetener, but if you prefer (as my kids do!), you can pour on some sugar-free syrup before serving. For a kid-friendly Crossover, you can also sprinkle on a handful of chopped pecans or walnuts too!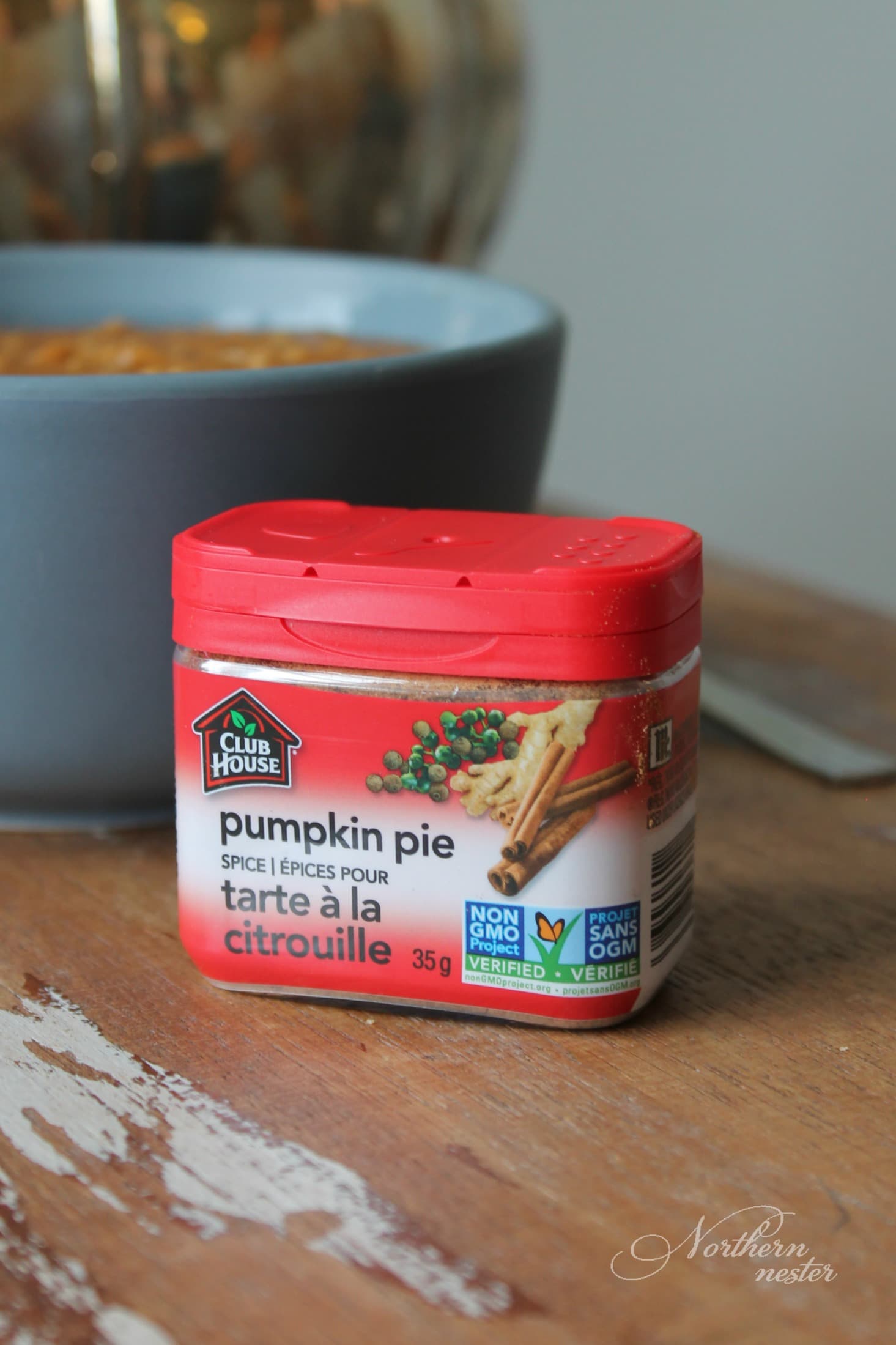 I'm a huge fan of pumpkin anything, as you may have noticed. (Who else starts eating pumpkin in August?! I need some moral support here….)
I usually make my own pumpkin spice mixture, but I found this little tin of premixed pumpkin spice from Club House and love it! It's a bit more expensive than making your own, but the flavor is spot on and handy to have when you're pressed for time.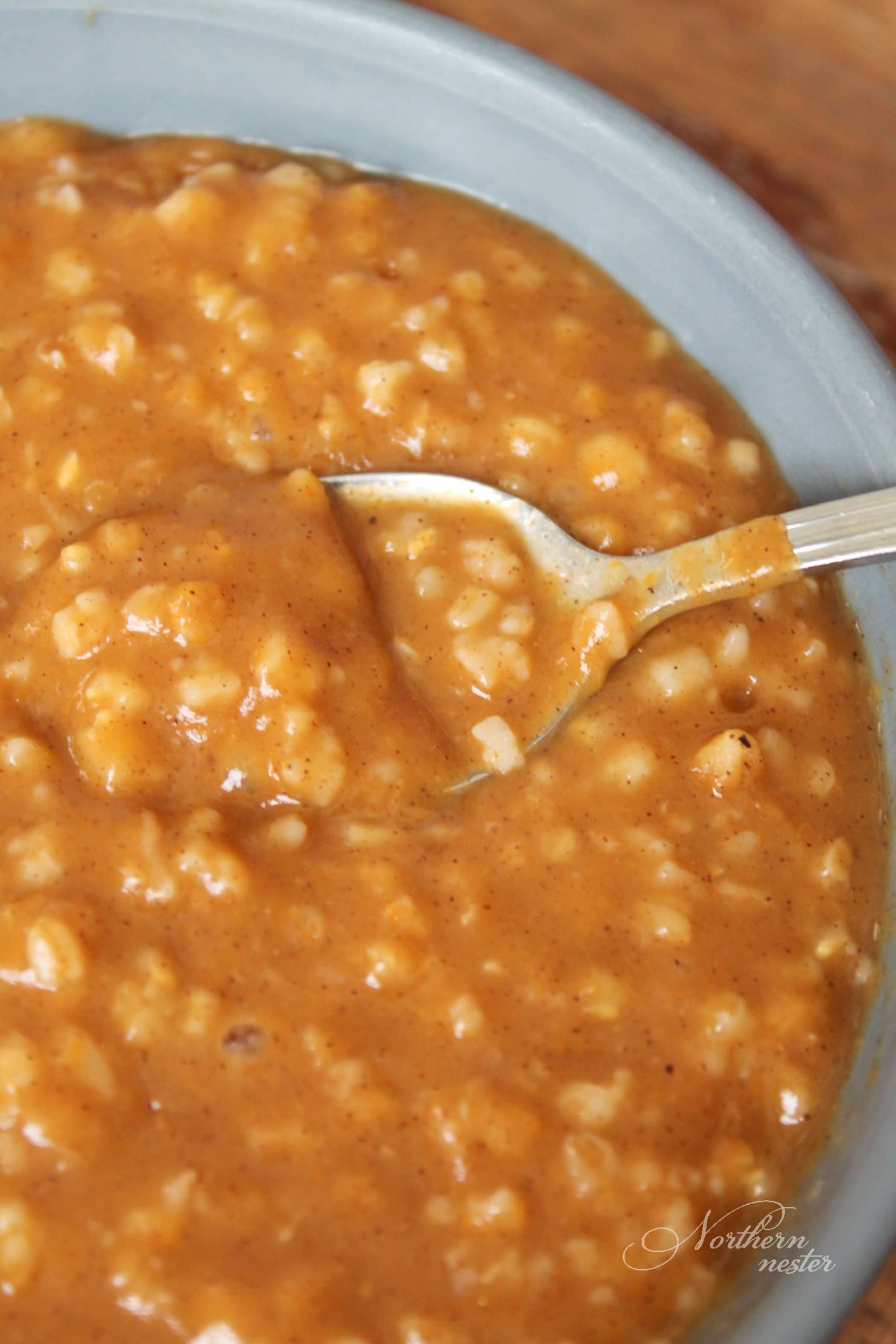 One of my favorite things about this Pumpkin Spice Oatmeal recipe is that in addition to being a hearty Trim Healthy Mama E breakfast, it's also gluten free (be sure to use gluten-free steel cut oats), dairy-free, and extremely frugal!
A cup of steel cut oats expands enough to feed 6 people!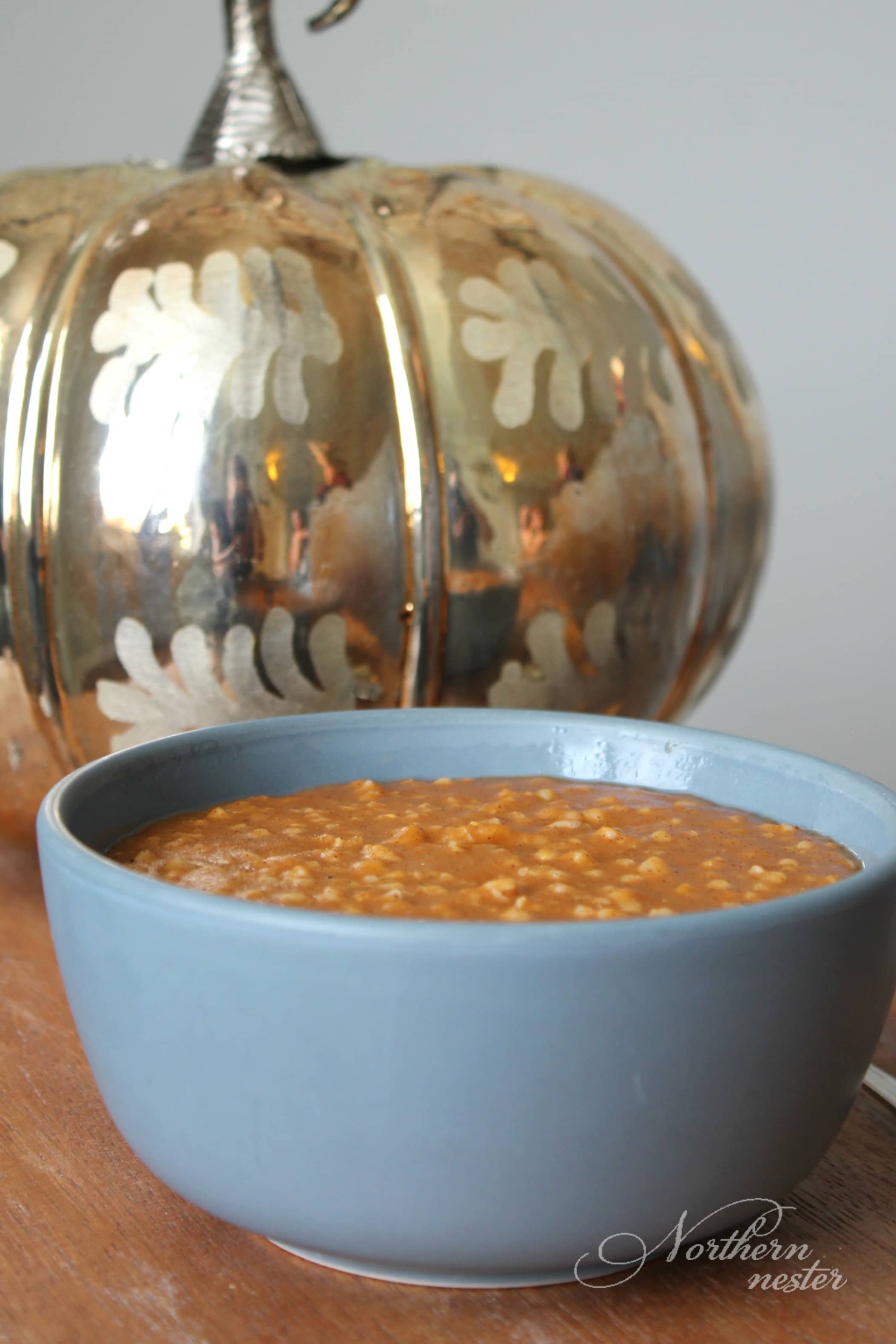 Yield: 6 servings
Pumpkin Spice Oatmeal | THM: E
What better way to celebrate Autumn than with a bowl of warm Pumpkin Spice Oatmeal?! Made in a slow cooker, we love this THM E meal for lunch. Leftovers can be refrigerated and reheated in the microwave or enjoyed cold!

Prep Time 10 minutes

Cook Time 5 hours

Total Time 5 hours 10 minutes
Ingredients
1 15oz. can pumpkin puree
1 cup steel-cut oats
3 tbsp xylitol (OR 1 1/2 tbsp Gentle Sweet)
1/4 tsp molasses
1 1/2 tsp pumpkin spice
1 tsp ground cinnamon
3/4 tsp mineral salt
3 cups of water
1 1/2 cups almond or cashew milk
1 tsp maple extract
1 tsp vanilla extract
Instructions
In a large bowl, combine the first six ingredients; stir in water and milk. Transfer to a greased 3-qt. slow cooker. Cook, covered, on LOW for 5-6 hours, WARM for 8 hours, or until oats are tender, stirring once.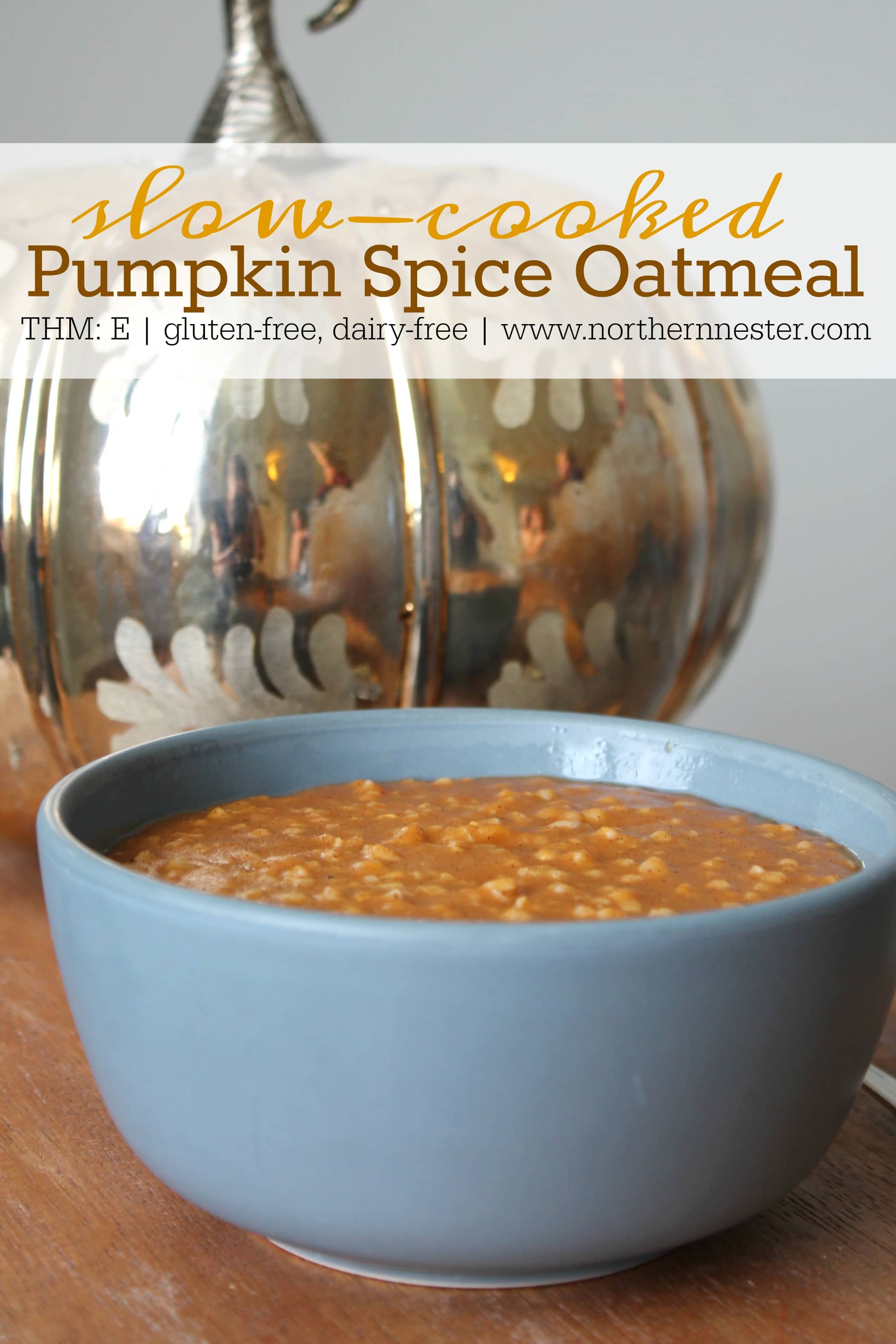 Looking for other Trim Healthy Mama-friendly ways to start your day with Pumpkin?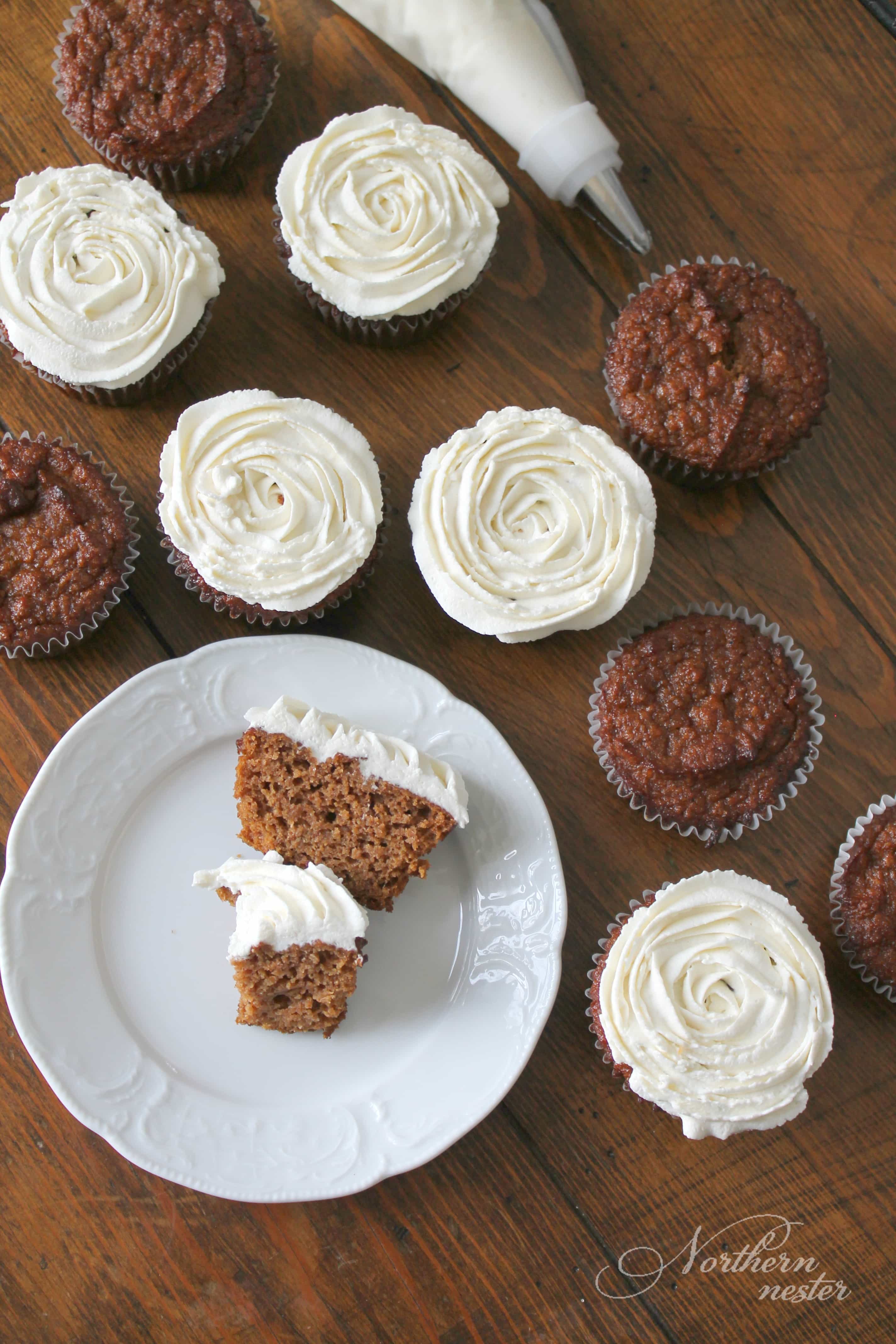 These low-carb Pumpkin Muffins with Maple Whipped Cream are ah-mazing!! THM S.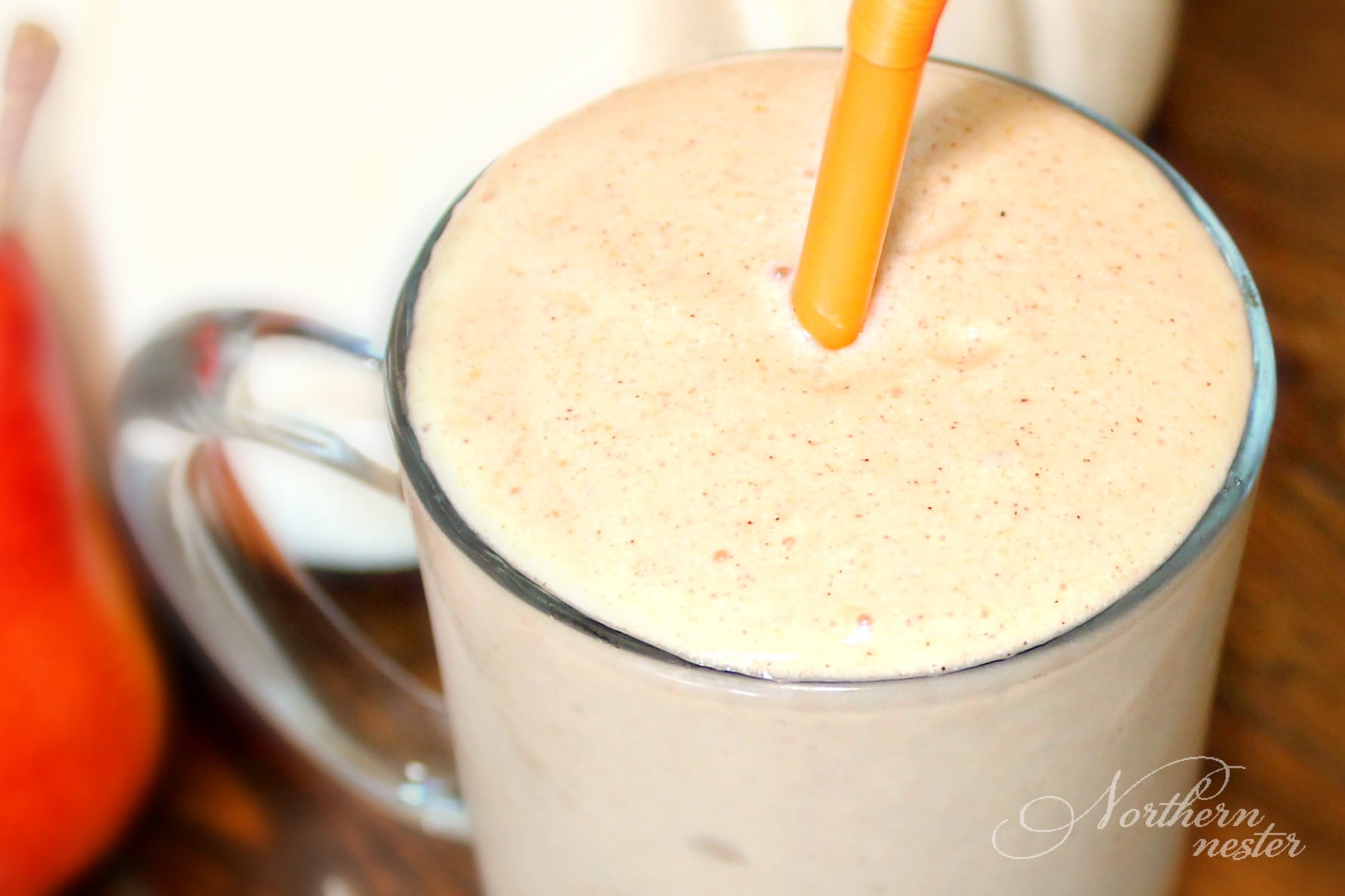 This Pumpkin Spice Latte Shake can be made as a Fuel Pull and is full of protein for a filling breakfast!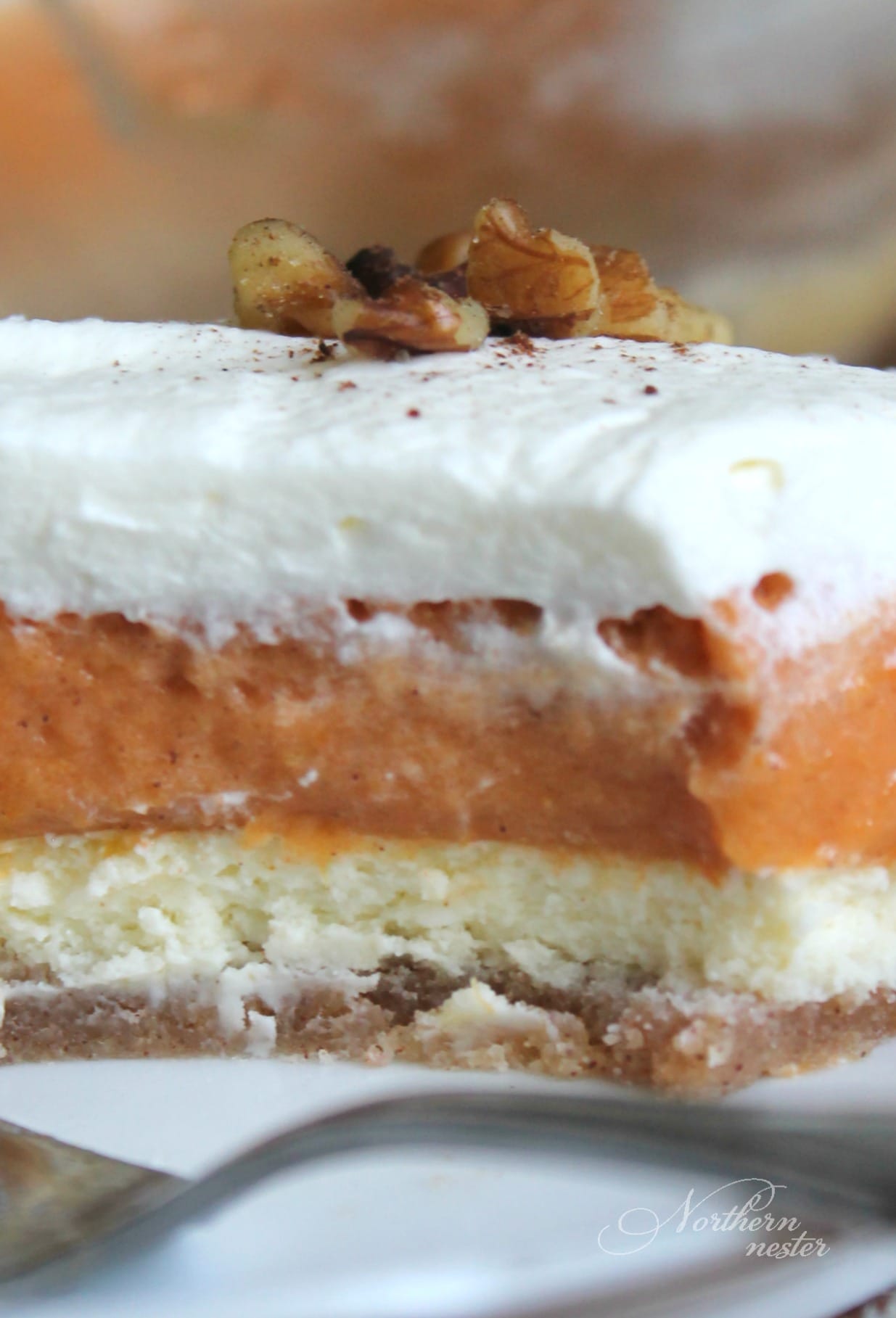 And of course, starting your day with dessert is always a good way to start. (Scroll to the end of this Layered Pumpkin Dessert recipe for a list of my favorite Trim Healthy Mama Pumpkin desserts!).