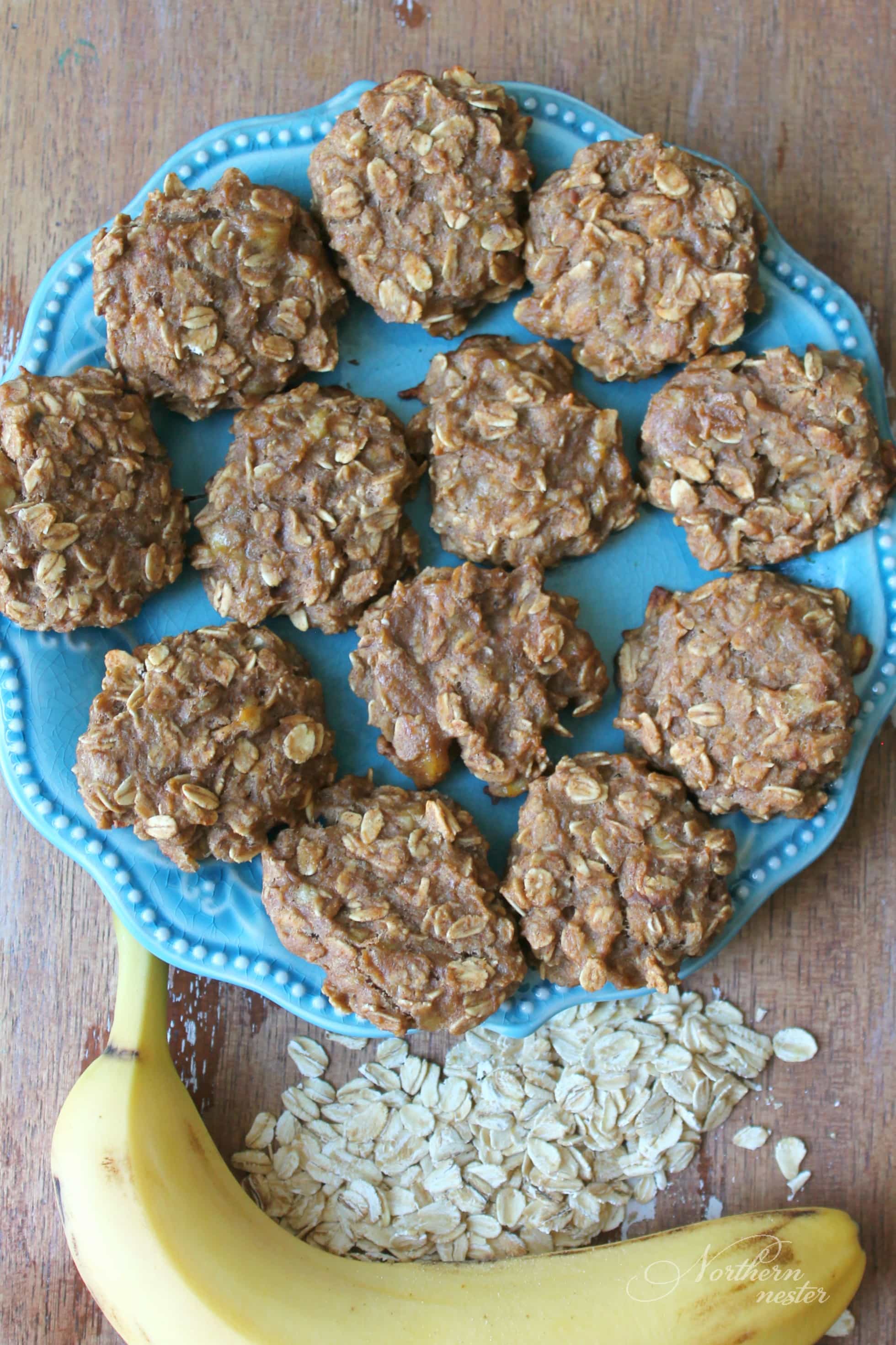 A Trim Healthy Mama E cookie that tastes like more?!
Yes!
These 5-Ingredient Peanut Butter Banana Oatmeal Cookies (well, six ingredients if you count the pinch of salt 😉 ) contain almost no fat, no gluten, no dairy, no eggs, and no special ingredients, but they are perfectly sweet and chewy little gems that kids and adults alike love!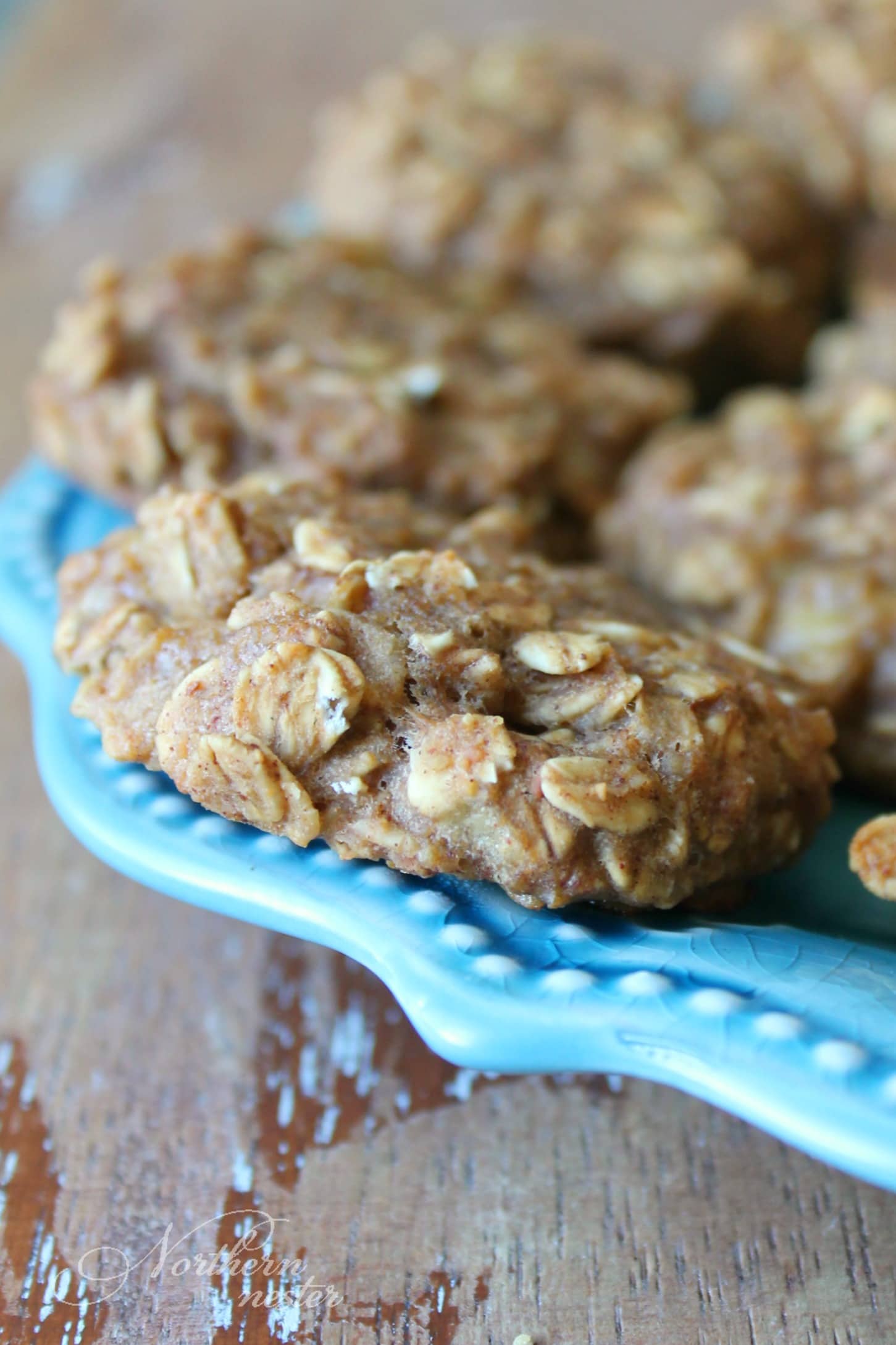 Defatted peanut flour (one of my favorite sources of protein because I love peanut butter flavored everything!), is an excellent source of protein in this recipe, along with the protein you find in the rolled oats.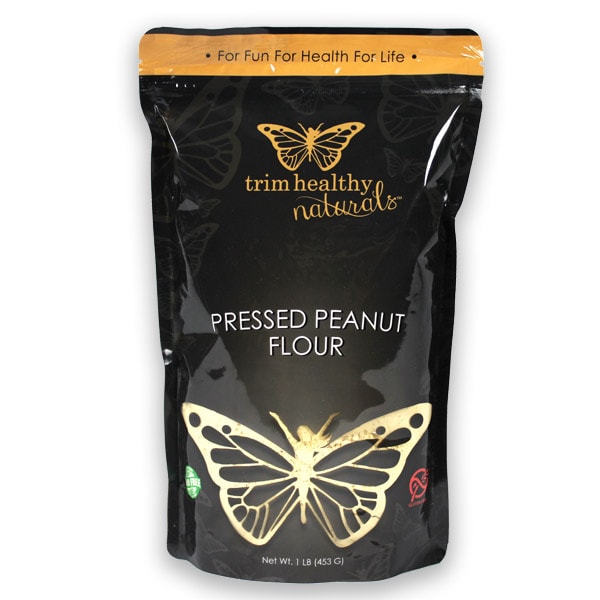 Trim Healthy Mama's Defatted Peanut Flour
An energizing snack or breakfast, you can also pair these 5-Ingredient Peanut Butter Banana Oatmeal Cookies with almond milk, 0% fat Greek yogurt, low fat kefir, or an E friendly shake for even more protein if you'd like.
You definitely want ripe bananas for this recipe, since no other sweetener is called for. The riper, the better: when the yellow peel is completely speckled with brown spots, you have exactly what you're looking for!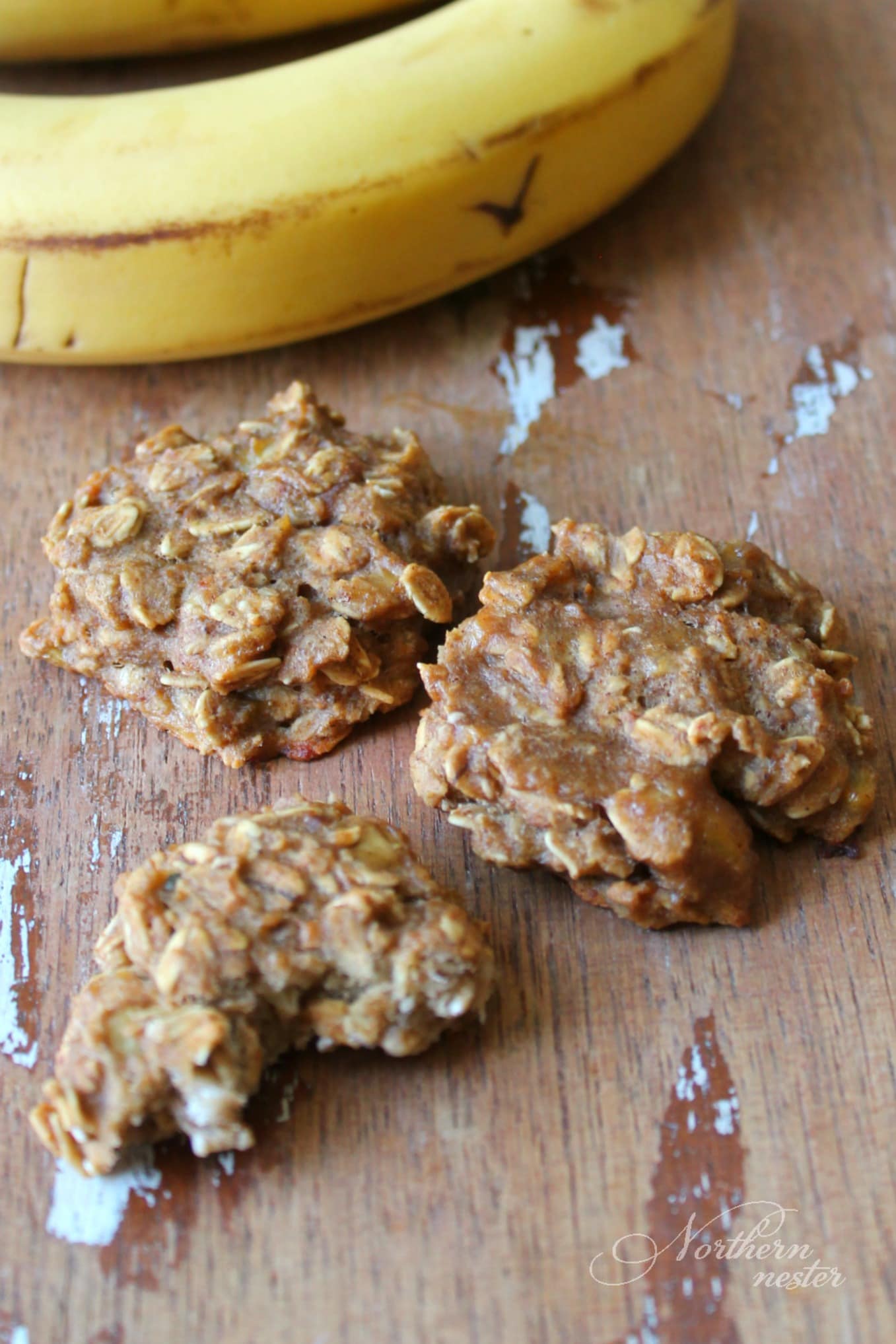 My 5 year-old daughter calls these "banana muffin cookies." They taste so much like banana bread or muffins, but instead of being a Crossover with fat from eggs and oil, these cookies are energizing E snacks that only take 5 ingredients to make, and 5 minutes to prepare!
If do you want a Crossover (a great option for kids lunches!), these 5-Ingredient Peanut Butter Banana Oatmeal Cookies are also amazing with sugar-free chocolate chips, or chopped 85% chocolate, chopped walnuts, or shredded coconut. Just be sure to keep your add-ins to 1/4 cup or less; any more than that and your cookies won't hold together very well.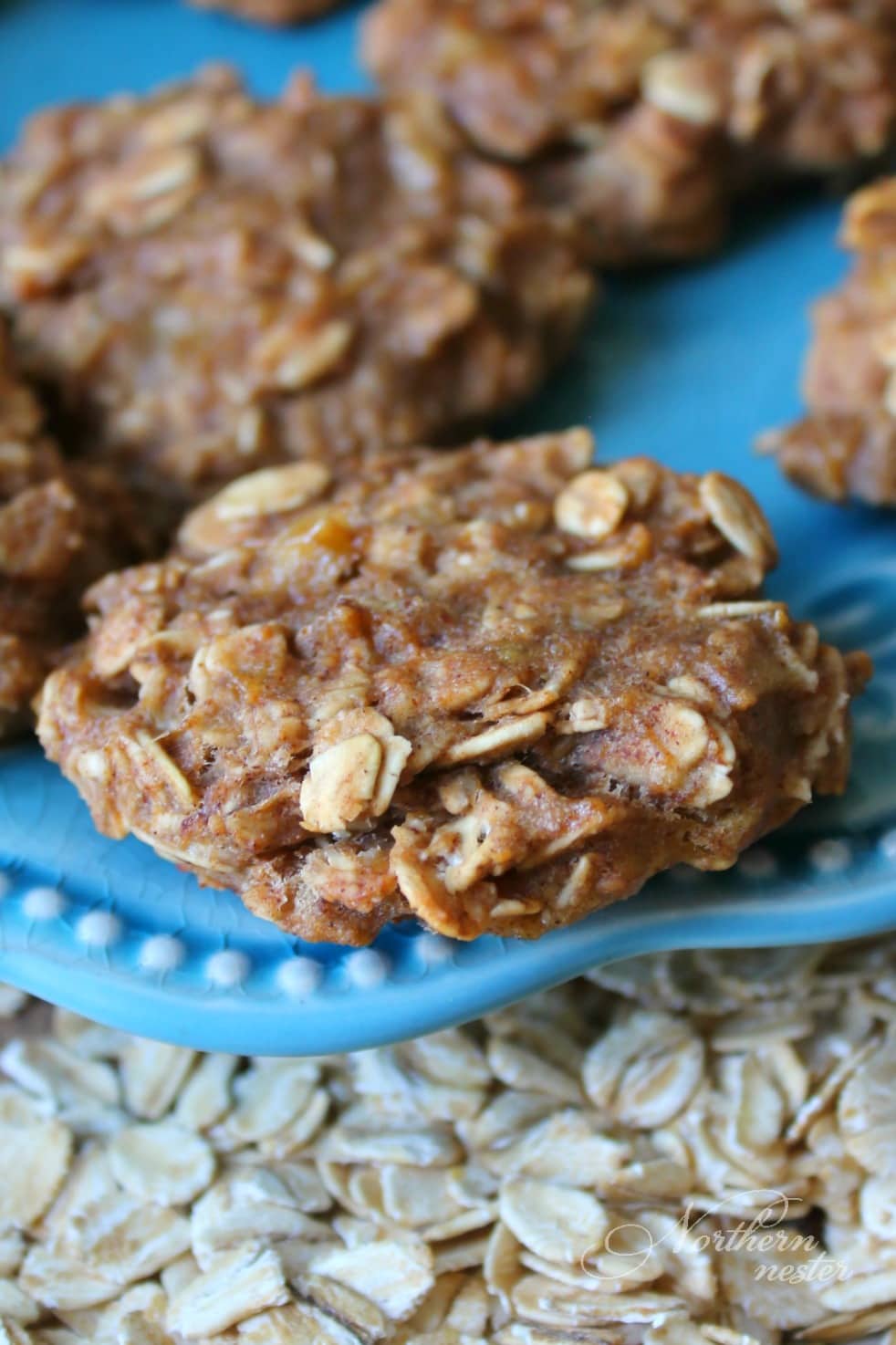 Yield: 4 servings
5-Ingredient Peanut Butter Banana Oatmeal Cookies | THM: E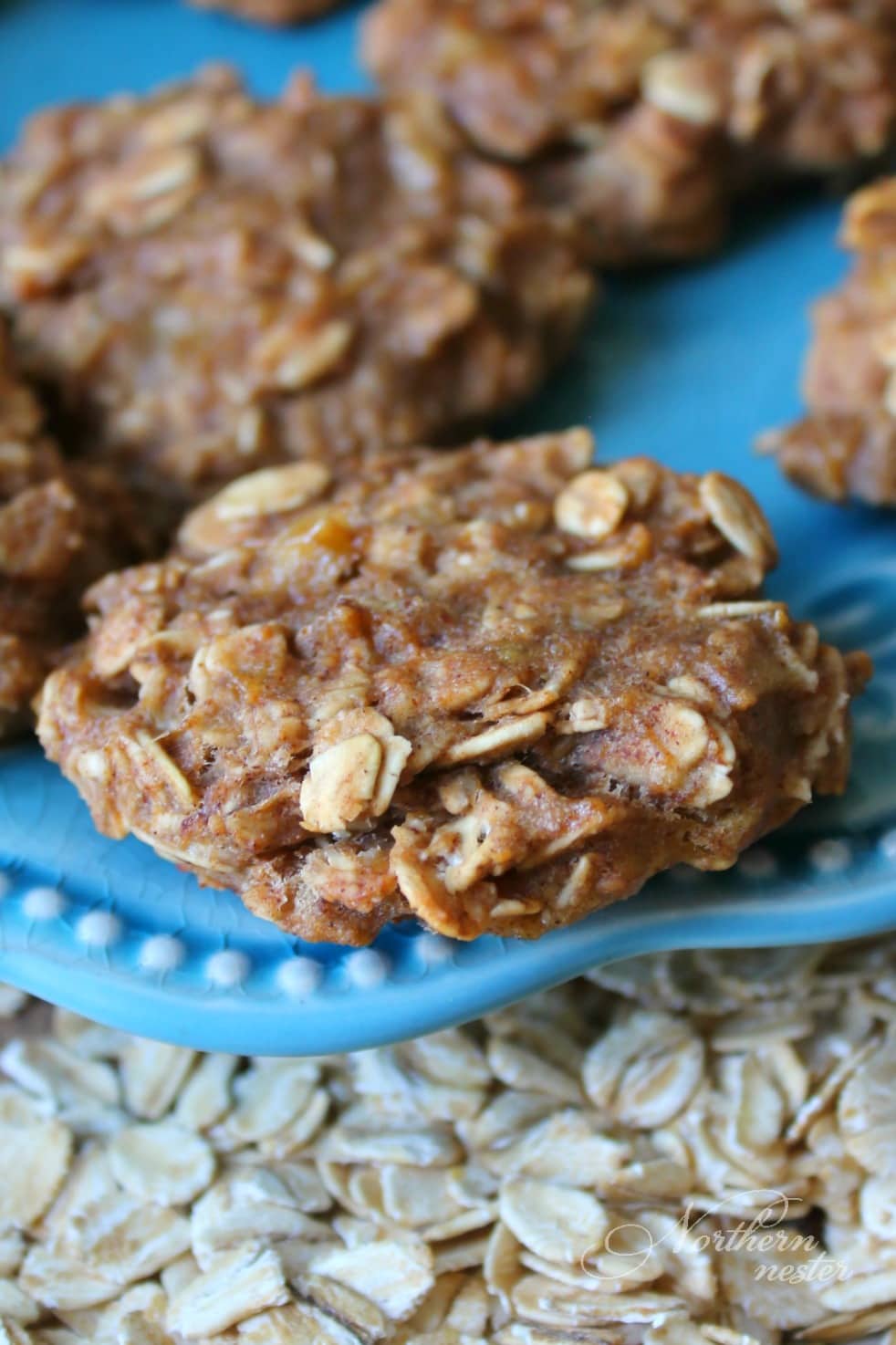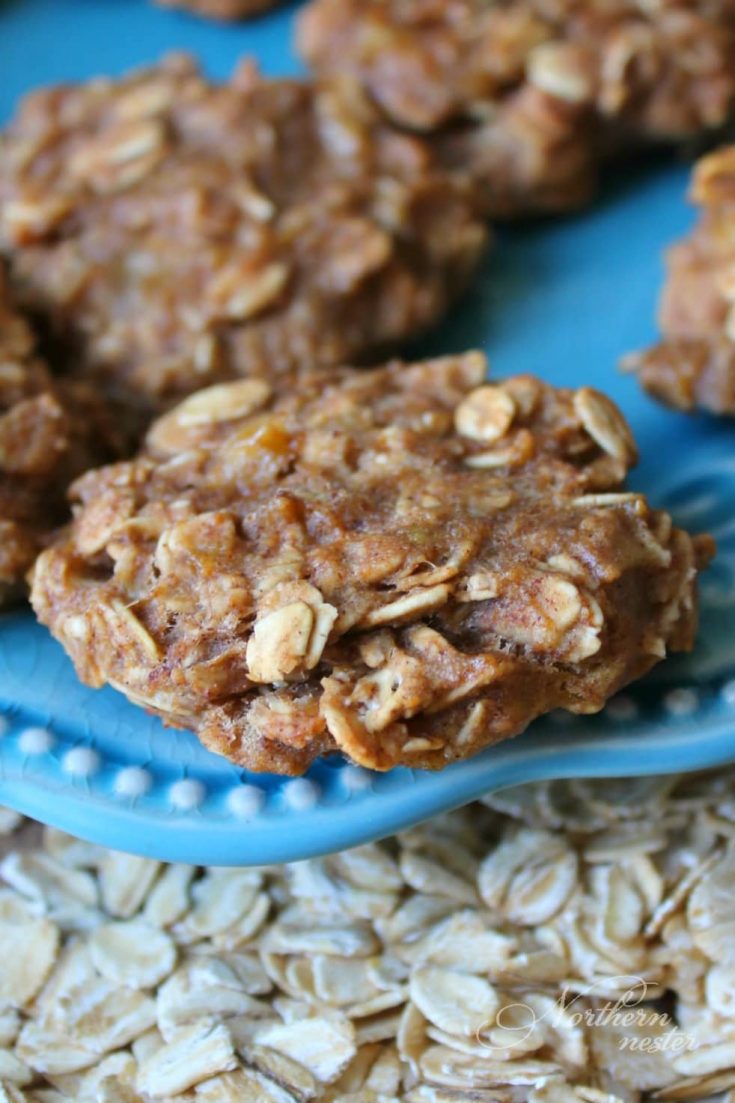 These 5-Ingredient Peanut Butter Banana Oatmeal Cookies are a deliciously chewy and sweet Trim Healthy Mama E snack or breakfast! They contain no eggs, gluten, dairy, or special ingredients.

Prep Time 5 minutes

Cook Time 15 minutes

Total Time 20 minutes
Ingredients
2 ripe bananas, mashed
1 cup old fashioned rolled oats
1/4 cup defatted peanut flour
1/2 tsp cinnamon
1/2 tsp vanilla extract
pinch of mineral salt
Instructions
Preheat oven to 350 F. Lightly greases a cookie sheet.
Stir mashed bananas, oats, peanut flour, cinnamon, vanilla extract, and mineral salt together. The texture should be similar to wet cookie dough, so you may need a little more or fewer oats, depending on the size of the bananas you used.
Scoop 12 spoonfuls of dough onto prepared cookie sheet. Bake for 15 minutes. Store leftovers in an airtight container in the fridge or freezer.