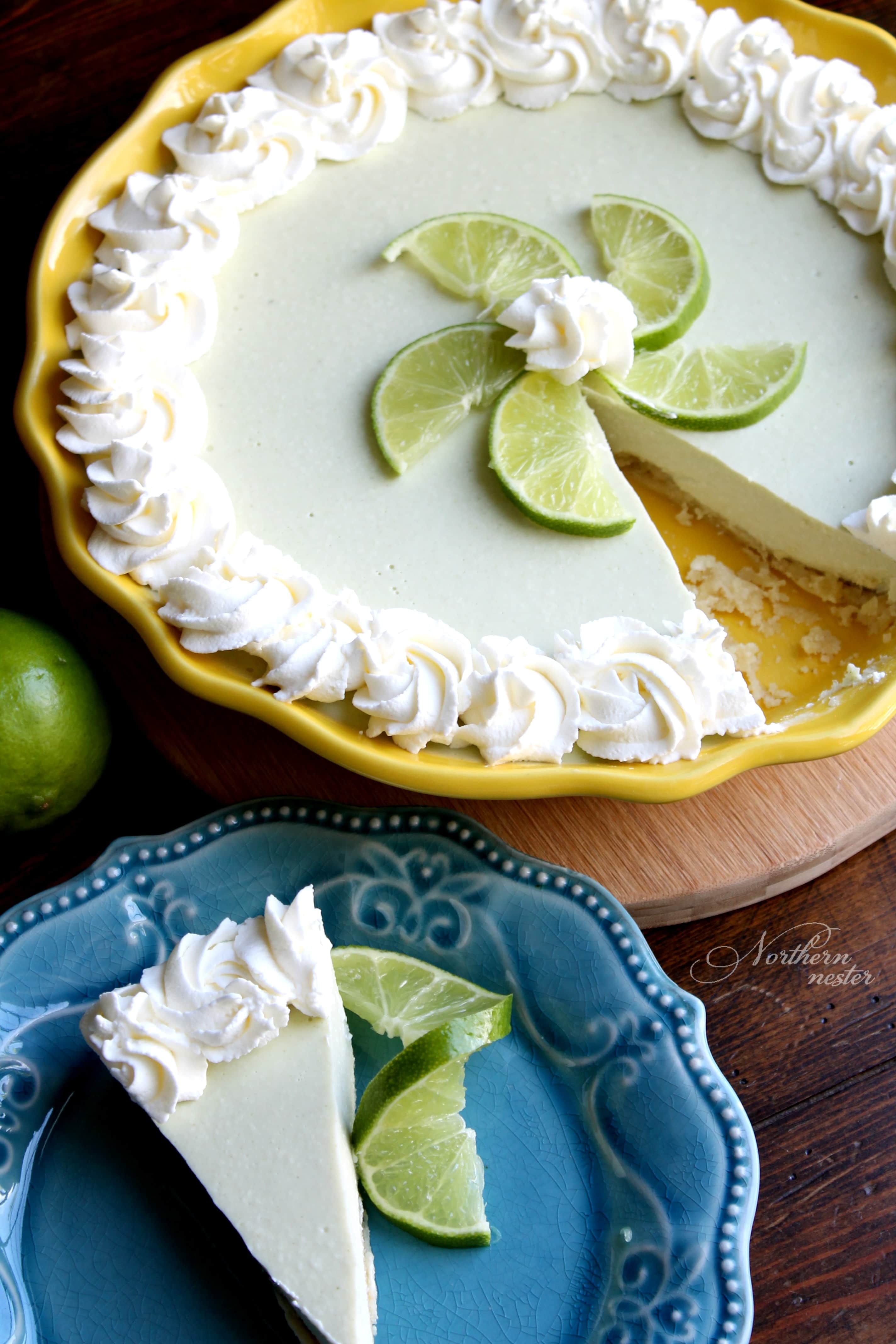 It's Victoria Day here in Canada; a perfect excuse for a special dessert, so we're celebrating with a Trim Healthy Mama-friendly, low-carb Key Lime Pie! Made from a base of Greek yogurt, it's smooth and creamy, and high in protein.
Sweetened with xylitol (or use Gentle Sweet in half the amount, if you prefer), this Key Lime Pie is also sugar-free. Its soft green color comes from blending a handful of fresh spinach leaves together with 2 tablespoons of water and pressing the mixture through a fine sieve! The small bit of dark green spinach "juice" gives the whole pie a lovely shade of lime when mixed with the other filling ingredients, except you don't taste spinach! No need for artificial colors in this one.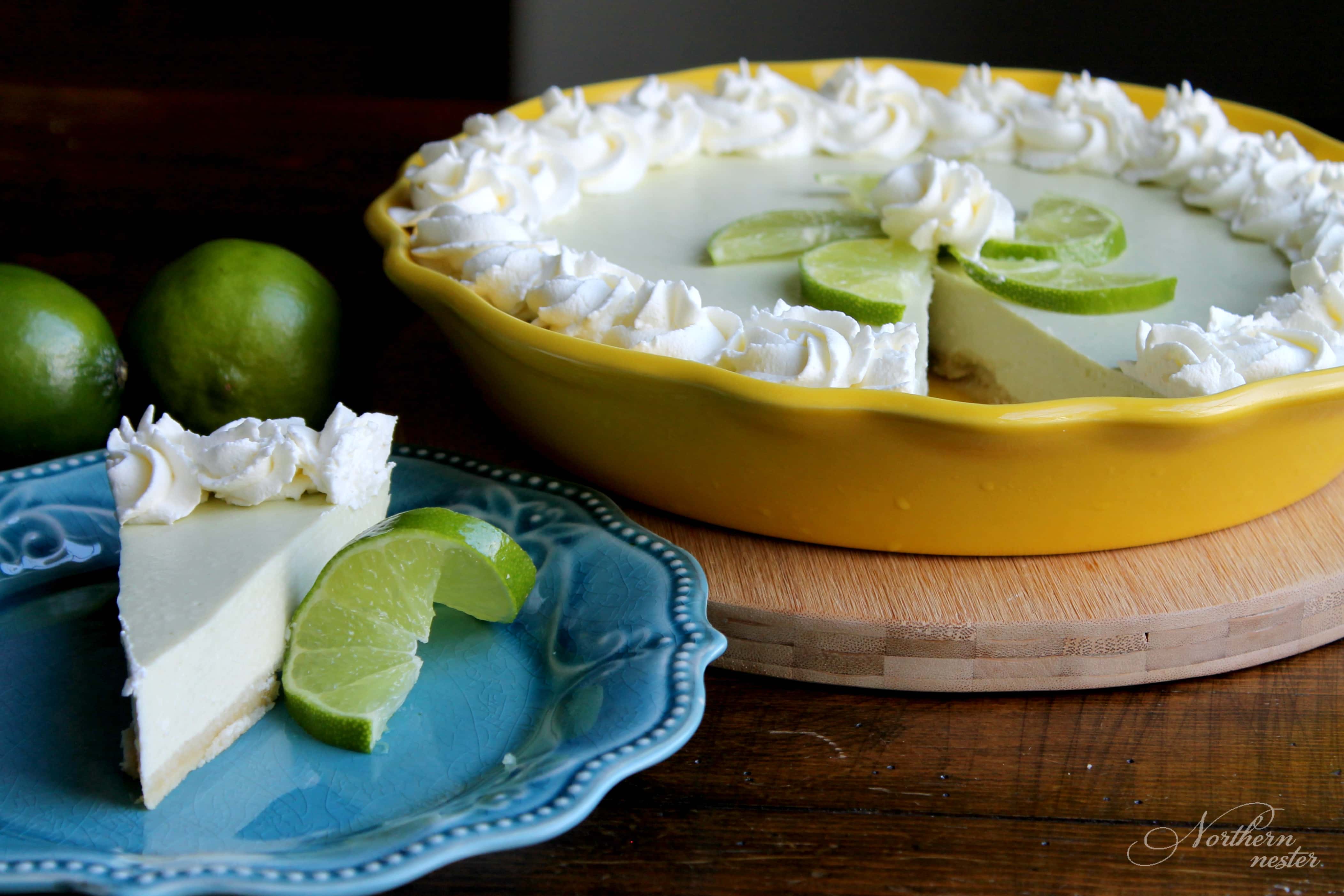 Knox, Great Lakes, or Just Gelatin, either brand will set the Key Lime filling, but Great Lakes and Just Gelatin are purer forms of beef-based protein.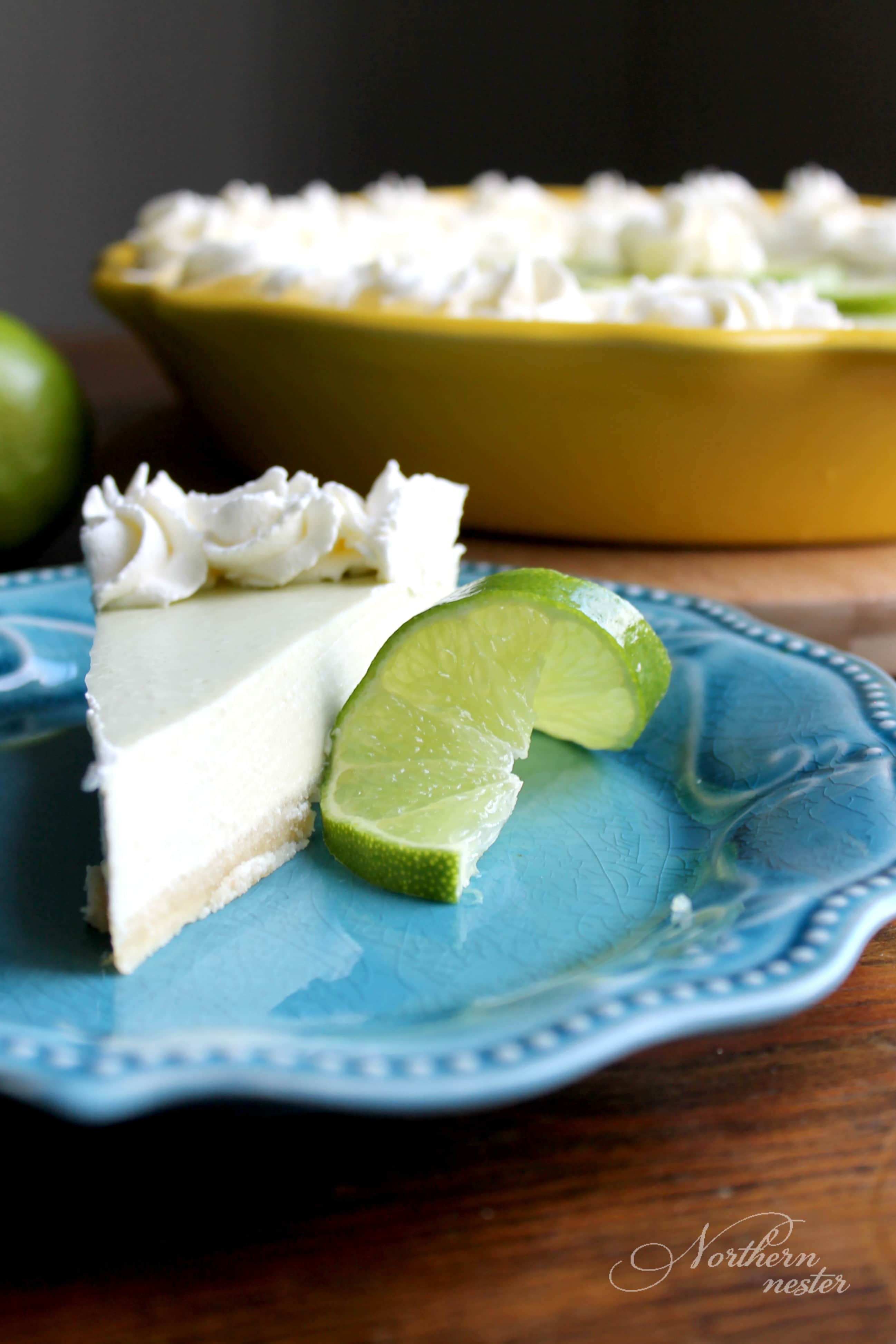 If you don't have fresh limes on hand, pure bottled lime juice from Santa Cruz or Real Lime makes an easy substitute.
Note: If you prefer a cottage cheese and cream cheese-based Key Lime Pie, I hear the recipe on pg. 326 of the Trim Healthy Mama Cookbook is delicious, too!
Yield: 12-16 servings
Low Carb Key Lime Pie | THM: S
A low-carb, high-protein, Key Lime Pie that's perfect for Summer potlucks! A THM S dessert that will please a crowd!

Prep Time 25 minutes

Cook Time 12 minutes

Additional Time 4 hours 23 minutes

Total Time 5 hours
Ingredients
CRUST:
1/4 cup butter
1 Tbsp xylitol
1 1/4 cup almond flour
FILLING:
1 handful of fresh spinach
2 Tbsp water
1 1/2 cups heavy cream
1 1/2 cups Greek yogurt
3/4 cup xylitol
1 1/2 Tbsp gelatin
1/4-1/3 cup lime juice (use large amount if you prefer a stronger lime taste)
GARNISH:
1/2 cup whipping cream
2 Tbsp xylitol
lime slices
Instructions
Pre-heat oven to 350 F. Melt butter and xylitol together in saucepan. Remove from heat and stir in almond flour. Press into 11" pie plate. Bake at 350 for 12 minutes, or until golden. Cool.
To make the filling, blend a handful of fresh spinach leaves together with 2 Tablespoons of water. Wring mixture out through cheesecloth, paper towel, or a fine sieve into a small bowl. You should be left with approx. 1/4 cup of dark green spinach "juice." Set aside.
In a saucepan over medium-high heat, melt Greek yogurt, cream, and xylitol together until sweetener is dissolved and mixture is very warm, but not boiling. Simmer for a few minutes while you sprinkle the gelatin over the spinach juice. Let the gelatin soak into the spinach juice and "bloom" for a minute, before adding it to the warm yogurt and cream mixture. Whisk together for 2 minutes until gelatin is completely dissolved. Remove from heat and whisk in lime juice. Pour over pie crust and refrigerate at least 4 hours (or overnight) until set.
Beat whipping cream and xylitol together until stiff peaks form. Pour into piping bag and decorate the top of your pie. Garnish with fresh lime slices.