Strawberry Spinach Salad is one of our family favorites. All of our kids love it (minus the red onions…those are put there for Brad and I) and even consider it a "dessert" because of the strawberries! We eat it year-round, but it tastes the best with new baby greens and freshly picked strawberries which are almost in season!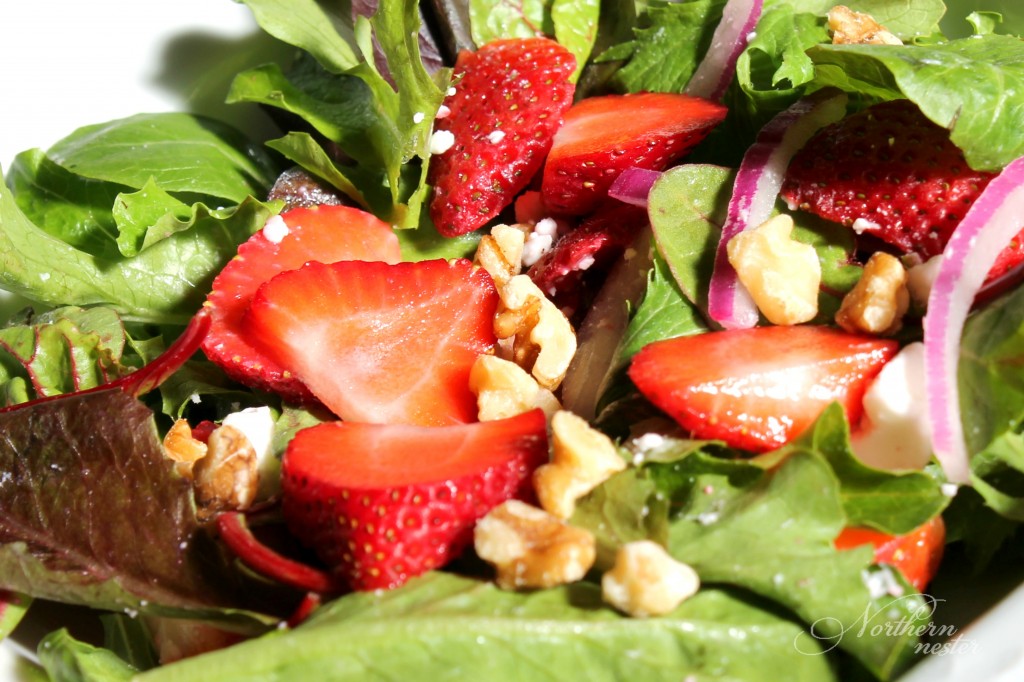 This is a Trim Healthy Mama 'S' recipe because of the cheese and nuts. (If you're not on-plan and want to save some time, it's also delicious served with a store-bought, creamy poppy-seed dressing or a raspberry vinaigrette.)
Enjoy!
Yield: 4
Strawberry Spinach Salad | THM, GF
Ingredients
4 cups baby spinach, or mixed greens
2 cups fresh strawberries, sliced
1/4 small red onion, thinly sliced
1/2 cup walnuts or pecans, toasted
1/4 cup feta cheese
3 Tbsp raspberry jam (THM's can use a stevia-sweetened jam, such as Smuckers)
3 Tbsp balsamic vinegar
1 Tbsp poppy seeds
1/4 tsp salt
Instructions
Arrange spinach on 4 individual salad plates. Top with strawberries, onion, nuts, and cheese.
Poppy Seed Dressing: Combine remaining ingredients in a jar and shake or stir together. Drizzle over salads.