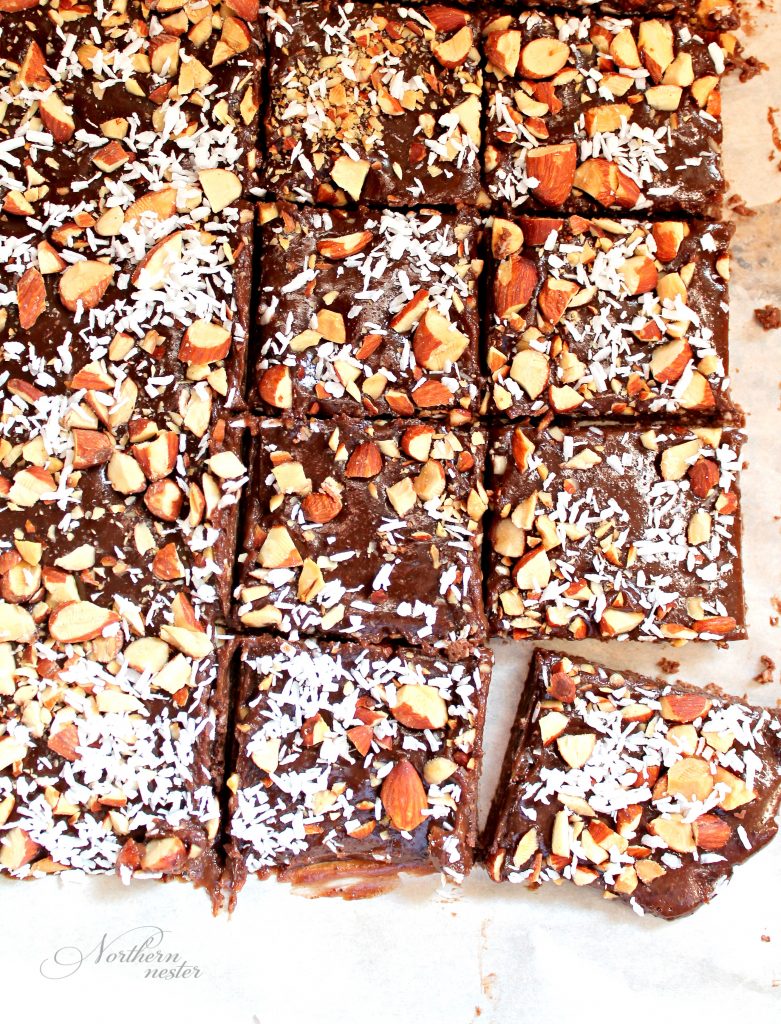 These no-bake Salted Almond Chocolate Coconut Squares (say that 10 times really fast) are our 5 year-old's favorite Trim Healthy Mama-friendly recipe so far. They are a delicious way to get your coconut oil in!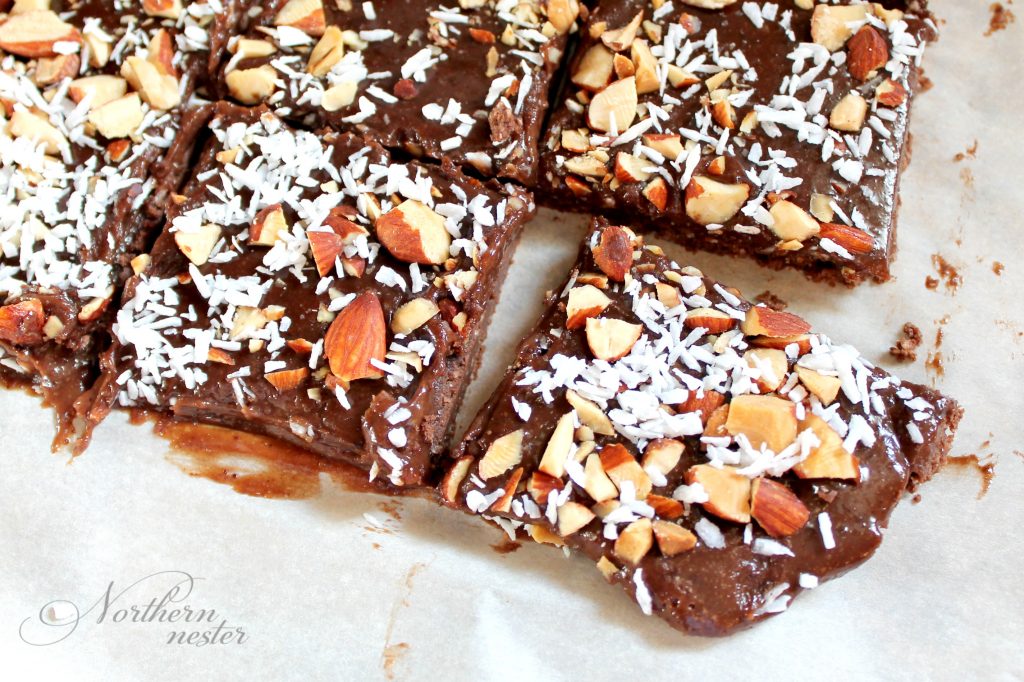 The base tastes like a chocolate macaroon, a sweet chocolate ganache made from whipping cream, cocoa powder, almond butter, and sweetener (I used xylitol, but you can also use half the amount in Gentle Sweet) forms the middle, and coarsely chopped sea-salted almonds finish off the top. You'll only need a small piece since these squares are so decadent; one batch makes 25-30 servings.
Yield: 25-30 squares
Salted Chocolate Almond Bars | THM: S
These no-bake, rich chocolate THM S squares are comprised of a coconut macaroon tasting base, a sweet chocolate ganache middle, and sea-salted almond top. Deliciously decadent!
Additional Time
2 hours
45 minutes
Ingredients
CRUST:
1 cup shredded unsweetened coconut
3/4 cup almond flour
1/3 cup coconut oil
1/3 cup cocoa powder
1/4 cup xylitol
GANACHE:
1 cup whipping cream
1/2 cup almond butter
1/4 cup xylitol
1/4 cup cocoa powder
TOPPING:
1/2 cup sea-salted almonds, coarsely chopped
1/4 cup finely shredded unsweetened coconut
Instructions
Line 11x7 baking sheet with parchment paper. In a blender, pulse together crust ingredients. Spread onto parchment paper. Chill for 30 minutes, or until hardened.
Melt whipping cream and xylitol together in a saucepan, until sweetener is dissolved. Whisk in cocoa powder and almond butter until smooth. Pour evenly onto refrigerated crust. Sprinkle on chopped. sea-salted almonds and shredded coconut. Chill for 2 hours. Cut into 1-inch squares and serve. Refrigerate leftovers.