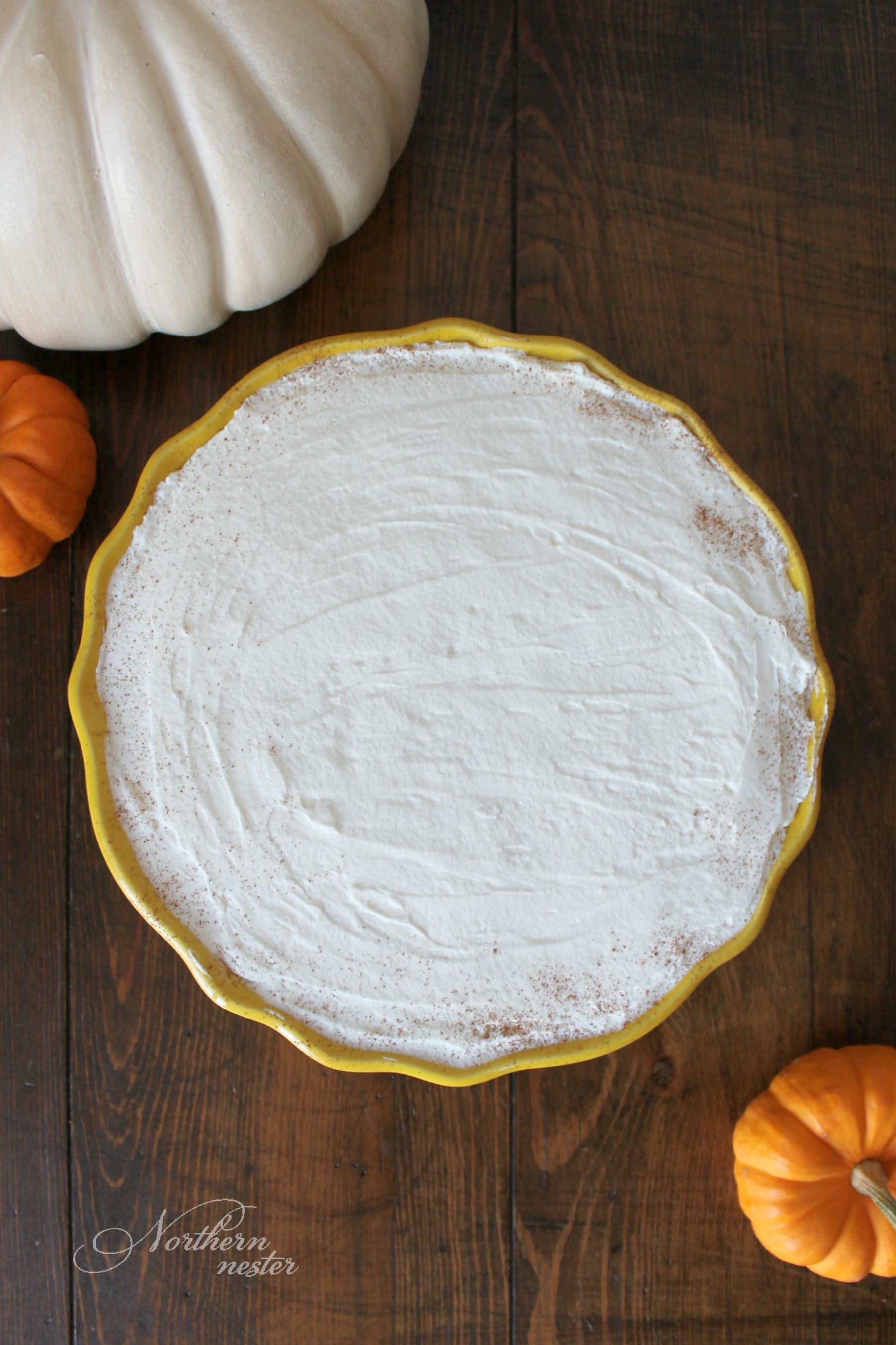 It's Thanksgiving weekend here in Canada and we're feasting on this incredibly delicious Pumpkin Chiffon Pie while we spend some time with family and friends, reflecting on all the undeserved gifts God has given us.
You, dear blog reader, are on the list of people I am thankful for. Thanks for your love and support over the past year of posting Trim Healthy Mama-friendly recipes regularly. You keep me inspired and I have not once received an unkind comment or negative feedback. That means a lot to me, especially in this day and age where everyone is entitled to speaking their mind and the anonymity of the Internet can bring out the worst in people. I feel very blessed to have such a wonderful audience and don't take you for granted.
Thank you!
But, back to other important things…like this Pumpkin Chiffon Pie!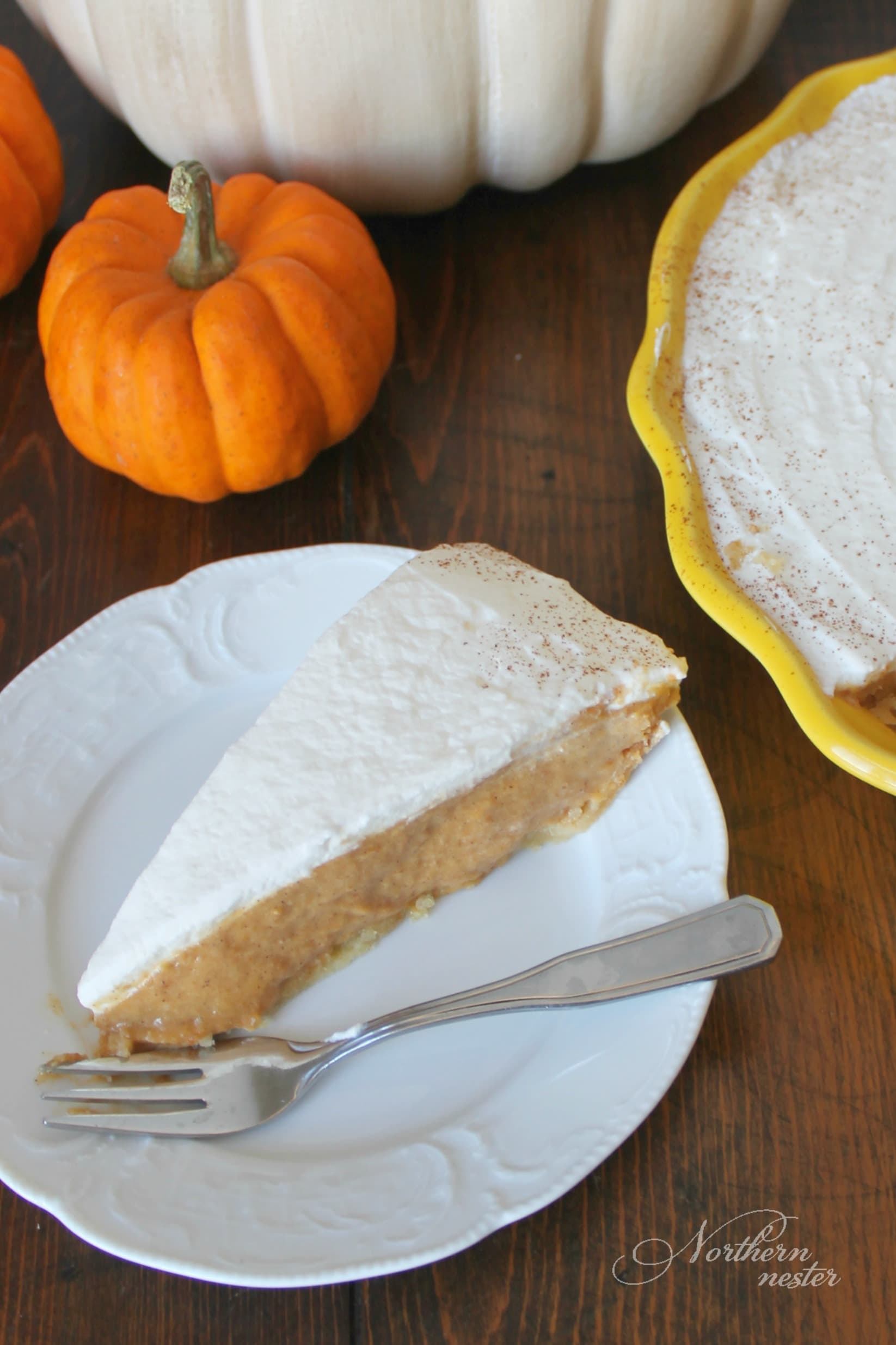 I'm thankful for this pie, too! Why?
It's so good. We like it even better than traditional pumpkin pie.
It's sugar-free, gluten-free, and low-carb.
It makes enough for the whole family.
It's easy. (THM beginner, you can do this and it will turn out great, I promise!)
It can be made ahead of time.
It feels light and fluffy.
It's full of holiday flavor (read: pumpkin).
It doesn't use any special ingredients.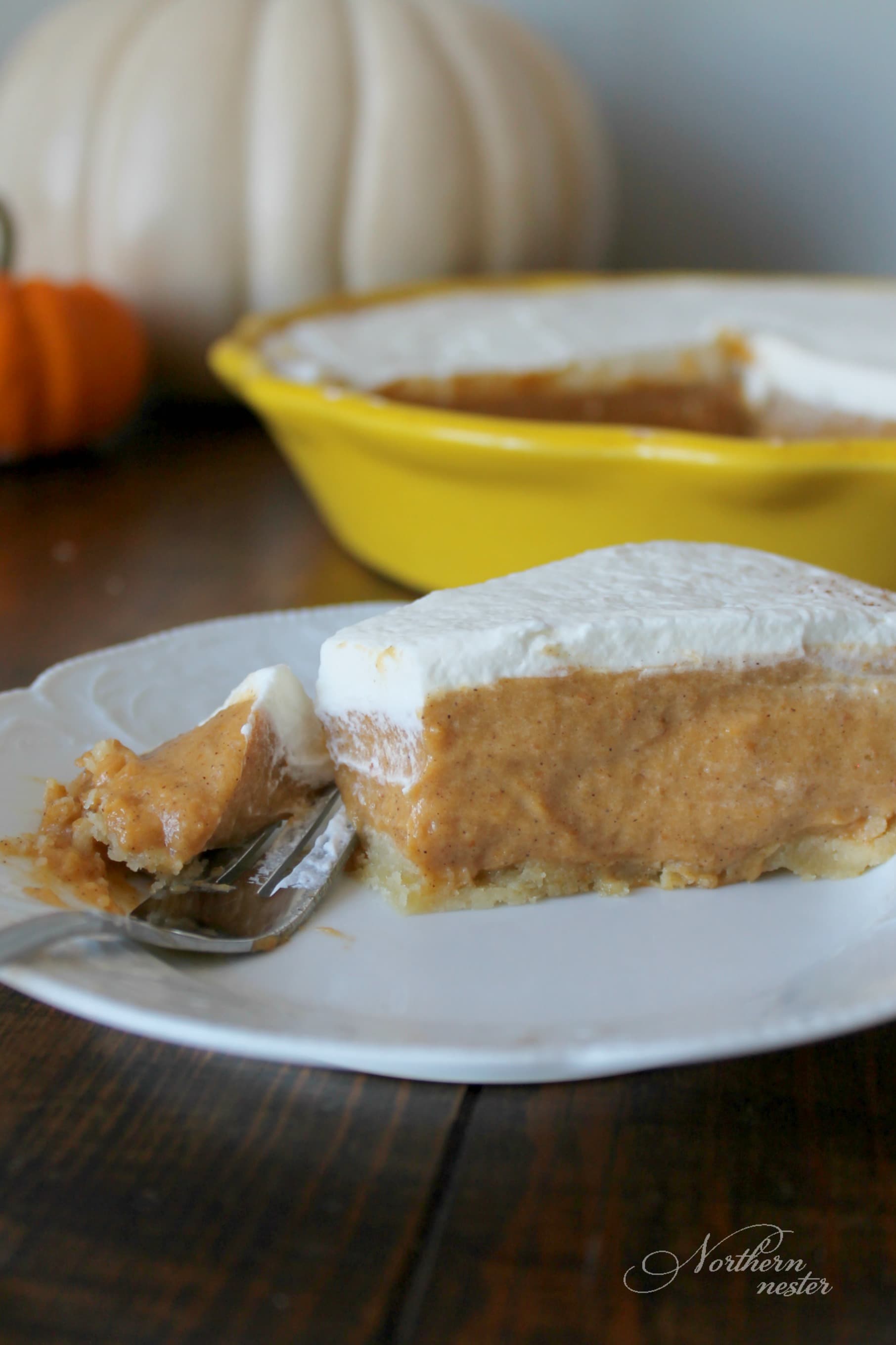 Everything you need to make this pumpkin chiffon pie is probably in your fridge and pantry:
butter
on-plan sweetener (I used xylitol, but you can use Gentle Sweet in half the amount)
half & half
egg yolks
gelatin (I used a packet of Knox unflavored gelatin to keep this recipe free of special ingredients, but the equivalent in Just Gelatin or Great Lakes would be a better choice, if you have that on hand)
whipping cream
That's it!
Keep in mind that this Pumpkin Chiffon Pie is best made the day before. It should sit overnight in fridge before adding the whipped cream topping (you can leave that part off, if you want), so it can set properly and allow the flavors to develop.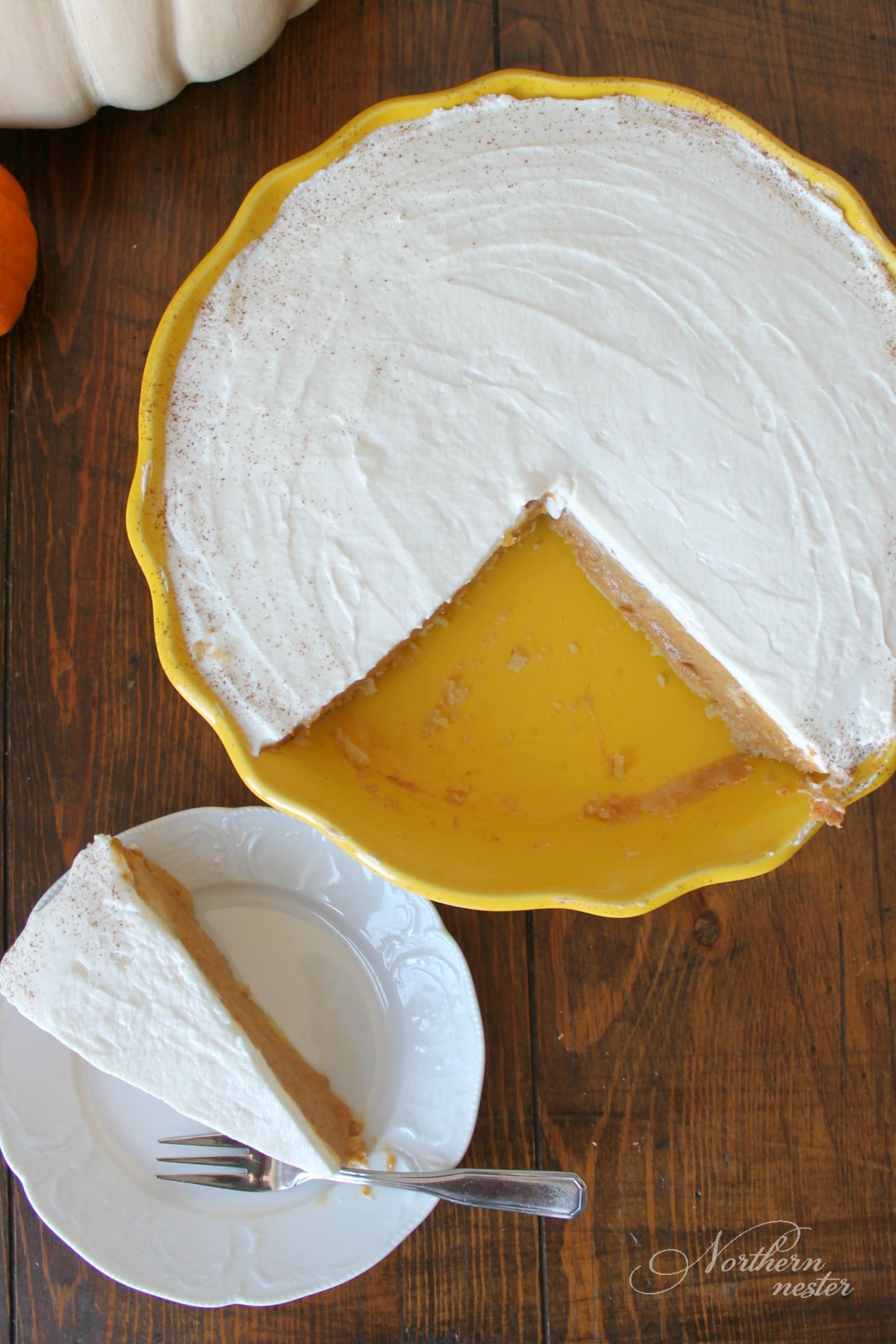 Yield: 8-10 servings
Pumpkin Chiffon Pie | THM: S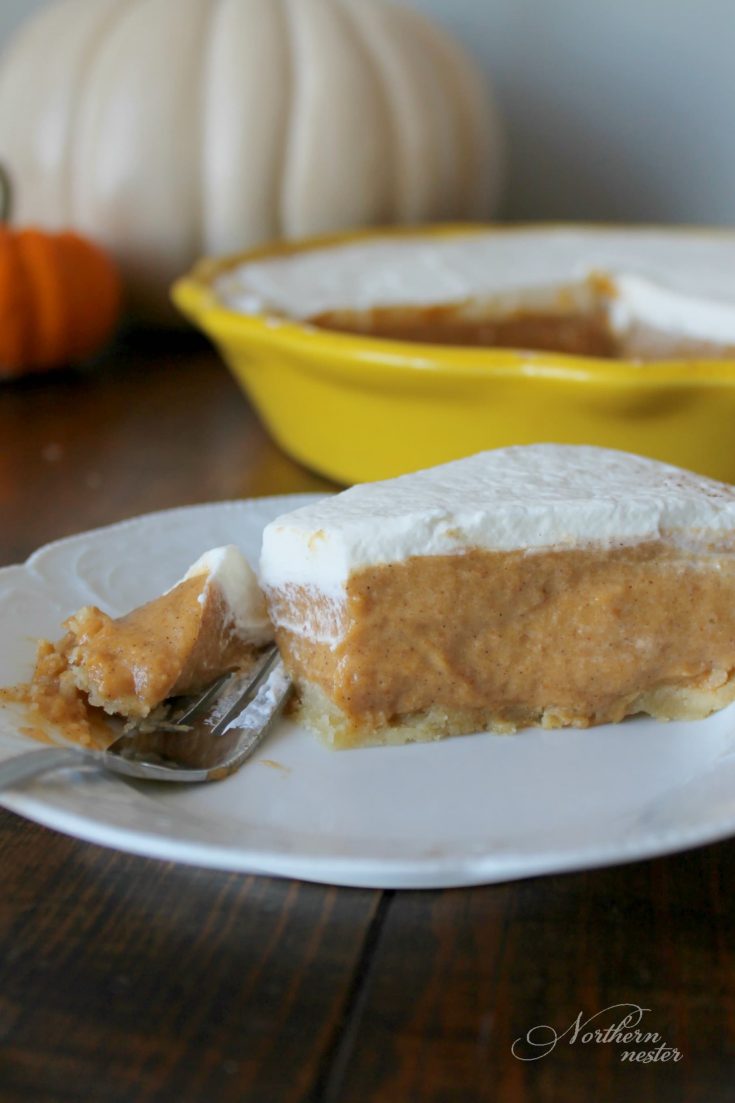 This Pumpkin Chiffon Pie is the perfect ending to your Trim Healthy Thanksgiving Dinner! Light, creamy and smooth, it's a no special ingredient S.

Prep Time 30 minutes

Cook Time 15 minutes

Additional Time 11 hours 15 minutes

Total Time 12 hours
Ingredients
CRUST
1/4 cup butter
1 Tbsp xylitol
1 1/2 cups almond flour
FILLING
1 packet Knox unflavored gelatin
3/4 cup half & half
1/2 cup xylitol
2 egg yolks
1 15-ounce can pureed pumpkin
1 tsp cinnamon
1/2 tsp ground ginger
1/4 tsp mineral salt
3/4 cup whipping cream
GARNISH
1 cup whipping cream
3 Tbsp xylitol
cinnamon
Instructions
Preheat over to 350 F. In a saucepan, melt butter and sweetener together until xylitol is dissolved. Remove from heat. Stir in almond flour. Bake @ 350 for 10-15 minutes, or until golden. Cool.
To make the filling, sprinkle gelatin over 3 Tbsp of water in a large bowl. Set aside and let it "soften." Combine half & half, 1/2 cup xylitol, yolks, pumpkin, cinnamon, ginger, and salt in a saucepan. Cook over medium heat, stirring constantly until mixture bubbles. Carefully pour over gelatin in a large bowl and stir until well combined. Let it cool for 30-40 minutes at room temperature, stirring frequently so it doesn't set.
In another bowl, beat 3/4 cup whipping cream until stiff. Fold whipped cream into cooled pumpkin mixture. Pour over crust. Cover with plastic wrap and refrigerate for 4 hours, or overnight.
for the garnish, beat 1 cup of whipping cream and 3 tbsp of xylitol together until stiff. Spread on top of the pie. Sprinkle with cinnamon.
Notes
This pie is delicious with or without the whipped cream topping.