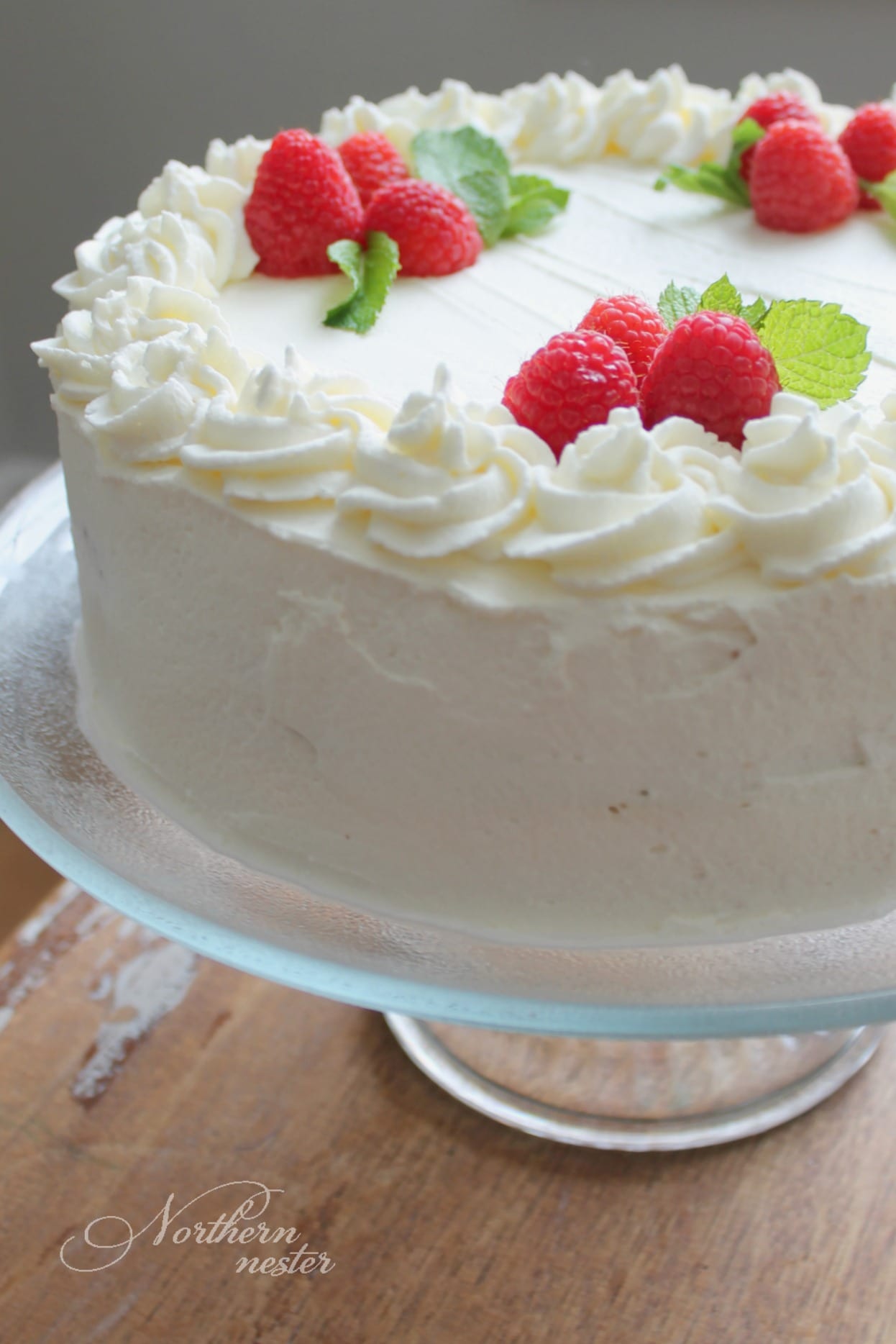 This month, I celebrate 5 years of being on the Trim Healthy Mama plan (you can read my testimony here)
…so I made a Lemon Raspberry Mousse Cake to celebrate!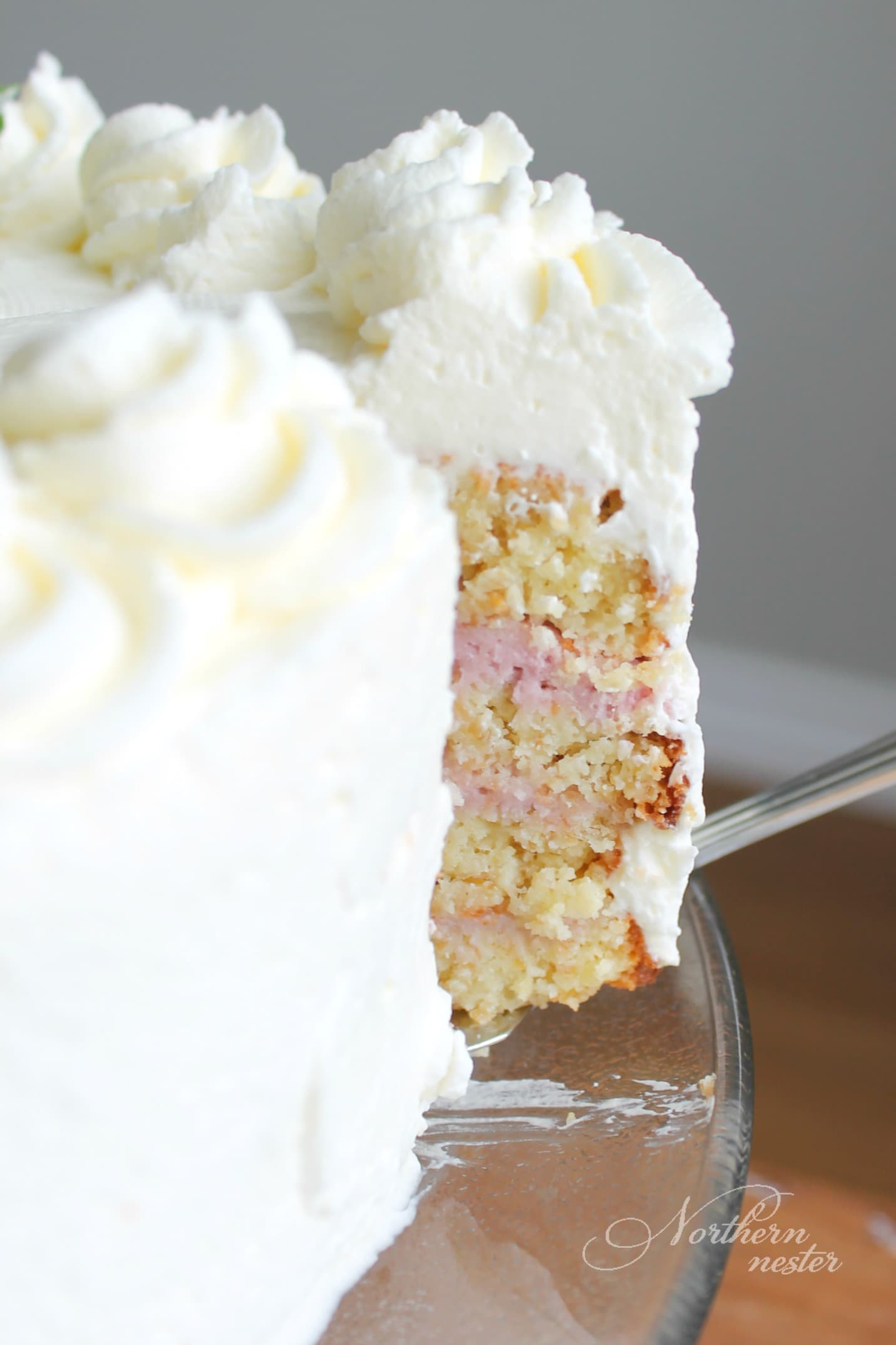 I am continually amazed that I can eat foods this delicious and with negatively affecting my blood sugar.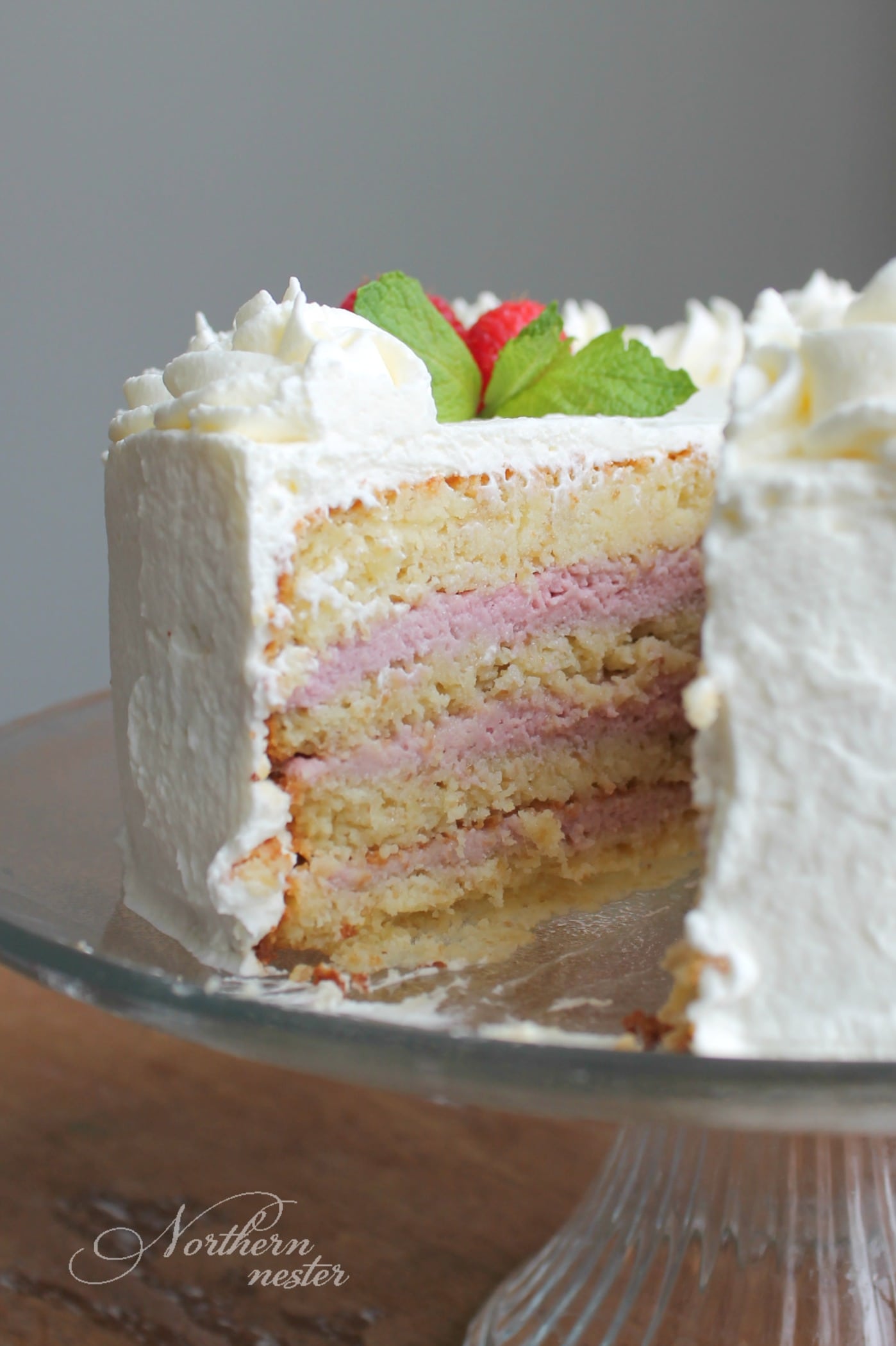 I hope to write more about the things I've learned over the last 5 years on THM in another post soon, but let's just get straight to this Lemon Raspberry Mousse Cake, shall we?!
For the cake layers, I simply doubled my Lemon Yogurt Cake recipe, baked it in two 9″ round baking pans, and cut each one in half horizontally. That lemon cake recipe is truly one of my favorite THM-friendly cakes, and it tickles me to see that you've all enjoyed it just as much!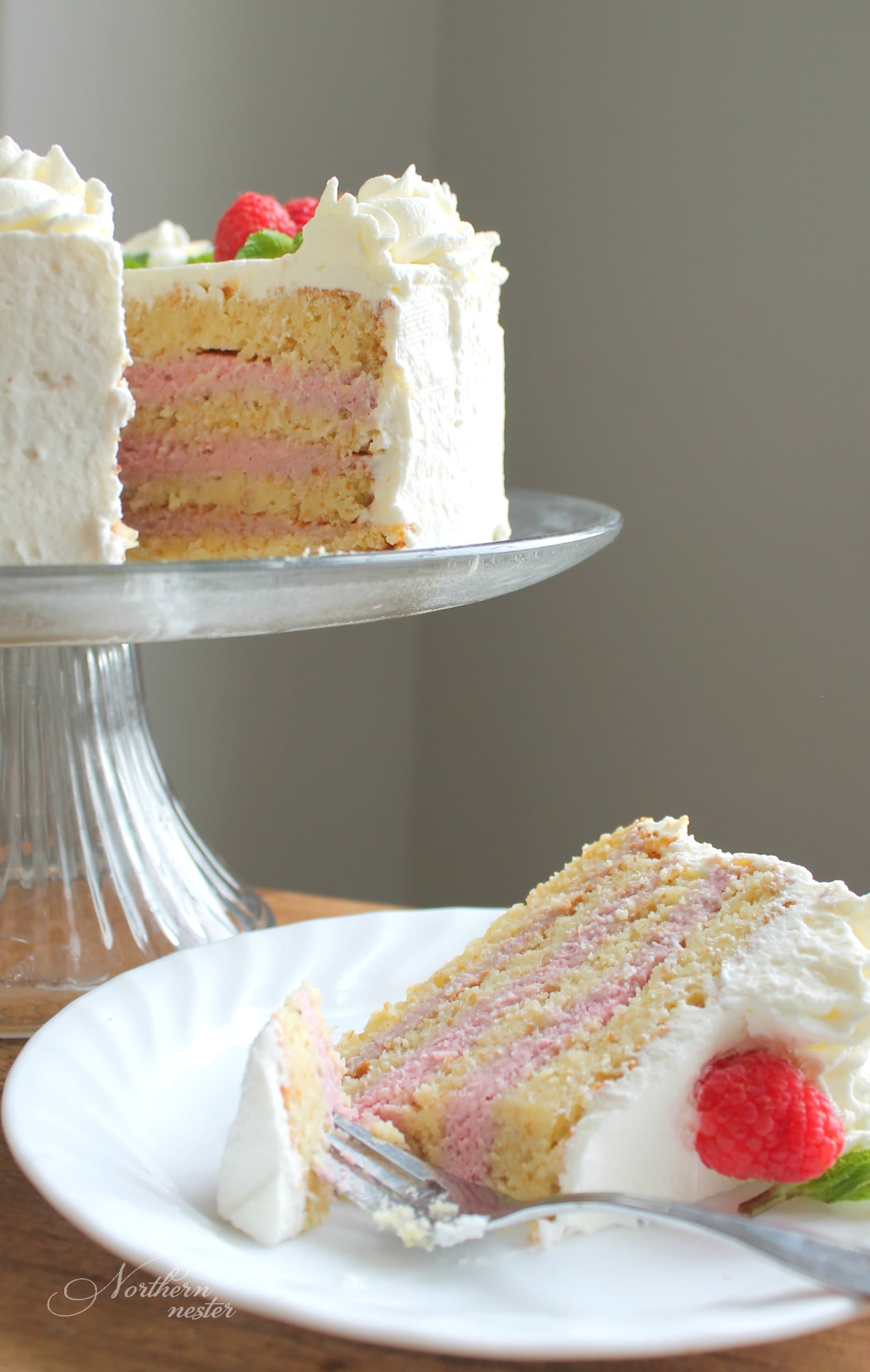 The pretty pink raspberry mousse is also made without any special ingredients:
raspberries
sweetener (I used xylitol, but you can also use Gentle Sweet in half the amount)
cream cheese
whipping cream
A simple white coat of naturally sweetened whipped cream encases the whole cake.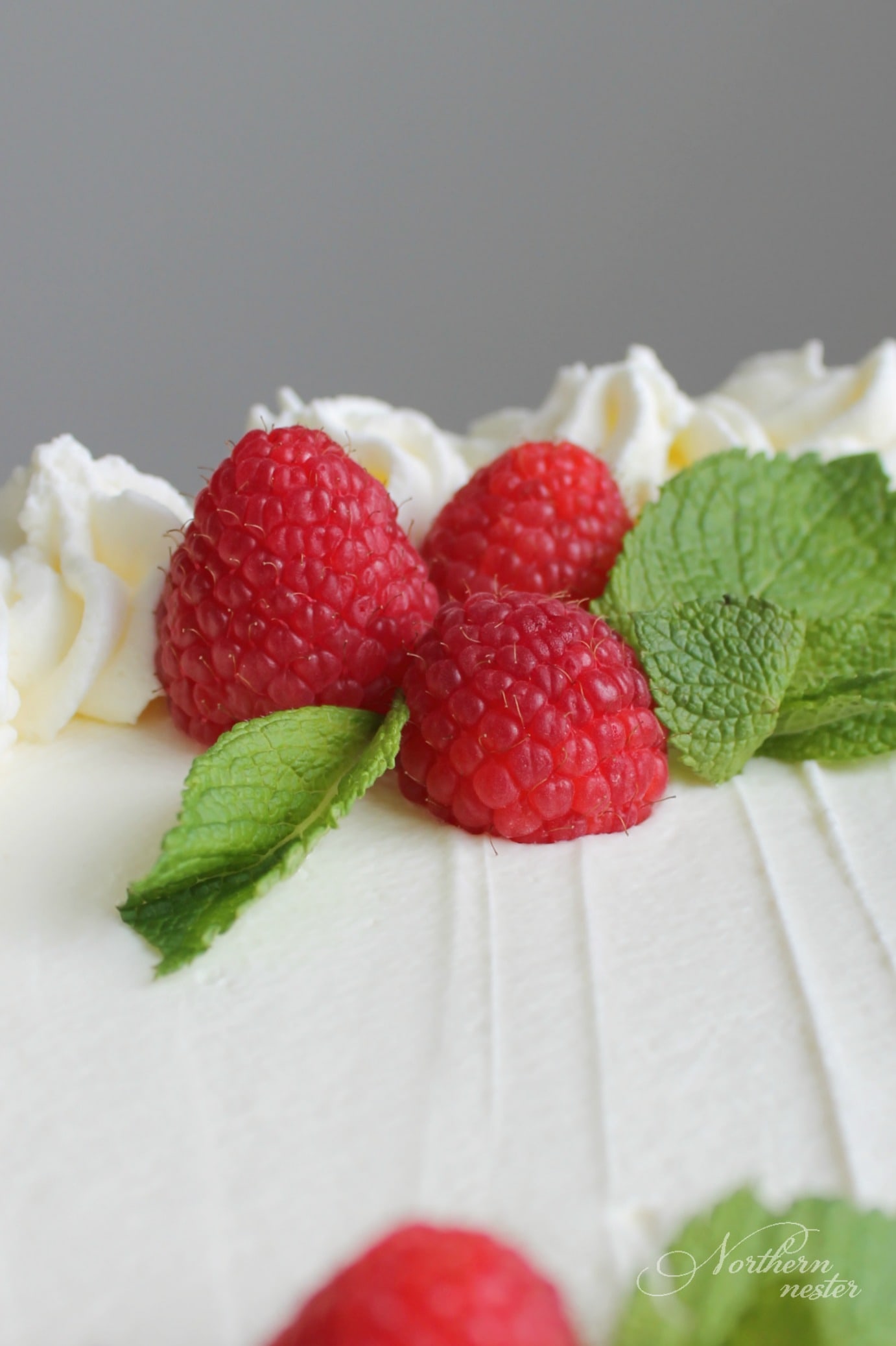 A couple of well-placed raspberries (clusters of odd numbers are visually appealing in gardening, home decorating, and cake decorating!) with a few sprigs of mint are all that's needed for an elegant garnish.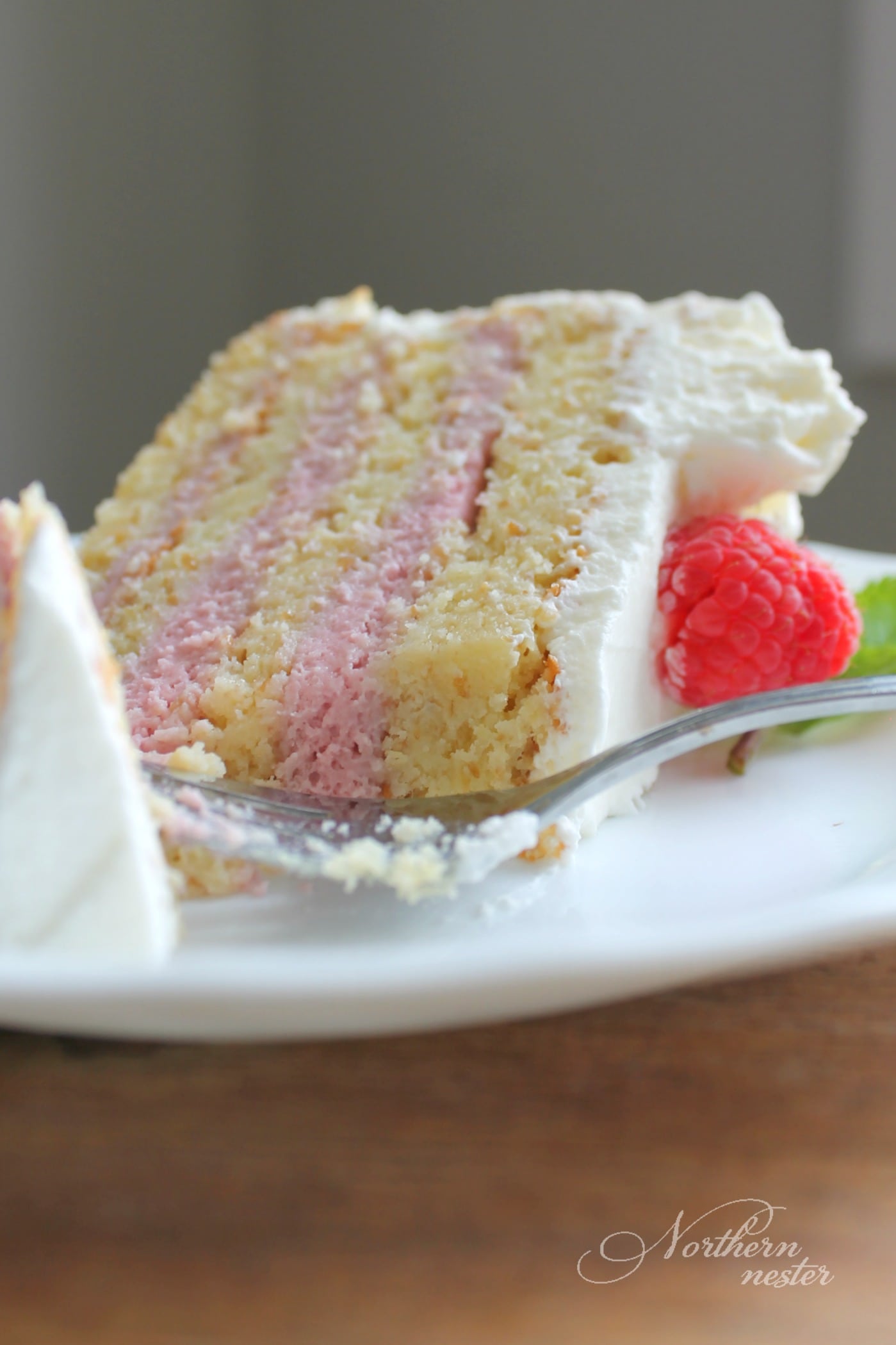 This Lemon Raspberry Mousse Cake is a little more involved because of the layers, but the cake and mousse recipes themselves are about as easy as it gets! No special ingredients or baking experience required to pull off this thing of beauty!
Lemon Raspberry Mousse Cake is the perfect dessert to serve at Easter, for Mother's Day, or anytime you want to introduce someone to your "diet!"
Cake for breakfast and lose weight?!
You bet!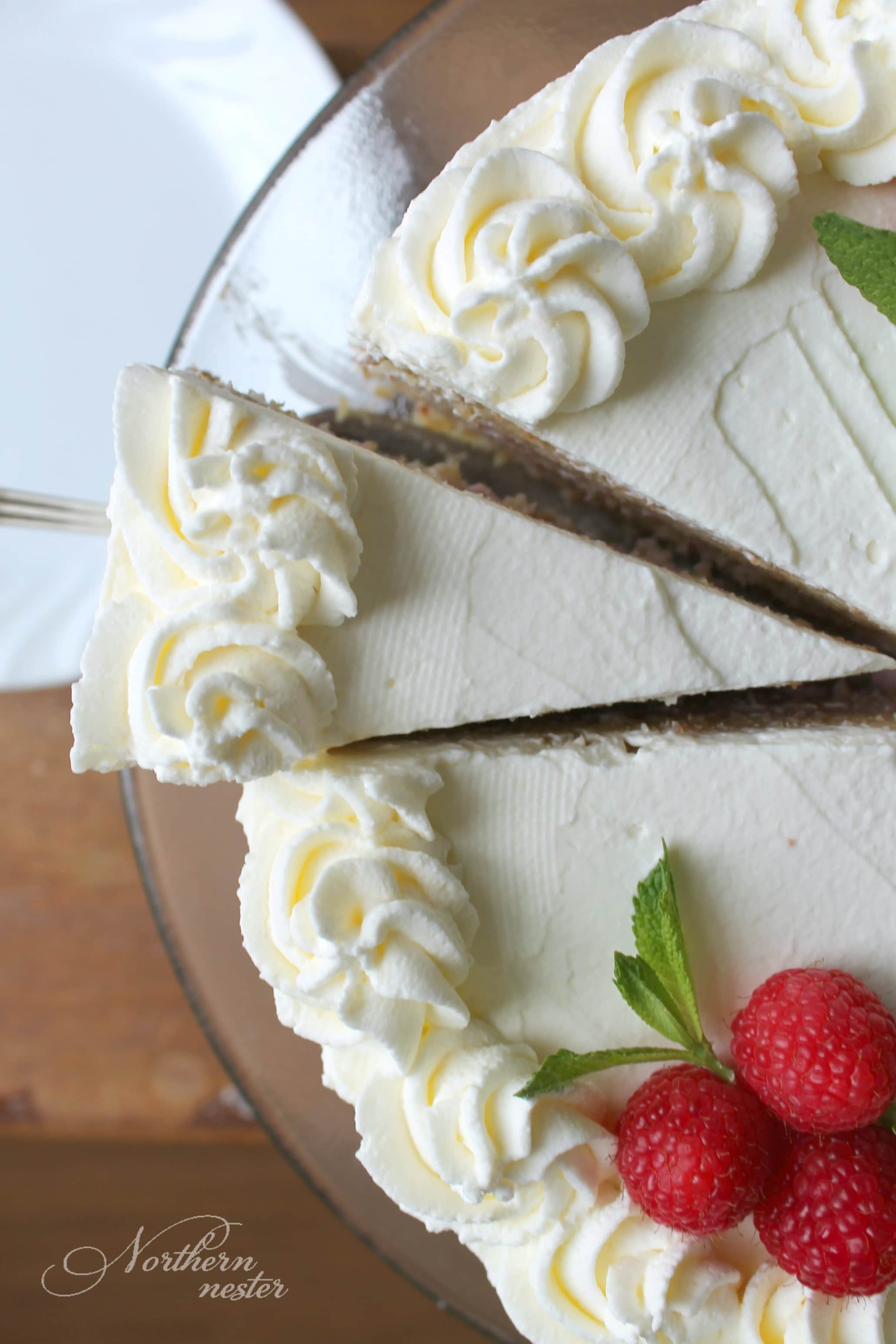 Yield: 16-20 servings
Lemon Raspberry Mousse Cake | THM: S
You would never believe that this stunning Lemon Raspberry Mousse Cake is sugar-free, low-carb, gluten-free and Trim Healthy Mama-friendly! Sometimes things that look and taste too good be true....aren't!

Prep Time 25 minutes

Cook Time 30 minutes

Additional Time 4 hours 5 minutes

Total Time 5 hours
Ingredients
CAKE:
1 1/2 cups xylitol (OR 3/4 cup Gentle Sweet)
1 1/2 cups Greek yogurt (any fat)
6 eggs
3/4 cup melted butter
2 tsp lemon extract
2/3 cup almond flour
2/3 cup coconut flour
2/3 cup golden flaxseed meal
4 tsp baking powder
1 tsp mineral salt
Optional: zest of one lemon
MOUSSE
1 Tbsp gelatin
2 cups raspberries, frozen
1/4 cup xylitol (OR 2 Tbsp Gentle Sweet)
4 oz. cream cheese softened
1 cup whipping cream
WHIPPED CREAM FROSTING
1 1/2 cup whipping cream
3 Tbsp xylitol (OR 1 1/2 Tbsp Gentle Sweet)
GARNISH
fresh raspberries
mint leaves
Instructions
Preheat oven to 350 F. Line two 9" round baking pans with parchment paper and grease the sides.
In a large bowl or stand mixer, beat sweetener, yogurt, eggs, melted butter, lemon extract, and optional lemon zest together for 2-3 minutes or until light and smooth.
In a separate bowl, stir almond flour, coconut flour, golden flaxseed meal (OR use 2 cups of Trim Healthy Mama Baking Blend instead of these 3 ingredients), baking powder, and salt together. Add to wet ingredients and stir until well-combined.
Pour into prepared pans. Bake in preheated oven for 30 minutes, or until a toothpick comes out clean. Cool completely. Slice each cake in half horizontally so you have 4 cake layers.
To make the mousse filling, bring berries and sweetener to a boil in a saucepan until they become liquid. In the meantime, soften gelatin in another dish by pouring 1/4 cup of water over the top of the powder. Set aside. Remove berries from heat and press through a fine sieve or cheesecloth. Return to stove and stir in the softened gelatin until completely dissolved. Remove from heat and cool slightly. Beat in cream cheese. Beat whipping cream in a separate bowl and fold into berry mixture. Chill in the fridge for an hour or 2 until thick enough to spread onto cake.
To assemble the dessert, place the first cake layer on a serving plate. Carefully spread on 1/3 the mousse. Repeat 2 more times, ending with 4th cake layer on top.
Beat whipping cream and sweetener together until stiff. Pipe or spread onto sides of the cake. Refrigerate until ready to serve. Garnish with fresh berries and mint before serving.