Sometimes, when Brad and I go on a date, we choose two appetizers to share between us instead of having an entree each. It's usually cheaper, and it's a great option if we're not feeling very hungry.
If we go to Kelsey's, Brad almost always orders their spinach dip with pita chips. Last week, I shared it with him and we mulled over how to re-create their recipe so we could enjoy it at home. It obviously contained spinach, cheese, and tomatoes, and I was pretty sure I could detect nutmeg and garlic, so that's where I started.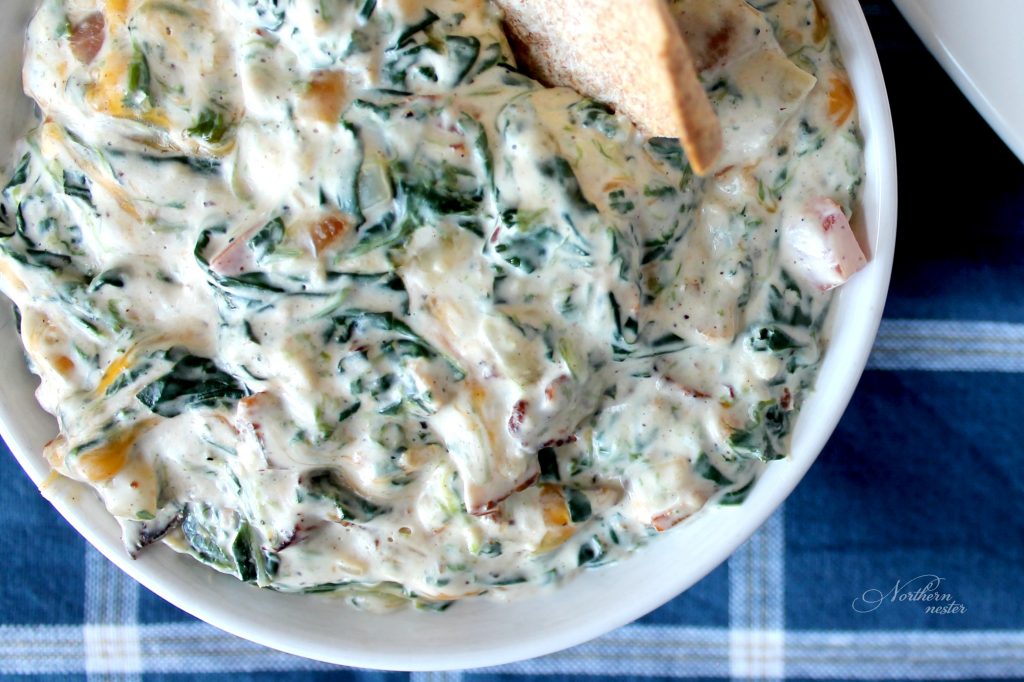 After a couple alterations, this recipe is final result and we both think it tastes incredibly close to the real thing! It's a low-carb, sugar-free THM S. I made low-carb chips to use as dippers out of low-carb tortillas and baked them until crunchy. To keep yourself in S territory, limit your chip serving to 10-12 chips (approx. 1 1/2 low carb tortillas), and pile on the dip! You could also use pepper or cucumber slices as dippers, too.
Yield: 8 servings
Kelsey's Spinach Dip Copycat Recipe | THM: S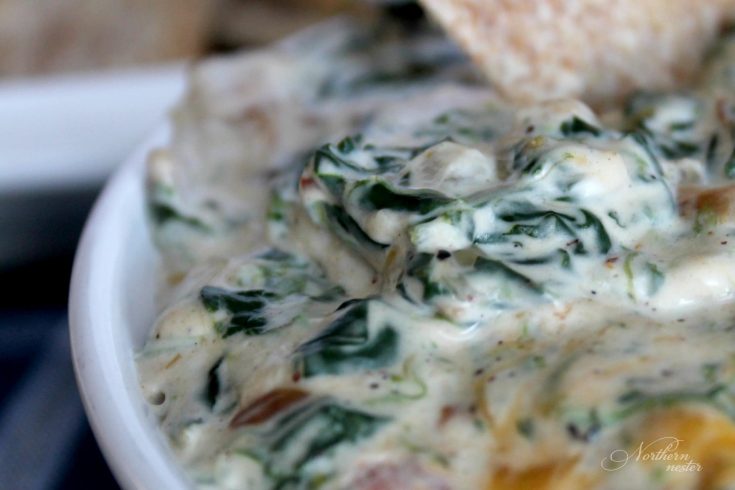 This warm, creamy, flavorful spinach dip tastes just like Kelsey's infamous appetizer! Delicious as a THM S with low-carb oven-baked chips or served with pepper and cucumber slices.

Prep Time 20 minutes

Cook Time 12 minutes

Additional Time 3 minutes

Total Time 35 minutes
Ingredients
1 package of bacon
1/2 onion, finely chopped
5 cups fresh baby spinach leaves
2 garlic cloves, minced
1 8 oz. package of cream cheese
1/3 cup heavy cream
1 Tbsp butter
1/2 tsp mineral salt
1/4 tsp ground nutmeg
1/4 tsp ground pepper
1/4 cup finely diced tomatoes
1/2 cup grated cheddar
Instructions
In a large skillet, fry bacon until medium crisp and set aside. Drain all but 1 tablespoon of bacon grease from the pan. Saute onions in bacon grease until clear. Add spinach and cook until wilted. Add garlic and cook for 1 more minute. Add cream cheese, heavy cream, butter, salt, nutmeg, and pepper; cook and stir smooth. Remove from heat and stir in tomatoes and cheddar cheese. Serve immediately, or, store in the refrigerator and reheat, covered, when needed.
To make low-carb dipping chips, use a pizza cutter to slice 4-6 low-carb wraps into 8 pieces each each. Spread in a single layer on a baking sheet and sprinkle on a little salt. Bake for 6 minutes. Flip chips with tongs, and bake for 6 more minutes or until they begin turning golden.
Notes
To keep this appetizer in an S setting, limit yourself to 10-12 chips, and pile on the dip! If you still want more, enjoy the dip with sliced green pepper or cucumber slices.