'Boterkoek' means "butter cake" in Dutch, and is an essential part of our cuisine! It has a delectable, rich, buttery almond flavor that pairs well with a warm cup of coffee, but the original recipe is anything but slimming.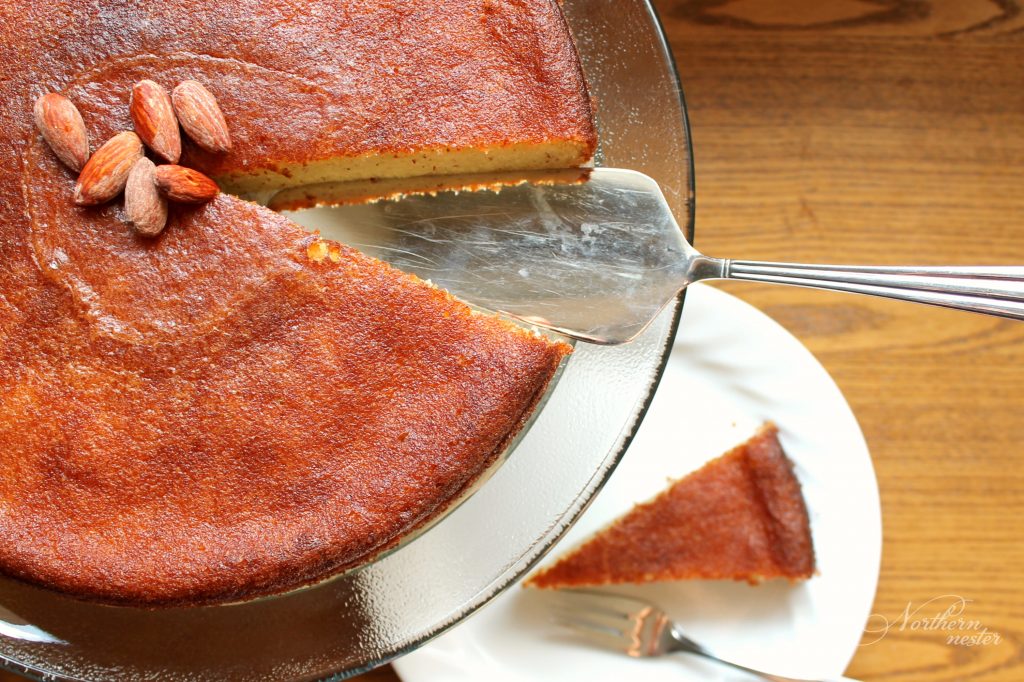 Growing up, 'Boterkoek' was a regular snack in our house as it was easy to make and everyone loved it. Since starting Trim Healthy Mama, I've lost track of how many times I've tried to create a gluten-free, sugar-free version of this Dutch staple. It would either come out too oily, too crumbly, or too almond-y. But yesterday, after the umpteenth try, I think I got it!
The true test came when I offered my husband a piece. (For better or for worse, he always gives me his honest opinion about food. He knows that if he says he loves it, I'll be sure to make it again and he'll be the one eating it. 😀 ) He indulged me by closing his eyes and putting his full concentration into savoring the first bite. "Mmmmm. Tastes like the real thing!"
I did a happy dance.
He laughed.
(With me, not at me, of course.)
Admittedly, the texture is slightly different than traditional boterkoek. This one is feels lighter and isn't quite as chewy. It's a bit spongier, but just as satisfying and the flavor is the same. Plus, this boterkoek is gluten-free, sugar-free, and a perfect THM S, so I'm happy!
I hope you love it, too.
Yield: 10
Gluten-free, Sugar-free 'Boterkoek' | THM: S
This 'Boterkoek' is a gluten-free, sugar-free, THM S version of the classic, rich, buttery, almond-flavored Dutch cake!
Ingredients
2/3 cup unsalted butter
5 large eggs
1/2 cup whipping cream
2 tsp almond extract
1/2 cup xylitol (OR 1/4 cup Gentle Sweet, OR 1 1/2 Tbsp Super Sweet)
1 cup almond flour
1/4 cup coconut flour
2 tsp baking powder
Instructions
Preheat oven to 350. Line bottom of springform pan with parchment paper and butter lightly.
Melt butter. Set aside and let it cool.
Beat eggs for 5 minutes until very light and fluffy. Add in cooled, melted butter, whipping cream, and almond extract. Beat again until thoroughly combined.
In a separate bowl, stir xylitol (or other sweetener), flours, and baking powder together. Add to wet ingredients and beat once more to combine.
Pour batter into prepared pan and bake for 30-35 minutes until knife comes out clean. Cool.
Notes
To keep your parchment paper from making lines on the side of your cake, fold the paper over the base of the springform and then add the sides to "seal" it in place.
Run a knife around the cake after it has cooled to remove the springform easily.