What's creamy, saucy, cheesy, spicy and full of protein?
These Creamy Jalapeno Popper Chicken Thighs, that's what!
Made without any special ingredients, this Trim Healthy Mama S main dish couldn't be easier to prepare either. It contains very few carbs, is loaded with good fats and great flavor, and is compatible with low-carb, keto, and gluten-free diets, too.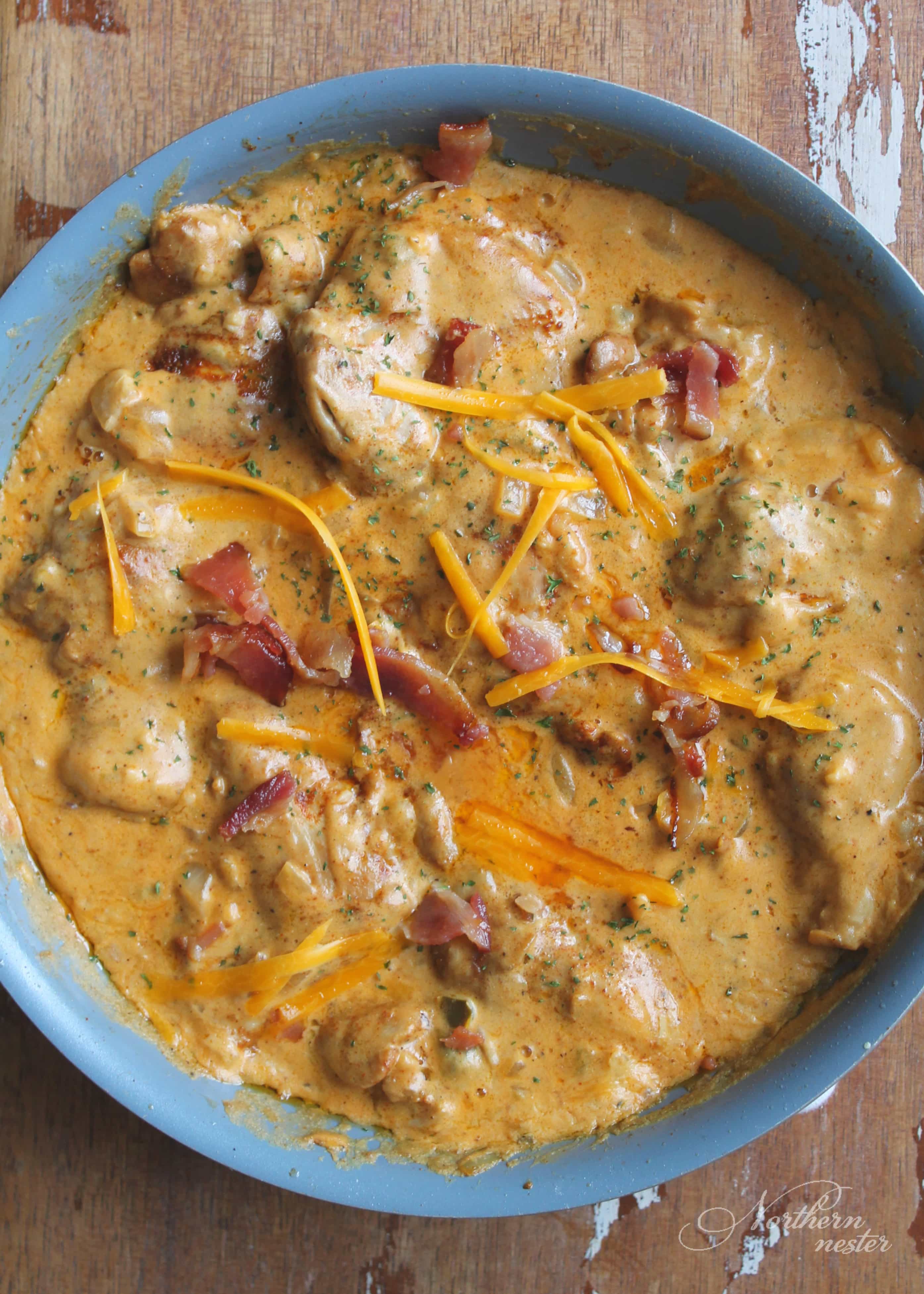 I love it when a new recipe is received exceptionally well with my husband. His palate is the one I'm most interested in pleasing, and his reaction to these Creamy Jalapeno Popper Chicken Thighs did not disappoint!
He oohed and aahed over each mouthful, and when I asked if this was a good meal to introduce the plan to a would be Trim Healthy Man, he said, "Totally. This would get him hooked."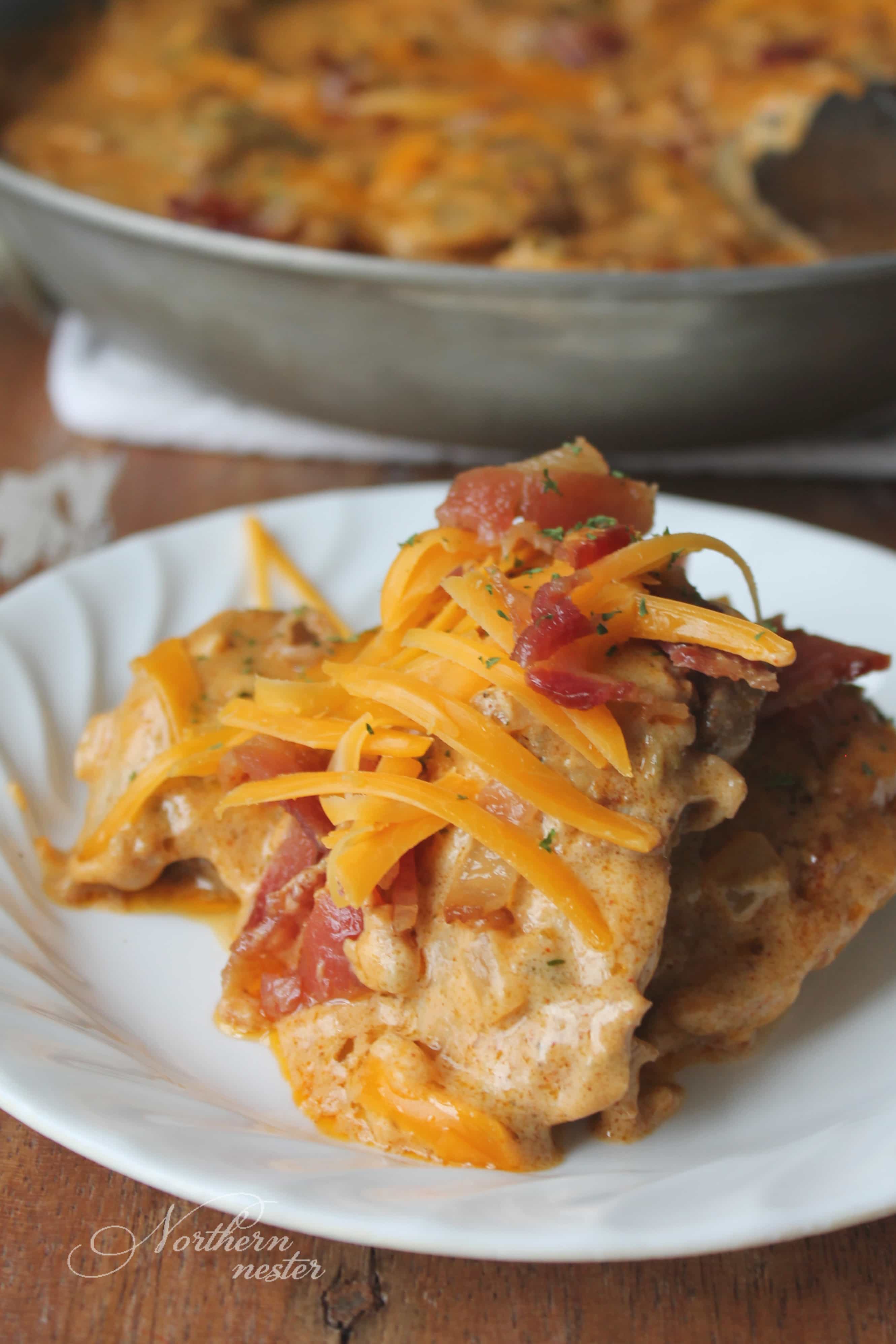 My hubby enjoyed the leftovers the following day for his lunch and was every bit as pleased as the night before. It's such a satisfying, flavorful meal: perfect for pairing with a low-carb vegetable side or salad.
Alternatively, you could cut up the chicken thighs into bite-sized pieces and use as a filling in a low-carb wrap with sour cream, lettuce, a bit of fresh tomato, and chopped up cucumber slices!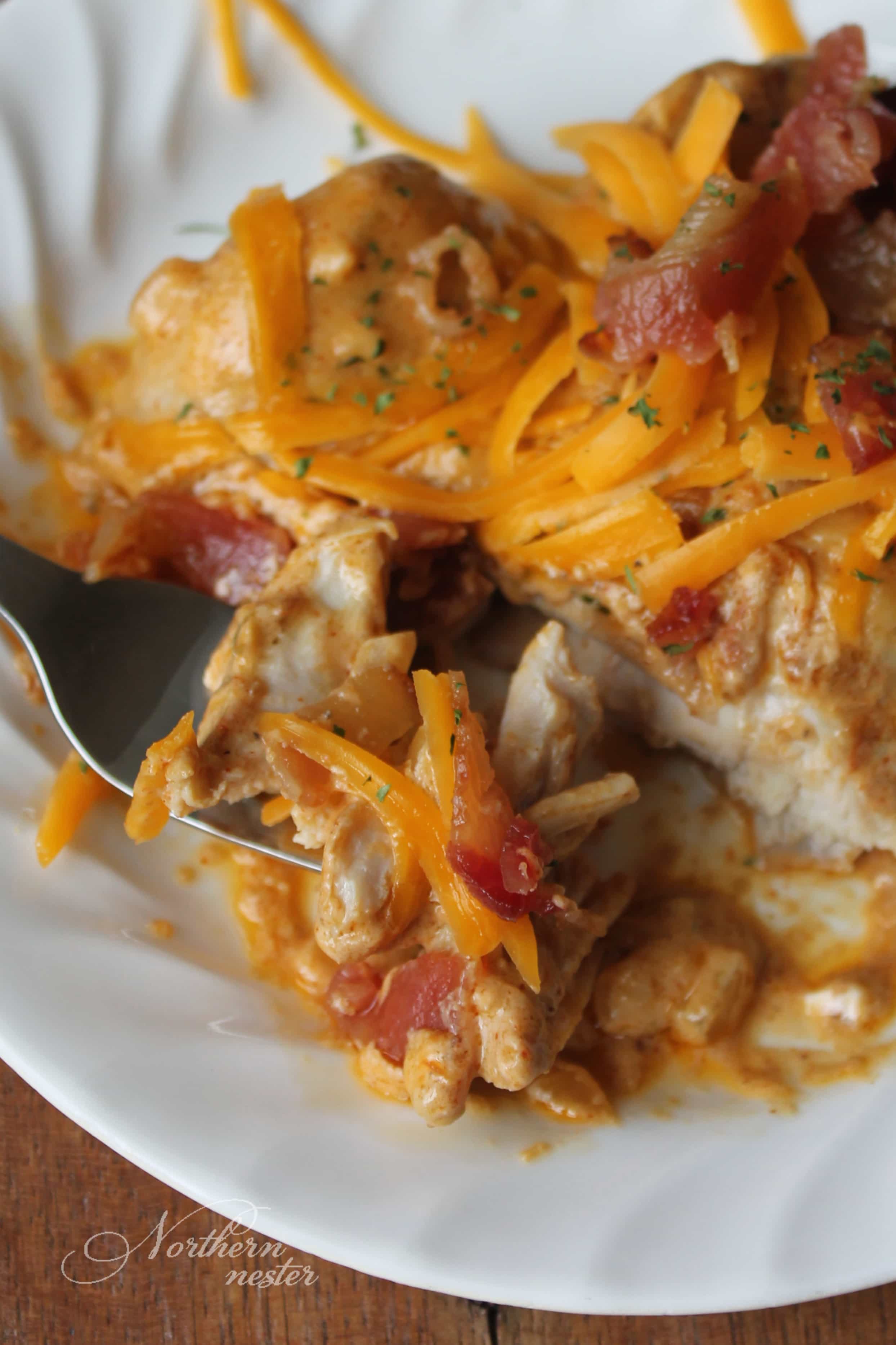 Yield: 4-6 servings
Creamy Jalapeno Popper Chicken Thighs | THM: S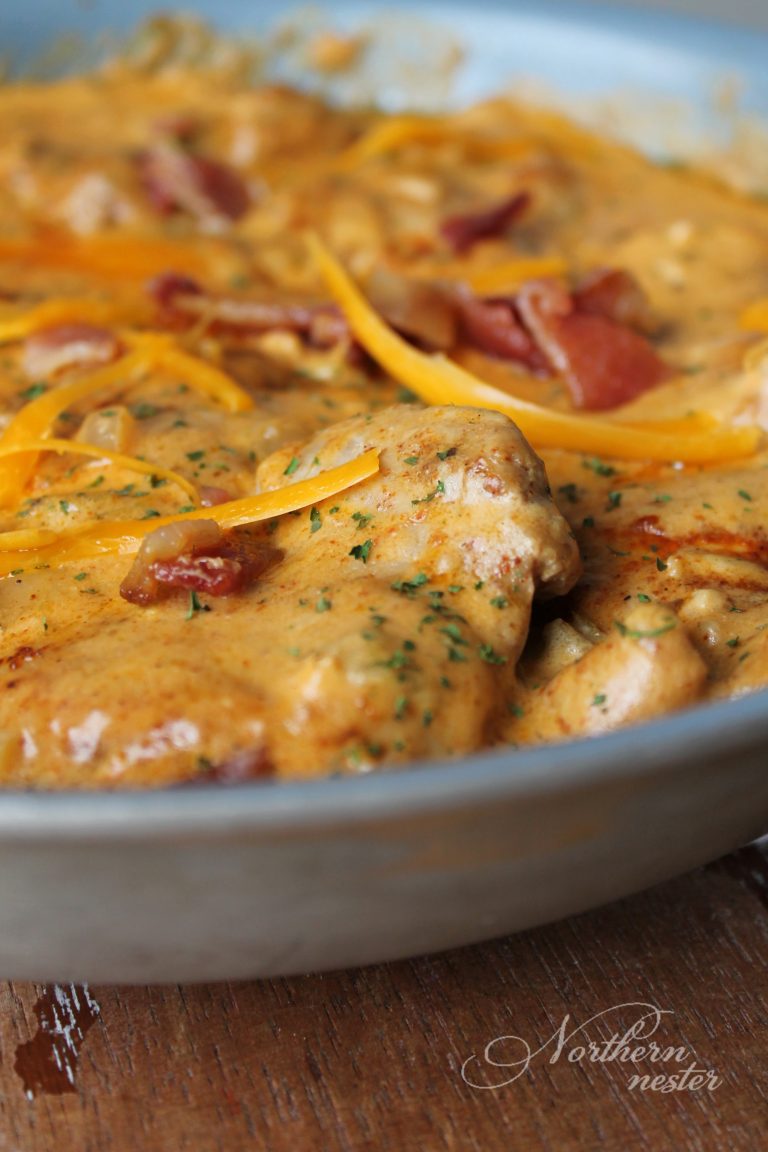 These Creamy Jalapeno Popper Chicken Thighs are creamy, saucy, cheesy, spicy, and full of protein! A majorly man-pleasing THM S main dish with no special ingredients.
Ingredients
1 tbsp butter or olive oil
6-8 boneless, skinless chicken thighs
2 tsp chili powder (decrease if you don't like strong spice)
1 tsp cumin
1/4 tsp mineral salt
1/2 cup diced onion
1/4 cup diced pickled jalapenos
2 garlic cloves, minced
ground pepper, to taste
1/2 cup chicken broth
4 oz. cream cheese
1 cup cheddar cheese
1 cup fried and crumbled bacon
Instructions
Melt butter in a large skillet or frying pan over medium heat. Add chicken thighs. Season with chili powder, cumin, and mineral salt. Fry chicken thighs on both sides until cooked through. Remove chicken from skillet and set aside.
Add diced onion and jalapeno to meat drippings and cook for 5 minutes, or until onion is translucent. Add minced garlic. Cook for 1 minute longer. Sprinkle with black pepper to taste. Add in chicken broth and cream cheese. Cook and stir until smooth. Stir in cheddar cheese and bacon crumbles until cheese is melted. Return chicken thighs to pan and coat in sauce. Cover and simmer for 7-9 minutes. Serve and enjoy!
Looking for other great Trim Healthy Mama Chicken Thigh recipes? Try these favorites!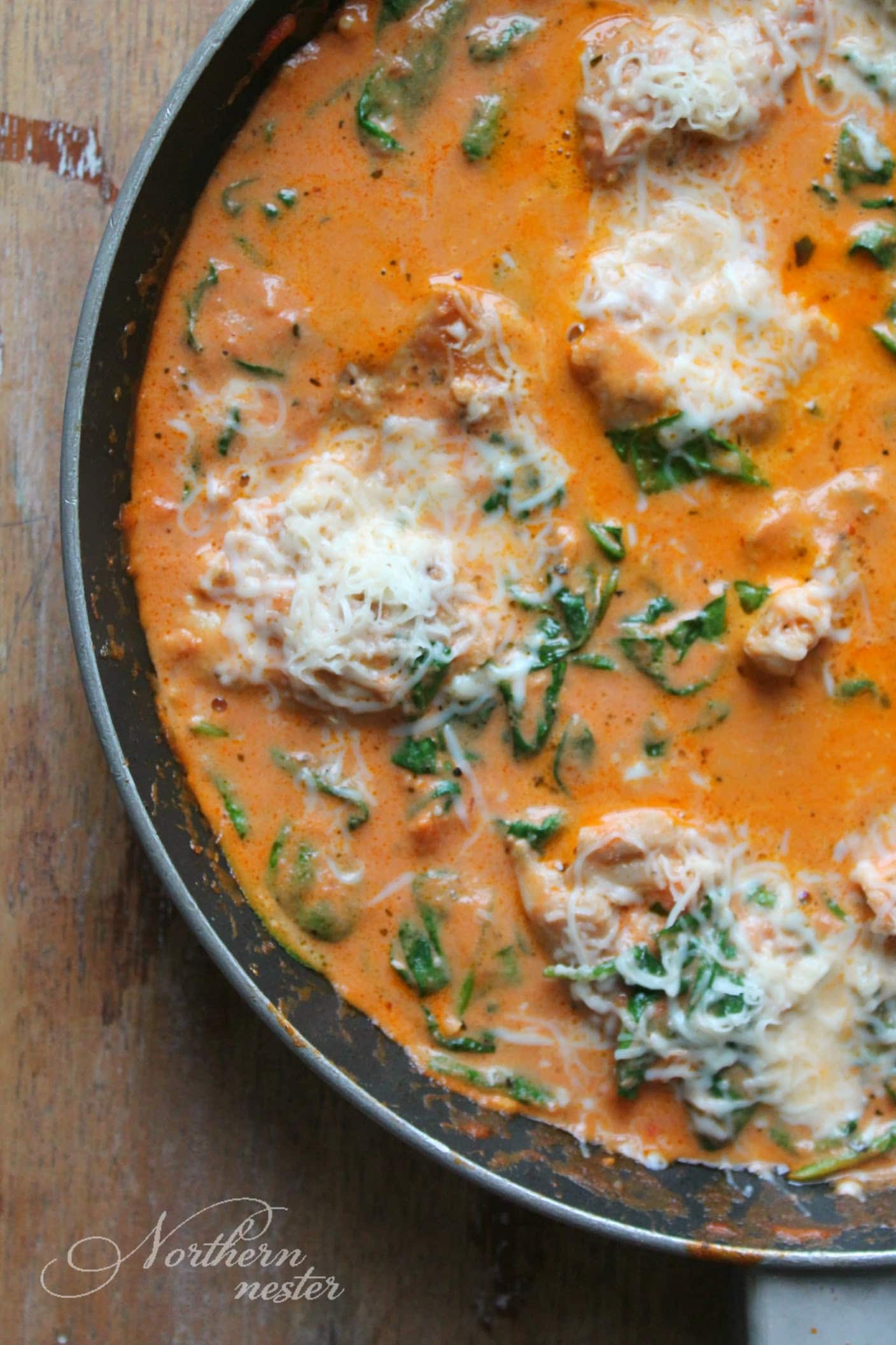 Chicken Thighs In Creamy Tomato Spinach Sauce (S)
Maple Mustard Bacon-Wrapped Chicken Thighs (S)
BBQ Chicken (S or FP)