I've been making BBQ chicken this way since we got married, except pre-THM, I used brown sugar and regular ketchup in my sauce, and now I achieve the same effect with stevia, a touch of molasses, and tomato paste!
This BBQ chicken in a low-carb wrap is one of my husband's favorite suppers, and I love to make it because, aside from it getting two thumbs up from the whole family, it also comes together in less than half an hour.
And, you don't even need to fire up the BBQ!
It's the perfect week night meal, and it can be enjoyed as a Trim Healthy Mama-friendly S or Fuel Pull.
Using chicken thighs, the fattier part of a chicken, results in a succulent S that's perfect for stuffing into romaine lettuce boats or low-carb wraps and topping with cheese and sour cream. If you use a low-carb wrap (a personal choice item, since it contains off-plan ingredients), limit yourself to one to stay within the carb limitations for an S meal, but pack it full of BBQ'd chicken, cheese, lettuce, sour cream and other non-starchy vegetables like peppers or a few cucumber slices.
Low-Carb Mission Wraps (A personal choice item/ "Frankenfood" due to off-plan ingredients)
If you use chicken breasts in this recipe, you'll have a Fuel Pull that you can enjoy with non-starchy veggies in a salad; or, you can use it in an E meal and serve the BBQ chicken over rice!
Better Stevia
I don't normally usually stevia in my recipes (except for in my GGMS drinks), because I'm not a fan of the aftertaste. However, it is completely undetectable in the BBQ sauce here, and since you only need 1/8 of a teaspoon, it's also a very frugal sugar-free substitute.
Pure Unsulphered Molasses
A touch of molasses mixed with chili powder, sea salt, ground pepper, tomato paste, and white vinegar provide an authentic, mild BBQ flavor that's pleasing to adults and kids alike. No special ingredients required!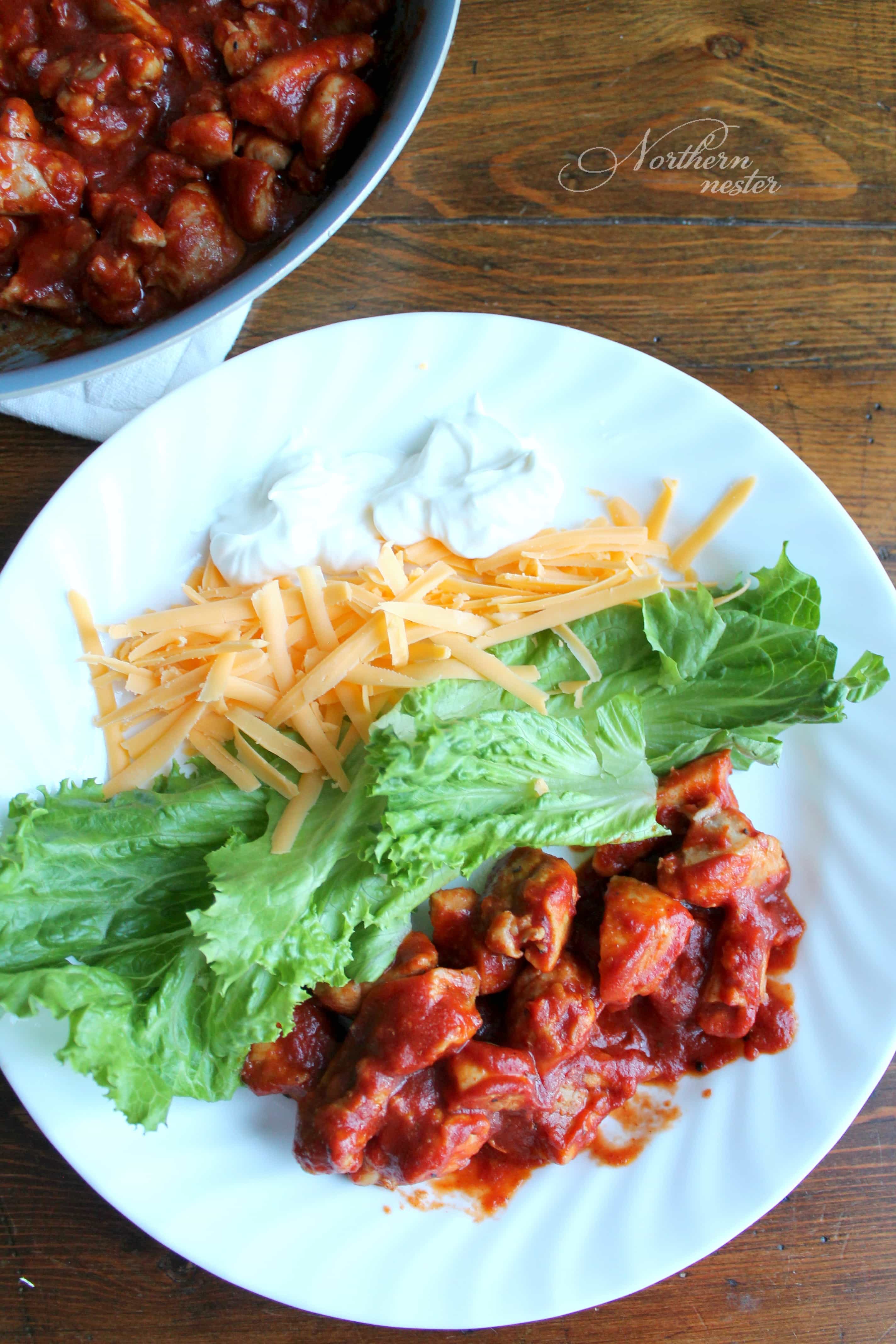 Yield: 6 servings
BBQ Chicken | THM: S or FP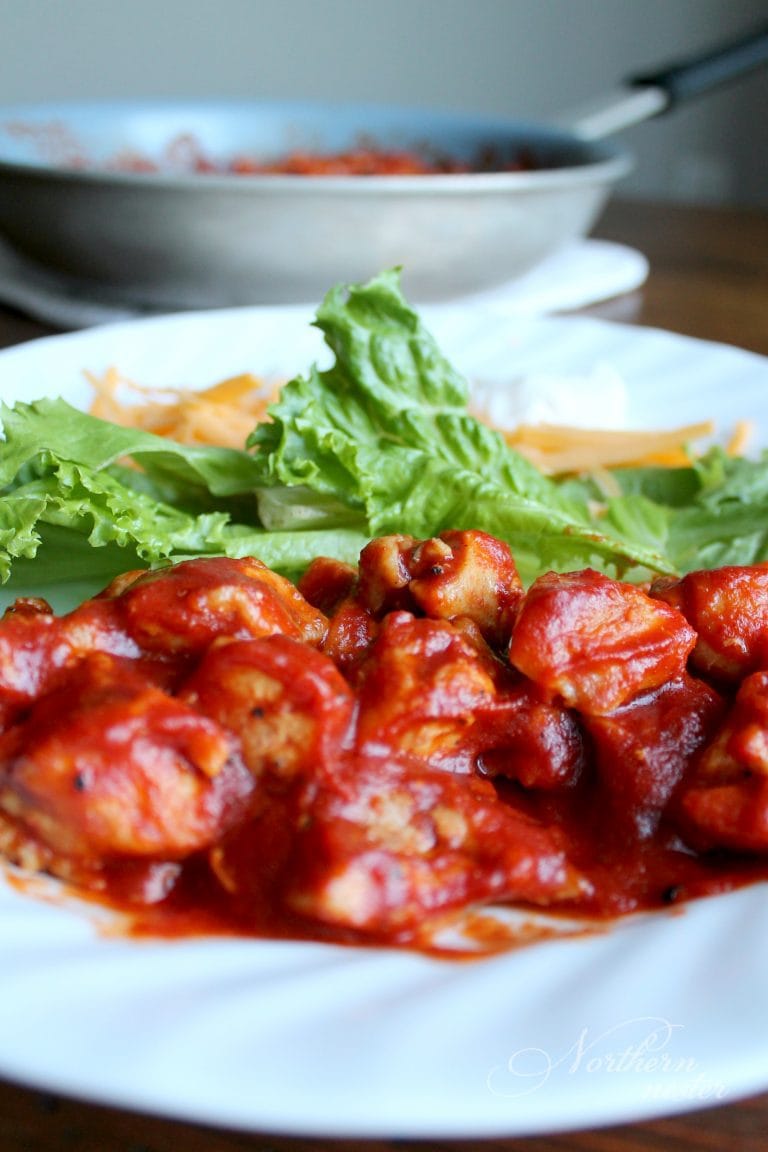 With less than 30 minutes from prep to table, this BBQ chicken is the perfect weeknight meal. It can be a THM S or FP depending on whether you choose to use chicken thighs (S), or chicken breasts (FP). Stuff in romaine lettuce boats, low-carb wraps, or serve over rice!

Prep Time 7 minutes

Cook Time 15 minutes

Additional Time 3 minutes

Total Time 25 minutes
Ingredients
1 Tbsp butter
8-10 boneless, skinless chicken thighs or 4 chicken breasts
1 1/2 tsp chili powder, divided
1 tsp sea salt, divided
1/4 tsp ground pepper, divided
1/8 tsp stevia
1 tsp molasses
1 5.5 oz can tomato paste
2 Tbsp white vinegar
Instructions
Melt butter in a large frying pan or skillet over medium heat. Cut chicken into bite-sized pieces before adding them to the pan. Sprinkle on 1/2 tsp chili powder, 1/2 tsp sea salt, and 1/8 tsp of ground pepper. Brown chicken in butter and spices, then cover with lid and cook for 5-10 minutes until chicken is cooked through and juices run clear. (Do not discard juices!)
Whisk remaining 1 tsp chili powder, 1/2 tsp sea salt, 1/8 tsp ground pepper, stevia, molasses, tomato paste, and vinegar together in a bowl. Add to chicken, stirring constantly, until chicken is smothered in sauce. Low to minimum heat and cover to keep warm until serving.
Notes
You can make this recipe dairy-free by using coconut or olive oil instead of butter. It's also gluten-free, egg-free, soy-free, and nut-free!