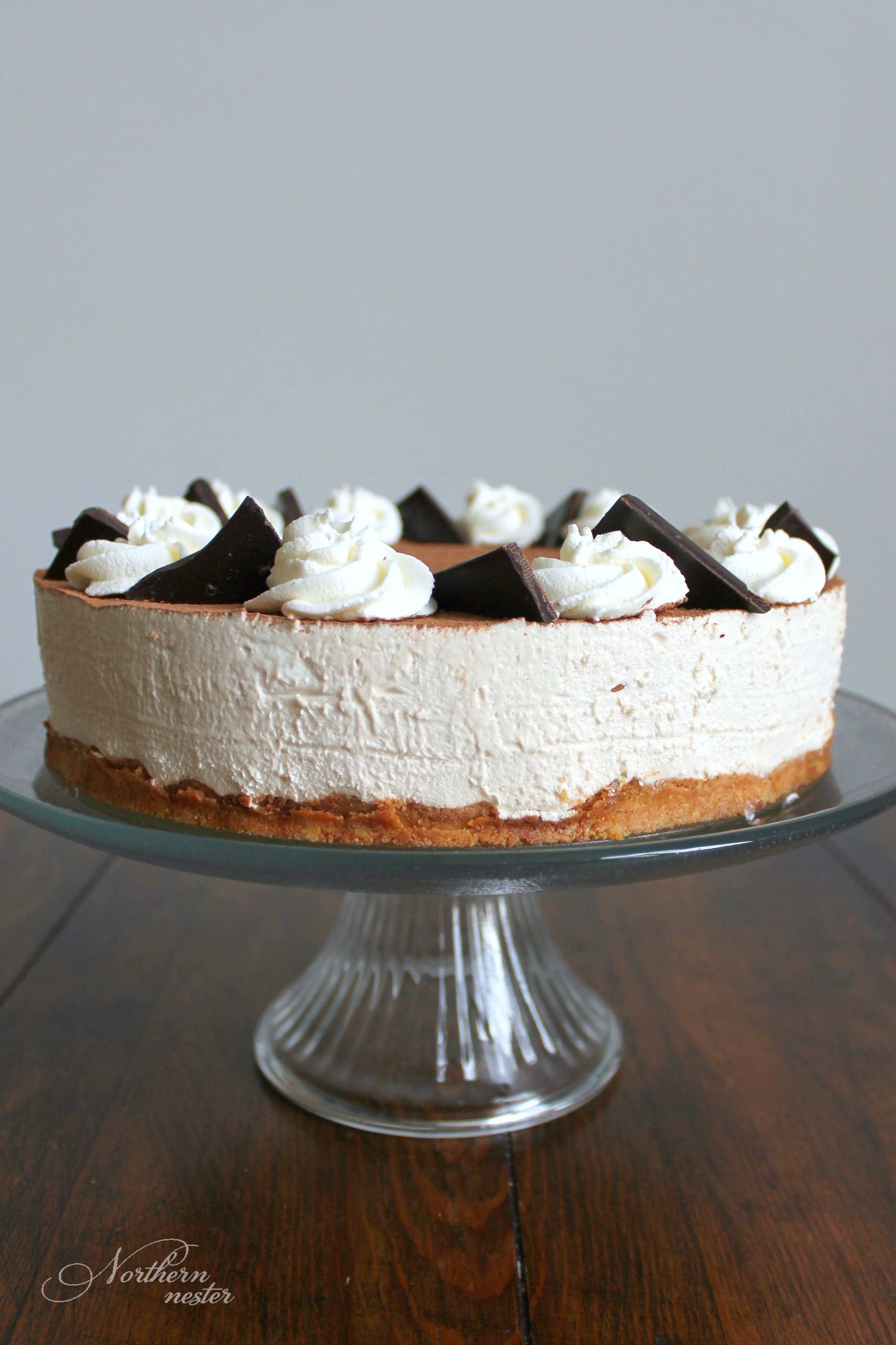 I think I may have mentioned before that I have weakness for anything coffee or mocha-flavored. As you can imagine, this no-bake cappuccino cheesecake was pretty hard to stay away from! Thankfully, I can enjoy it without spiking my blood sugar; it's a low-carb, sugar-free, gluten-free, keto, and Trim Healthy Mama-friendly S dessert made without any special ingredients. You will want to make this dessert the day before you need it, since it takes 8 hours to set in the fridge.
The simple crust is made from melted butter, sweetener (I used xylitol, but you can use Gentle Sweet in half the amount), and almond flour. I use this crust in a lot of my dessert recipes because it's so quick, easy, and delicious. If you prefer a lighter crust, feel free to use another on-plan favorite (there are several options in the Trim Healthy Mama Cookboo!).
9″ Springform Pan
I love to use springform pans for cheesecakes and other desserts that are set with gelatin because it makes for a lovely presentation; however, this recipe will work just as well in an other 9″ baking dish.
The no-bake filling is made by beating cream cheese and sour cream together with sweetener, followed by unflavored gelatin (I recommend Just Gelatin or Great Lakes, but Knox will work, too) that has been dissolved in strong coffee. Fold in a little whipped cream, refrigerate, dust with cocoa powder, and you're done…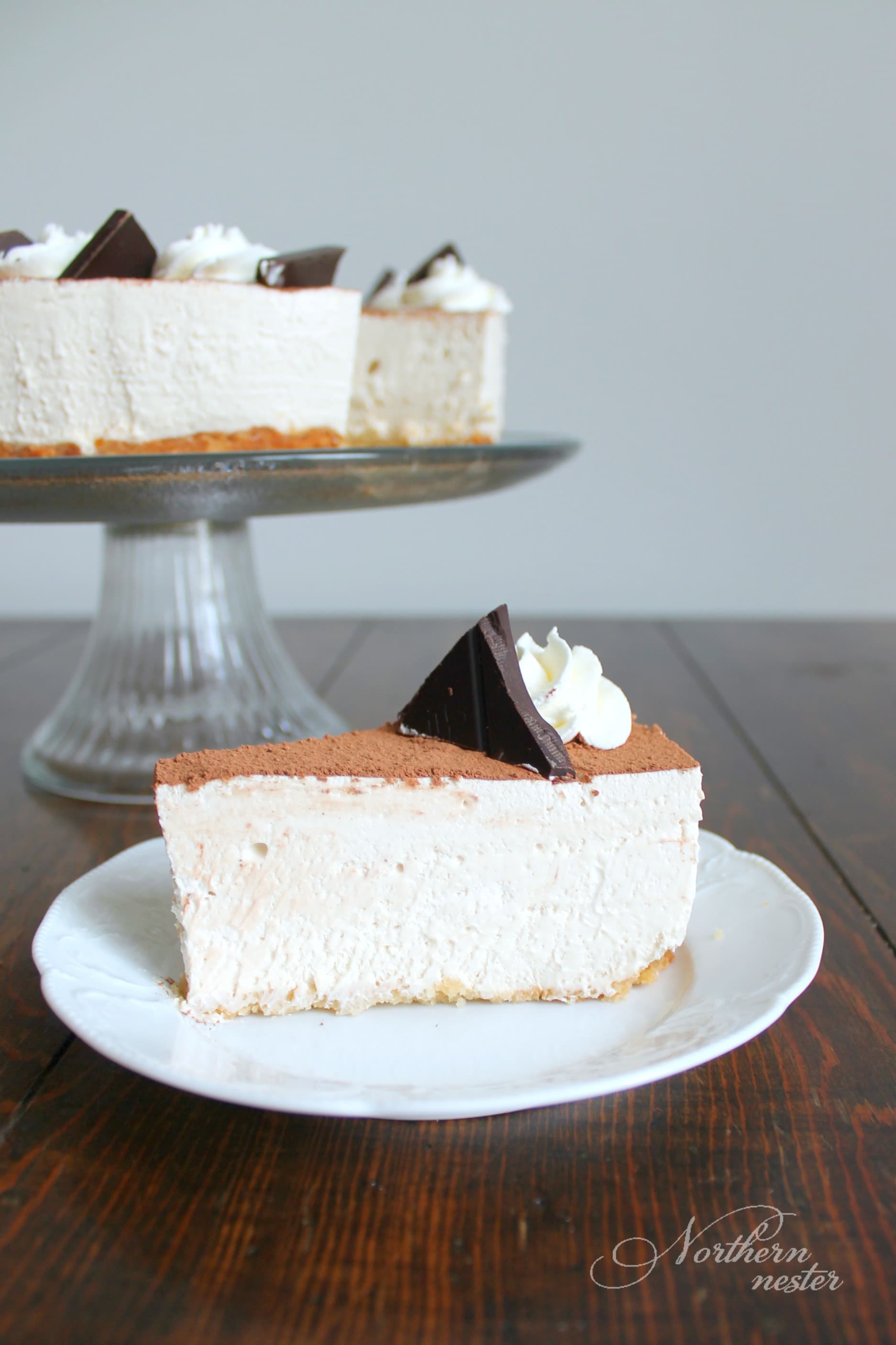 …unless you're like me, and need to add a little more garnish. In this case, I piped on a few dollops of whipped cream and inserted a piece of chocolate in between each of them.
Lily's stevia-sweetened Dark Chocolate Bar
85% Lindt chocolate works well with the cappuccino flavored filling, or, if you prefer something sweeter, a square of stevia-sweetened chocolate like Lily's works, too. Originally, I had made this cake with truffles on top, but it was too labor-intensive and who needs that?!
Fine Sieves for Cocoa Powder dusting!
The trick to getting your cake nicely dusted with cocoa powder (as opposed to clumpy!), is to pour a little cocoa powder into a fine sieve and tap it gently over top of your cheesecake. If you really want to make an impression, you can cut a design out of paper, place it gently on your cake, tap the cocoa powder over top, and then carefully remove it to see the inverse picture! A tree for Christmas, a heart for Valentine's Day…you get the idea!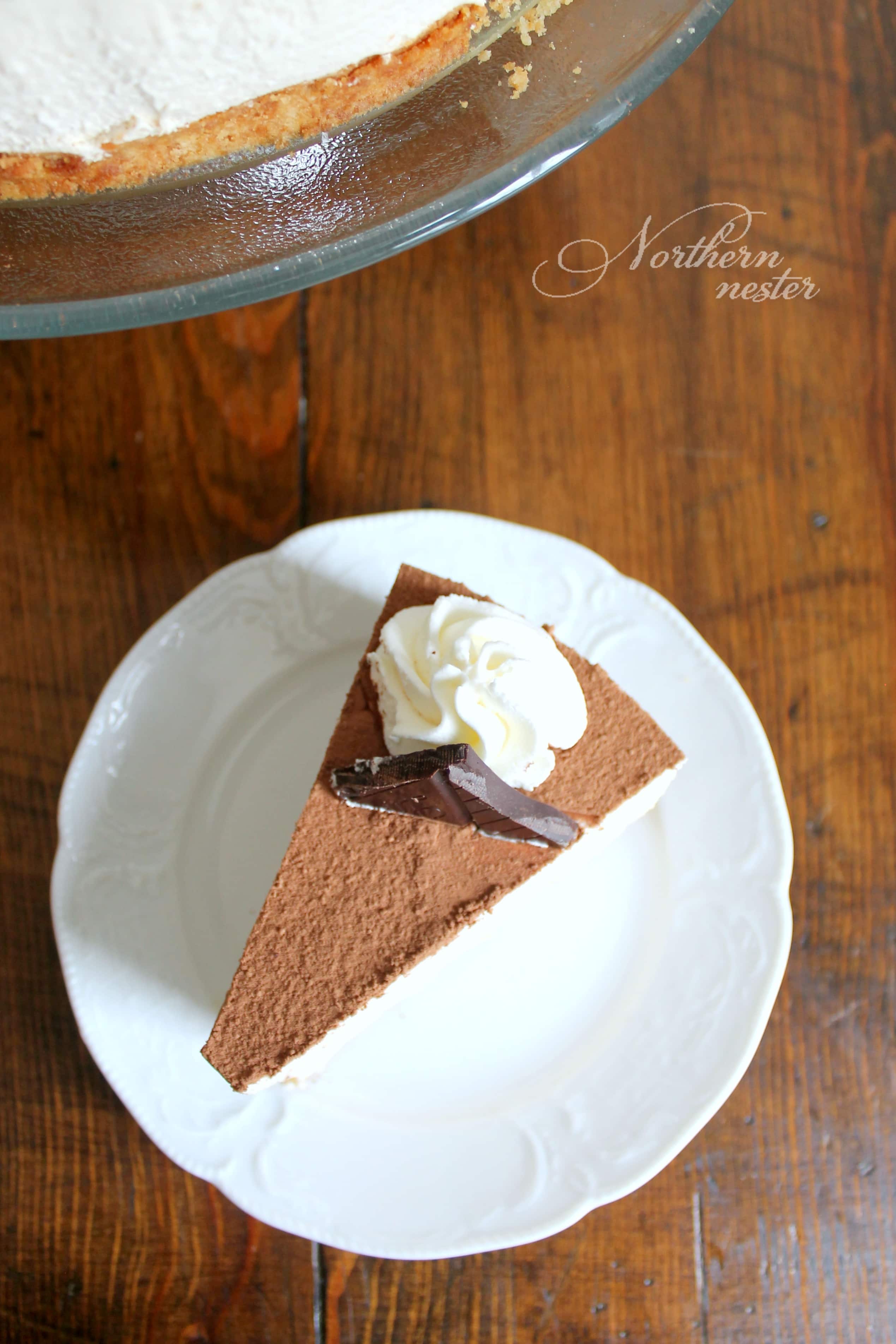 Yield: 16 servings
Cappuccino Cake
This low-carb, no-bake cappuccino cheesecake is the perfect ending to your meal. Not too sweet and made without any special ingredients, it's a Satisfying Trim Healthy Mama-friendly dessert!

Prep Time 20 minutes

Cook Time 10 minutes

Additional Time 11 hours 30 minutes

Total Time 12 hours
Ingredients
CRUST:
1/4 cup butter
1 Tbsp xylitol (OR 1/2 Tbsp Gentle Sweet)
1 1/4 cups almond flour
CAPPUCCINO FILLING:
4 tsp unflavored gelatin
2/3 cup strong coffee, cooled
2 8oz. pgks cream cheese softened
1/2 cup sour cream
2/3 cup xylitol (OR 1/3 cup Gentle Sweet)
1 cup whipping cream
GARNISH
cocoa powder for dusting
1/2 cup whipping cream
1 Tbsp xylitol ( OR 1/2 Tbsp Gentle Sweet)
16 pieces of an on-plan chocolate bar (85% Lindt or Lily's)
Instructions
To make the crust, melt butter and xylitol together. Stir in almond flour. Press into a 9" springform pan and bake at 350 for 10-15 minutes, or until golden brown. Cool completely.
To make the cappuccino cheesecake layer, sprinkle gelatin over coffee in a small saucepan and let stand for 1 minute. Heat and stir on low until gelatin is completely dissolved. Cool slightly.
Beat cream cheese, sour cream, and xylitol together in a large bowl until smooth. Add gelatin mixture and beat again. In a separate bowl, beat whipping cream until stiff peaks form. Fold into cream cheese mixture. Spread over cake layer. Cover and chill in the fridge for 8 hours or overnight. Remove sides of the springform.
For the garnish, dust cake with cocoa powder by sprinkling on through a fine sieve. Beat whipping cream and sweetener together. Pipe 16 rosettes (1 per slice) onto the cheesecake. Insert a piece of chocolate between each one. Slice and serve!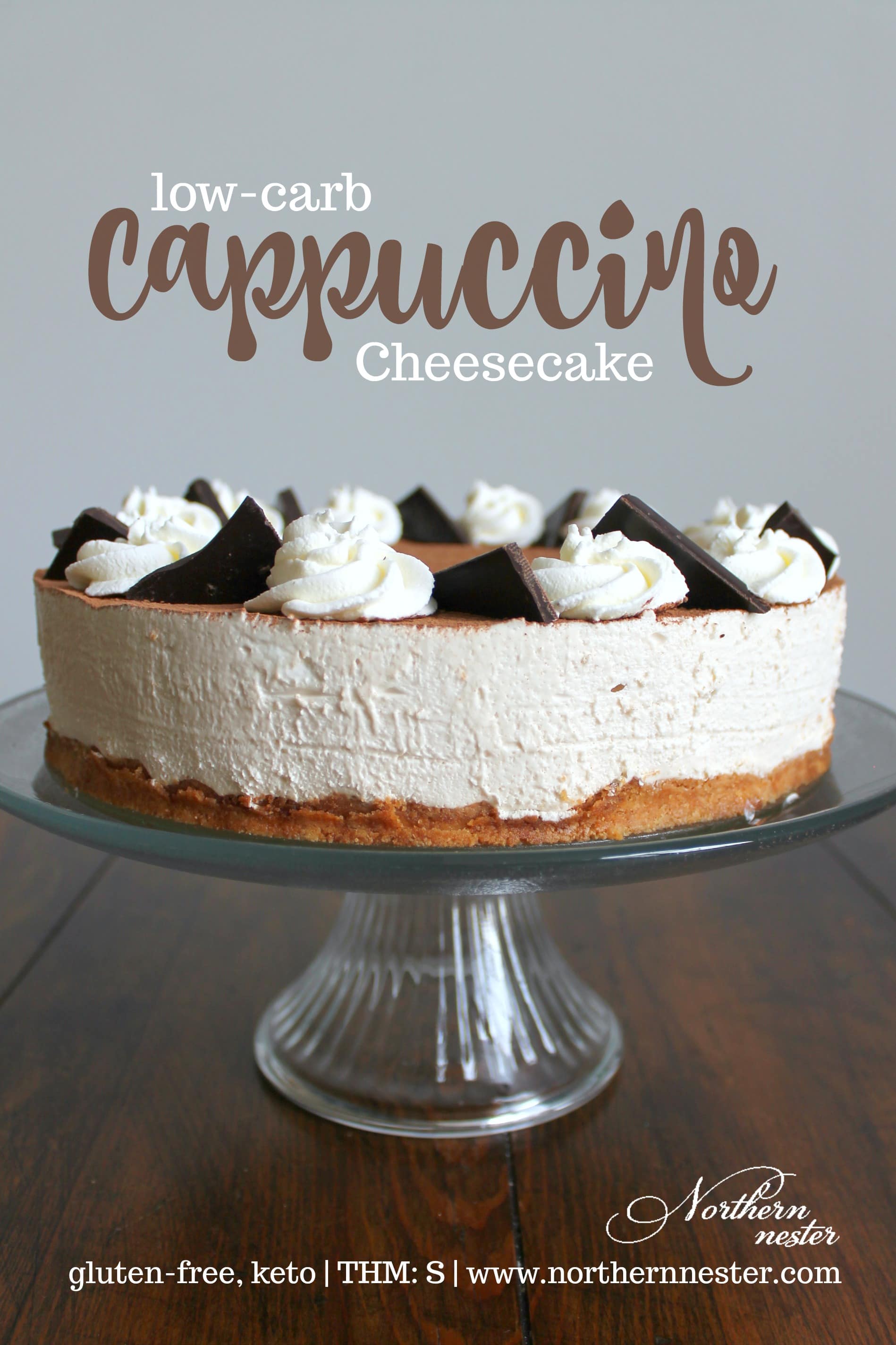 Cappuccino not really your flavor? How about peanut butter?! This on-plan, no-bake peanut butter cheesecake is just as easy!