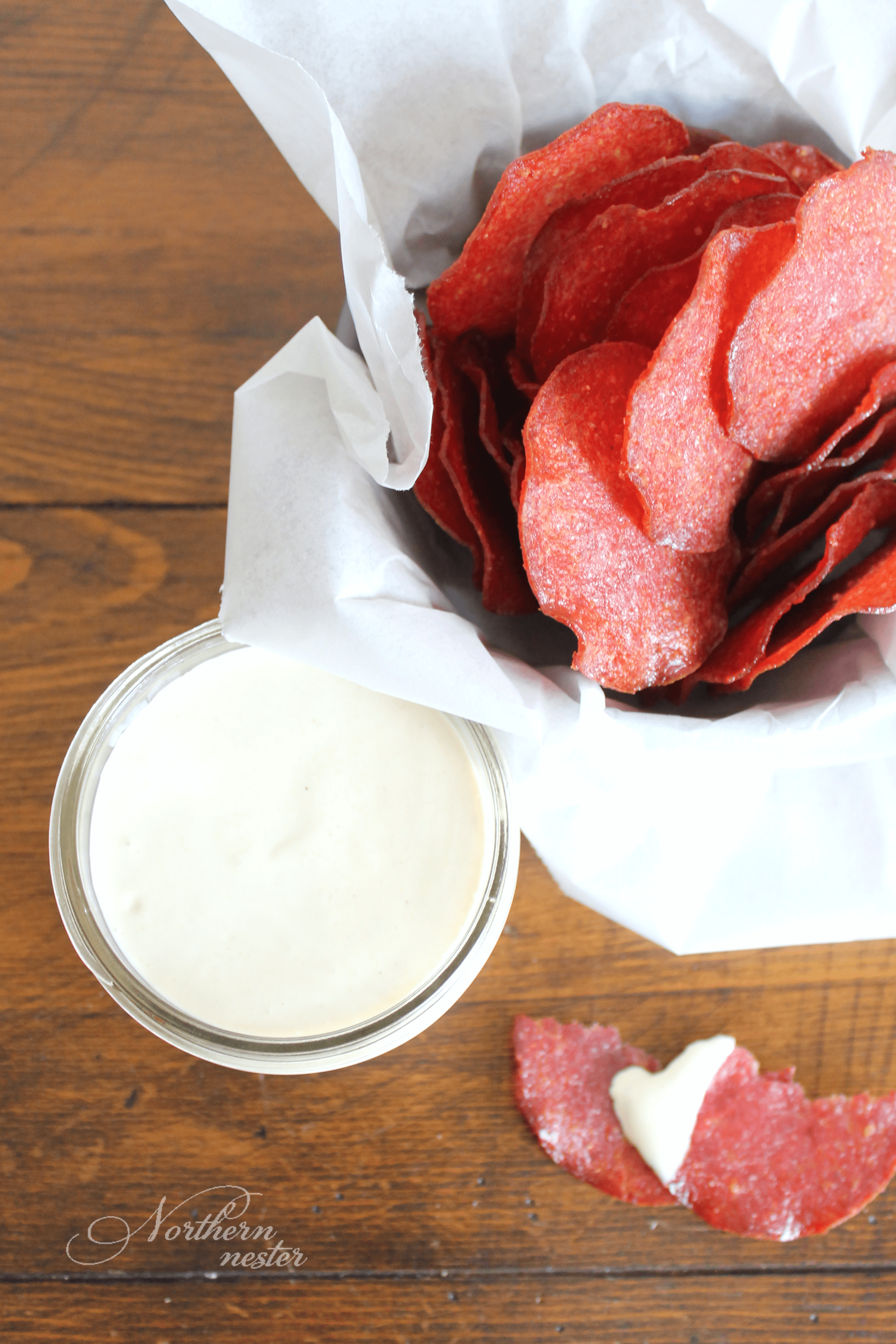 A small miracle happens when you bake salami slices in the oven: they turn into real, bona fide, crispy, crunchy chips that have all the good things about chips but none of the carbs. It couldn't possibly be any easier to make your own low-carb, keto and Trim Healthy Mama-friendly S chip that you can use to scoop up creamy, cheese-y dips and sauces without crossing fuels! Now, instead of me snitching off-plan chips at night from my husband's bowl, I find his fingers in mine!
I'm only kidding. We both get our own helping since they're not easily shared. 😀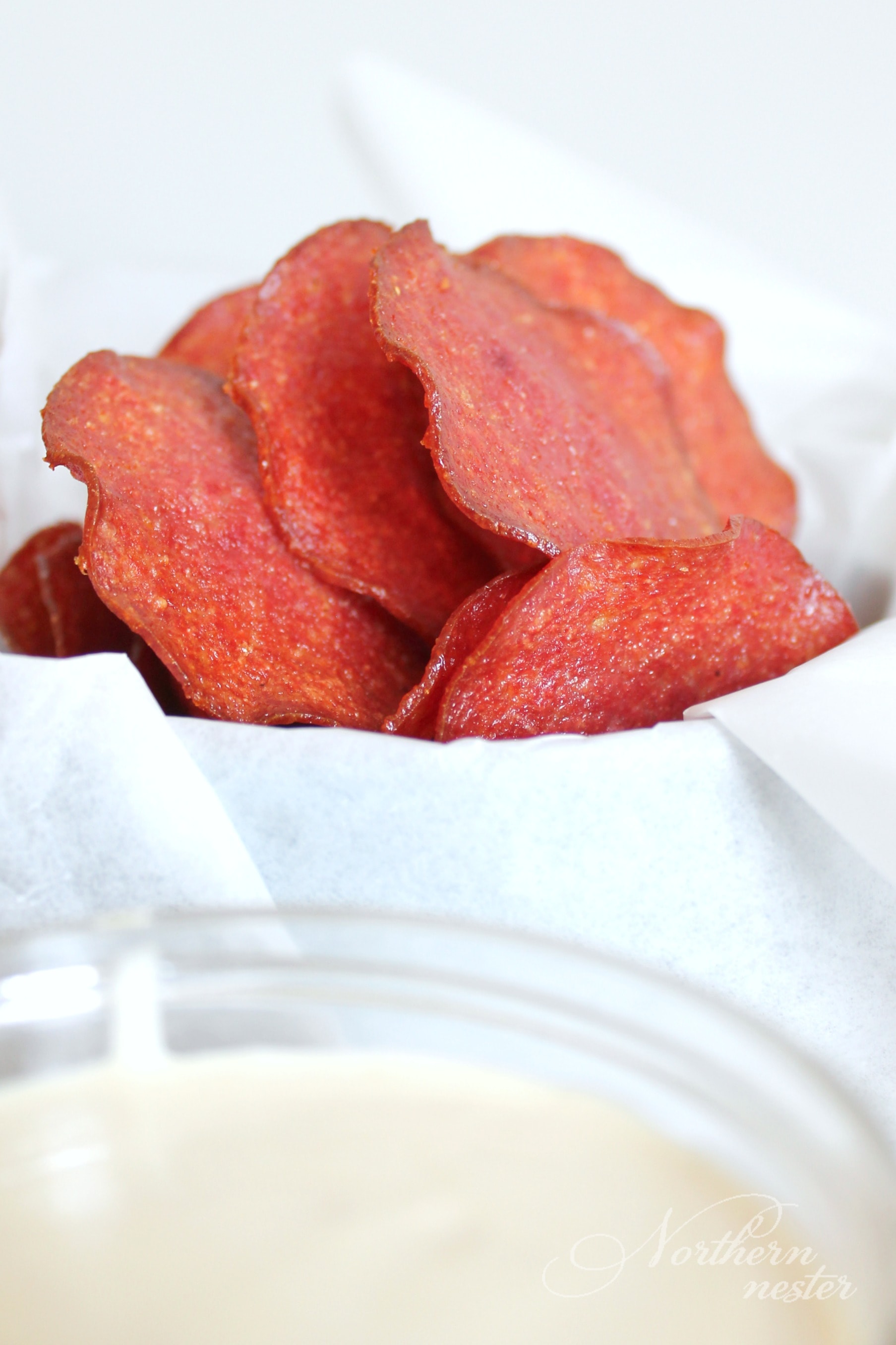 When you bake salami (or pepperoni, if you prefer a different flavor), the excess fat is released, shrinking the meat into a much leaner, crispy slice of flavorful protein. I get my salami slices thinly cut at the Polish butcher shop down the street. The thinner your slices, the crispier your chip will be. Both German and Hungarian salami are delicious in this recipe.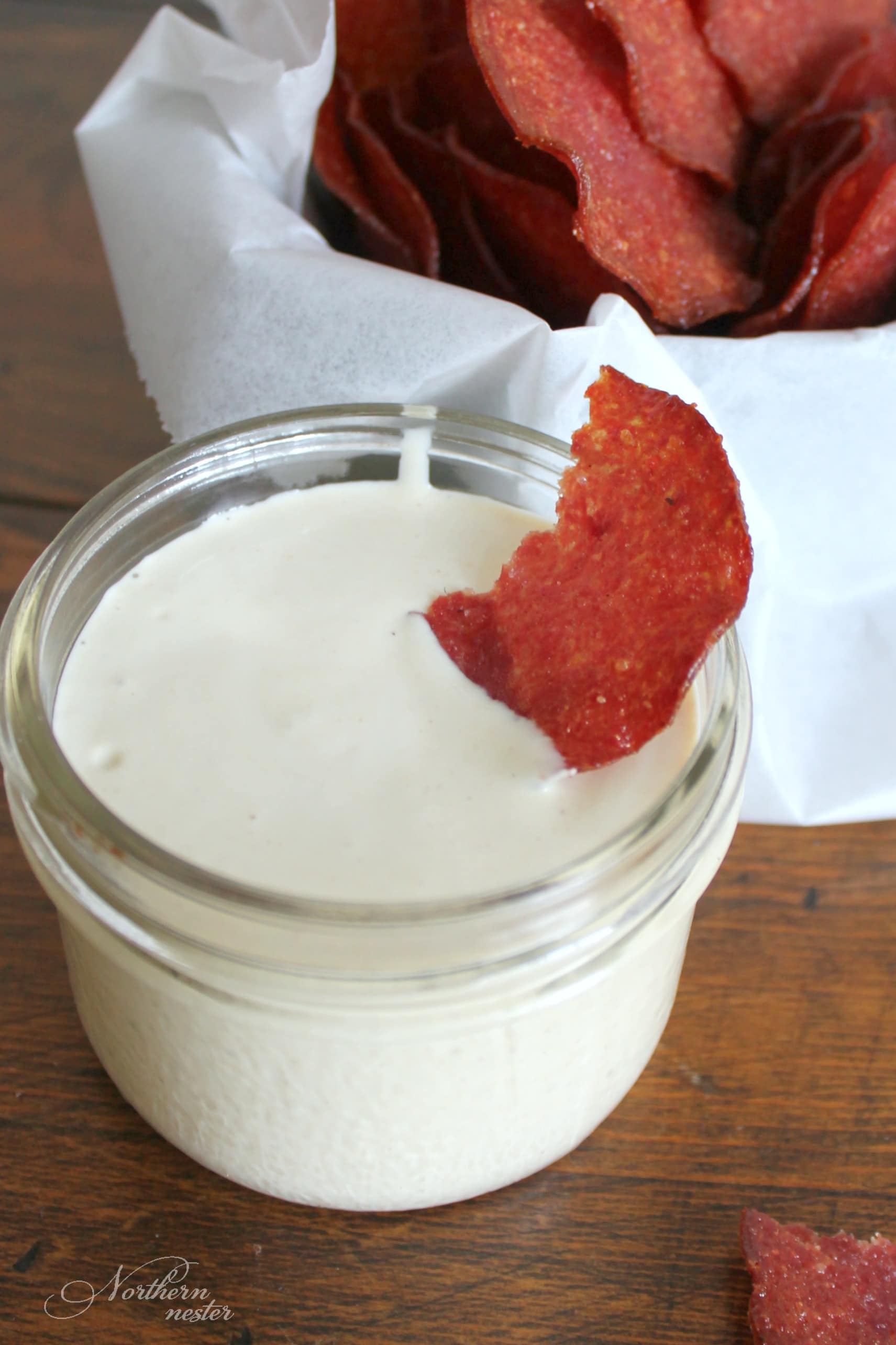 The sweet mustard dip is a perfect compliment to these salami chips. It's made with only 4 ingredients – yogurt, mayo, Dijon mustard, and stevia. It tastes similar to honey mustard and only takes 2 minutes to whisk up!
Duke's Sugar-Free Mayo
Edmund Sugar-Free Dijon Mustard
Better Stevia
Next time you're craving chips, grab a handful of these instead of deep-fried slices of starch. Your body will thank you, and you won't even feel deprived.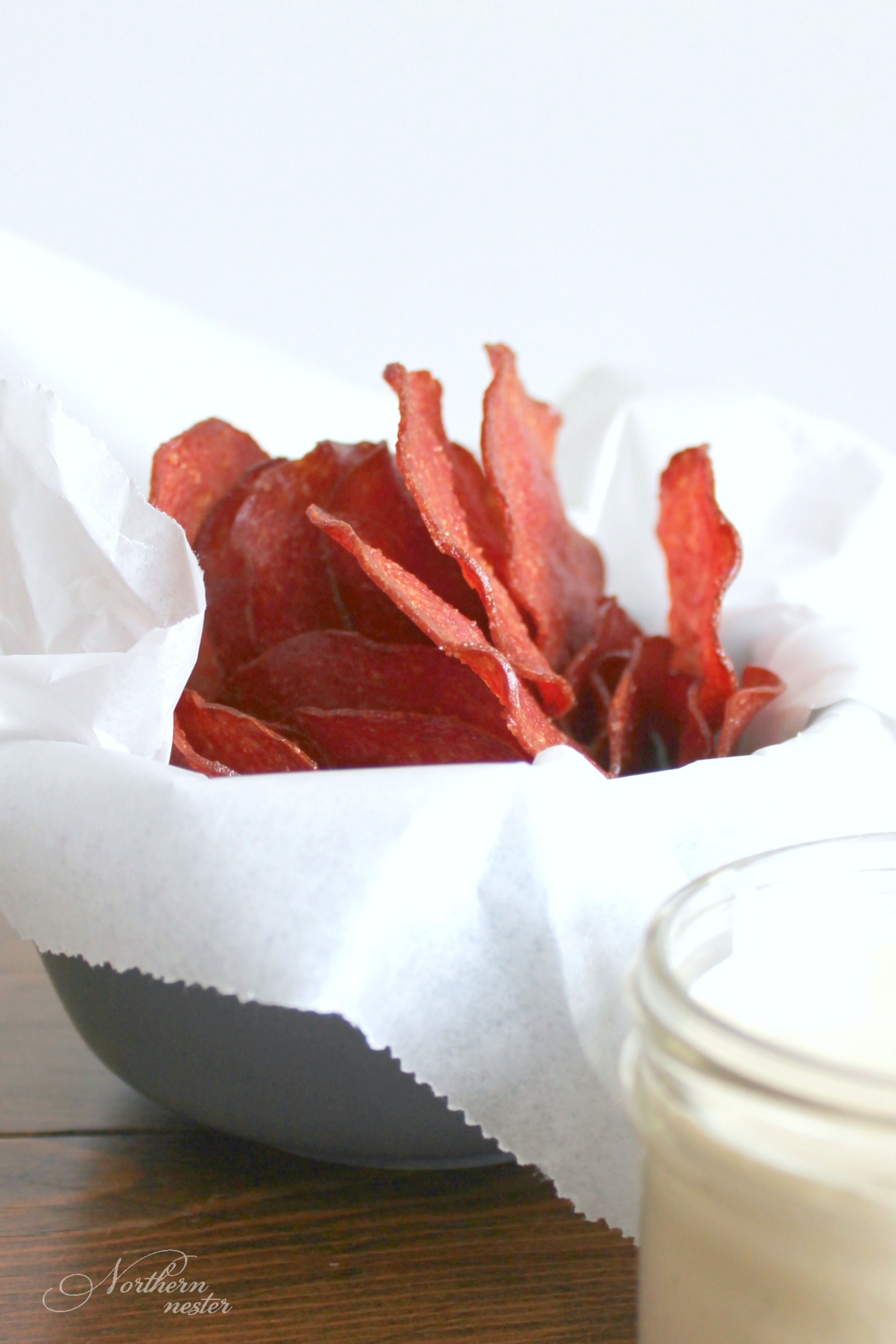 Yield: 36 salami chips
Salami Chips with Sweet Mustard Dip | THM: S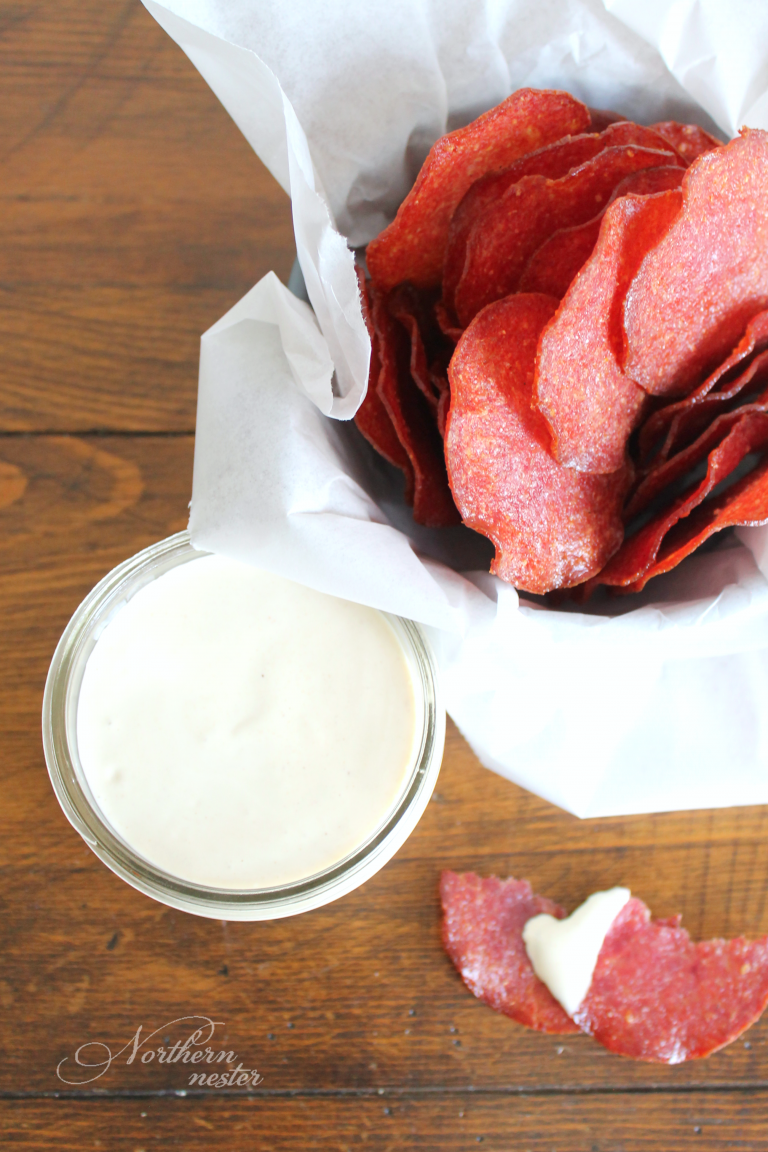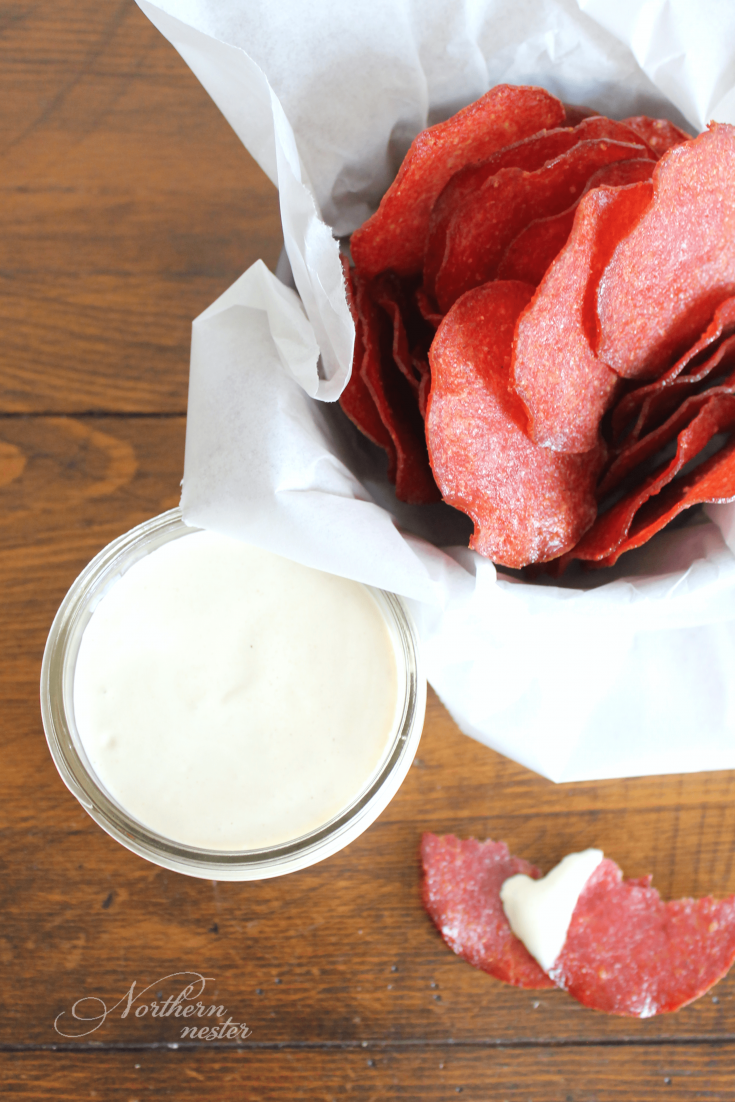 Prep Time 3 minutes

Cook Time 10 minutes

Total Time 13 minutes
Ingredients
36 thinly cut German or Hungarian Salami slices
1/4 cup 0% Greek yogurt
1/4 cup mayo
2 Tbsp Dijon mustard
1/8 tsp stevia
Instructions
Preheat oven to 375 F. Line rimmed baking sheet with parchment paper. Arrange salami slices in a single layer on parchment paper. (You will probably be able to fit 12 slices to a sheet. They will shrink in the oven.) Bake at 375 for 10-12 minutes, until browned around the edges. Transfer to paper towels to cool. Salami chips will continue to crisp up as they cool down.
For the dip, whisk remaining ingredients together. Serve with salami chips.
Notes
Refrigerate leftover chips and dip in separate, air tight containers.