This festive looking (and tasting!) Holiday Rice Pilaf is a wonderful THM E side dish that will steal the show on your holiday dinner table! A bit of sweetness, color, and crunch from green Granny Smith apples, and crimson cranberries combine with the nutty flavor of brown and wild black rice in an absolute treat for the senses.
You can use fresh or dried cranberries in this Holiday Rice Pilaf. They're aren't too many of them, and since this is an E side dish, it's the perfect place to enjoy bit of dried fruit in a serving.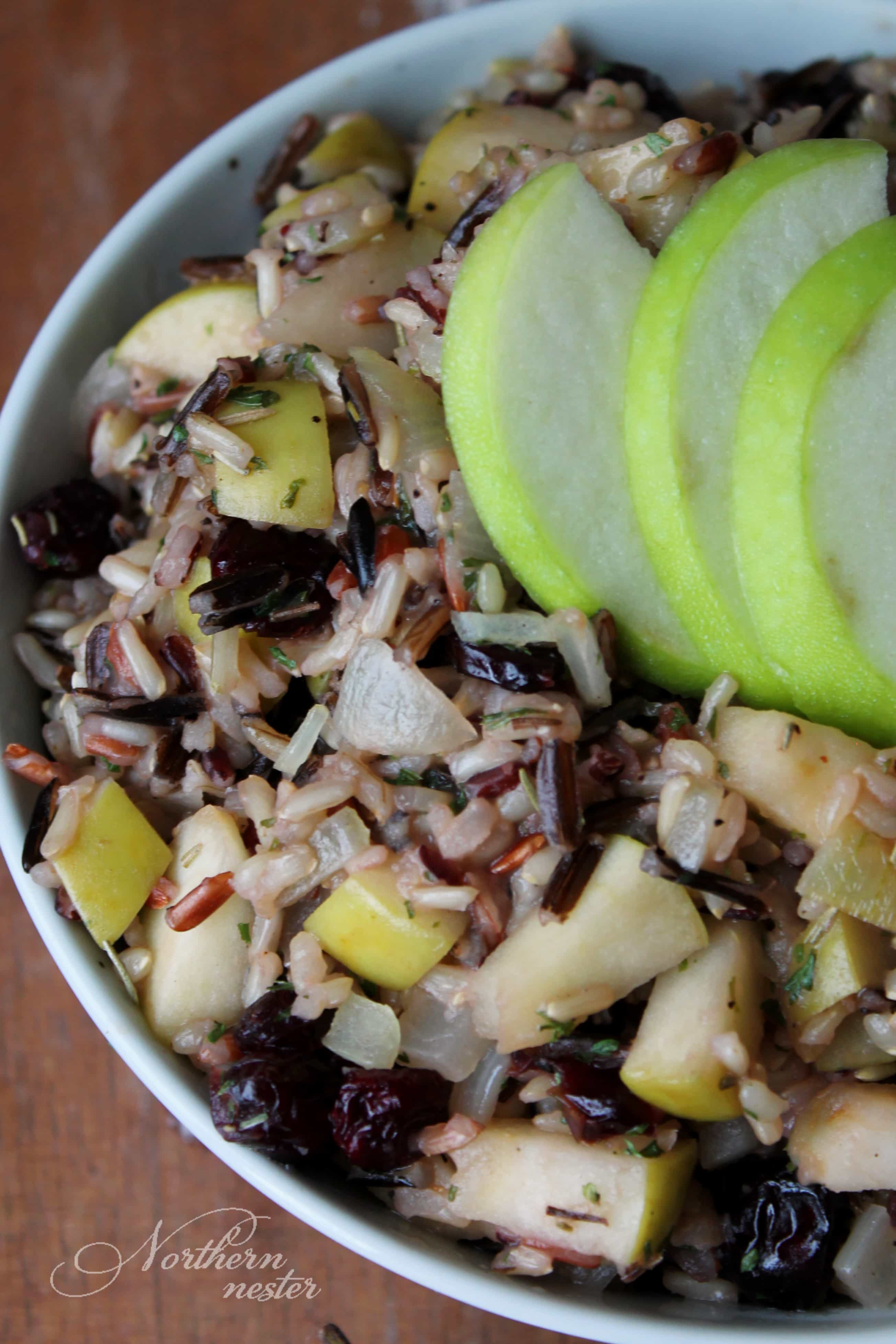 Chicken broth, a pat of butter (not enough to make this Holiday Rice Pilaf a Crossover), rosemary, parsley, mineral salt, and ground black pepper help season the rest of this no special ingredient side dish.
If you want a full fledged Crossover (because holidays are a grand time to indulge in those, don't you think?!), adding chopped walnuts or pecans to this Holiday Rice Pilaf is a fantastic idea!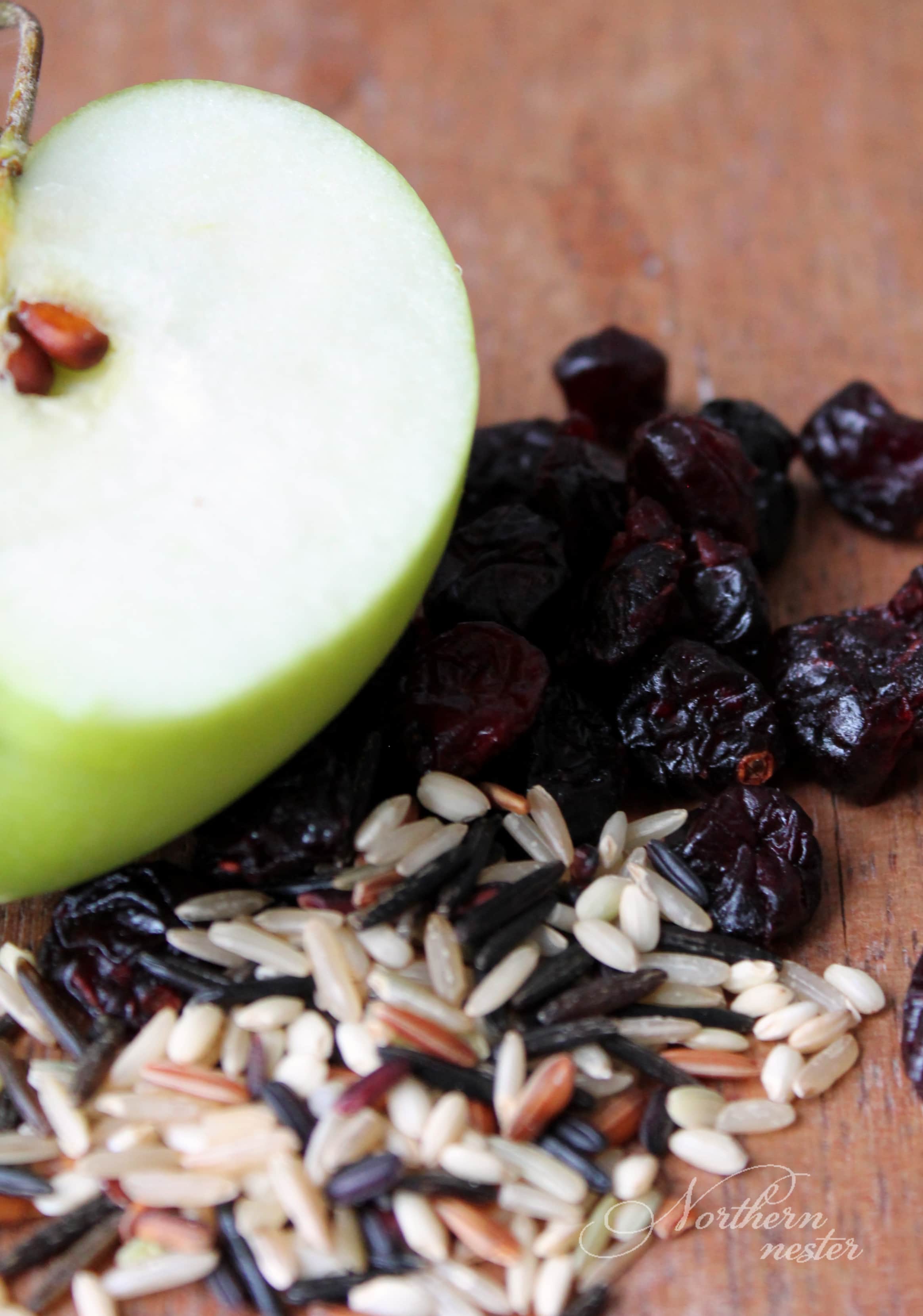 This side dish is naturally gluten-free, and easily made dairy-free too by replacing the butter with olive or coconut oil.
For a complete E meal, I highly recommend pairing Holiday Rice Pilaf with Pork Tenderloin and Mushroom Gravy, and steamed green beans or carrots.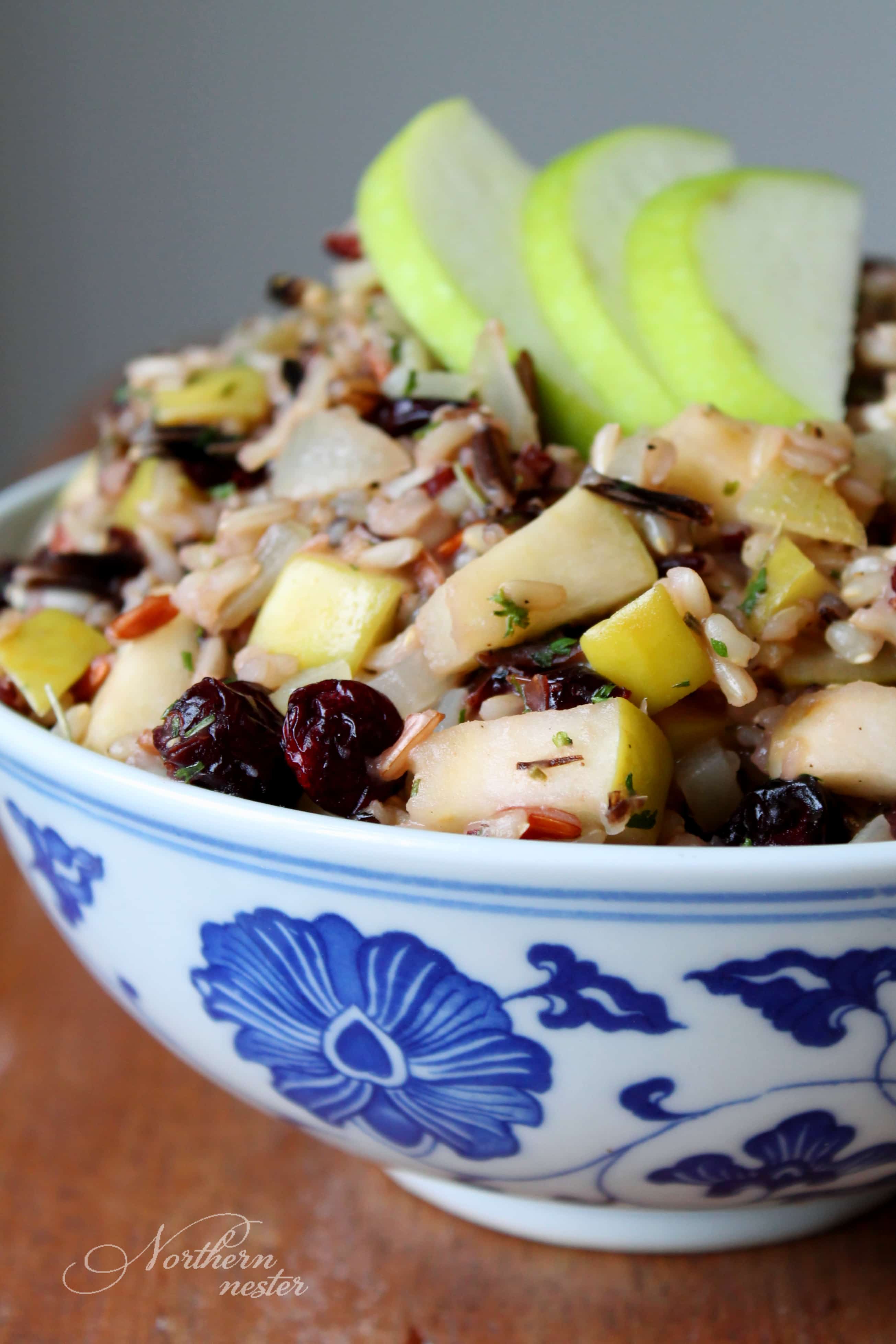 Yield: 6 servings
Holiday Rice Pilaf | THM: E
This festive looking and tasting Holiday Rice Pilaf is a wonderful THM E side dish that will steal the show on your holiday dinner table! No special ingredients.
Ingredients
1 cup brown rice, or wild rice blend
1 3/4 cups chicken broth
1 tbsp butter (use olive oil or coconut oil for dairy-free)
1/2 cup onion, finely chopped
2 Granny Smith apples, finely chopped
1/2 cup dried cranberries
1/2 tsp minced dried rosemary leaves
2 tsp dried parsley
mineral salt and ground pepper to taste
Instructions
Combine rice and chicken broth in a large saucepan and bring to a boil. Cover with a tight-fitting lid, reduce heat to low/simmer, and cook for 45 minutes.
While rice is cooking, melt butter in a large skillet over medium heat. Saute onion until translucent. Add apples and cook for 3-4 minutes, or until softened. Pour cooked rice and cranberries into the pan with apples and onion, and stir to combine. Add in rosemary, parsley, salt, and pepper. Stir and serve!