A sweet and tender cinnamon loaf is the perfect accompaniment to a hot cup of coffee on a cool day!
A THM S, this cinnamon loaf is also keto-friendly, low-carb, gluten-free, and can even be made dairy-free if you leave off the cream cheese frosting and use coconut oil instead of butter in the loaf.
You don't need any special ingredients to make this cinnamon loaf:
A streusel-like topping is baked on top of the cinnamon loaf, and then drizzled in a cream cheese frosting – truly a treat for the senses! You could leave the frosting off if you want, but I think it takes the cinnamon loaf from good to great!
I used a stone loaf pan to bake my cinnamon loaf and needed to bake it for 1 hour and 10 minutes before it was done. I decreased the time in the recipe to an hour because most people use a tin loaf pan which bakes goods a little quicker than stone. Just be sure to watch your cinnamon loaf as it's baking. A good rule of thumb is to start checking for doneness when you start smelling that cozy aroma in the kitchen. 🙂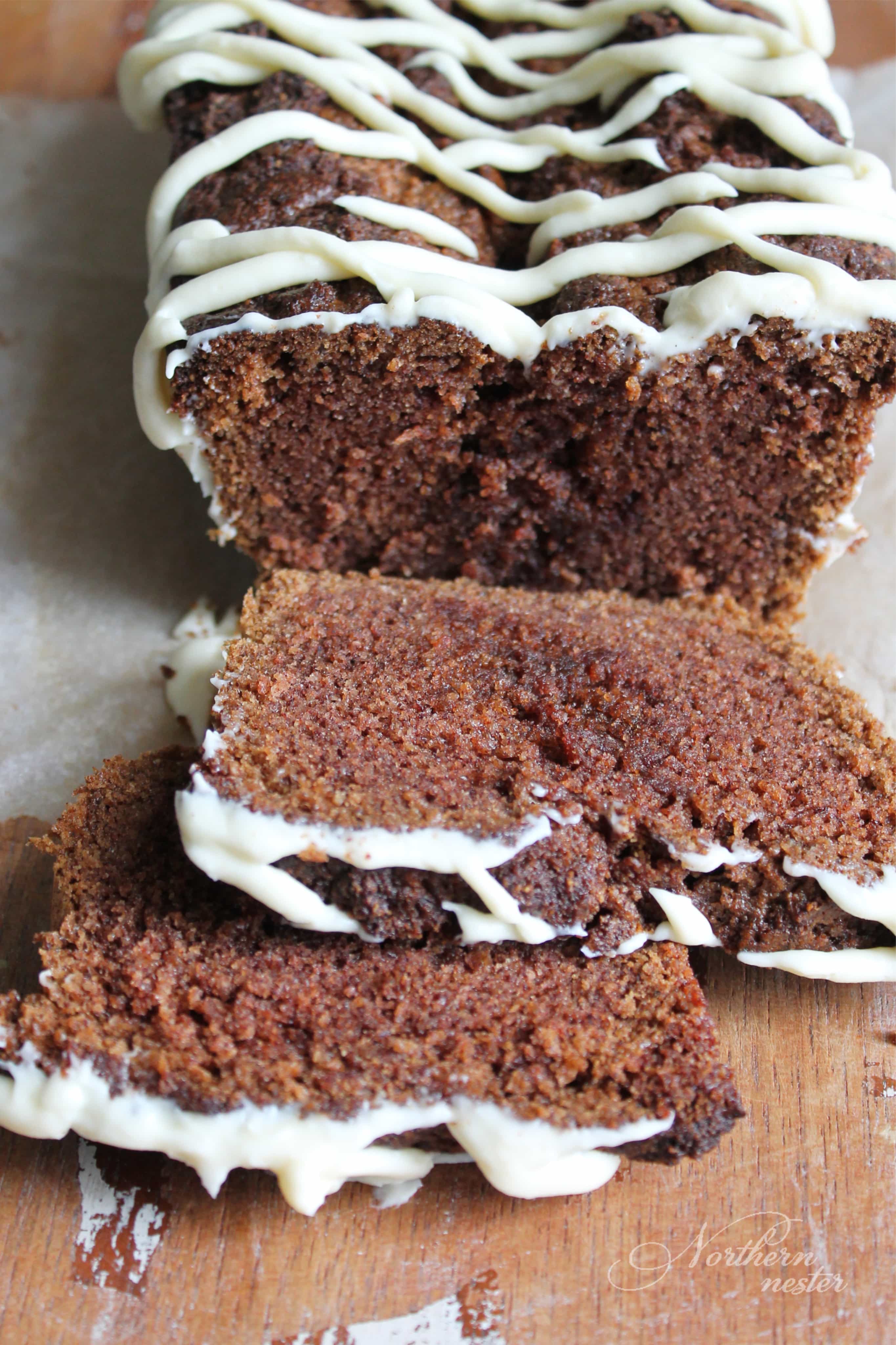 Yield: 12 servings
Cinnamon Loaf | THM S, Keto, Low-Carb, GF
This tender, sweet cinnamon loaf is the perfect accompaniment to a cup of coffee on a cool day! A THM S, keto, low-carb, and gluten-free breakfast or snack without any special ingredients!

Prep Time 20 minutes

Cook Time 1 hour

Total Time 1 hour 20 minutes
Ingredients
4 eggs
1/4 cup butter, melted
2/3 cup creamy almond butter
1/2 cup xylitol (OR 1/4 cup Gentle Sweet)
1 tsp vanilla extract
1 1/4 cups almond flour
3 tbsp golden flaxseed meal
1 tbsp cinnamon
1/2 tsp nutmeg
1 tsp baking soda
1/2 tsp mineral salt
CRUMB TOPPING
4 tbsp almond flour
1 tbsp butter, soft
3 tbsp xylitol (OR 1 1/2 tbsp Gentle Sweet)
1 tsp cinnamon
Optional: 2 tbsp finely chopped pecans or walnuts
CREAM CHEESE FROSTING:
2oz cream cheese, very soft
1 tbsp butter, very soft
2 tbsp Swerve icing sugar
Instructions
Preheat oven to 350 F. Line loaf pan with parchment paper and set aside.
Using a stand mixer, beat eggs on high for 5 minutes. Add in melted butter, almond butter, sweetener, and vanilla. Beat mixture until smooth and well blended. In a separate bowl, stir almond flour, flaxseed meal, cinnamon, nutmeg, baking soda, and salt together. Add to wet ingredients and stir until smooth (batter will be thick). Pour into prepared loaf pan.
Mix all of the crumb topping ingredients together in a small bowl. Sprinkle over batter. Bake at 350 for 1 hour, or until a knife comes out clean. Cool completely.
Beat cream cheese frosting ingredients together. Spread or pipe on top of the cooled loaf. Enjoy!
Notes
You can make this recipe dairy-free too, by leaving off the cream cheese frosting and using coconut oil instead of butter in the loaf.

If you love cinnamon in other "bread-y" things, you'll probably enjoy these THM recipes too!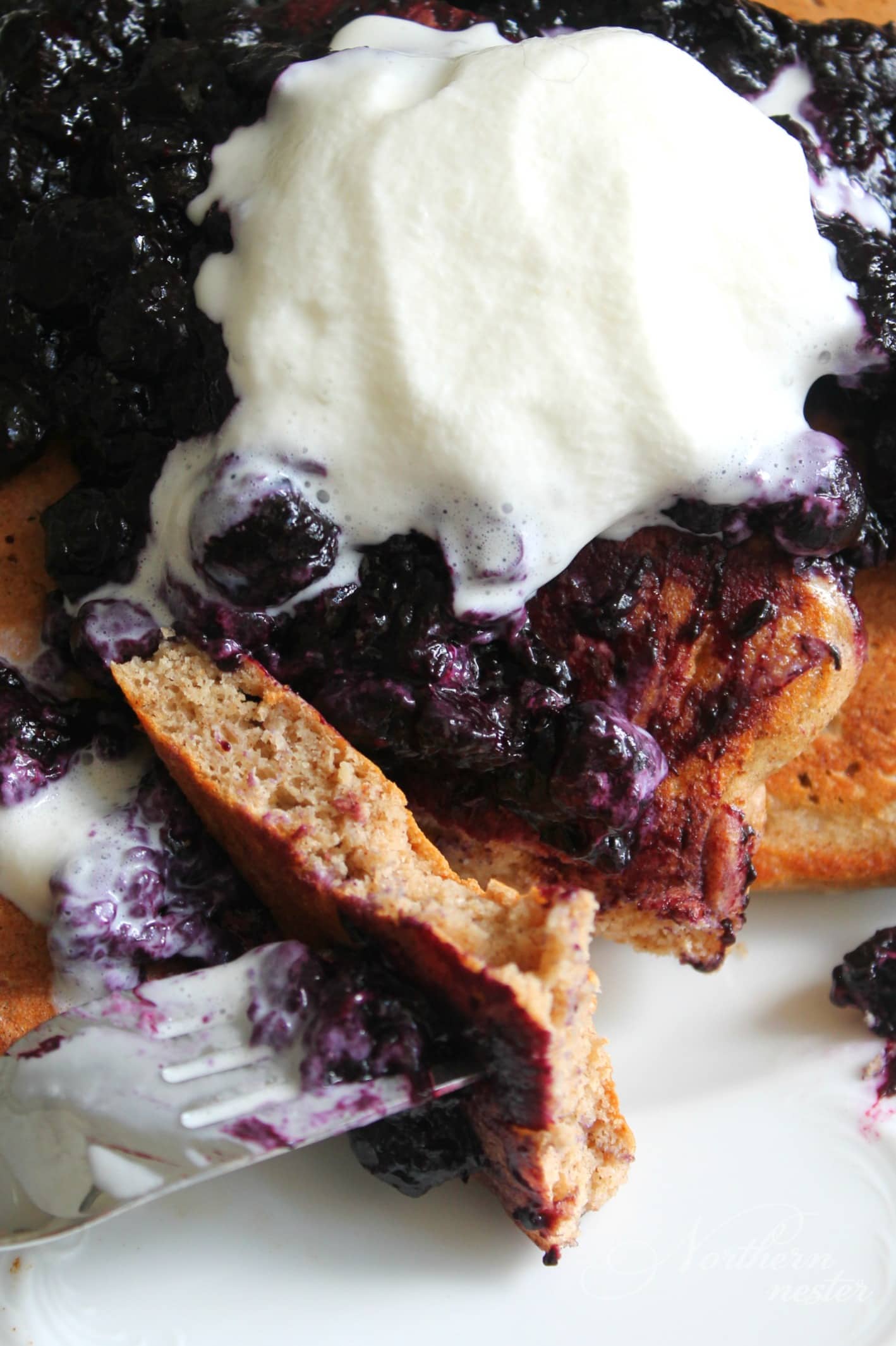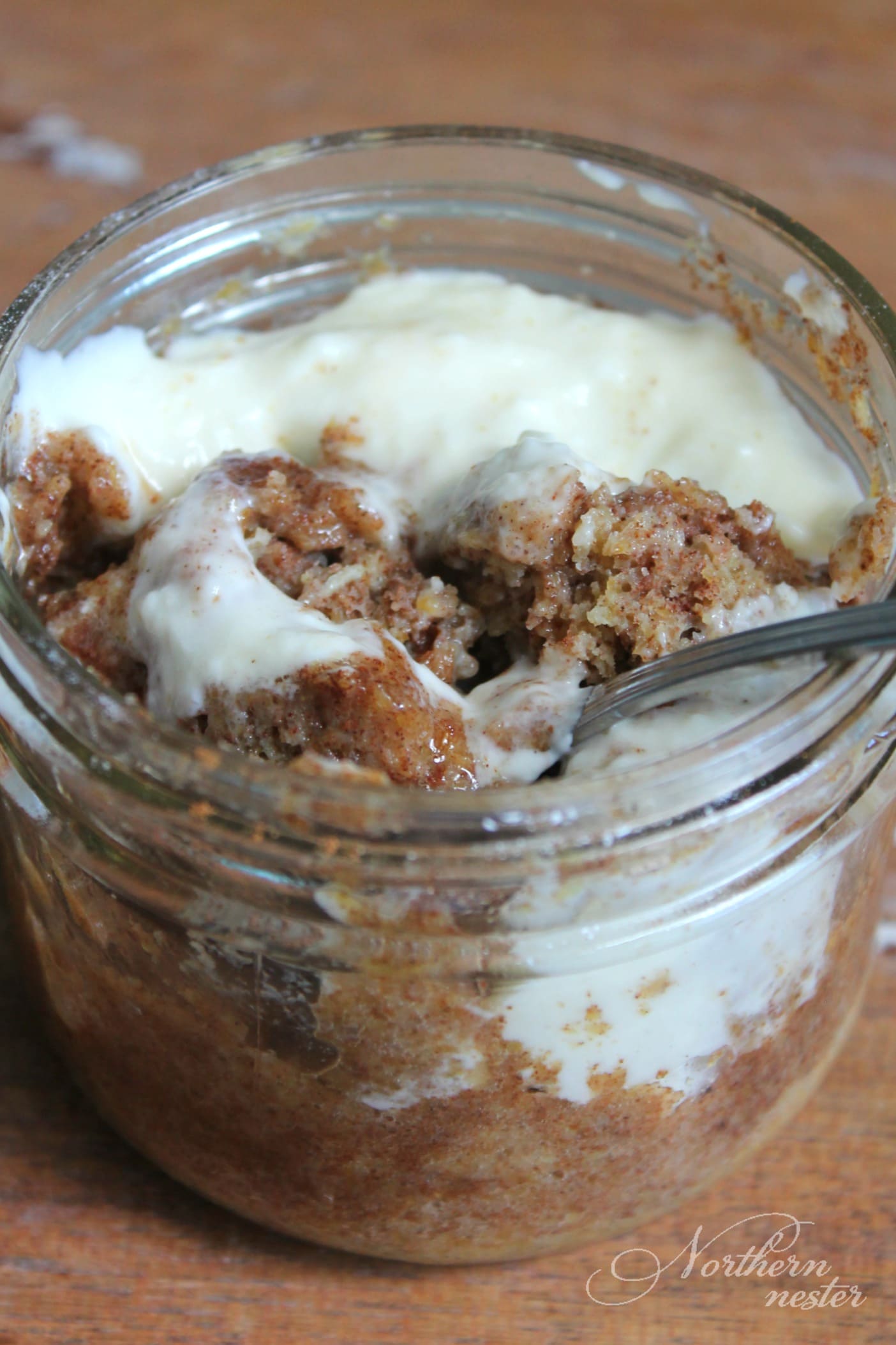 Cinnamon Roll Muffin In A Mug (S)