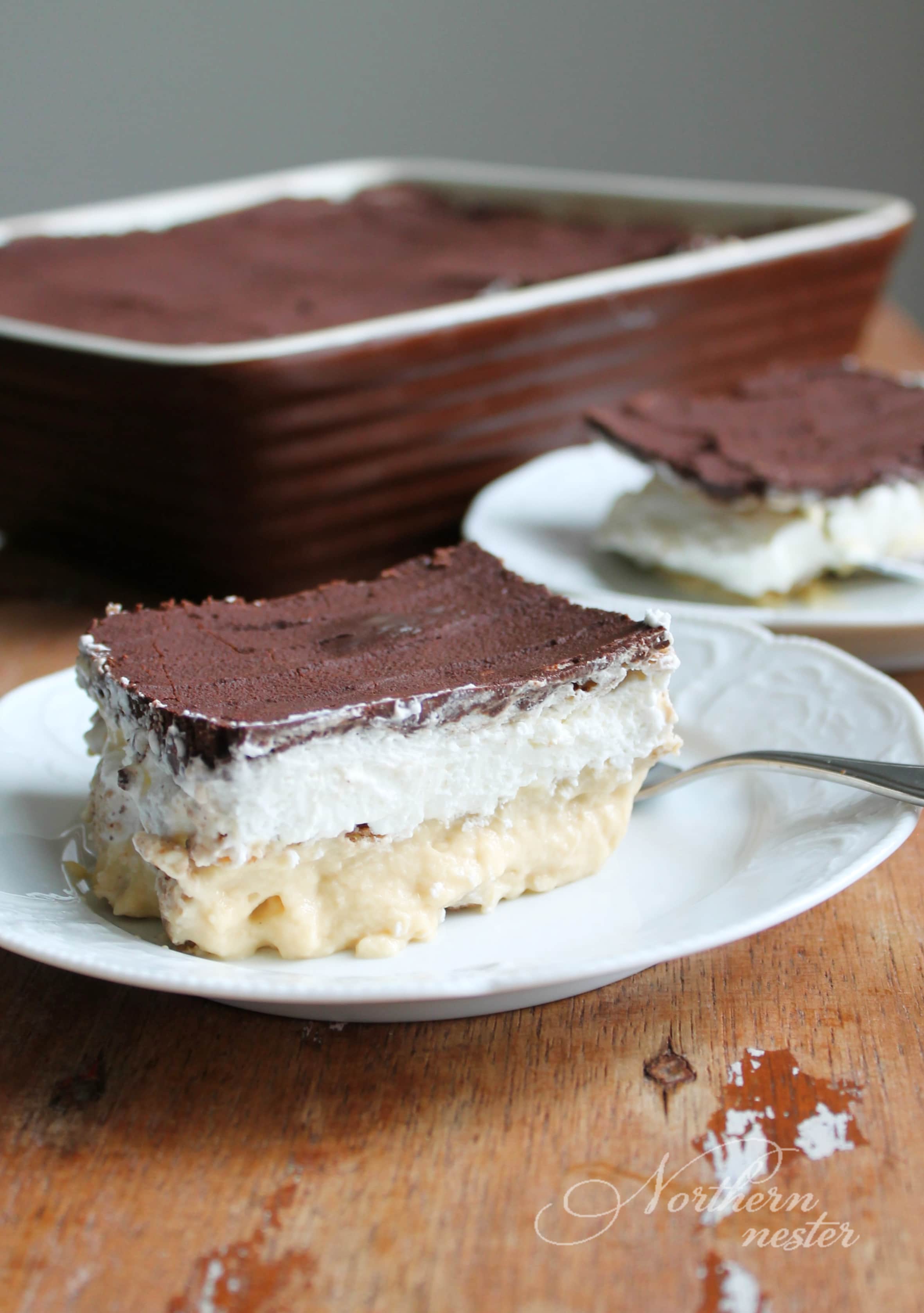 A dessert my husband and I both enjoyed growing up is Vanilla Slices, also known as Eclair Cake, or Custard Slices. Essentially, it was a layer of graham crackers, followed by a layer of custard or vanilla pudding, another layer of graham crackers, whipping cream, crackers, and a chocolate topping of some sort – either an icing sugar glaze with chocolate feathering, or a chocolate ganache. It was incredibly delicious and a highly requested birthday treat!
This low-carb Eclair Cake is the Trim Healthy Mama version of our childhood classic, and thanks to the use of pre-packaged Wasa crackers, it's nearly as easy to make!
Light Rye Wasa Crackers, the ones I used in this recipe, are plan-approved. You can have one in an S setting, 2 in a Fuel Pull, and 3 in an E. Because this Eclair Cake is an S dessert and the cake involves 3 layers of crackers, you need to be mindful of your portion size to avoid an accidental Crossover (however, I think a Crossover in this case is absolutely worth it on special occasions!).
Light Rye Wasa Crackers
To stay in S mode, your slice of Eclair cake should be about the width of a third of a Wasa Cracker.
I was hesitant at first about how the flavor of a Light Rye Wasa cracker would taste in place of the traditional graham cracker, but it turned out perfectly! After a night in the fridge, the crackers had softened into just the right pastry-like layers. I could cut through them with a knife, but they weren't mushy either.
A big custard and vanilla pudding lover, I could eat a whole bowl of the Eclair Cake custard filling by itself. It's quite simple to make and doesn't require any special ingredients. You just need to constantly whisk, whisk, WHISK to make sure your eggs don't scramble while the custard is cooking!
After the custard filling and another layer of Wasa crackers comes a whipped cream layer. I sweetened mine with xylitol, but you can also use Gentle Sweet in half the amount, or Super Sweet in a quarter of the amount.
The top layer of crakers is covered with a chocolate ganache made from a chopped up bar of 85% dark Lindt and heavy cream. Personally, I think the dark ganache perfectly compliments the creamy, sweet custard and whipped cream layers, but if it's too dark for your liking, you can melt down a stevia-sweetened chocolate bar (like Lily's), Lily's chocolate chips, or Trim Healthy Mama chocolate chips and stir that with whipped cream instead.
I highly recommend cutting your Wasa crackers into thirds before you layer them in your cake. It will ensure proper portions sizes and making cutting slices much neater!
Yield: 15 servings
Low-Carb Eclair Cake | THM: S
This Trim Healthy Mama-version of the classic Eclair Cake is made with Wasa crackers! Low-carb, and free of special ingredients, it's a crowd-pleaser!

Prep Time 30 minutes

Cook Time 10 minutes

Total Time 40 minutes
Ingredients
15 Wasa Light Rye Crackers, cut into thirds
VANILLA CUSTARD LAYER
1 cup heavy cream
1/3 cup unsweetened cashew or almond milk
1/3 cup xylitol (OR use Gentle Sweet in half the amount)
1/4 teaspoon xanthan gum
2 large whole eggs
3 large egg yolks
1/4 tsp of mineral salt
2 teaspoons vanilla extract
1 teaspoon unflavored gelatin sprinkled over 1 Tbsp water
2 tablespoons butter
WHIPPED CREAM LAYER
1 cup whipping cream
3 tbsp xylitol (OR 1 1/2 tbsp Gentle Sweet)
GANACHE
1 3.5oz bar of 85% dark chocolate
1/4 cup whipping cream
Instructions
Layer 1/3 of cracker pieces in the bottom of an 8x8" pan and set aside.
To make the vanilla custard layer, heat cream, and nut milk together in a saucepan over medium-low heat. Meanwhile, in a heat-proof mixing bowl, mix sweetener, xanthan gum, and salt together. Whisk in the two whole eggs and 3 large yolks.
When the cream mixture is simmering, turn off the heat, and slowly pour into the egg mixture, whisking constantly.
Put the saucepan back on the stove and scrape the cream mixture back into the pan. Turn the heat to medium-low and begin whisking the cream mixture. It will start to thicken after 2-3 minutes. Whisk and cook for another 2 minutes, but DO NOT let the mixture boil or the eggs will scramble.
Turn off the heat and remove the saucepan from the stove, still whisking briskly for another minute. Whisk in the vanilla, butter, and proofed gelatin. Pour the cream through a strainer to catch and remove any bits of egg that may have been cooked.
Pour custard over the first layer of crackers. Top with the second layer of crackers and set in the fridge.
Beat together whipping cream layer ingredients until stiff. Spread over the second layer of crackers. Layer with the third layer of crackers. Set in fridge.
Melt ganache ingredients in a saucepan over low heat, stirring until smooth. Spread evenly over the top layer of crackers. Refrigerate for 8 hours or overnight before serving.
Another great way to enjoy these flavors is in a Boston Cream Pie! This one is Trim Healthy Mama-friendly!