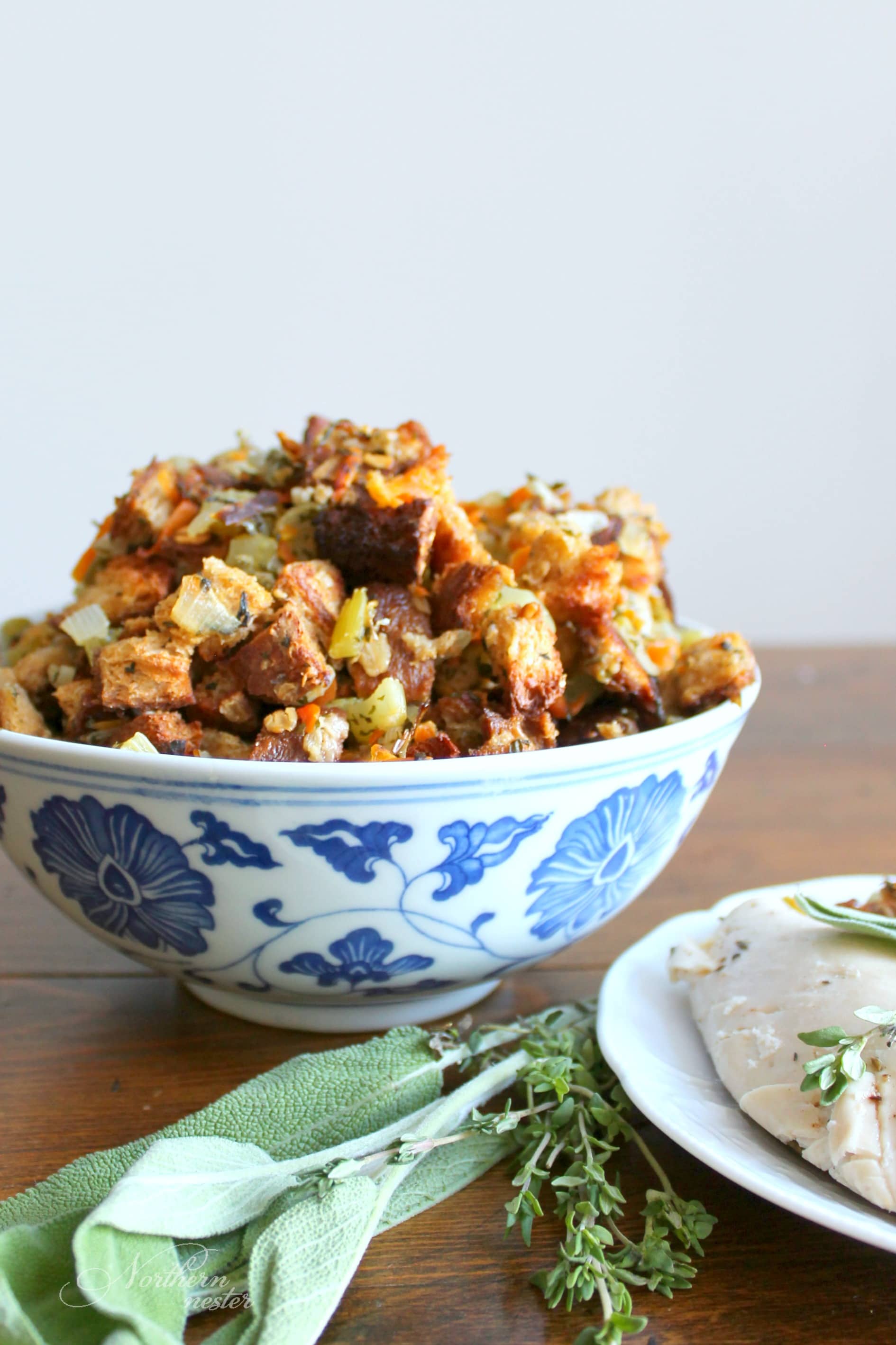 You know what I can eat by the bowl-full that's not a dessert? Stuffing. It's my favorite part of a Thanksgiving or Christmas meal. And do you know what's even better than the stuffing that comes sealed in a package inside a cardboard box? Trim Healthy Mama stuffing that's free from sugar and full of energizing carbohydrates.
This Trim Healthy Mama-friendly stuffing recipe is an E. It uses sprouted whole grain bread (I used a store-bought loaf from Stone Mill), a little butter (not enough to make this a Crossover), onions, celery, carrot, chicken broth, mineral salt, ground pepper, and fresh herbs. If you don't have fresh herbs, you can use dried herbs in a third of the amount:
You can pair this stuffing with lean chicken breast for an E meal (I tear apart the breast from a whole roasted chicken for myself and let the rest of the family enjoy a Crossover with the remaining dark meat). A salad or veggie on the side, and a delicious, THM-friendly Swiss Chalet sauce to dip your chicken pieces into, would make a complete, incredible E dinner!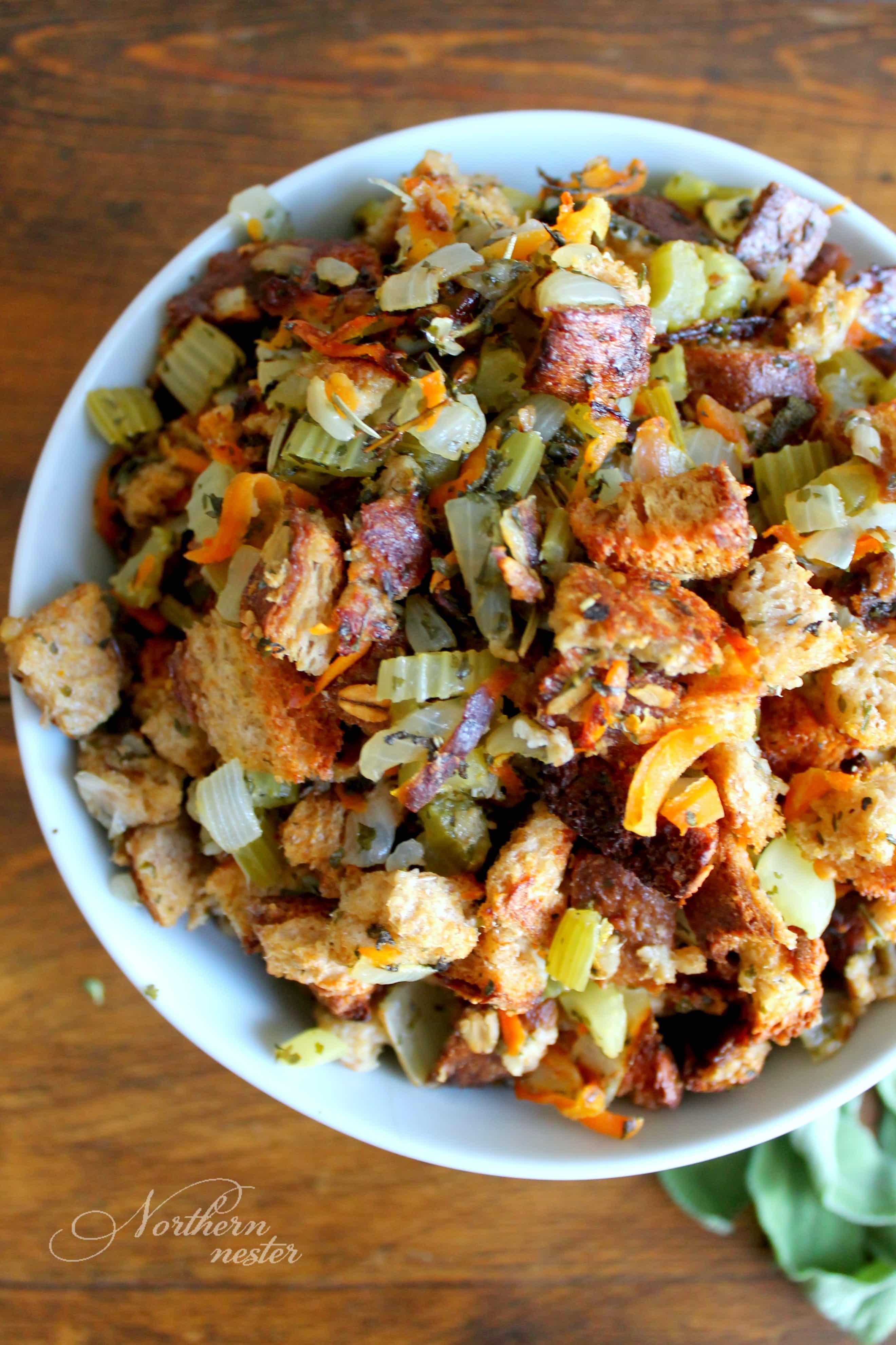 Or, you can add this Trim Healthy Mama-friendly stuffing to these on-plan Thanksgiving Dinner menus! (Adding it to the E option would keep you in E territory; adding it to the S option would put you in Crossover mode, but what are holidays for?!)
Yield: 8-10 servings
Trim Healthy Mama-friendly Stuffing
Do you know what's better than stuffing that comes from a box? This Trim Healthy Mama stuffing that's free from sugar and full of energizing carbohydrates! A THM E.

Prep Time 30 minutes

Cook Time 30 minutes

Total Time 1 hour
Ingredients
1 1/2 Tbsp butter
10 stalks of celery, chopped
2 medium onions, finely chopped
1 large carrot, grated
1 tsp mineral salt
1/2 tsp ground pepper
1 small loaf sprouted, whole grain bread, cut into 1-inch cubes
1 1/2 cups chicken broth
1/2 cup fresh parsley ( OR 2 Tbsp dried parsley)
1 Tbsp chopped fresh thyme (OR 1 tsp dried thyme)
1 Tbsp chopped fresh sage (OR 1 tsp dried sage)
1 tsp chopped fresh rosemary (OR 1/2 tsp dried rosemary)
Instructions
Preheat oven to 350 F. In a large pot over medium-high heat, melt butter. Add celery, onion, carrot, salt, and pepper and cook until soft (10-15 minutes). Remove from heat. Add remaining ingredients and stir to combine. Pour onto 2 rimmed cookies sheets and bake for 30-35 minutes, or until some of the bread is slightly crisp on the edges.