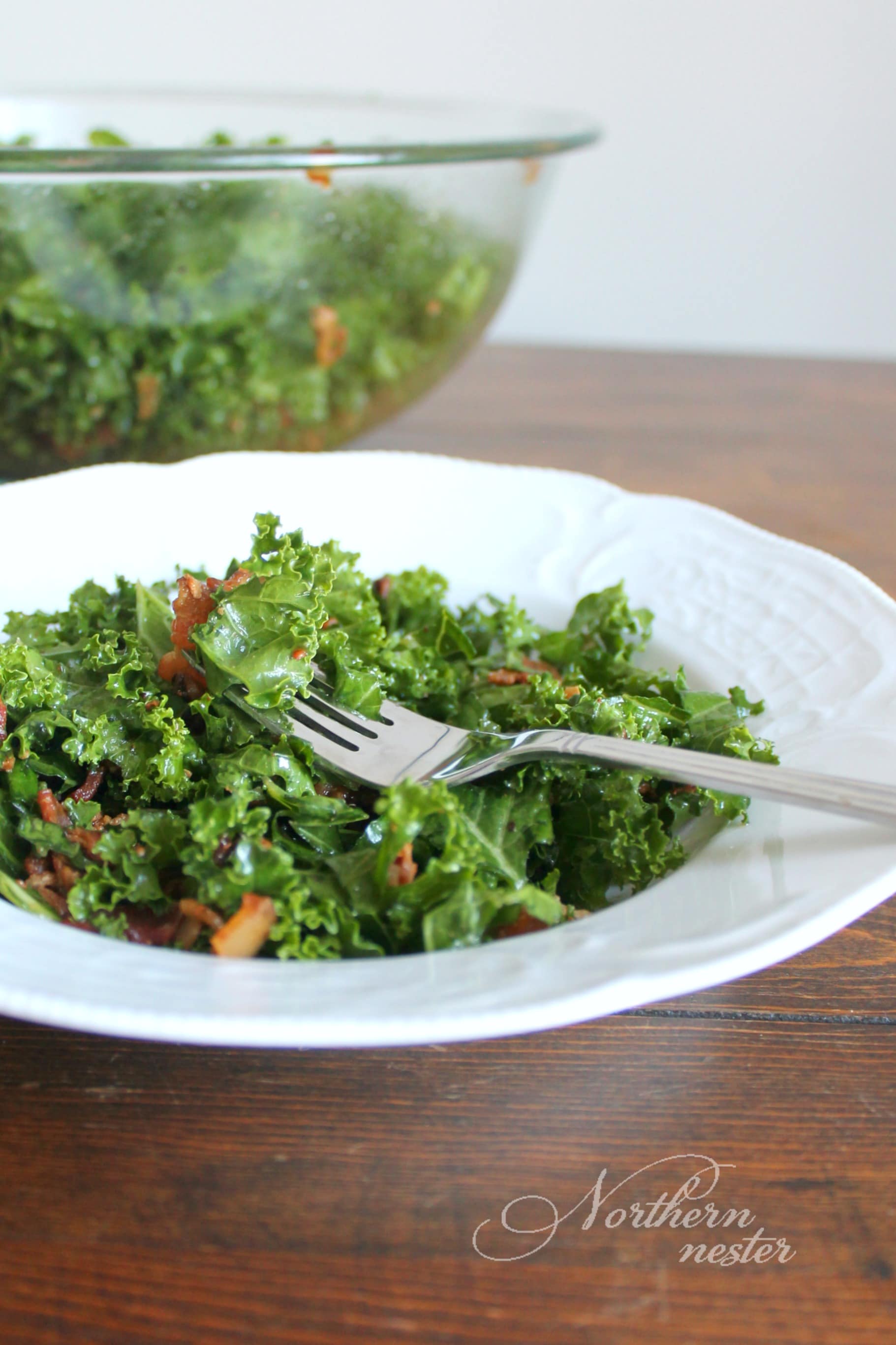 Growing up on a mainly Dutch-Canadian diet, "Boerenkool" was a regular dinner at our house. It's the only way we ever ate kale. Boiled and mashed together with white potatoes, butter, cream, vinegar, salt, pepper, and and sausage, it was a favorite meal in our house and not a terrible Crossover on rare occasions for people at goal weight! It turns out there are actually other legititmate ways to enjoy the green; this wilted kale salad is proof of that.
Once I started Trim Healthy Mama, I tried experimenting by using kale in less high-carb ways (look for a low-carb Boerenkool recipe coming soon!), and really didn't care for too many of my concoctions. Kale is pretty crunchy and has a strong flavor that can be hard to mask.
Eventually, I hypothesized that bacon would make it taste great, because, well, bacon is fixes everything. This theory proved to be correct, and the wilted kale salad recipe below has got to be the easiest way to make the nutritionally-packed green delicious! All you need is:
a bunch of kale
bacon
onion
optional: feta cheese
Quick kale tip: if you grow it yourself, wait until after a heavy frost to pick your kale. It will be sweeter and easier to clean (less bugs!).
Wilted Kale and Bacon Salad | THM: S
The wilted kale salad is further proof that bacon fixes everything. Think you don't like kale? Try it like this. A THM S.

Prep Time 15 minutes

Total Time 15 minutes
Ingredients
8-10 slices of bacon, chopped
1/2 red onion
2 Tbsp red wine vinegar
1/4 tsp mineral salt
1/4 tsp cracked pepper
7 cups fresh kale leaves, thinly sliced, stems removed
Optional: 1/2 cup crumbled feta
Instructions
In a large skillet, fry bacon until crisp. Discard most of the excess grease. Fry onions together with bacon in remaining grease until translucent.
In a large bowl, pour red wine vinegar, salt, and pepper. Add thinly sliced kale leaves. Pour bacon mixture on top. Stir well to coat (kale should wilt slightly and shrink in size). Sprinkle with crumbled feta if desired.