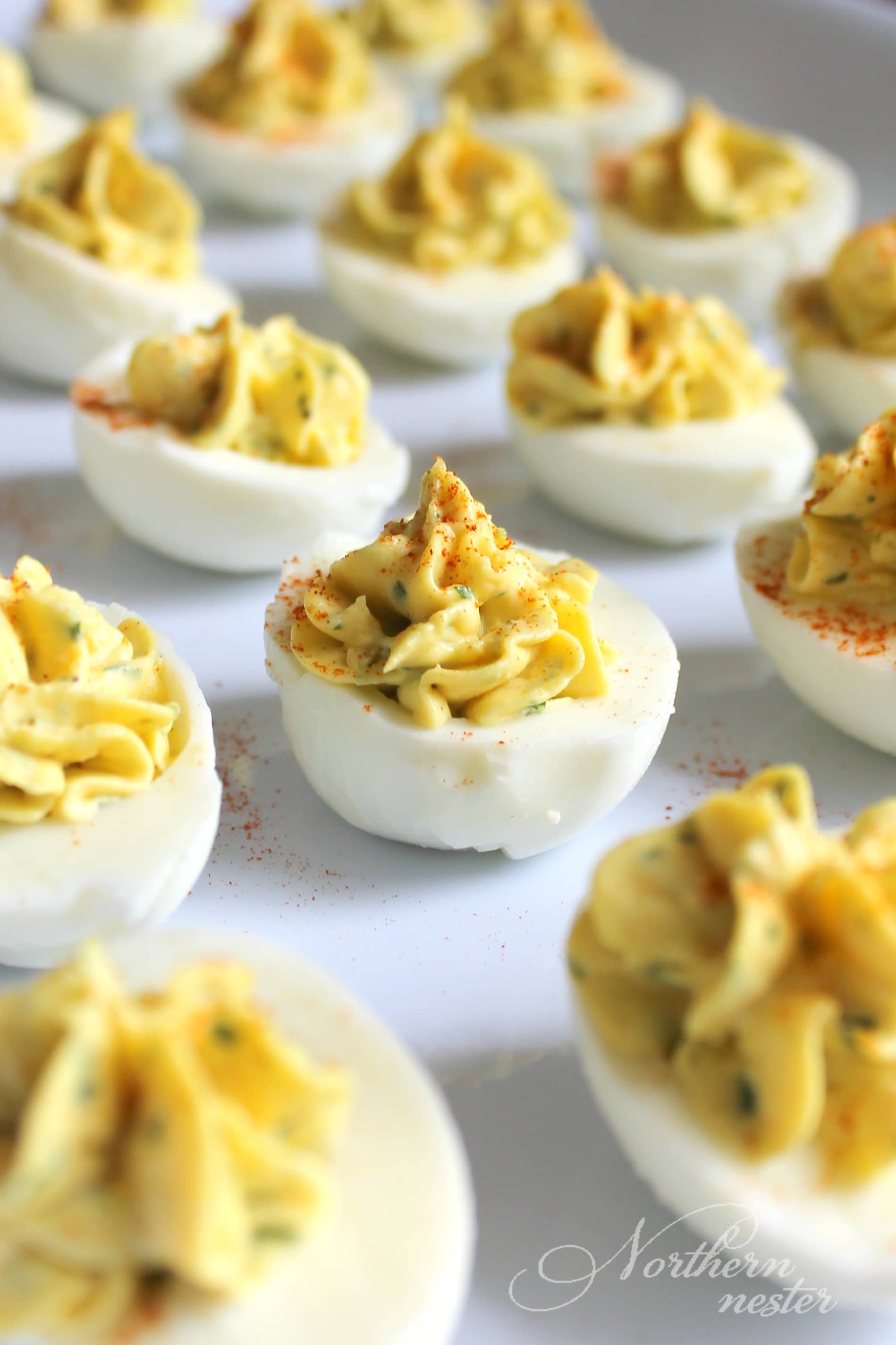 My Mom is infamous for her deviled eggs. I remember her getting asked for the recipe regularly, but of course, it was the "a little bit of this, and a little bit of that" kind. I think people liked them so much because they didn't have any chunks or crunchy bits in the creamy yolk part.
I made them often enough to memorize the recipe, and just recently measured the ingredients out as I went along so I could give it to my own kids one day (especially our oldest son, who can't get enough of these things!).
A little curry yellows up the yolks and adds a wonderful flavor that is not overpowering. Mayo keeps the filling creamy (Duke's is on-plan for Trim Healthy Mamas); dried parsley, a little mustard, a pinch pinch of mineral salt, black pepper, and paprika finish off these deviled eggs.
Made with no special ingredients, these deviled eggs make for a deliciously easy, protein packed, grab-n-go snack. They will keep well for 5 days in the fridge stored in an air tight container
A few tips for hard-boiling eggs:
Use "old" eggs; ones that have been sitting in the fridge for 2-3+ weeks will peel much better than fresh eggs.
Adding a little salt and vinegar to the water will keep your eggs from cracking while they boil and also makes them easier to peel.
Make sure you rinse the eggs in freezing cold water (or set them on ice) after they've been boiled to stop the cooking process.
If your yolks end up with a little grey around the edges, no need to worry; it just means that they've been over cooked a bit. They will be a little drier, but you can add more mayonnaise to the filling and no one will ever be able to tell.
These deviled eggs are a Trim Healthy Mama S because they make use of the yolk – a good, healthy fat!
Yield: 24 deviled eggs
Deviled Eggs
Deviled Eggs make a fantastic, high-protein, grab-and-go lunch or snack! This recipe comes from my Mom and is still my favorite! A THM S.

Prep Time 20 minutes

Cook Time 10 minutes

Additional Time 10 minutes

Total Time 40 minutes
Ingredients
12 eggs
1/2 cup mayo
1 tsp dried parsley
1/2 tsp prepared mustard
1/2 tsp curry powder
pinch of sea salt
pinch of black pepper
paprika for garnish
Instructions
To hard-boil your eggs, set them in a single layer in a saucepan and cover them with with an inch of cold water, a splash of vinegar, and a pinch of salt. Bring to a boil over medium heat. Cover, remove from heat, and set the timer for 10-12 minutes, depending on how hard you want your yolks to be. Rinse eggs immediately in cold water, then set them in fridge until you're ready to peel.
After you've peeled the eggs, slice each one in half length-wise. Pop or scoop out the yolks into a separate bowl. Add mayo, parsley, mustard, curry powder, sea salt, and pepper to yolks. Beat until smooth. Pipe filling into egg whites. Sprinkle with paprika.
Store in an air tight container.