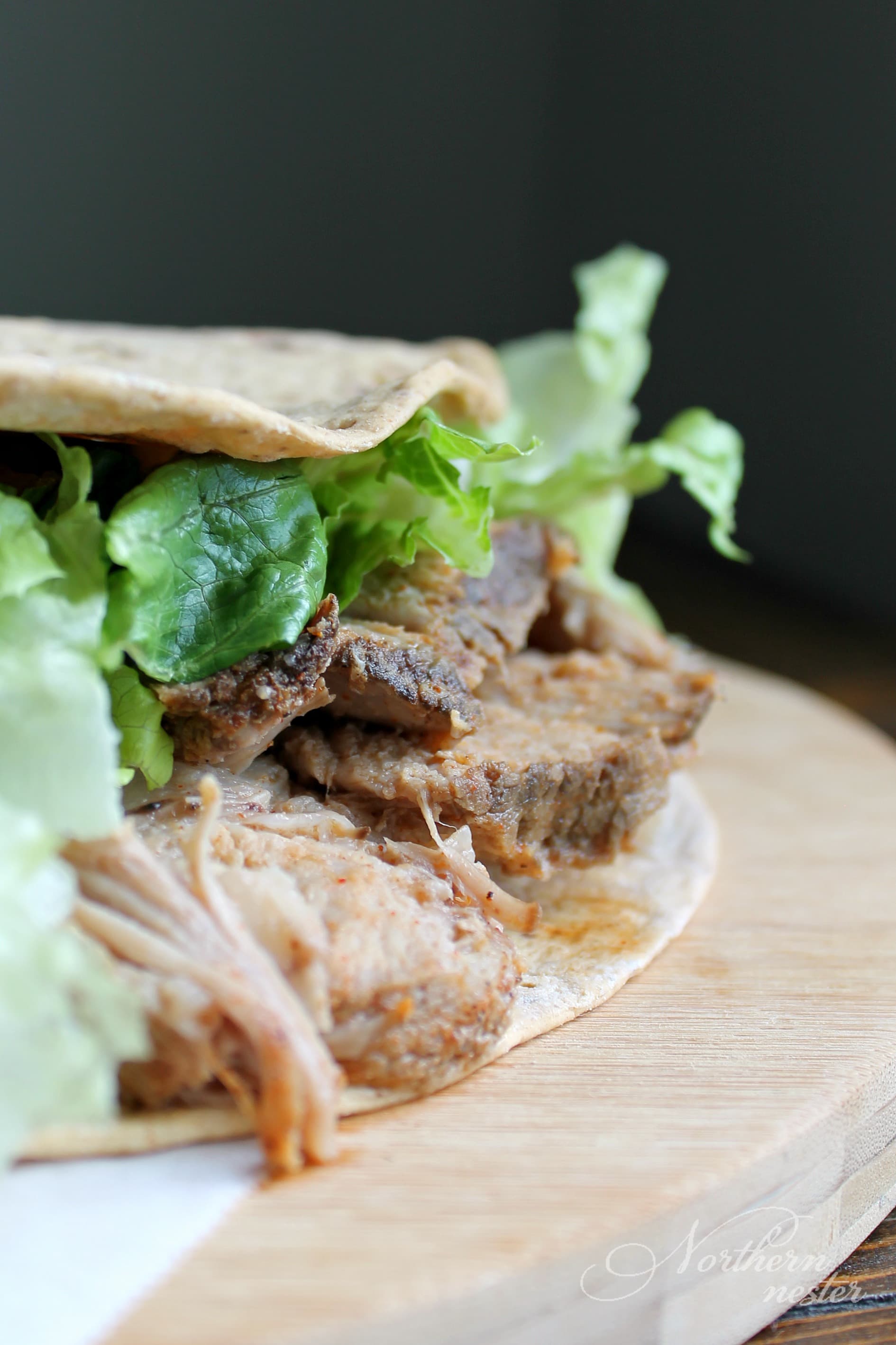 My dear husband voiced the ultimate compliment after enjoying his first bite of this succulent, slow-cooker roasted pork. He said it tasted like his Dad's.
That's equivalent to a husband saying an apple pie you make tastes like his Mom's. His Dad is infamous around these parts for knowing how to cook a whole hog on a spit until perfection.
This sugar-free, slow-cooker roasted pork tastes similar to that, but on a much smaller scale. A THM S, you can enjoy slices of this roast with loaded mashed cauliflower and broccoli for an elegant meal, or try it in a low-carb wrap with lettuce, cheese, sour cream, mustard, and any other low-carb fixin's you enjoy.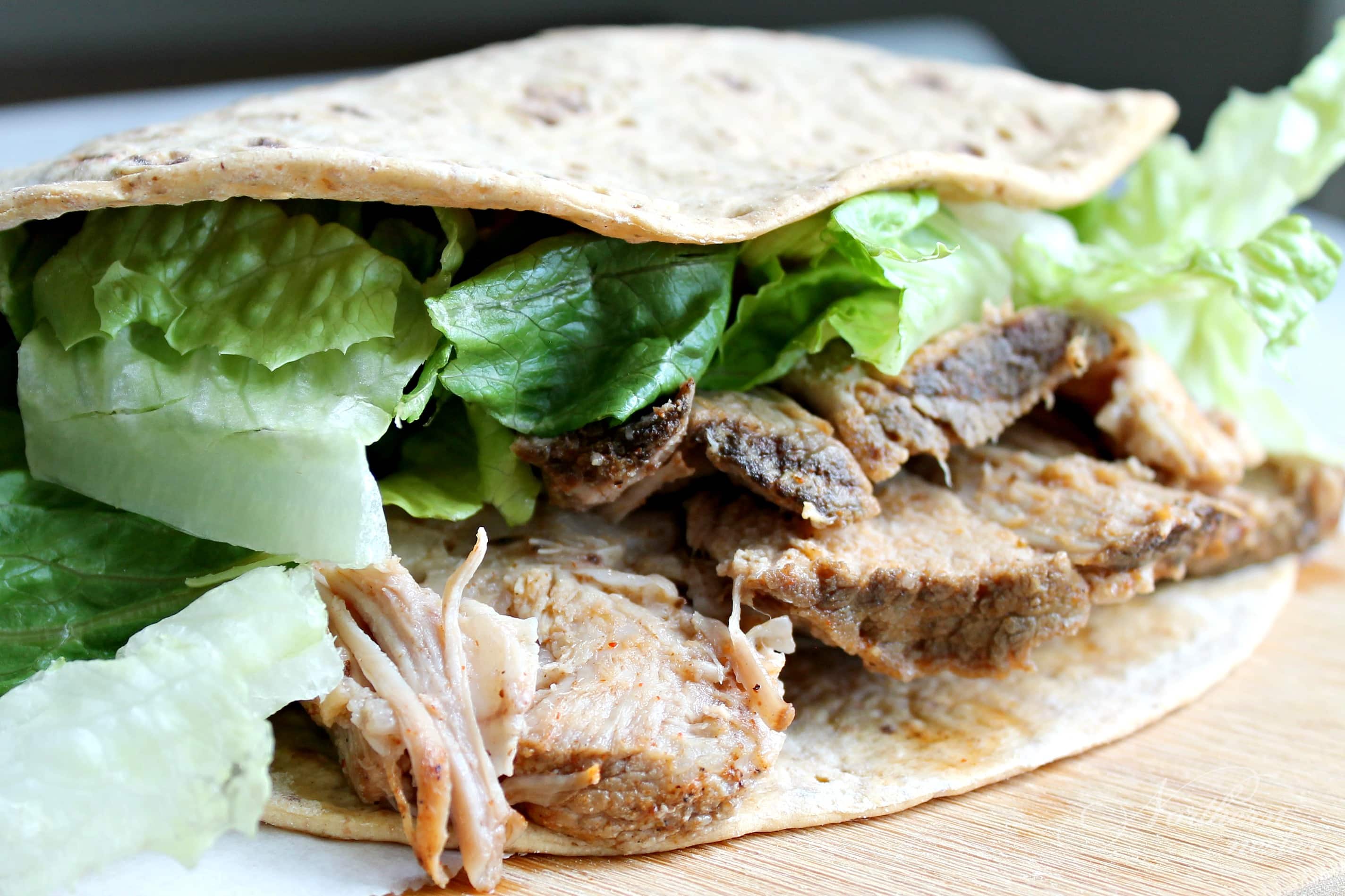 All you need are a few spices (paprika, cumin, chili powder, sea salt, and pepper), a bit of sweetener (I used xylitol, but you can use half the amount in Gentle Sweet if you prefer), some chicken broth, apple cider vinegar and sugar-free ketchup (there's also a recipe for sugar-free ketchup in the Trim Healthy Mama Cookbook, if you don't have a bottle on hand).
Yield: 8-10 servings
Slow-Cooker Roasted Pork | THM: S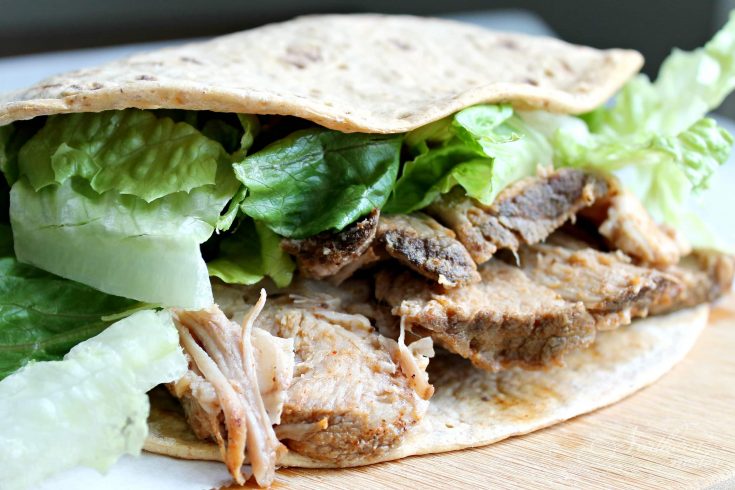 This succulent, slow-cooker roasted pork is the perfect filling for a low-carb wrap, or serve with mashed cauliflower and green beans for an elegant THM S meal.

Prep Time 10 minutes

Cook Time 8 hours

Additional Time 50 minutes

Total Time 9 hours
Ingredients
2 Tbsp xylitol, divided
1 Tbsp paprika
1 tsp chili powder
1 tsp ground cumin
1 tsp sea salt
1/2 tsp black pepper
1 cup chicken broth
2 Tbsp apple cider vinegar
3 Tbsp sugar-free ketchup
1 boneless butt or shoulder pork roast
Instructions
In a small bowl, mix 1 Tbsp of xylitol, paprika, chili powder, cumin, salt, and pepper together. Rub well into all sides of roast. Marinate in seasonings for an hour, or overnight.
Place roast in slow-cooker and pour chicken broth over top. Cook on low for 8 hours. Remove roast from slow cooker and discard all but a 1/2 cup of juices. Slice or shred roast and return to crockpot. Whisk remaining tablespoon of xylitol, apple cider vinegar, and ketchup with 1/2 of juices, and pour over roast. Stir and serve immediately.