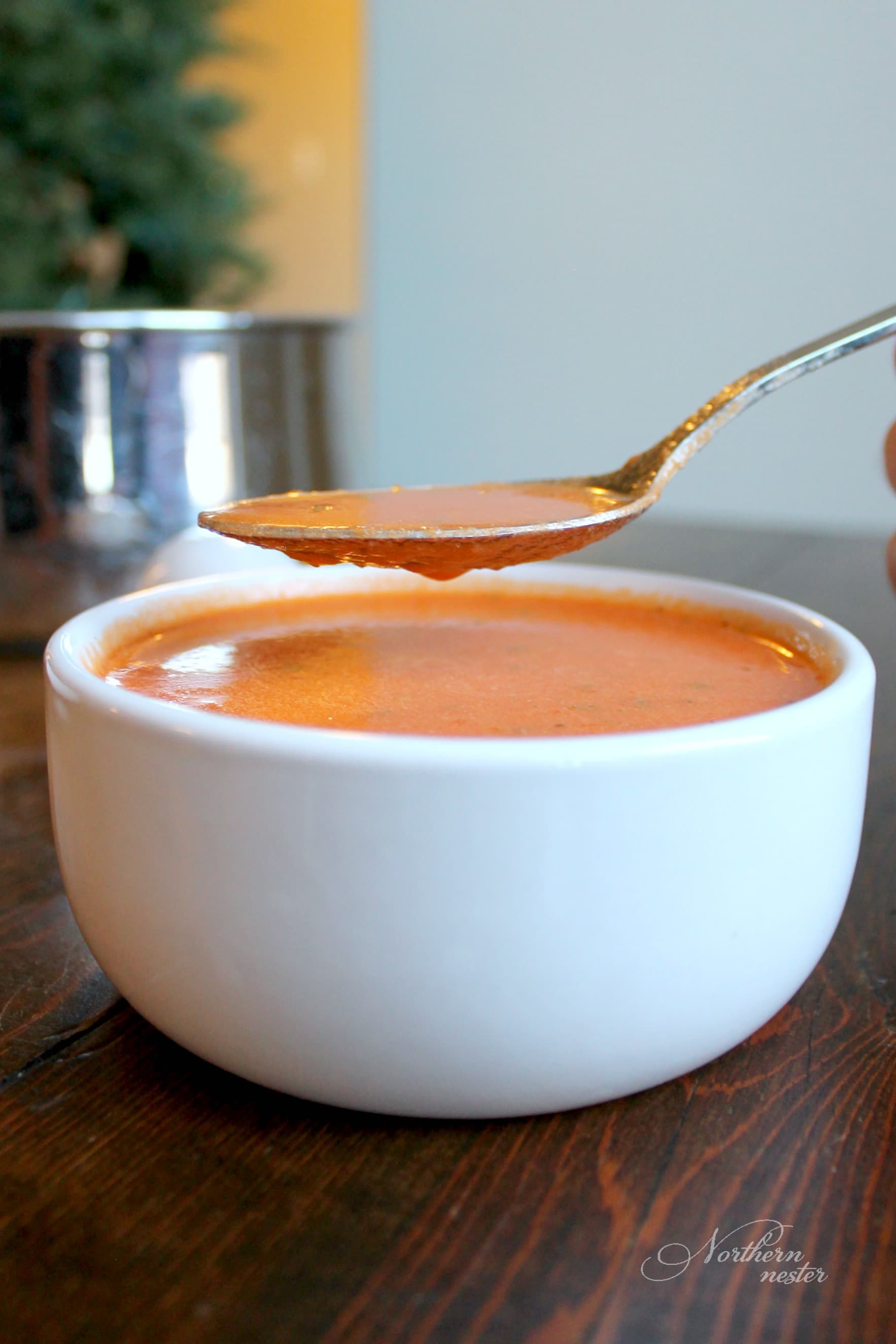 Move over, tomatoes; this roasted red pepper soup is a tough contender for "favorite red soup!" And, since it's made from peppers, it's even less carb-y than the tomato variety, too, resulting in a very flavorful, Trim Healthy Mama-friendly S soup that you can enjoy with cheese and a handful of nuts for extra protein.
We're so spoiled to live within walking distance of a Polish butcher shop and I can get so many Trim Healthy Mama-friendly items there very inexpensively! (Tip: Don't shy away from specialty, International grocery shops; you'd be surprised how many good things you can find there!).
Aside from their endless cuts of fresh meats and cheeses, this Polish shop also sells canned, fermented vegetables which are high in probiotics that are good for your gut! Massive jars of sauerkraut, pickles, and roasted red peppers are in abundance. I grabbed a jar last week to turn into roasted red pepper soup. It turned out to be one of the most wonderful red soups I've ever had, and it couldn't have been easier.
You don't need any special ingredients for this pretty soup (and you don't need to live near a Polish butcher shop either!). You should be able to find everything at your local grocery store:
Great Lakes Collagen
Half & half gives this soup a little protein, but not much. I recommend adding a scoop of collagen to your soup or eating it with a few nuts and cheese for sustainability.
Yield: 12 servings
Roasted Red Pepper Soup | THM: S
This delicious roasted red pepper soup is made without any special ingredients! A THM S.

Prep Time 20 minutes

Cook Time 40 minutes

Total Time 1 hour
Ingredients
2 Tbsp butter
2 Tbsp olive oil
3 garlic cloves, minced
1 onion, diced
2 Tbsp tomato paste
2 15.oz jars roasted red bell peppers, drained and rinsed
8 cups chicken broth
1/2 cup half and half
2 tsp dried parsley
sea salt and pepper to taste
Instructions
Melt butter and oil in a large pot. Add garlic and onion, cooking and stirring constantly over medium-high heat for 3-4 minutes, or until onions are tender. Add tomato paste and cook for a minute, stirring constantly. Stir in bell peppers and chicken broth. Bring to a boil and simmer for 20 minutes. Cool slightly before blending in blender until smooth. Return to pot. Stir in half & half and parsley. Re-heat for 5 minutes, or until heated through. Season with sea salt and black pepper to taste.