Pre-THM, Quaker Instant Oatmeal packets were my standard wintertime breakfast, and the apple cinnamon variety was one of my favorite flavors. Even though they were warm and comforting, those instant breakfasts provided little nutritional value. The combination of oats, sugar, and chemically processed flavorings were highly refined, and with almost no protein to act as a buffer, my blood sugars took a hit and I didn't feel full for long after. However, the flavors wrapped up in those convenient brown packets were on point and also the inspiration for these healthier, heartier Apple Cinnamon Baked Oatmeal Cups!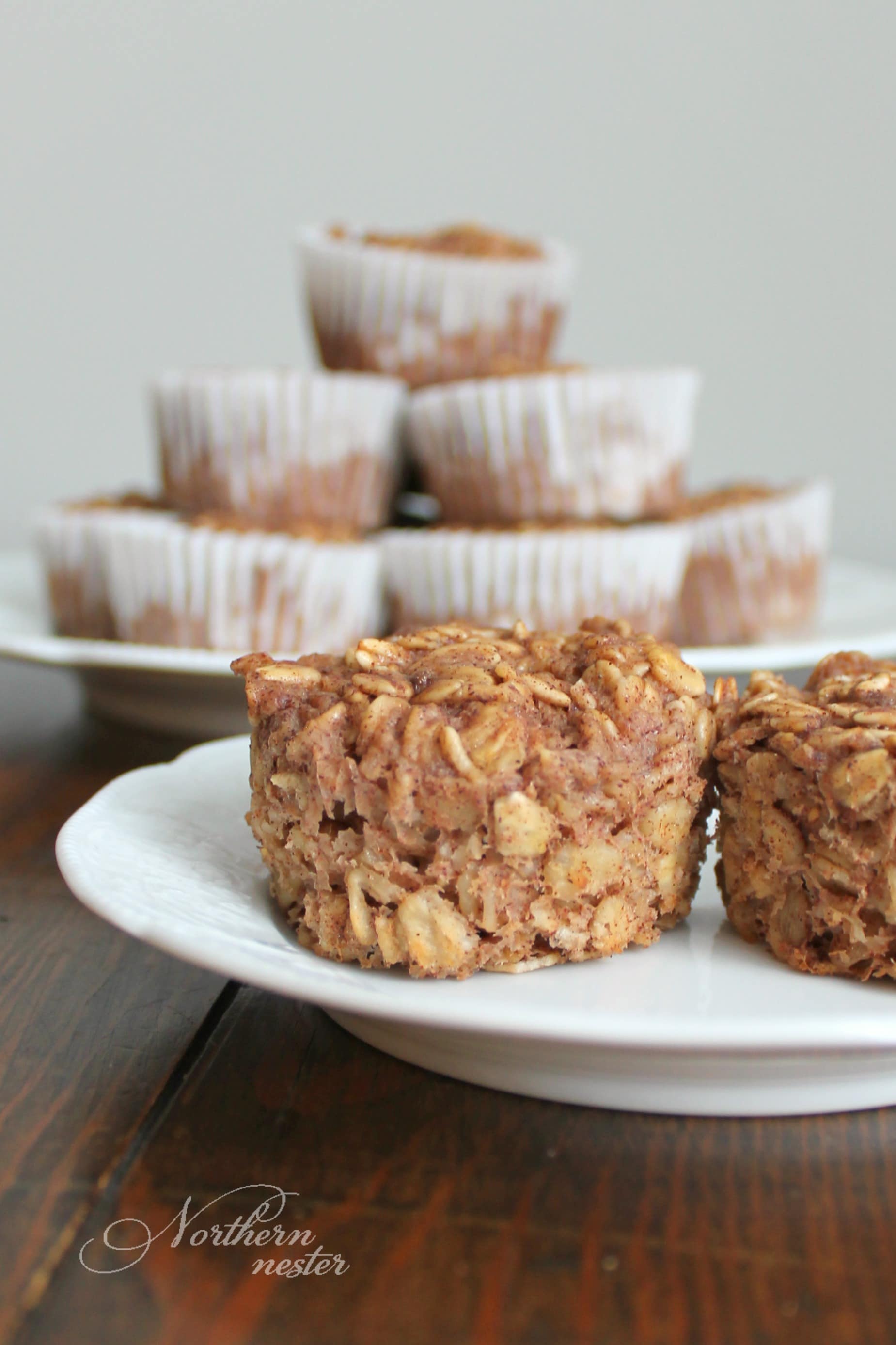 These Apple Cinnamon Baked Oatmeal Cups are a deliciously flavorful Trim Healthy Mama-friendly E breakfast or snack, made with no special ingredients. An infusion of protein comes from:
egg whites
unsweetened cashew milk
A single banana is the "secret ingredient" in these baked oatmeal cups. You can't taste it at all, but it provides a very natural sweetness and cuts down on the amount of sweetener needed (I used xylitol, but you can also Gentle Sweet in half the amount), making these oatmeal cups a very frugal meal, too. Unsweetened applesauce and cinnamon are mainly responsible for the flavor here.
This recipe makes 24 apple cinnamon baked oatmeal cups. They can be frozen or stored in an air-tight container in the fridge. I find myself craving carbs around 3:00pm every day, and these are so nice to have on hand for a quick grab-n-go snack with a cup of coffee. My kids love them too, and they make excellent breakfasts on busy morning with a glass of low-fat or double fermented kefir.
These are best made the day before. They are delicious warm out of the oven, but they will fall apart if you remove the liners before they've had a chance to cool completely. You can have 2 per serving and still be within the 45 gram carb limit for E meals.
Yield: 24 oatmeal cups
Apple Cinnamon Baked Oatmeal Cups | THM: E
These Apple Cinnamon Baked Oatmeal Cups are reminiscent of instant oatmeal packages in the same flavor, but this version is much healthier and heartier. A THM E.

Prep Time 10 minutes

Cook Time 30 minutes

Total Time 40 minutes
Ingredients
1 1/2 cups cashew milk
4 egg whites (or 1/2 cup liquid egg whites)
2 tsp vanilla extract
2 cups unsweetened applesauce
1 banana, mashed
1/2 cup xylitol
3 1/2 cups old-fashioned oats
1 tsp mineral salt
2 tsp baking powder
1 tsp xanthan gum
1 Tbsp cinnamon
Instructions
Pre-heat oven to 350 F. Line a 12-cup muffin tin with paper liners.
In a large bowl, whisk cashew milk, egg whites, vanilla, applesauce, mashed banana, and xylitol together. In a separate bowl, stir oats, salt, baking powder, xanthan gum, and cinnamon together. Add to wet ingredients and stir until everything is well incorporated.
Use a spoon or ice cream scoop to divide batter evenly in lined-muffin tins. Bake @ 350 F for 30 minutes.
Notes
You can have 2 per serving and still be within the 45 gram carb limit for E meals.