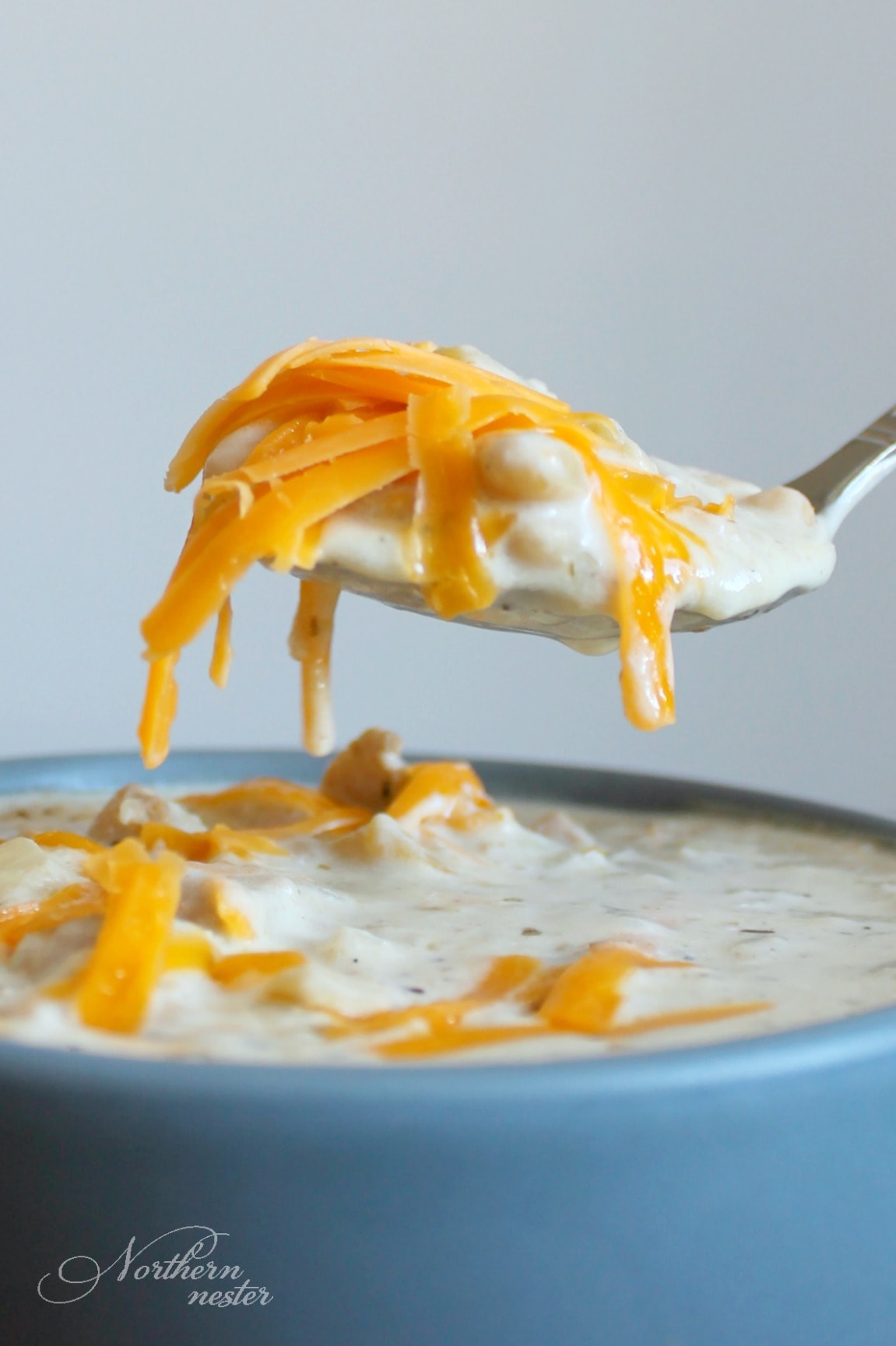 This Creamy White Chicken Chili is a wonderful alternative to the more traditional, beef-y, tomato-y varieties. My dear husband, (who happily held the spoon in the air for me while I took pictures of this dish!) told me this was at least as good as his previous favorite chili, the one I even named "Brad's Favorite Chili!"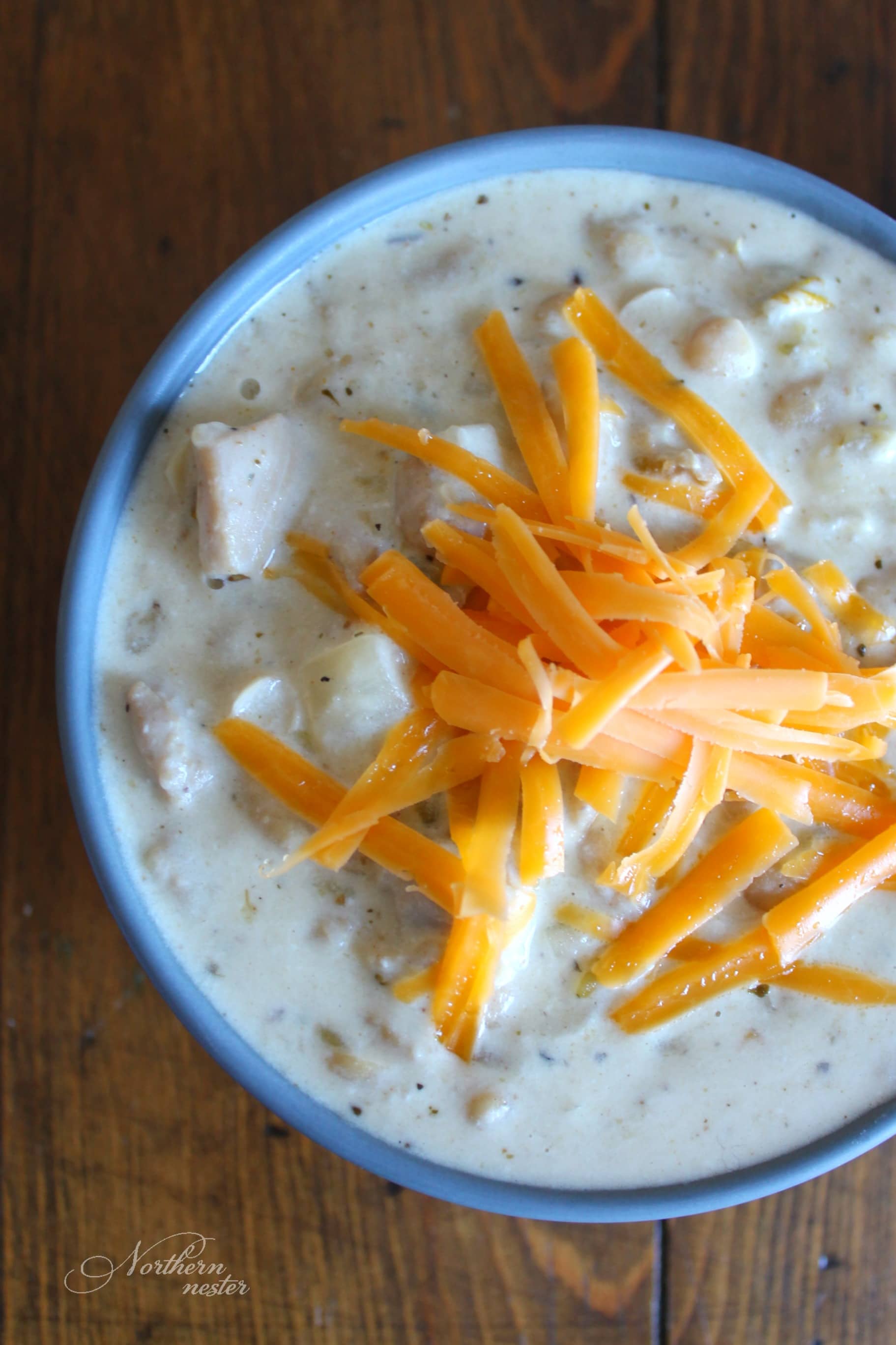 Even though this dish contains no special ingredients and is a very frugal meal, the flavors are extraordinarily delicious together! A perfectly pleasant level of heat is brought to you by:
4 small cans of chopped green chilies
a teaspoon of cumin
half a tsp of cayenne (you can change this to 1/4 tsp, if young children will be enjoying the chili, too)
Fresh garlic and onion, butter, chicken broth, mineral salt, ground pepper, dried oregano, sour cream, and heavy cream, are added to the chicken thighs (or you can use chicken breasts, if you prefer) and white kidney beans to make up the rest of the chili's phenomenal flavor.
Since a pot of this chili will yield at least 10 servings, there are not enough beans in this creamy white chicken chili (less than 1/4 cup per serving) to put you into S Helper or Crossover mode. You are welcome to add more if you'd like to enjoy one of those fuels instead of an S.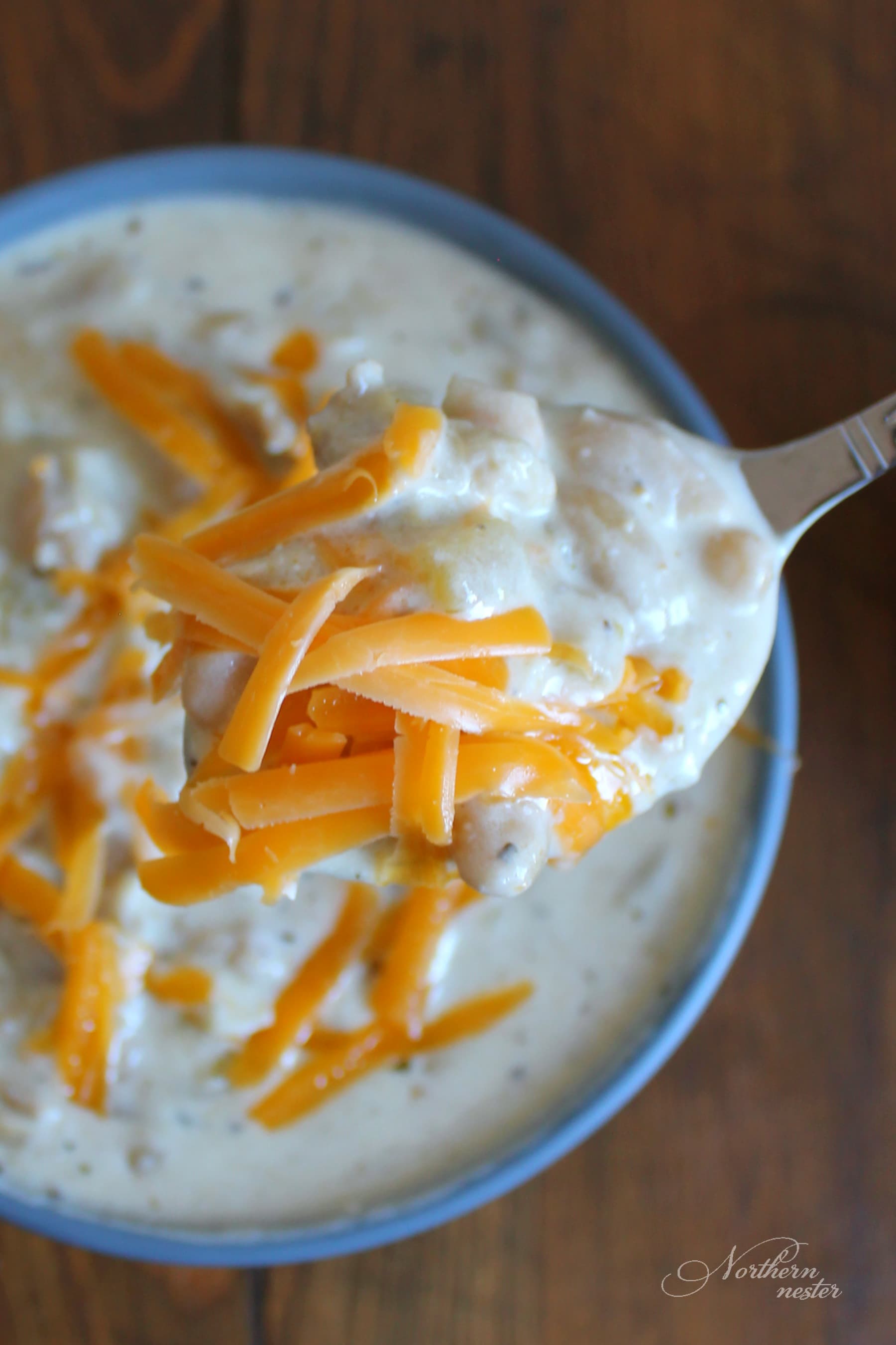 Yield: 8-10 servings
Creamy White Chicken Chili | THM: S
This Creamy White Chicken Chili couldn't be easier or tastier! A delicious alternative to beefy, tomato-y chilies. A no-special-ingredient THM S.

Prep Time 20 minutes

Cook Time 40 minutes

Total Time 1 hour
Ingredients
1 Tbsp butter
10 boneless, skinless chicken thighs (or 5 breasts), cut into small cubes
1 large onion, chopped
4 garlic cloves, minced
2 15oz can white kidney beans, drained and rinsed
2 cups chicken broth
4 4oz cans chopped green chilies
2 tsp mineral salt
2 tsp cumin
2 tsp oregano
1 tsp ground pepper
1/2 tsp cayenne pepper
2 cups sour cream
1 cup whipping cream
Instructions
Melt butter in a large saucepan. Stir in chicken, onion, and garlic, and cook for 15 minutes or until chicken is no longer pink and juices run clear.
Add in beans, broth, chilies, and spices. Bring to a boil. Reduce heat and simmer for at least 30 minutes (or all day, if you prefer!).
Remove from heat and stir in sour cream and whipping cream until smooth. Serve immediately.
Notes
Since this is an S meal, you can serve it with a generous sprinkling of grated cheese on top! White or yellow cheddar is my favorite.