Making your own bone broth is not only fun, frugal, and flavorful, but it's also incredibly easy, healthy, and rewarding! All you need is a chicken carcass or leftover bones, apple cider vinegar, vegetable scraps, herbs, water, and salt.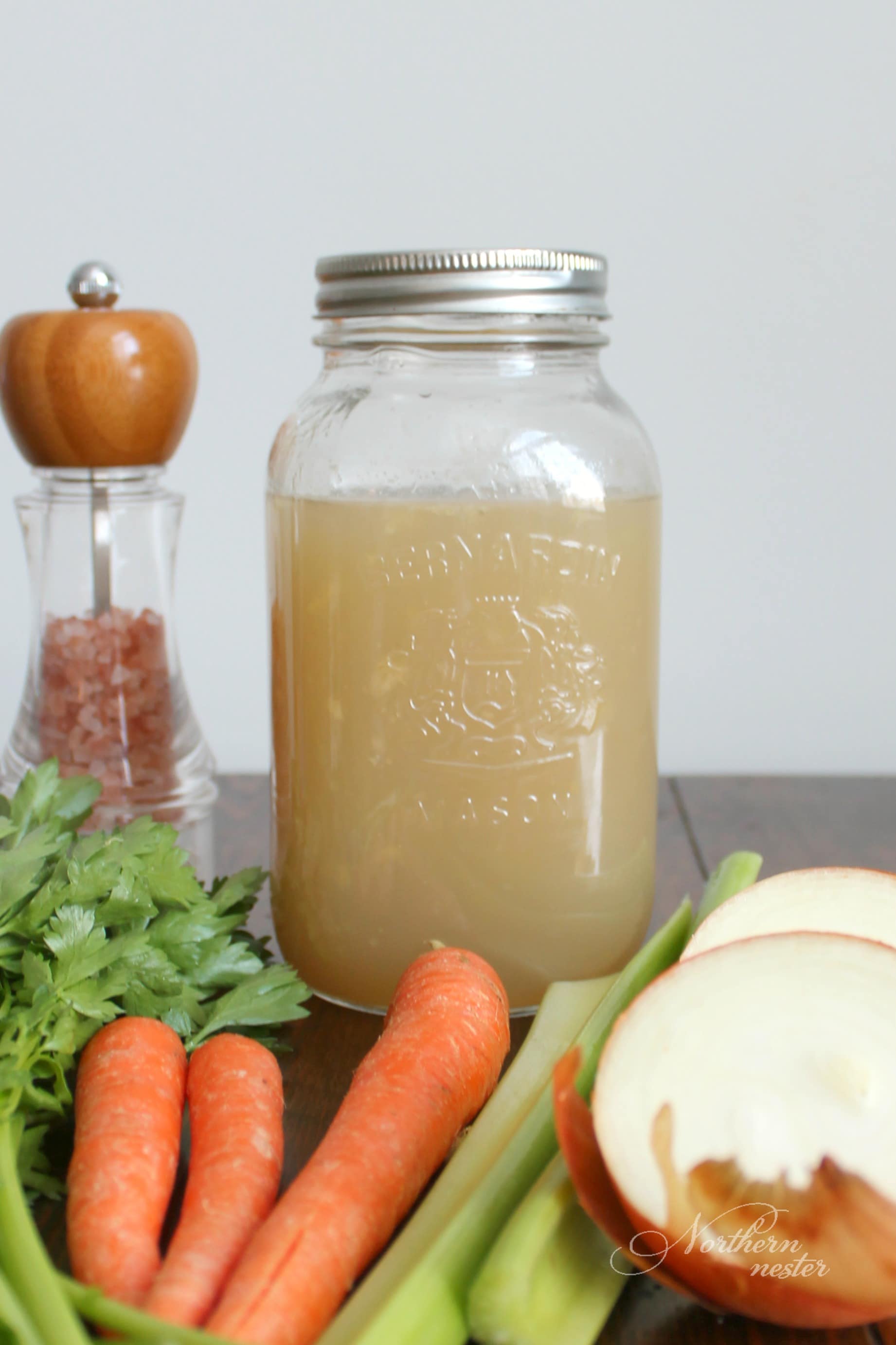 Why is Bone Broth Good For You?
If you've been doing Trim Healthy Mama for any amount of time, you've probably heard of collagen and how good it is for you. A lot of people can't afford to buy collagen in its powdered from regularly, but that doesn't mean you can't enjoy it at all! Bone broth is a rich and flavorful way to consume collagen, which is released from animal bones as they simmer (along with proline, glycine, and glutamine)!
Bone broth is also an excellent way for your body to absorb essential minerals that can be hard to fit into your diet otherwise. It's rich in calcium, magnesium, phosphorus, silicon, and sulphur which help relieve joint pain and reduce inflammation.
Bone broth can also:
build up your immunity (it's especially good to consume during cold and flu season!),
heal your gut
improve digestion
boost your metabolism
maintain healthy skin
improve joint health
Bone broth is mighty powerful stuff and costs just pennies to make – it is well worth the small amount of effort!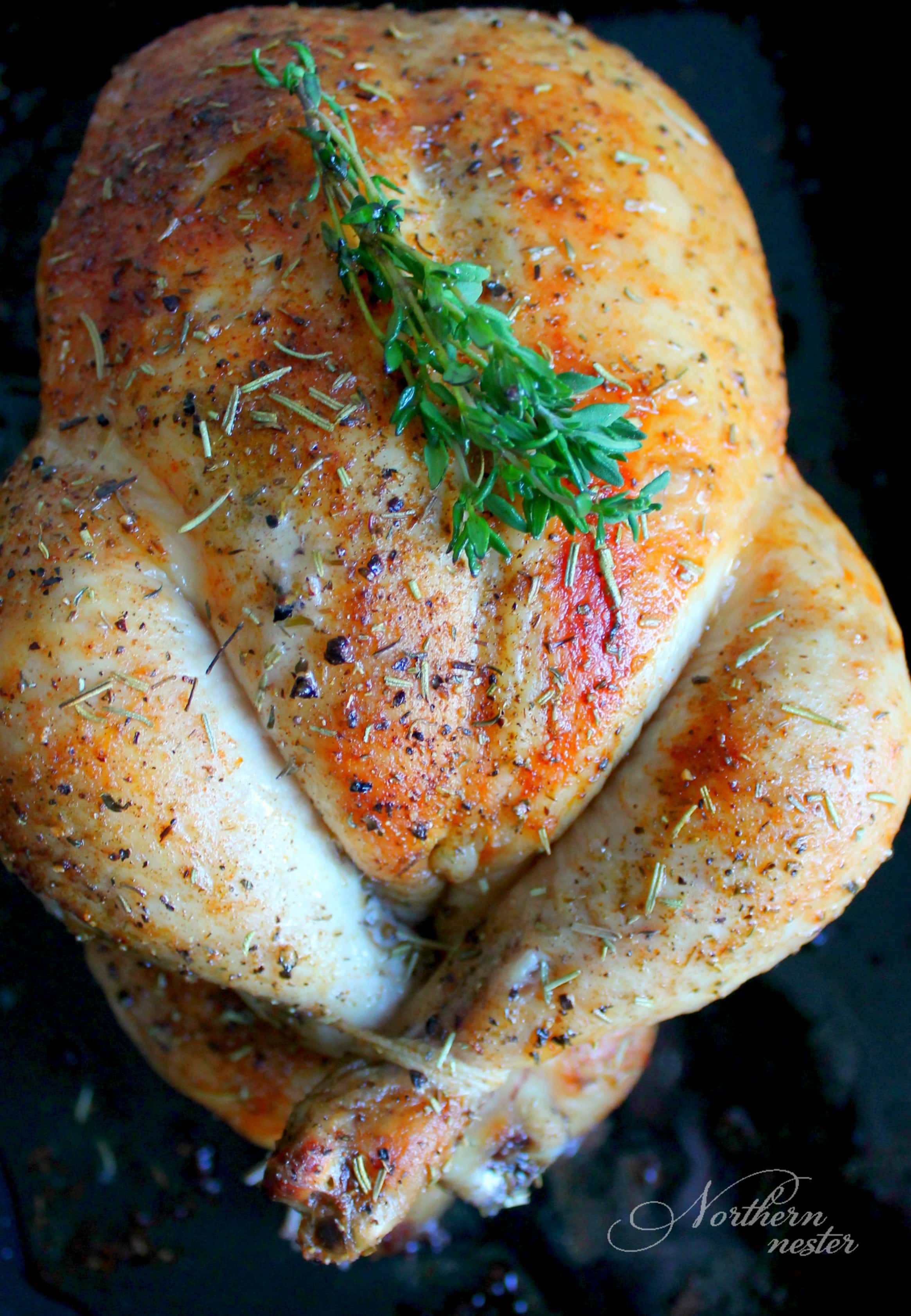 Here's a tutorial on how to roast a whole chicken. When you're done eating the meat, freeze the bones until you're ready to make your bone broth. Alternatively, you can also use the carcass of a store-bought rotisserie chicken.
You can drink homemade bone broth plain, or use it to enhance the flavor and health benefits of soups, sauces, stews, and casseroles. It freezes very well, so it's well worth making a large batch at a time, cooling it, and storing in the freezer for future use.
I recommend using these jars for freezing bone broth:
There are two types of bone broths you can make:
Light stock – from raw carcasses
Brown stock – from a cooked carcass
It's more normal for homemade bone broth to be made from a cooked carcass because it's the natural way to use up the leftovers of a roasted chicken.
One chicken carcass will yield approximately 4 cups of bone broth (or stock). You can wait until you have 2-3 carcasses saved up in the freezer to do a bigger batch and simply double or triple this recipe as needed. Also, this recipe is just a guideline; you can add more or less of each ingredient as desired. Boiling your bone broth again for more than 30 minutes after it has been cooled and had the fat skimmed off the top, will reduce the stock and intensify the flavor.
Yield: 4 cups
How To Make Bone Broth
Here's a tutorial on how to make your own bone broth. It is Trim Healthy Mama-friendly and can be used as a sipper or in any on-plan recipe that calls for chicken broth/stock.
Total Time
1 day
10 minutes
Ingredients
1 carcass from a roasted chicken
6 cups of water
2 Tbsp apple cider vinegar
1 onion, peeled and roughly chopped
1 carrot, peeled and roughly chopped
2 stalks of celery, peeled and roughly chopped
1 tsp dried thyme
1 bay leaf
3 sprigs fresh parsley
mineral salt and pepper to taste
1 garlic clove
Instructions
Break up the chicken carcass and place it in a large stockpot. Add the water and vinegar and let it sit for 30 minutes before adding the remaining ingredients. The vinegar will help release more of the collagen and nutrients from the bones.
Add remaining ingredients (except for garlic and parsley), and bring to a boil over medium heat. Simmer all day, or even overnight, if you prefer, and add the garlic and parsley to the last 30 minutes of cooking. Use a large spoon to skim off and discard any foam that rises to the surface.
Remove from heat, allow the bone broth to cool slightly, and strain into a large bowl. Discard the contents of your strainer. Chill the bone broth in the fridge until the fat solidifies. Scrape the fat off the top (there probably won't be much, if any, if you skimmed off the foam while it was cooking), pour into air-tight containers to freeze or keep in the fridge, covered, for up to 5 days.
To skim the fat or not? That is the question.
Personally, I skim the fat off my broth. If I was using grass-fed chicken, and organic herbs and spices, I wouldn't see the need to. I can still enjoy a nutritionally-dense bone broth using budget-friendly ingredients (or leftover rotisserie chicken!), but I'm leery of consuming the toxins that settle in the solidified fat that don't get removed from skimming off the foam during cooking, so I take it off.
Favorite Recipe to use bone broth in?
Definitely this Creamy White Chicken Chili!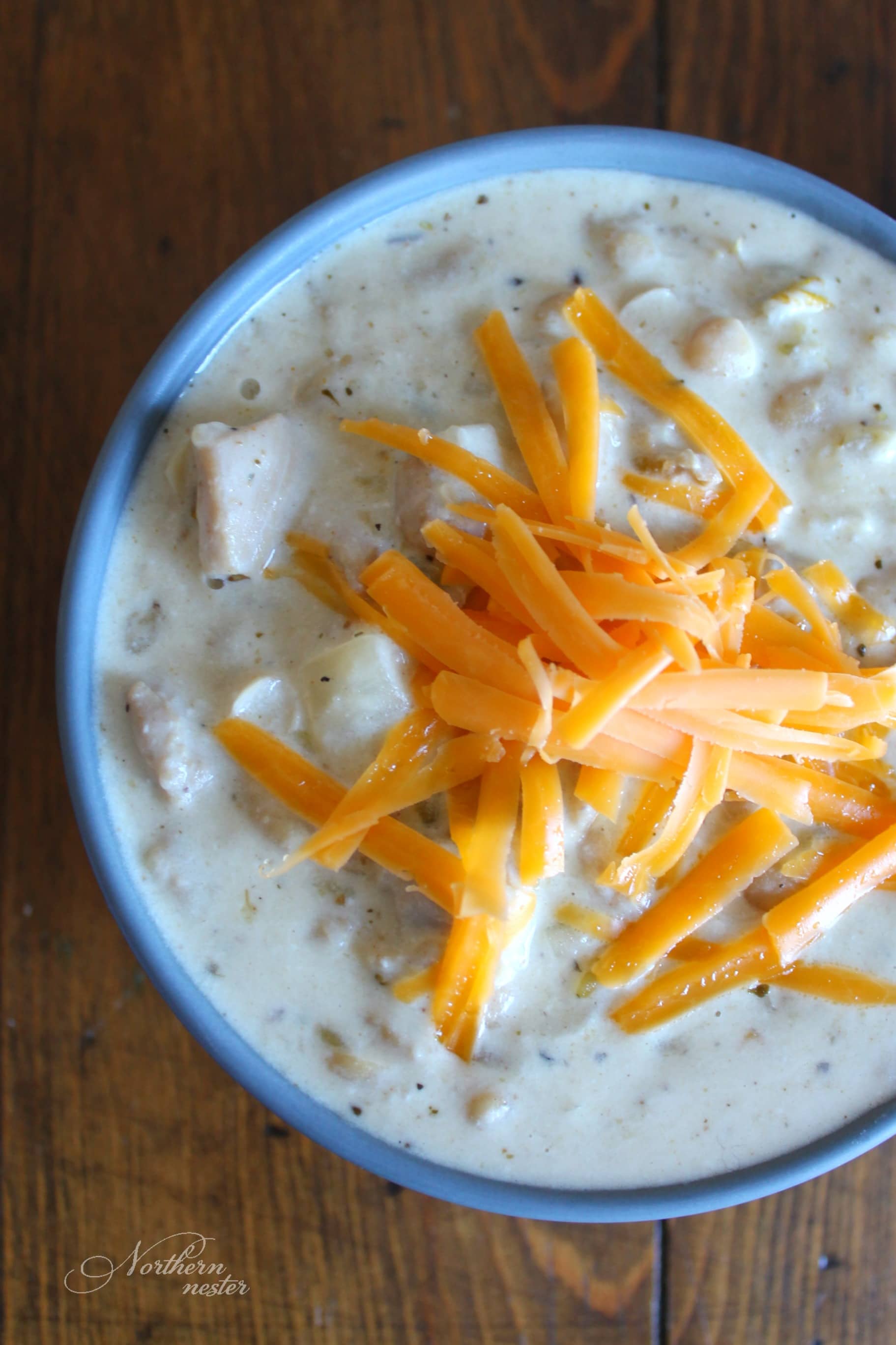 Can I use other vegetables to flavor my broth?
Not really. Other vegetables do not stand up well to the extensive simmering time that's required to make bone broth. Using vegetables like potatoes and broccoli would cause a cloudy brown broth with an unpleasant flavor. You can add more or less of the carrot, onion, or celery and herbs to tweak the flavor to your own liking though.
Can I use the bones from another animal to make bone broth?
Yes, you can also use fish or beef bones in place of the chicken. You will not need to simmer fish broth nearly as long since the bones are much smaller; 6-8 hours of is plenty.
Roasting your beef bones in the oven before making your broth will produce a better flavor and cut down on the time it needs to simmer. To do so, pre-heat your oven to 450 F, add the bones to a roasting pan and cook for 25-30 minutes, turning the bones occasionally. Then proceed to make your broth as directed above.