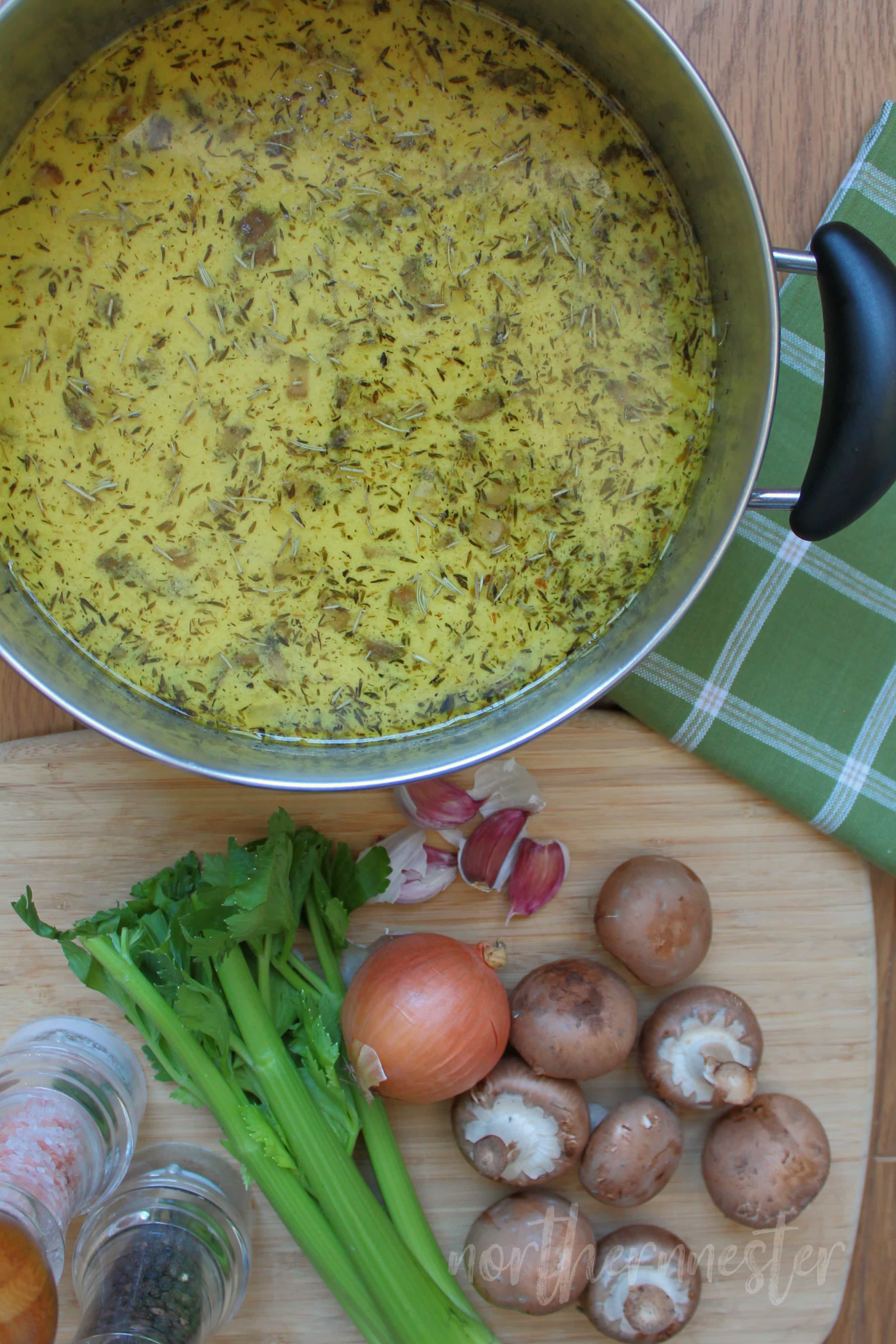 I love mushrooms, so I was very excited to see them getting so much attention in the Trim Healthy Mama Community last week! I felt inspired to create a recipe that would showcase their deliciousness (and convert my non-mushroom loving husband to the fungi-loving side!) This Dairy-free Mushroom & Chicken Soup did just that!
Mushrooms are rightly all the rage because they have the ability to absorb Vitamin D from the sun! According to the Trim Healthy Living EZine, letting your 'shrooms soak in the rays for a few hours before use, can boost their Vitamin D level from 0 – 800! (A cold fridge completely eliminates their Vitamin D content).
Isn't that amazing?! God is such an awesome Creator.
Ideally, you'll want to put your mushrooms in direct sunlight to achieve this, but for us Northerners whose mushrooms may still freeze before they have time to absorb all that Vitamin D, letting them sun tan in a window is the next best thing.
Now, about this deliciously creamy l0w carb, gluten-free, dairy-free Mushroom & Chicken Soup!
You don't need any special ingredients to make up a pot of this goodness! All you need:
butter, coconut oil, or ghee (don't use butter if you need it to be dairy-free!)
celery
onion
garlic
chicken thighs (or chicken breasts, if you're looking to make this soup a wee bit leaner)
ground black pepper
dried thyme
dried rosemary
1 can of full-fat coconut milk
Aside from their ability to be supercharged with Vitamin D, mushrooms are also amazing at absorbing other flavors, and the dried thyme and rosemary in this soup give it such wonderful flavor! I'm not a big fan of the taste of canned coconut milk by itself, but in this Dairy-free Mushroom & Chicken Soup, all you get from it is pure creaminess.
If you plan to freeze this Dairy-free Mushroom & Chicken Soup, I recommend doing so without the coconut milk added in. Make the rest of the soup as written, and then when you want to enjoy it, add the full-fat coconut milk as you heat it up.
Yield: 6 servings
Dairy-free Mushroom & Chicken Soup | THM: S, Keto, GF, DF
Thyme, rosemary, and garlic bring a most wonderful flavor to this dairy-free Mushroom and Chicken Soup! A deliciously cozy hug on a cool, rainy day (or any other day, for that matter). THM: S. Keto. GF. DF.

Prep Time 20 minutes

Cook Time 40 minutes

Total Time 1 hour
Ingredients
1/3 cup butter (ghee or coconut oil if dairy-free)
4 stalks of celery, finely chopped
1 small onion, minced
2 cloves garlic, minced
6 boneless skinless chicken thighs, cut into bite-sized pieces
2 cups chopped mushrooms (I used Mini Bella mushrooms)
4 cups chicken broth
1 tsp mineral salt
1 tsp dried thyme
1/2 tsp ground black pepper
1/2 tsp dried rosemary
1 can full-fat coconut milk
Instructions
Melt butter (ghee or coconut oil, if dairy-free) in a large pot over medium heat. Add celery, onion, and garlic. Saute until soft. Add chopped chicken and cook until no longer pink. Add chopped mushrooms and cook for 3-4 more minutes. Pour in chicken broth and seasonings. Bring to a boil. Lower heat and simmer for half an hour. Stir in coconut milk.
Notes
You can use chicken breasts instead of thighs, if you wish.