Growing up, it was tradition for my family to have soup for lunch on Sundays. It was an easy, make ahead meal that could simmer in the crock-pot while we were in church, and if we had guests – which we usually did – simply adding more water to the pot and another loaf of bread on the table ensured there was enough food for all.
My favorite of all the soups my Mom served was Cream of Broccoli. My sisters and I took turns preparing the soup each Sunday, and when it was my turn, I usually chose Cream of Broccoli Soup. I still make it regularly for our own family.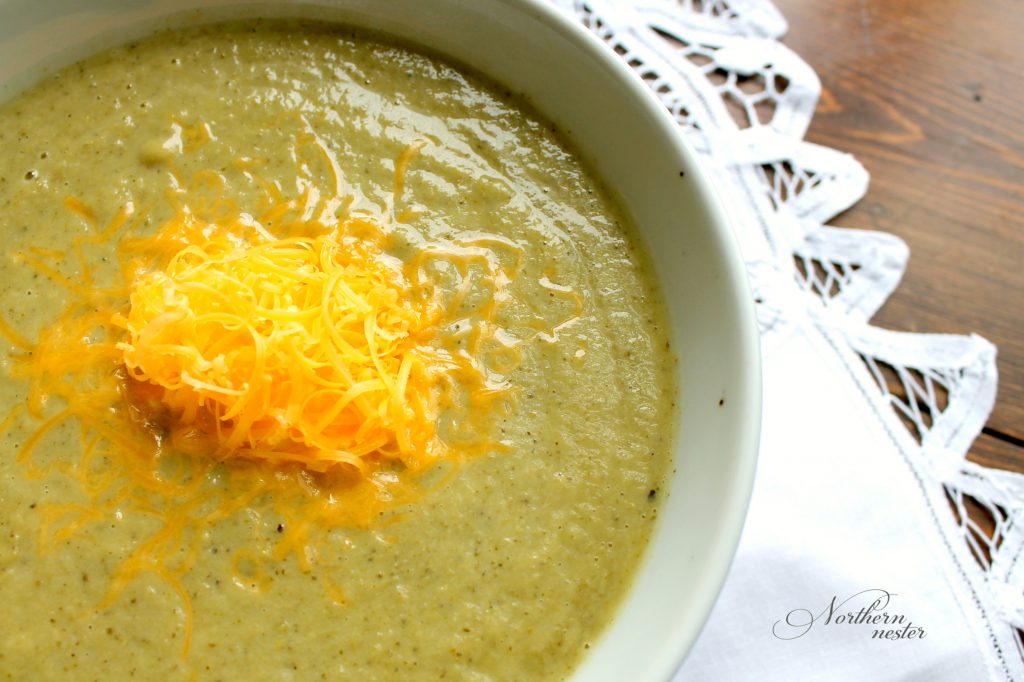 It's a natural Trim Healthy Mama-friendly S, made with no special ingredients that's delicious on its own, but incredible when topped with crumbled bacon bits, cheese, and sour cream.
A word about the mineral salt: this recipe was created without the addition of bacon bits or cheese. If you're adding these in (and I highly recommend you do!), you'll want to decrease the amount of salt as bacon and cheese have significant levels of sodium. You can always add more salt later, but you can't take it out!
Yield: 8 servings
Cream of Broccoli Soup
A thick and creamy THM S Broccoli Soup that hits the spot. No special ingredients. Top with crumbled bacon, cheese, and sour cream.

Prep Time 20 minutes

Cook Time 30 minutes

Total Time 50 minutes
Ingredients
1/4 cup butter
3-4 broccoli crowns, chopped
2 onions, finely chopped
6-7 celery stalks, chopped
1 tsp mineral salt
1/4 tsp ground pepper
4 cups chicken broth
4 cups of water
1 cup cream
GARNISH (Optional):
bacon, cooked and crumbled
sour cream
cheddar cheese, grated
Instructions
In a large soup pan, saute broccoli, onion, and celery in butter until onions are clear. Add in salt, pepper, chicken broth, and water. Bring to boil and simmer for 20 minutes. Run soup through blender until smooth. Return to pan. Swirl in cream. Re-heat to warm before serving, if necessary.
Pour into bowls and garnish with cheese, bacon, and sour cream, if desired.
Notes
You can substitute 3-4 cauliflower heads for the broccoli for an equally delicious white soup!