Managing clothing in a large family is one of the most challenging aspects to Large Family Minimalism, especially if you have young children that haven't finished growing yet!
My attempt to create a minimalist wardrobe for our family of 8 started 3 years ago. Surrounded by four loads of laundry that needed to be folded one day, I thought to myself, "There is no way a family of eight needs this many clothes!"
There were clothes in dressers.
clothes in closets,
clothes in the washer,
clothes in the dryer,
clothes in the hamper,
clothes on the floor,
clothes in "Grow Into" totes,
clothes in "Summer" totes,
clothes in the Dress Up Box,
clothes that needed to be ironed,
clothes that needed to be folded.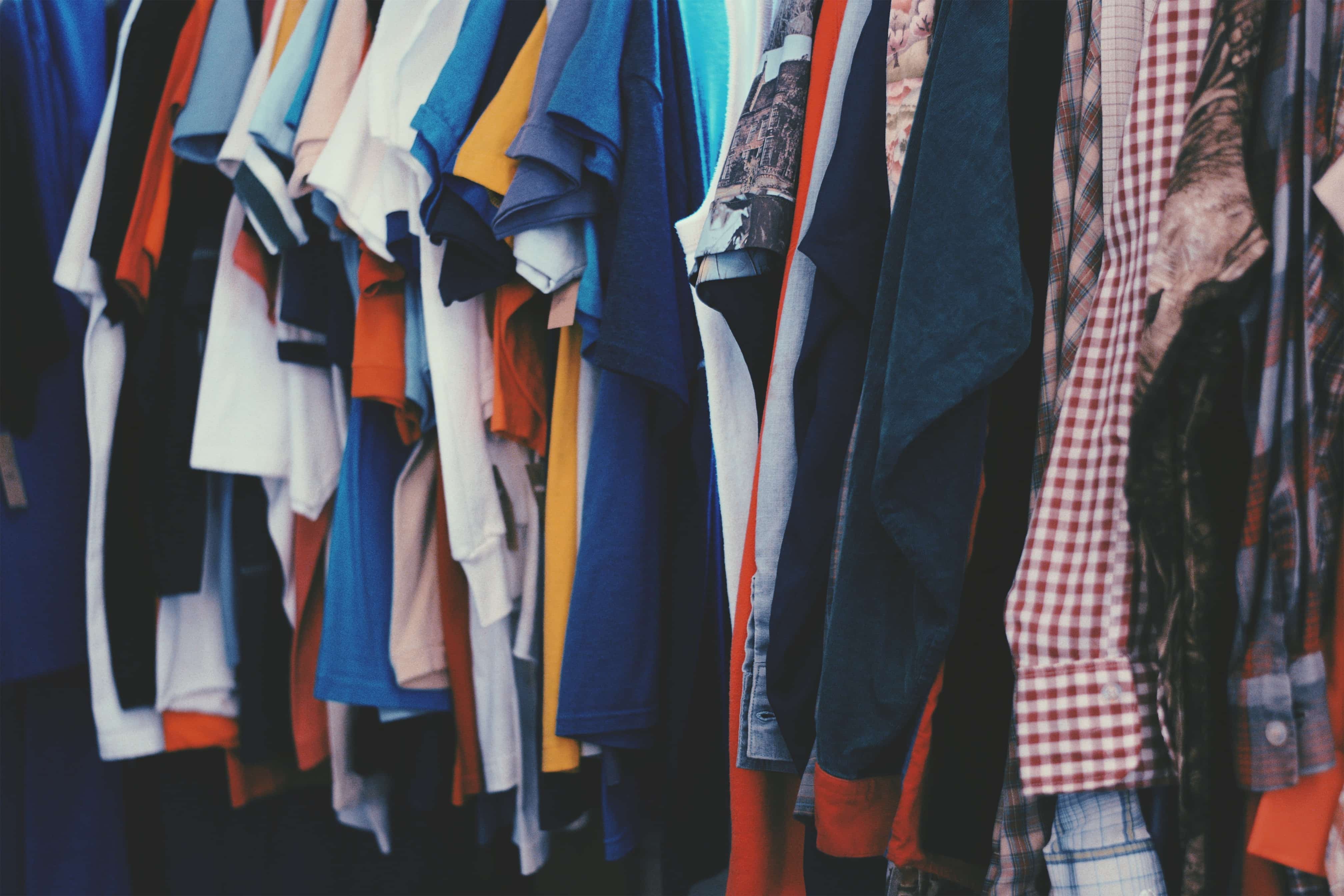 We were drowning in fabric and yet nobody seemed to be able to put together a single matching, seasonally appropriate outfit!
Something had to be done.
Armed with a notebook a box of large garbage bags these draw string ones are the easiest to close and tie), I jotted down 5 categories into which every single article of clothing in our house would be divided.
Garbage
Under "Garbage," I filed any clothes that were:
Badly stained
Torn
Otherwise irreparable
These clothes, mainly consisting of hole-y socks and worn out undergarments, were put out with the trash on Garbage Day.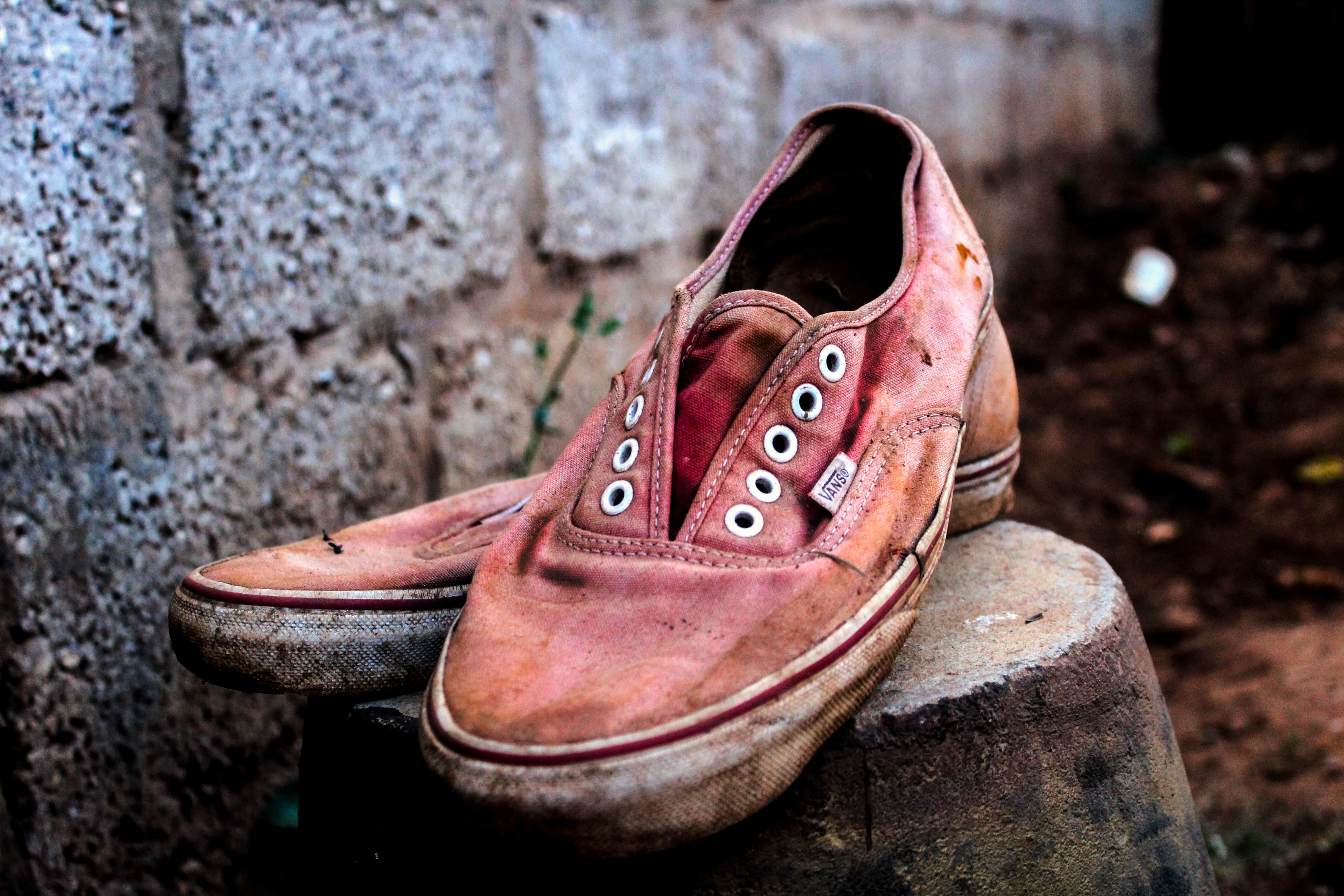 Sell
Under "Sell," I filed any clothes that were:
in excellent condition, but were difficult to match and pair with other clothes
too small and had no one to grow into them
duplicates or otherwise unnecessary (more on "unnecessary clothes" in a bit)
simply not worn enough to warrant the space they took up
Higher ticket items like outwear, dresses, or brand name clothing, I sold on our local Buy/Sell Facebook Group. Smaller ticket items that were too time-consuming to post in the Buy/Sell Group were brought to a local consignment shop that pays me 50% of every item they sell.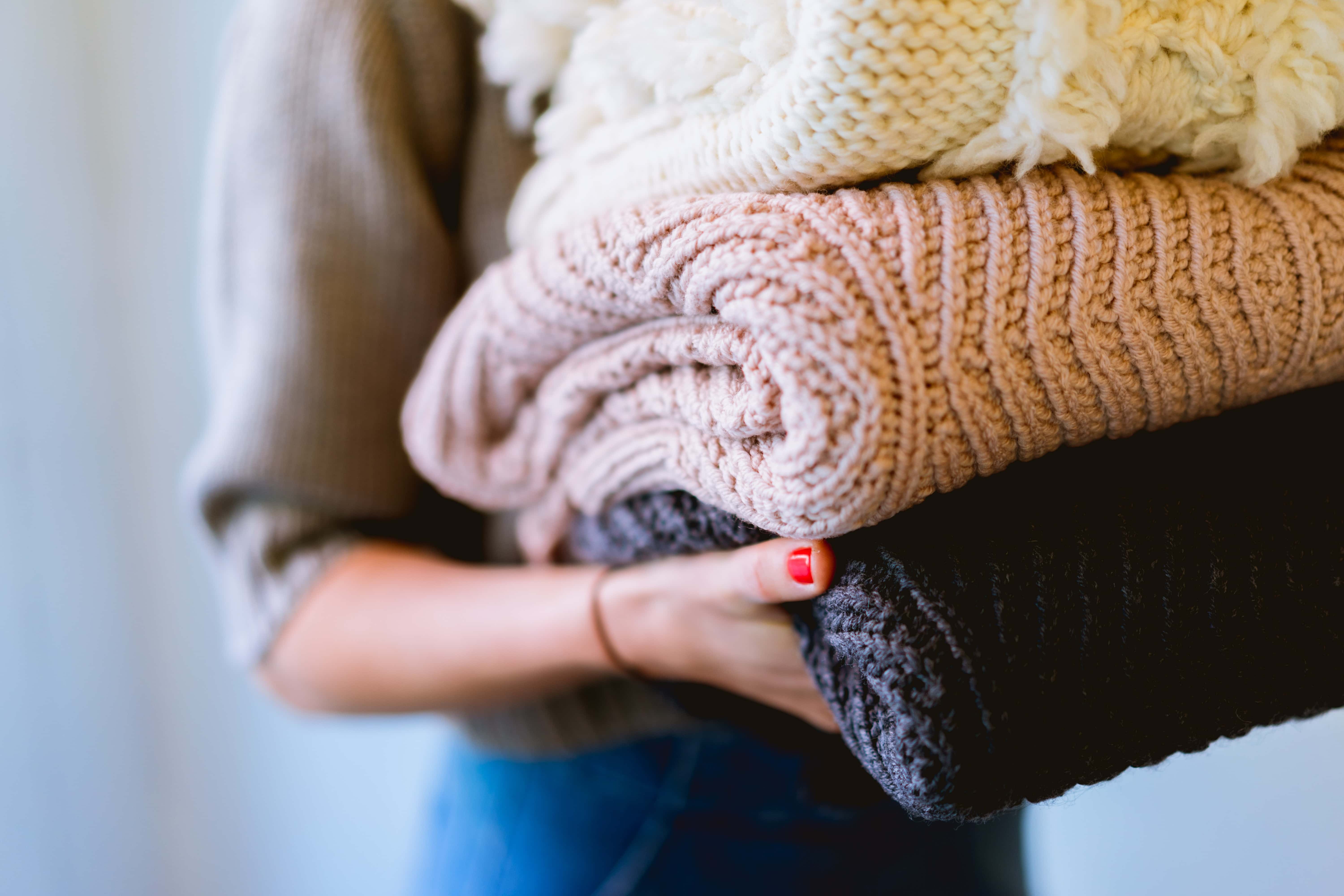 Donate
Under "Donate," I filed clothes that were:
unnecessary, but given to us gifts by someone else (maybe it's silly, but something feels "off" to me about reselling a gift)
well-loved
dated
unable to sell through the Buy/Sell Group or to the thrift store
Gifts in very good condition and clothing that could not be sold were passed along to friends or family. Well-loved clothes were donated to a thrift store, hopefully to gain a new lease on life by an up-cycling creative genius.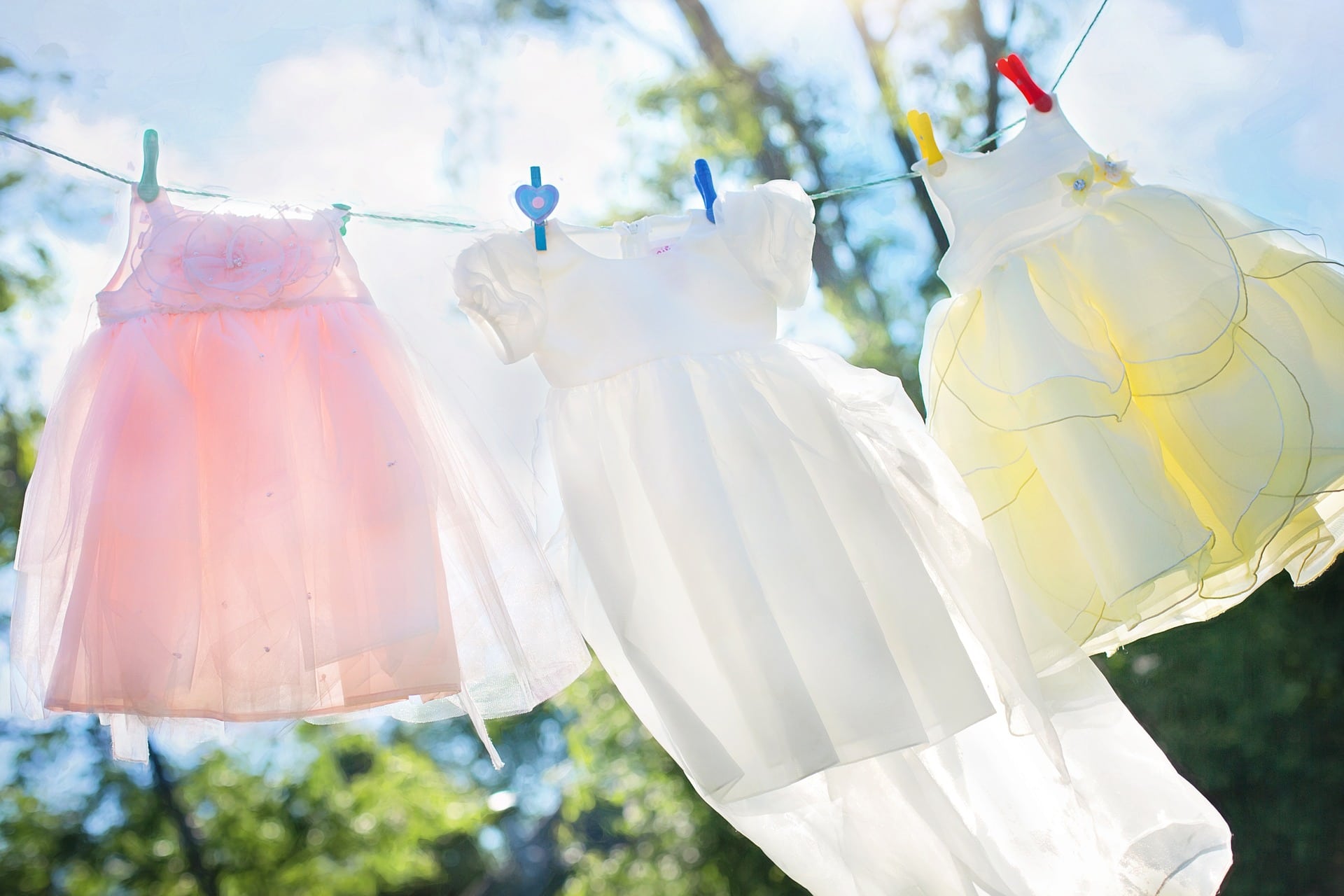 Dress-Up
Under "Dress-Up," I filed any clothes that:
inspired our children's imaginations and were guaranteed to be played with
Only a handful of items made it into this category: a knight costume, a construction worker costume, a squirrel costume, and a few princess dresses. (The first week of November, after Halloween, is a great time to find steeply discounted dress up clothes!).
Keep
Under "Keep," I filed the rest of our clothes if it fit the following criteria. Clothing had to be:
in good condition
appropriate
comfortable and fit well
easily matched with other clothes
necessary (not excessive)
wanted
To determine how many clothes were necessary and how many clothes were excessive, I first divided them all into two categories for each person in our house: "warm weather" clothes, and "cold weather" clothes.
Then, I pared down the clothes in each category to the bare minimum (meaning, just enough to ensure I stay on top of the laundry!) which left me the following garments for each person:
Minimalist Wardrobe "Cold Weather" Clothes For A Boy
3 pairs of "play" pants
1 pair of dress pants
3 long sleeved "play" shirts
1 long sleeved dress shirt
2-3 sweaters
2 pairs of pajamas
3-4 pairs of socks
3-4 undergarments
1 dress coat
1 play coat
1 hat
1 pair of mittens
1 scarf
Minimalist Wardrobe "Warm Weather" Clothes For A Boy
3 pairs of shorts
1 pair of "play" pants
1 pair of dress pants
3 t-shirts
1 short sleeved dress shirt
1 long-sleeved dress shirt
1 sweater
1 jacket
1 bathing suit
1 pair of splash pants
2 pairs of pajamas
2 pairs of socks
3-4 undergarments
Minimalist Wardrobe "Cold Weather" Clothes For A Girl
2 sweaters
2 pair of pajamas
2 pairs of pants
3 long sleeved shirts
1 dress
2 skirts
2 pairs of tights
1 pair of leggings
3-4 pairs of socks
3-4 undergarments
1 play coat
1 dress coat
1 pair of snow pants
1 pair of mittens
1 hat
1 scarf
Minimalist Wardrobe "Warm Weather" Clothes For A Girl
2 sundresses
1 Sunday dress
2 pairs of shorts/capris
1 pair of pants
3 t-shirts
1 long sleeved shirt
2 pairs of socks
1 bathing suit
1 jacket
1 sweater
1 pair of splash pants
3-4 undergarments
2 pairs of pajamas
Clothes that were kept for another child to grow into were stored in a tote box on a shelf out of reach in the upcoming recipient's closet. Off-season clothes were also kept in a small tote inside each child's closet.
Clear totes are nice for quick inventory, but dark totes look tidier and are less likely to be broken into by little people. Stackable totes of the same color and a clear side, with lids that can be used interchangeably are my personal favorite, but I'm using what we have until they're ready to be replaced.
Dress coats and off-season jackets were stored in bedroom closets and every day coats were hung in the main front entry closet. Hats, mittens, and scarves are also stored in the main entry closet in a basket on the shelf.
Dresses and dress shirts are hung in bedroom closets, and all of a child's in-season clothing can be easily be stored in two dresser drawers. This means that for our children who share a bedroom, only one dresser is needed, and in the three cases where the dresser fits inside the closet, they are left with more open square footage in their rooms.
We don't know if the Lord will bless us with more children or not, so I always keep a tote of our favorite, clean, unstained baby clothes from each gender. This is stored underneath the stairs.
Once you've achieved your minimalist wardrobe, there are a couple of tricks or rules you can implement to help your family's clothing collection stay small and manageable. Here are a few that have helped us:
Get rid of extra hangers. We only keep one or two extra hangers in each closet. If you don't have a place to hang it up, it probably means you have too many clothes and something needs to go. (We use sturdy wooden hangers for coats and plastic hangers which we received as a wedding gift for everything else)
Limit the number of dresser drawers a child's clothes can take up. I try to keep in-season clothing confined to two drawers. This leaves no room for excessive clothing and everything else must be neatly folded to fit well (no crumpling or shoving dirty clothes in a drawer!).
If something comes in, something else must go. Sometimes our children get clothing for their birthdays. If they get a new sweater, we try to sell, donate, or hand down one of their other ones.
Buy quality, not quantity. This will save you time and money in the long run, especially if there are several younger children that can wear hand me downs. It seems pricier at the outset to buy good quality jeans, but if three children can wear them before the knees wear out, it's less expensive than buying pants are toast after one child's use.
Purchase outwear bottoms in gender-neutral colors if you can. We have 2 girls and a boy that have worn the same pair of black or blue snow pants, splash pants, and rubber boots, and another girl and boy who will also get used out of them, hopefully.
Purchase classic styles that aren't quickly dated. Jeans, hooded sweaters, basic t-shirts, black pants, white collared shirts – these articles have a longer life span than fads. More children will be able to get used out of timeless pieces.
Purchase clothing that is easy to match with other pieces and doesn't wrinkle. Your outfit options are much more limited with a boldly printed or colored pair of pants than say, a pair of dark straight leg jeans. Also, who has time to iron? Not me! I don't even own an ironing board (true story).
Only launder clothes that are dirty. I'm trying to teach our children that they do not need a new outfit every day. They can change when their clothes are dirty, after three days, or if we are visiting – whichever comes first. Babies and toddlers usually need a new outfit each day, but our older kids can usually get away with wearing the same thing several times in a row, especially in the winter months when they're not sweating or playing in the dirt outside.
Footwear is a challenge that deserves a post of its own, so I'll address that another day.
This week's Large Family Minimalism Challenge: tackle the clothing of one person in your family. (Repeat each week until each person in your household has a minimalist wardrobe).
Divide everything up into 5 categories (Garbage, Sell, Donate, Dress-Up, and Keep), and pare down the "Keep" category to the bare minimum. If you're playing along with the #largefamilyminimalism posts on Instagram, feel free to tag me (@northernnester)! I would love to see how many bags you can purge for one person, what you made by selling excessive clothing, and how small the lot you end up with is! Or, drop a comment below and let us know how the purge went!